The Marais Blog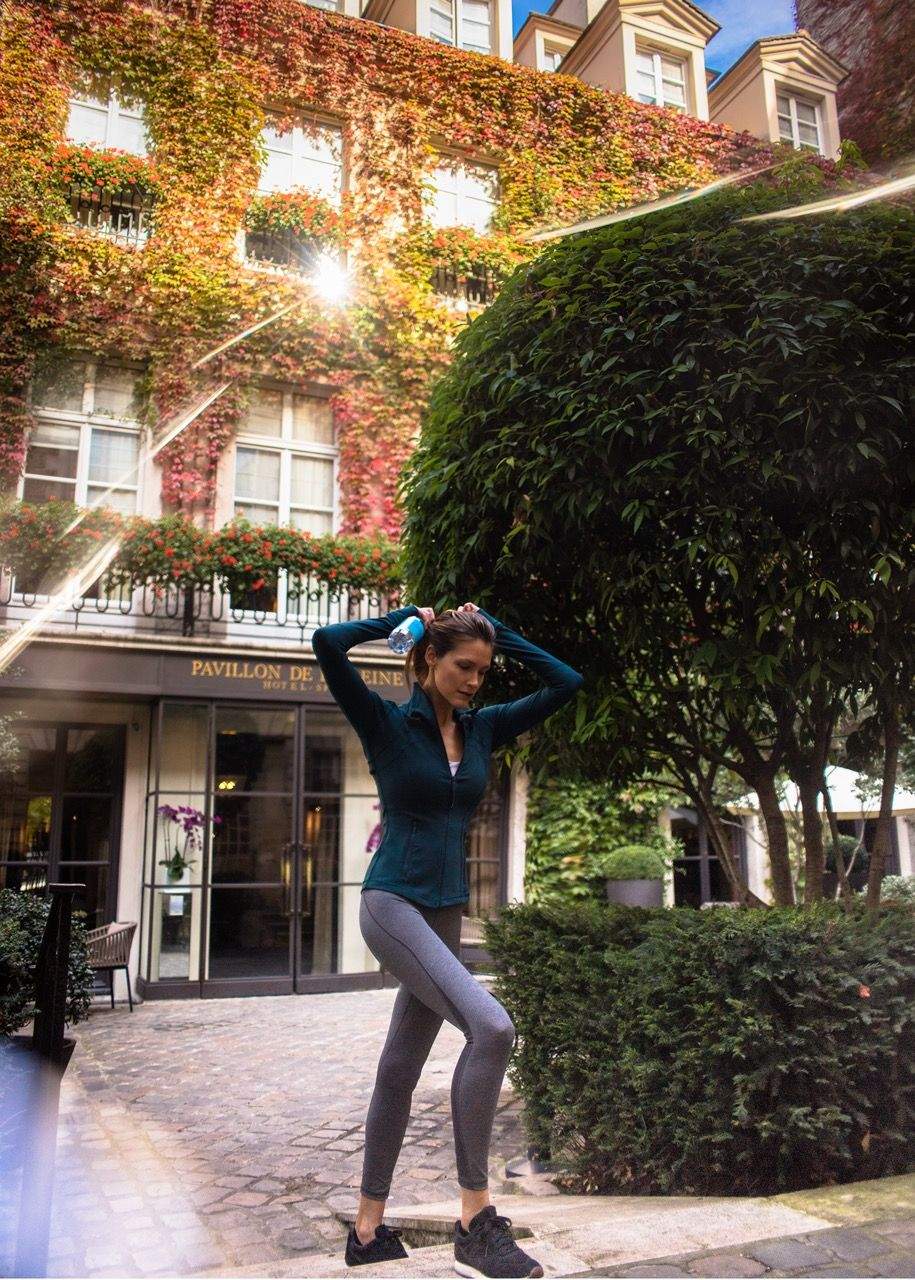 Paris Running Tours with le Pavillon de la Reine
Whether visiting Paris for business or pleasure, grab your running shoes and prepare for a sightseeing experience like no other. In line with the growing industry trend for health and fitness programs, Le Pavillon de la Reine is launching a new partnership with Paris Running Tours....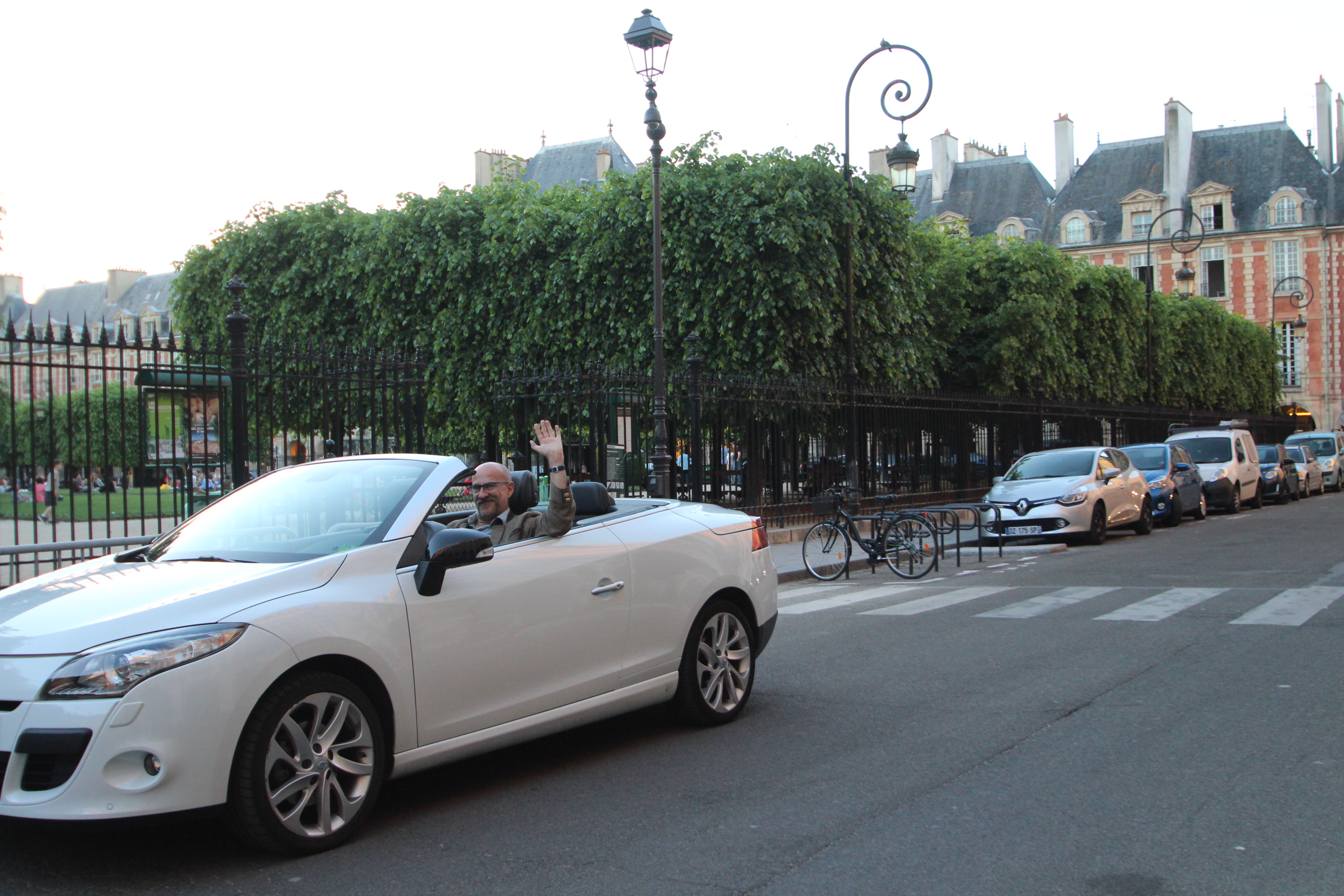 Marais VIP Cabriolet & Champagne Nightdrive
Guided visits by the PARISMARAIS.COM press team, intended for journalists specializing in tourism, and culture. Discover the Marais by night, in a convertible with the wind in your hair, guided by an expert, bilingual, team of a private driver and a private guide....

Le Marais firemen ball on Bastille day
Every year, the Bastille Day celebrations take place in most of the Fire Stations in Paris. True to form this year again, they will be held on 13 & 14 July, at the beautiful Hotel de Chavigny, built by François Mansart who was the architect of the Palace of Versailles....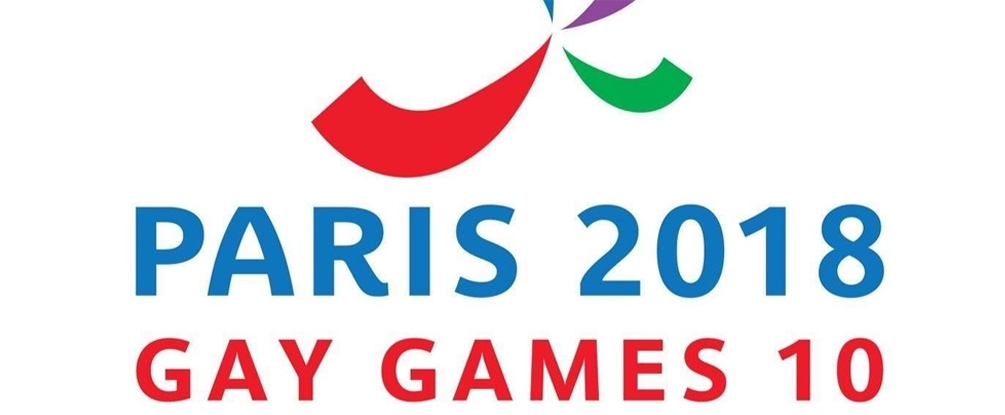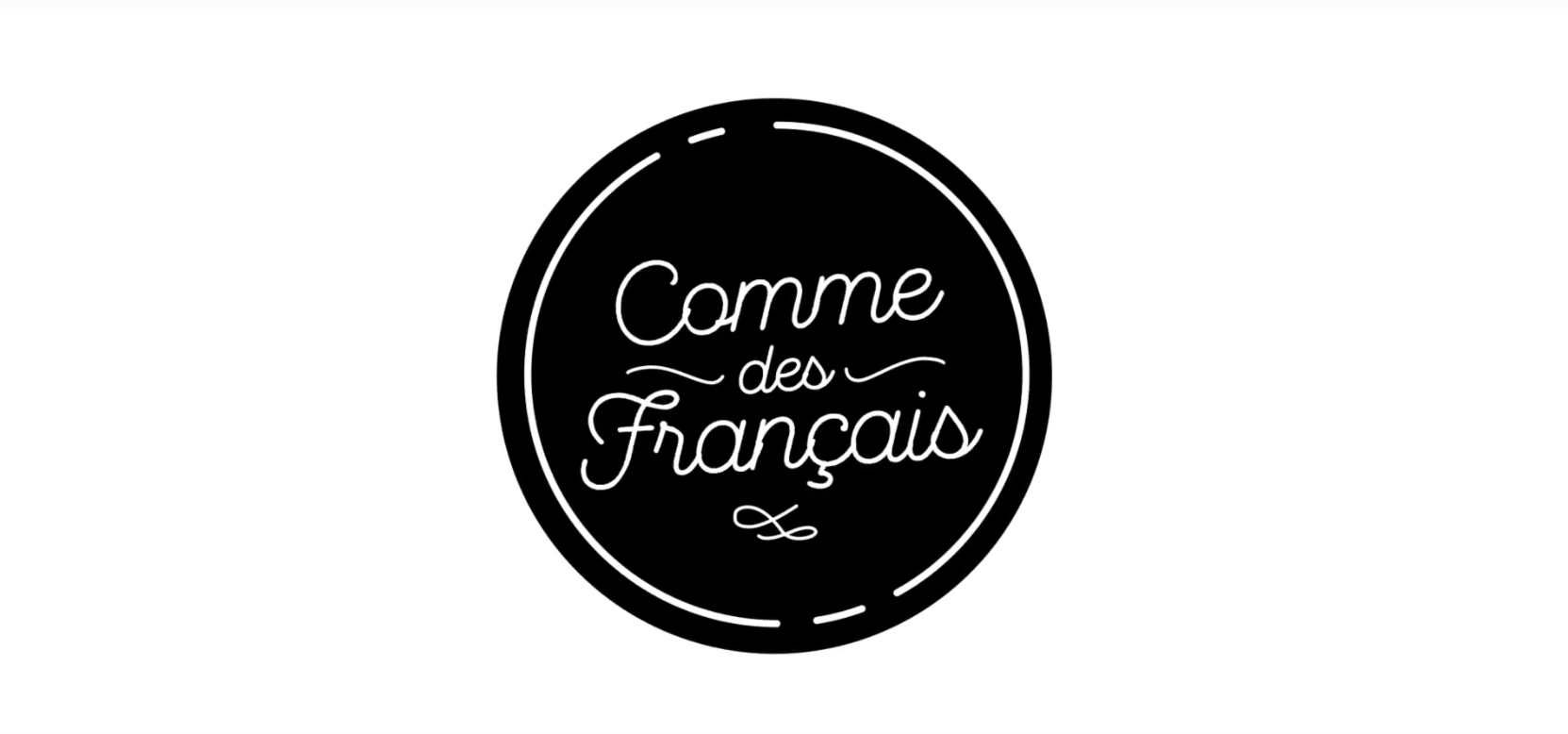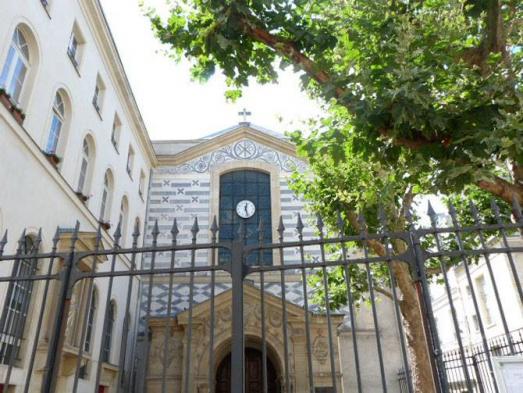 Introducing les moments lyriques du Marais !
L'Art Lyrique arrives on rue Charlot on Thursday 16 November at 8pm in the Cathedrale Sainte Croix des Arméniens. Pauline Feracci (soprano) and Magali Albertini (pianist and lead singer), winners of this year's Canari International Lyrical Song Festival in Corsica will charm us with their flawless performances that won them the much-coveted prizes....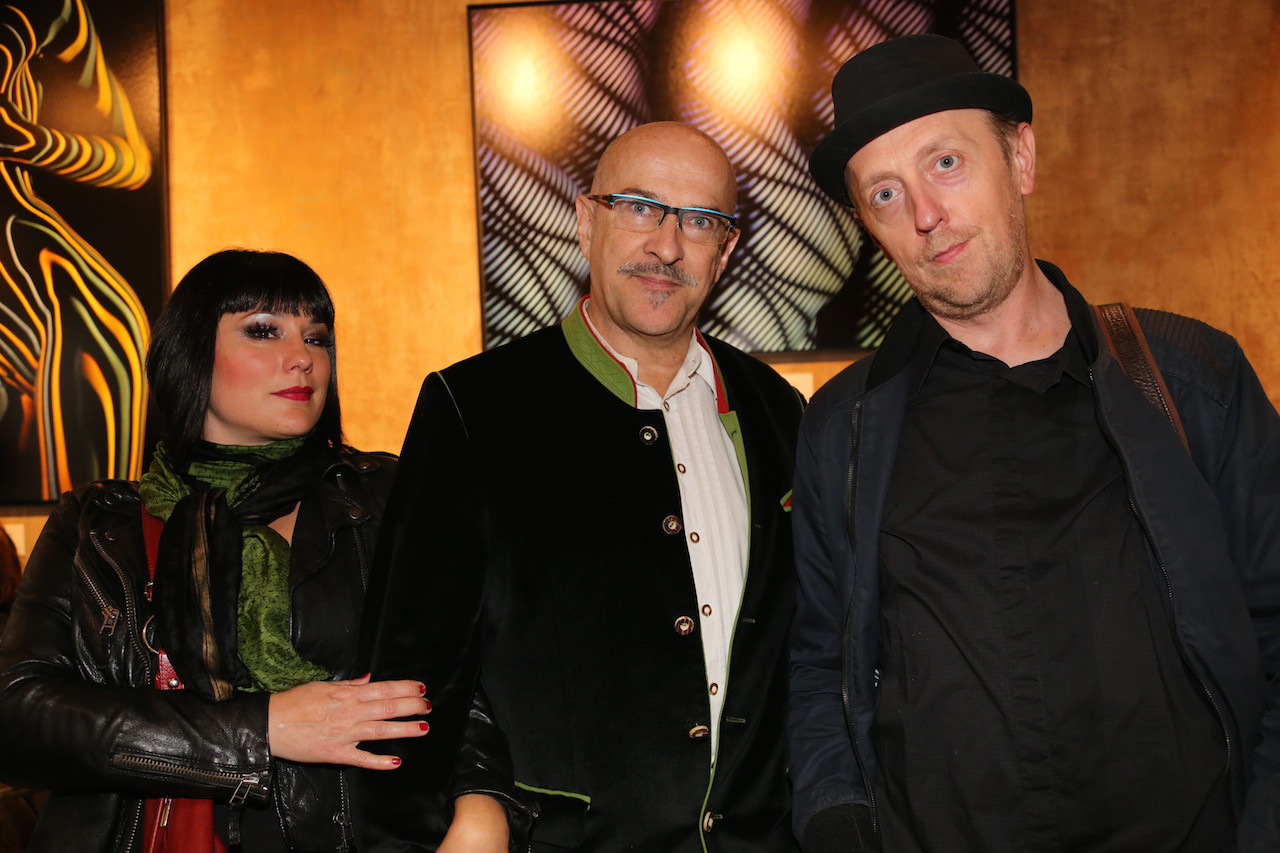 PARISMARAIS.COM 12TH ANNIVERSARY !
Fabulous event in a fantastic place : Le 153 ! We had the pleasure to welcome many of the vip's who make the soul of Le Marais and keep it alive. The Party was called "Principauté du Marais" and we elected our Queen for this season ...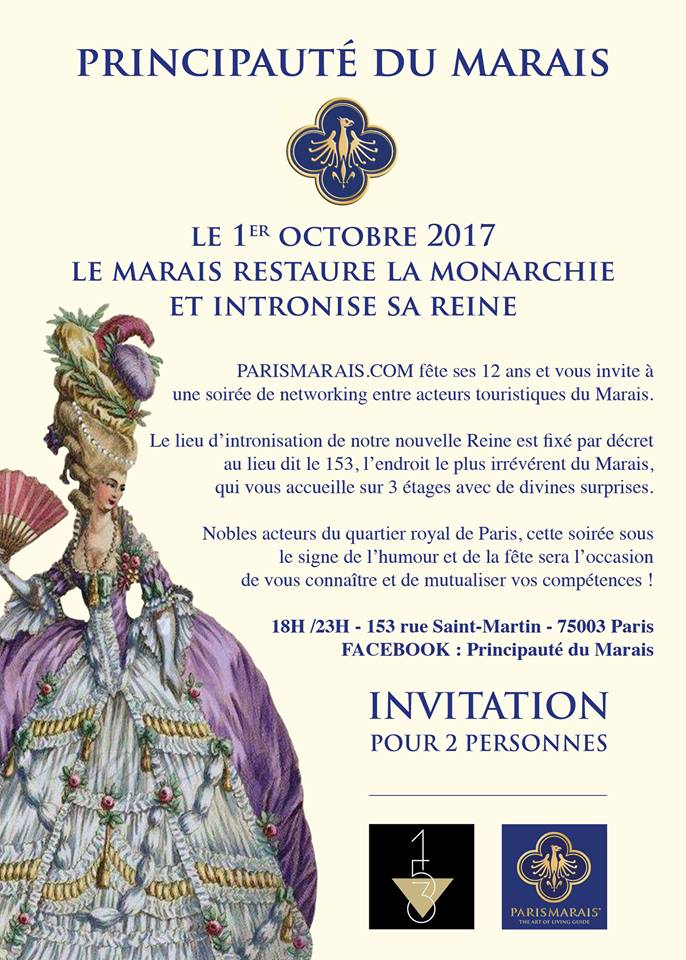 The Night of the Ad Eaters
In just 3 months, be prepared for the very best night dedicated to creative advertising in Paris' most beautiful theatre......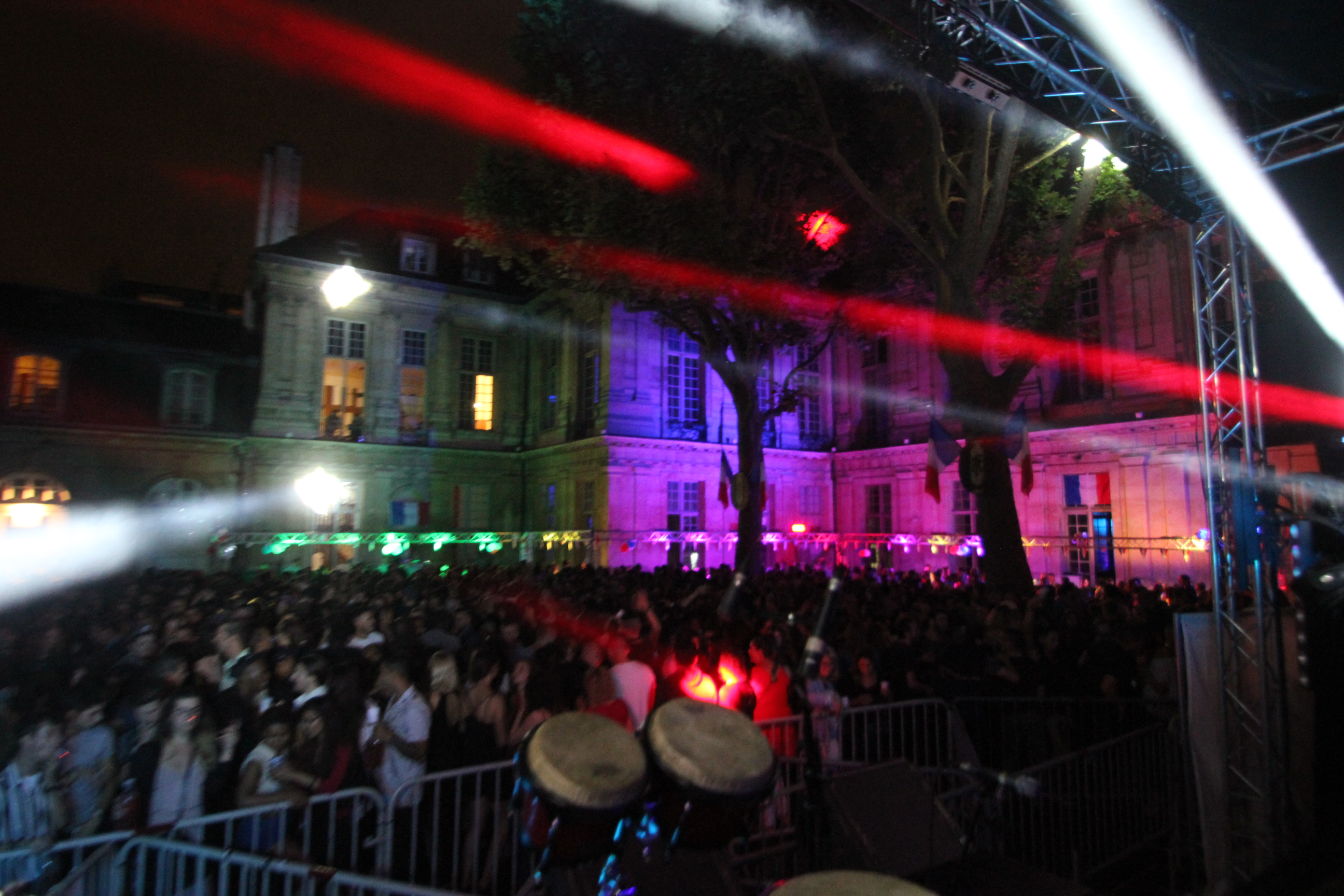 Paris Firemen ball in le Marais on Bastille Day!
Every year the Bastille Day celebrations take place in most of the Fire Stations in Paris. They will be held on 13 & 14 July, at the beautiful Hotel de Chavigny, built by François Mansart who was the architect of the Palace of Versailles. The Sevigné Fire Station was the first to be founded by Napoleon in 1814. Newly promoted Captain Sébastien and his team will welcome you like friends.
...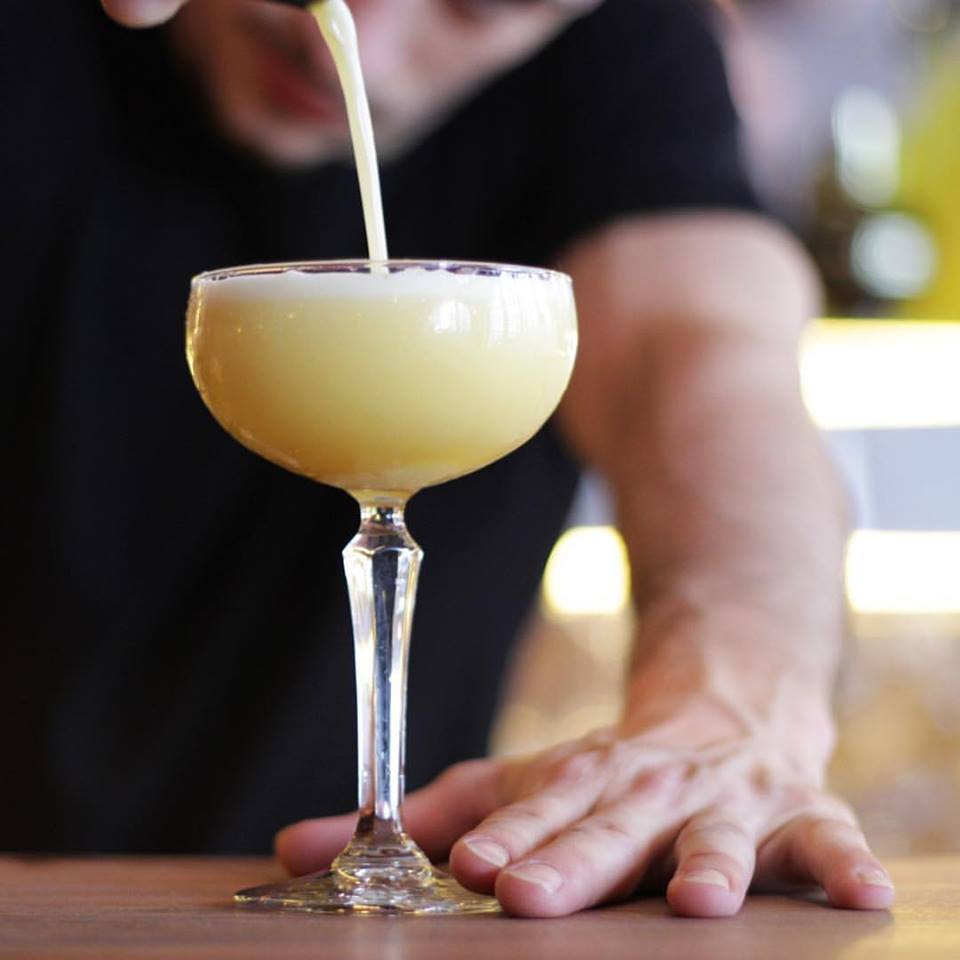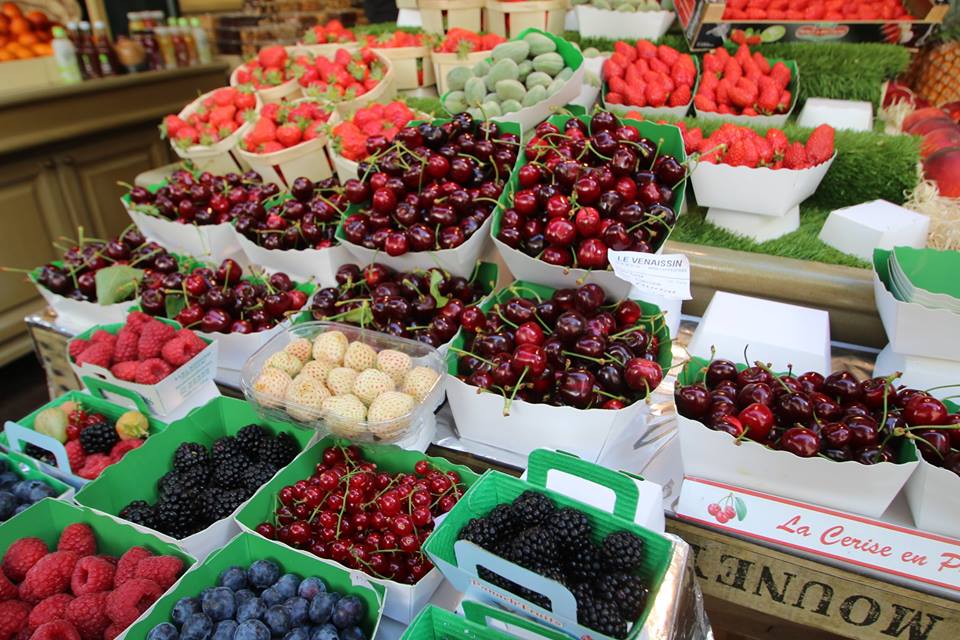 Flea Market rue de Bretagne
This weekend, all along rue de Bretagne 75003 and around the Square du Temple, you can enjoy Paris' biggest "brocante". The Flea Market on rue de Bretagne is a great place to find vintage clothing and everything quaint and quirky to furnish your home.
There is still time, until Sunday 6 pm to discover that unique souvenir that you' ll love to take back home with you ! The Rue de Bretagne brocante happens twice a year in May and November, it has been going since 1996, and it's an event not to miss in le haut Marais. The next one will be held mid-November, we will keep you posted. Here's our first discoveries today! Check also last year edition
www.parismarais.com/newsletter/2015_05_30/Flea-Market-rue-de-Bretagne.html
...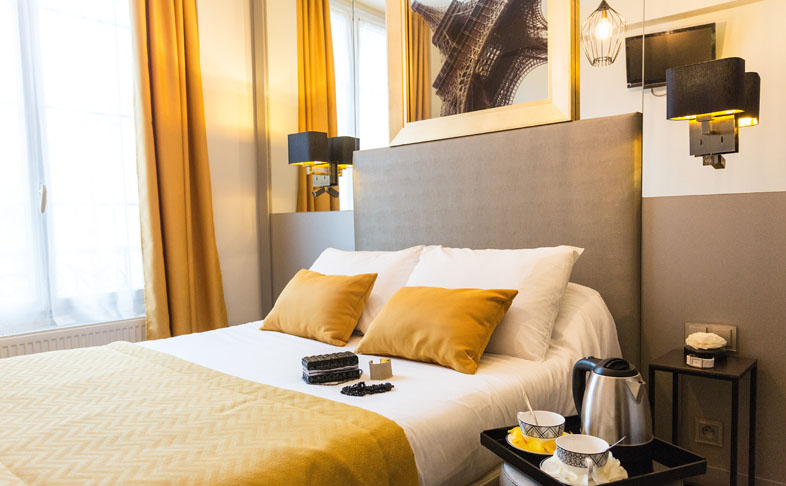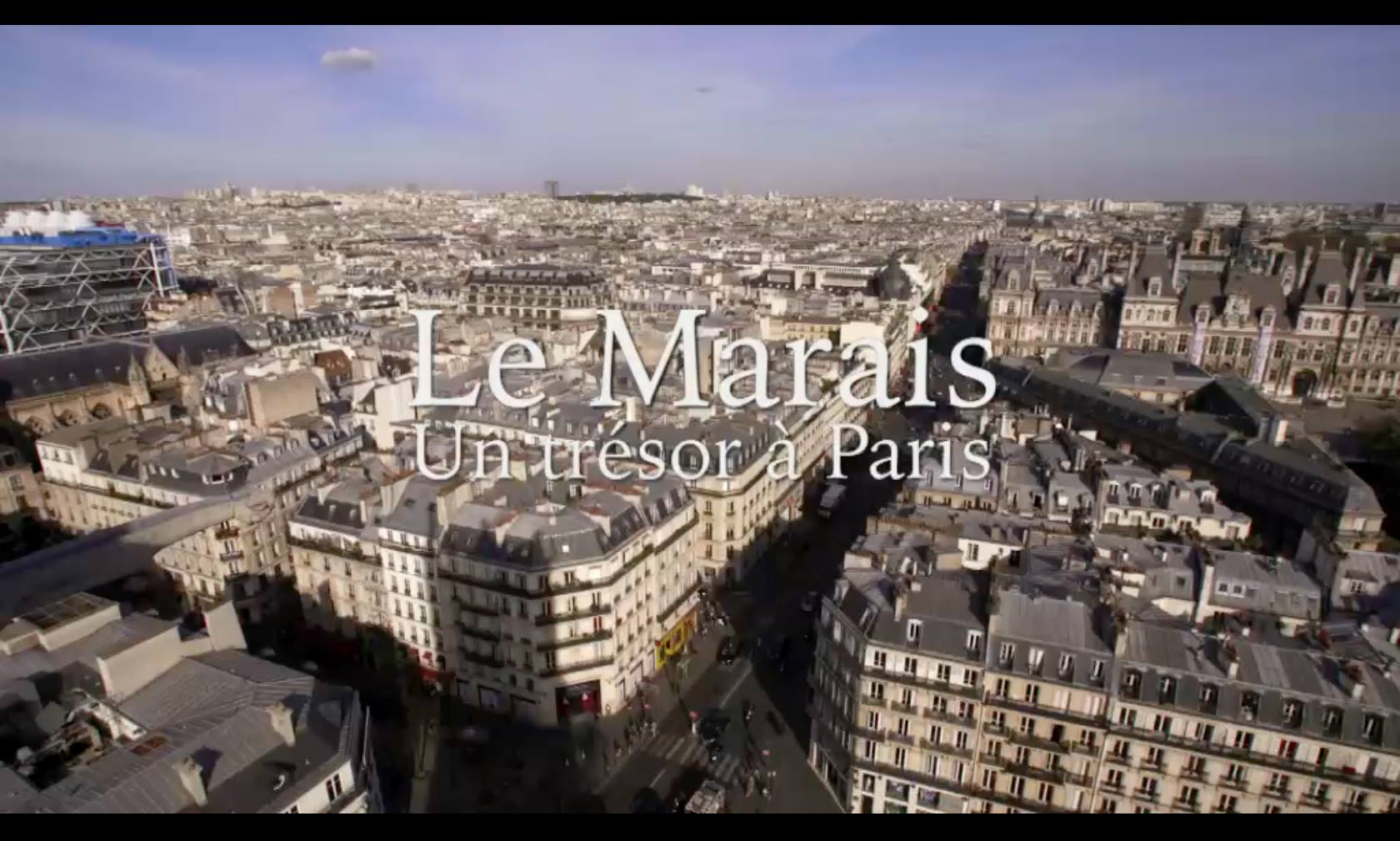 Programme Le Marais, un trésor à Paris, on France 5
Tonight, SUNDAY 12at 21.45 do not miss on France 5 television the film I contributed to a year ago, with filmmaker Laurent Lefebvre, Jean Marc Léri, ex-curator of Carnavalet Museum, Jack Lang and many other experts, including myself as the touristic expert of Le Marais! I've spend 4 days for this film and I must say that a lot of scenes were cut off, but I present the best and longest part : the final. If you share my opinions, please like this post and share it. It's still time to say stop to the globalisation that kills the soul of Le Marais. We need and love diversity ! Here' s the film on Vimeo.
Support also all local businesses by visiting my website: parismarais.com, the leading travel guide to le Marais since 2005.
...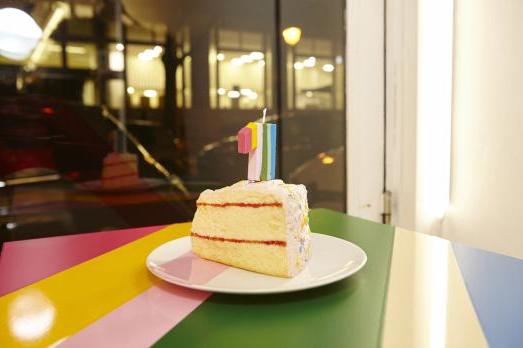 Paul Smith celebrated the first anniversary of his boutique in Le Marais
Designer Paul Smith celebrated the first anniversary of his boutique in Le Marais in January this year. I bought my first Paul Smith shirt in is Covent Garden boutique 25 years ago, and we met for the first time at the opening of the boutique in Le Marais in January 2016. Our favourite British designer is such a nice guy, so warm and approachable. However, this place is not just a clothes shop, but a whole range of stylish urban objets that enhance the daily art of living....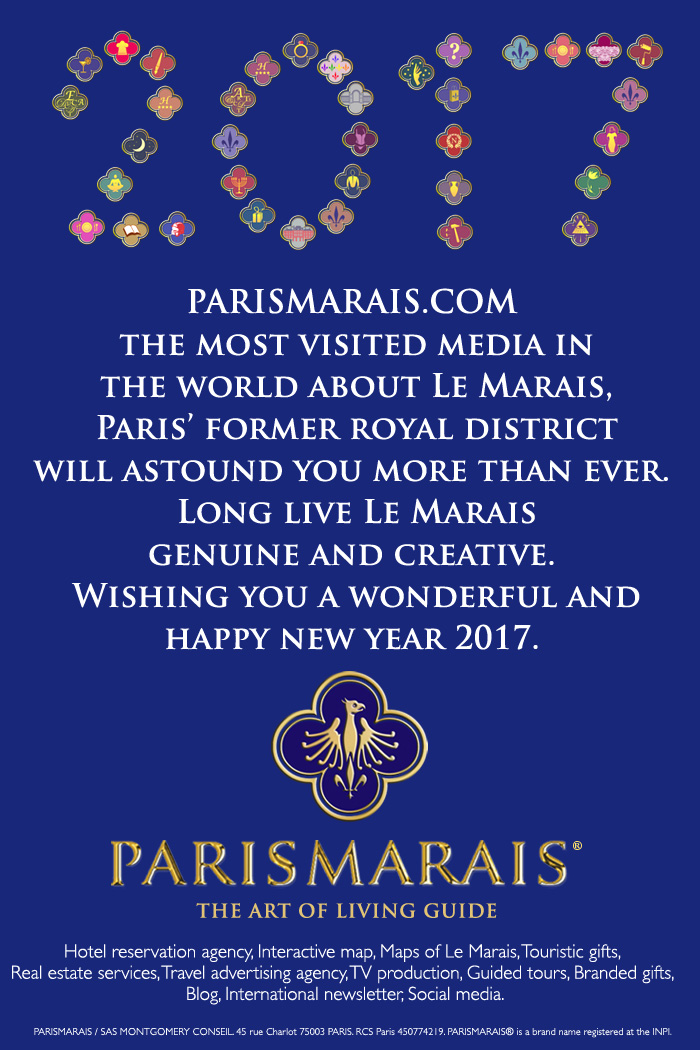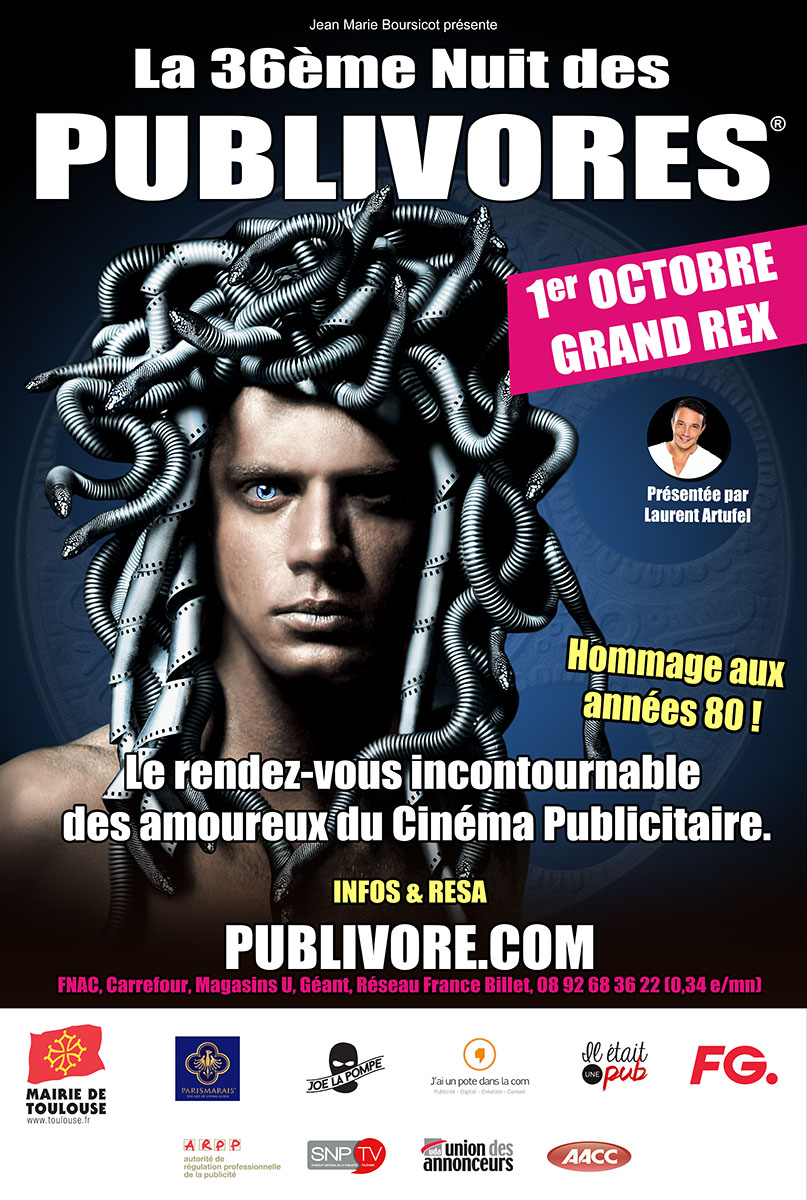 The 36th Night of the Ad Eaters
Enjoy the very Best of Advertising in the very Best of Atmospheres!
The Night of the AdEaters is an ALL NIGHT screening party of amazing, intriguing, shocking, and funny commercials, representing the creativity, passion and trends in the world of advertising. In 35 years, The Night of the AdEaters has become the indispensable meeting place for lovers of advertising on all five continents. The event is dedicated to highlighting the best advertising from over 60 different countries on the big screen in a festive atmosphere....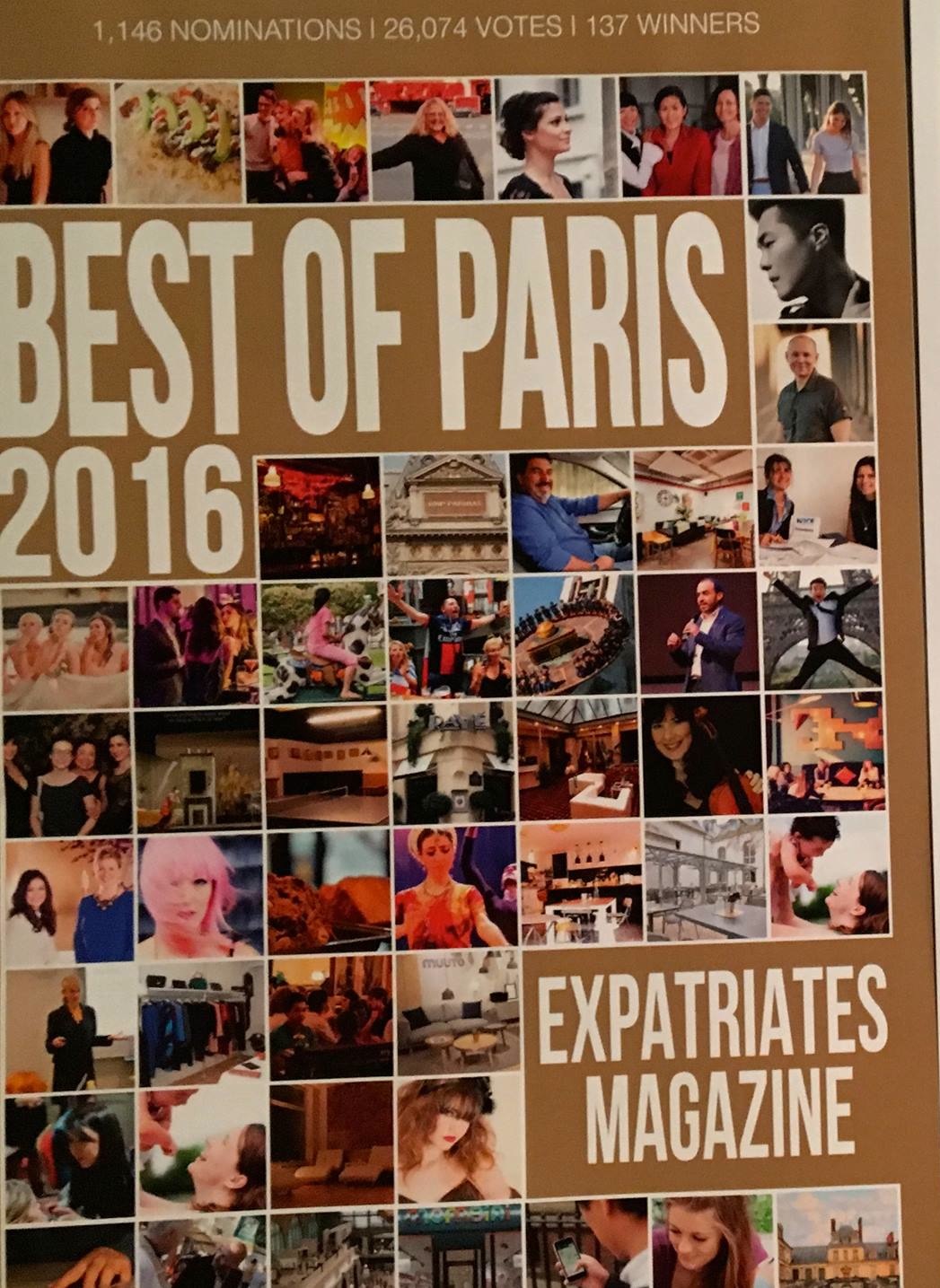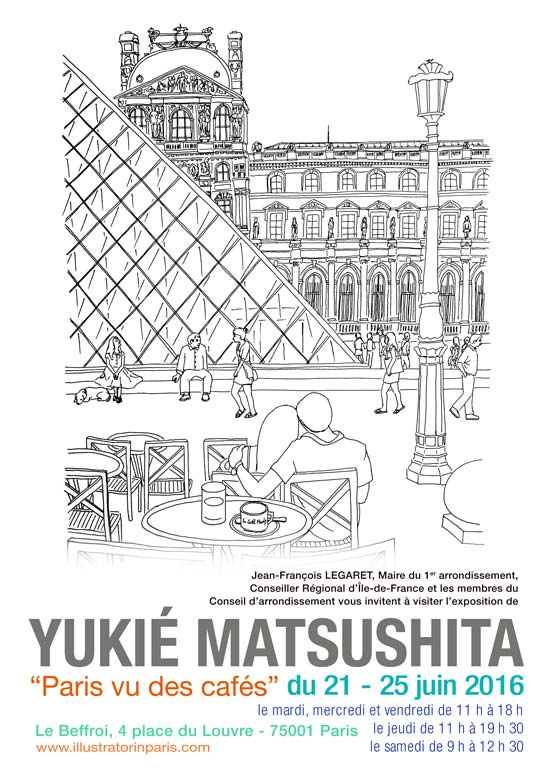 Exhibition "Paris vu des Cafés"
Jean-François LEGARET - Townhall of 1st arrondissement Paris and the members of Counselors of arrondissement present the exhibition of
Yukié Matsushita
"One of my favorite things to do in Paris is sitting at a café, and watching people and world go by as I draw."
from the 21st to 25th of June 2016
Tuesday, Wednesday and Friday from 11 am to 6 pm
Thursday from 11 am to 7:30 pm
Saturday from 9 am to 12:30 pm
at Beffroi de la Mairie
4, Place du Louvre - 75001 Paris
For more informations go to the web site : www.illustratorinparis.com
...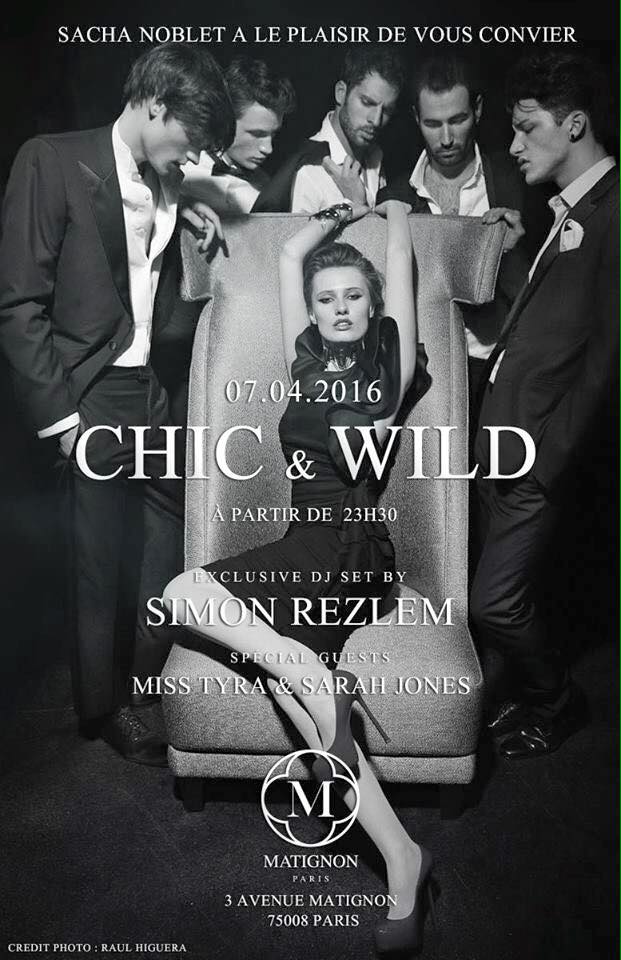 Show CHIC & WILD !
Sacha NOBLET is pleased to invite you to an event April 7, 2016
SHOW CHIC & WILD
From 23:30 to the Hotel Matignon
3 avenue Matignon , 75008 Paris
Dress code : CHIC
Attitude : WILD
Mood : lets have FUN !
...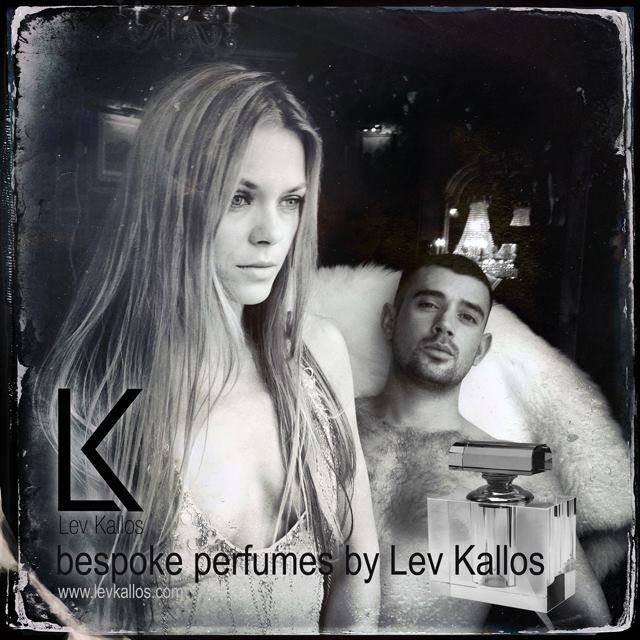 Lev Kallos, creator of unique perfumes
We proudly present Lev Kallos who is a personal perfumer and scent creator. Here is the press release :
"Our bespoke personal perfumes are created to the customer's taste during one-to-one appointments which always take place where the customer prefers.[...] The goal is to make our customers feel comfortable, relaxed and engaged in a journey through the world's most amazing and spectacular scents.

Each perfume is unique! All the formulas are kept secret. No one else is ever going to have the same perfume as you.
Lev Kallos Ltd is a vibrant and creative perfume company led by it's Nose – Lev Kallos. Our company's aim is customer satisfaction. To achieve this we use our experience and knowledge gained in one of the most famous French perfume houses in Grasse.
We are known for our creative approach, unique formulas and the high quality ingredients we use. Our personal perfumes are strong and long lasting."
Creations start at 200 £ or 250 €, let's have a look on the website : www.levkallos.com/
Angels in Architecture : The Marais Tour
Why are there so many angels illustrated in Parisian architecture, from the Middle Ages through to the 20th century? From a medieval auberge, where intricately carved musician angels play at the entrance, to cherubs atop a luxurious 18th century mansion built for a princess, to elegant Baroque spirits adorning a great architect's townhouse, they infuse the neighborhood with grace, beauty and whimsy. We'll view the grandest angel in Paris, spanning a Haussmannian 'palais collectif', discover Belle Epoque angels bearing blasons, and learn the characteristics of artistic currents influencing French architects and ornamentalist sculptors. Trends transported from their studies in Italy were imbued with a personal flair. During our walk we'll discover a 17th century residence re-designed in neoclassical style by visionary architect Claude Nicolas Ledoux. En route, we'll stroll through some of the prettiest gardens in Paris, newly-restored, and take a minute to view one of the oldest covered markets in France.
Date and time: March 16th at 2:30PM
Duration of tour: approximately 2.5 hours
Meeting place: Metro Rambuteau, at the café La Station Rambuteau
Participants: maximum 15
Price: 15€
Please contact Rosemary Flannery to register:
rosemary.flannery@orange.fr
Telephone: 06 81 29 56 62
Rosemary Flannery is author and photographer of Angels of Paris: An Architectural Tour of the History of Paris, published by The Little Bookroom NYC, and in French as Les Anges de Paris: Un voyage architectural au coeur de Paris, Editions Exergue
...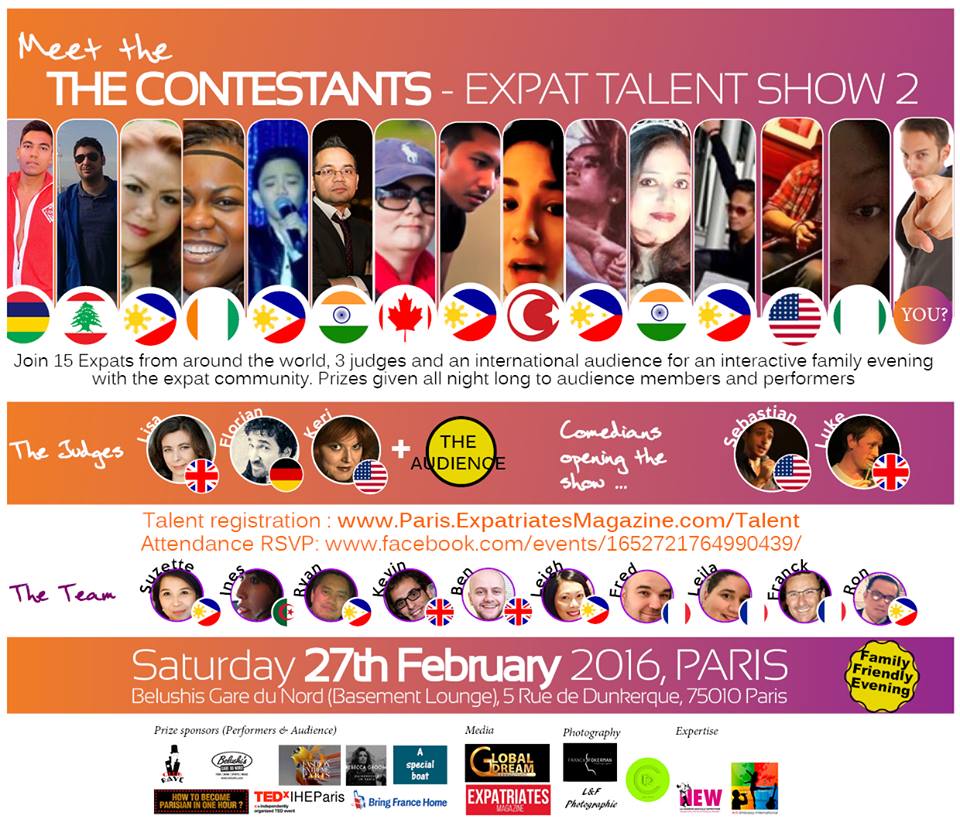 Expatriated talents meet on Feb 27th . Enjoy the contest
Meet the Expat talent contestants! We have Magic, Dancing, Singing, Acting…. On Saturday 27th February the international community will come together for a fun and family friendly evening of amateur talent. 3 judges will provide their feedback throughout the evening, the audience will cast the 4th vote. Lots of prizes will be given to both audience members and performers. 14 talents are confirmed, there is one space remaining for our "Non singing/dancing category", you may have a chance of performing if you register on the day. Everyone is invited to watch, Adults and Kids. More information is available on : http://paris.expatriatesmagazine.com/talent/#
...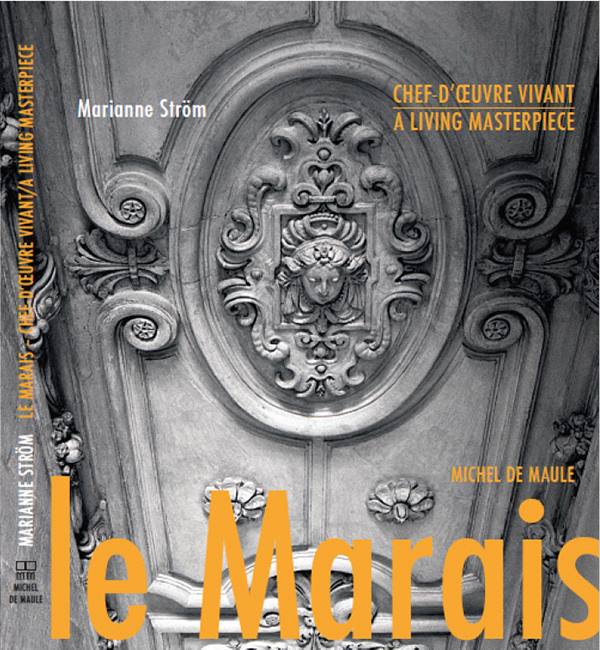 LE MARAIS, A LIVING MASTERPIECE.
Discover the new book by Marianne Ström. We were tonight invited by our friend Marianne Ström, THE Marais photographer for the official launching of her last book in the beautiful decor of the Hotel de Soubise.
We are very honored to know Marianne for over 10 years and share the same passion for Paris' former royal district. Her new book "LE MARAIS, a living Masterpiece" is available at the Carnavalet Museum Bookshop and at The Hotel de Sully bookshop, headquarter of the Centre des Monuments Nationaux.
Texts are in English and French. Price is 35 € only. It is definitely the best treasure you could bring back home with you for all your friends. Check our last newsletter : https://www.parismarais.com/
...
Happy Valentine's in Le Marais
Paris is the capital city of love, and The Marais, located in the deep heart of the city is the righest place for lovers.
Let's enjoy Valentine's in restaurants, bars, clubs, gastronomy shops and museums. Not forgetting the cosy Marais hotels selected by Parismarais.com
Happy Valentine's to all of you ! Book the best romantic hotels for valentine week check our selection in parismarais newsletter.
https://www.parismarais.com/newsletter/2016_02_11/Romantic-Hotels-in-Paris-for-Valentine-week.html
...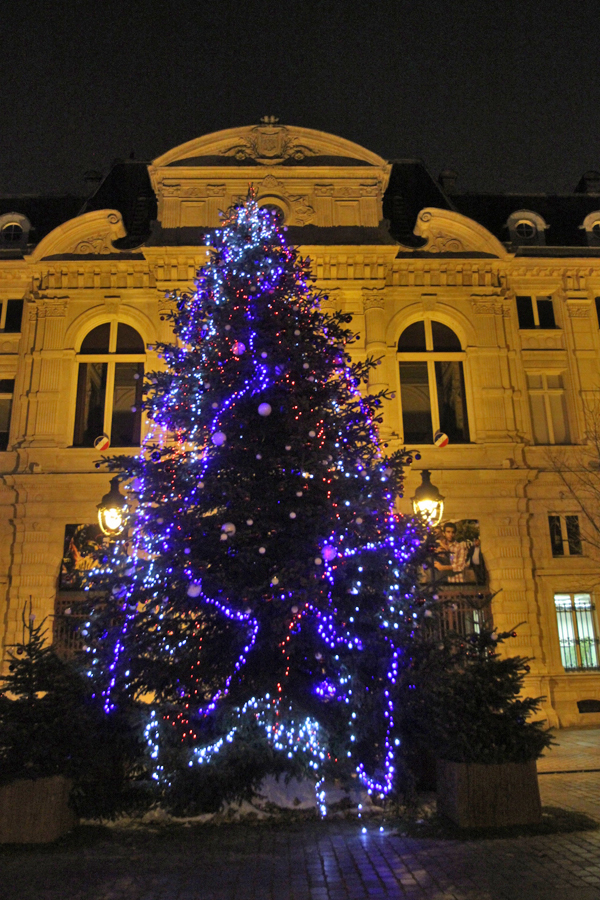 Marais Christmas !
Just before Christmas, we took our bikes for a quick ride around the narrow streets of le Marais at midnight. Magic was everywhere! Our beloved village is even more beautiful now with the bright colour contrasts and Christmas lights of the season.
Enjoy these few snaps and click on the links below to discover more fantastic addresses to enjoy over the next few weeks in Paris' favourite district.
Marais Christmas !
Joyeux Noel !
More pictures on the last newsletter issue : Christmas
Suscribe to the newsletter for regular information on Le Marais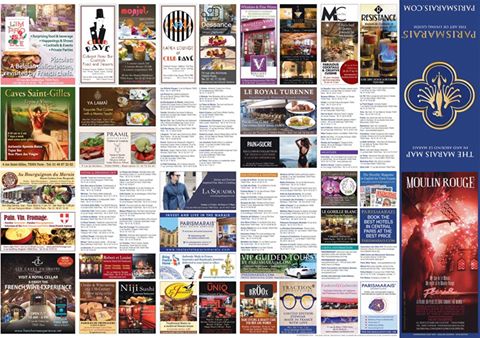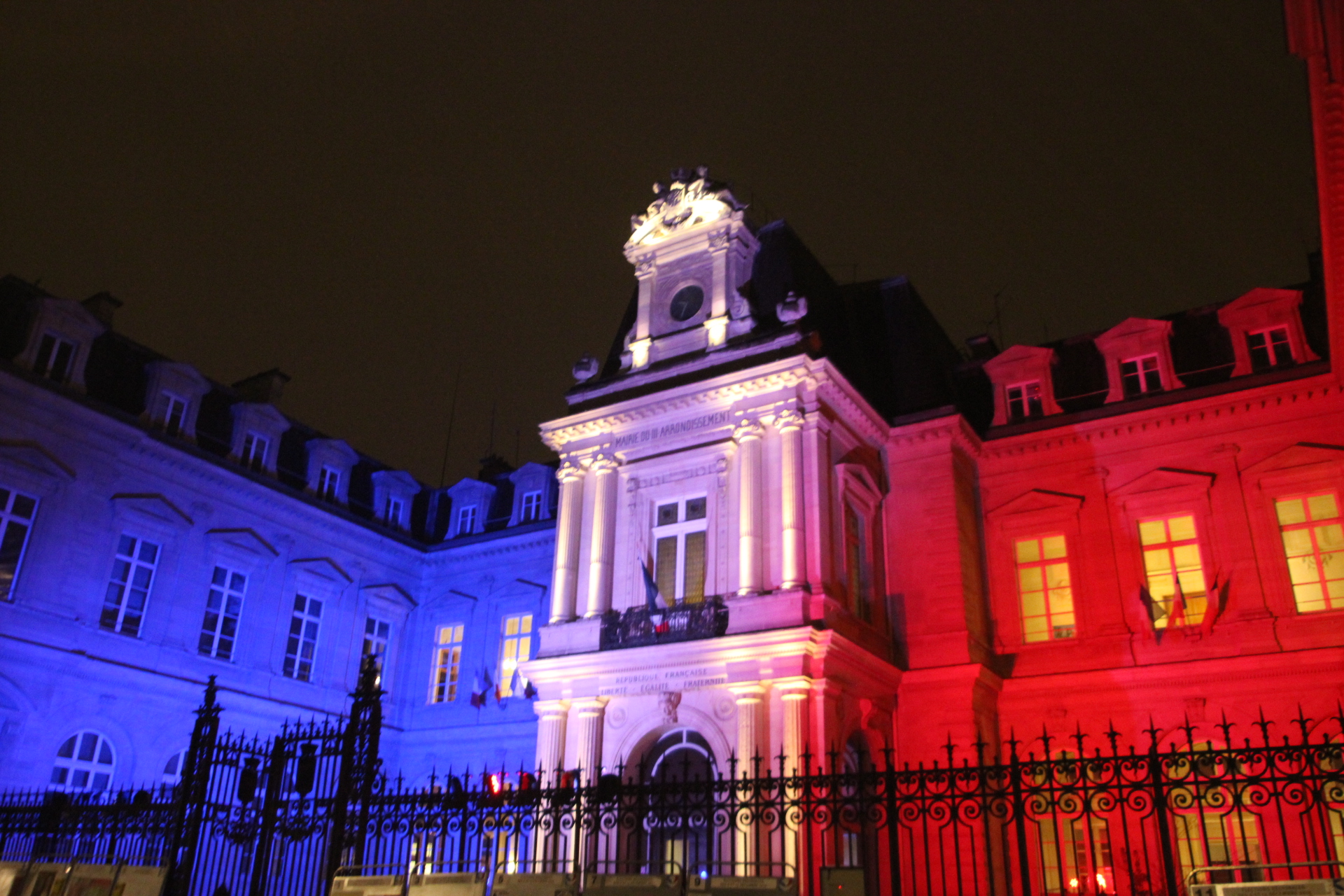 3rd district Paris city hall wearing colors of France
After these terrible terrorist attacks of Nov 13th, the Eiffel Tower as many monuments all around the World has been enlighted into blue, white and red; colors of the french national flag.
The 3rd district (North Marais) city hall is also enlighted with the same colours. This city hall is located only few steps from the Republic Square, another symbol of the Revolution and people's resistance . It was built on the place where Louis the 16th and queen Marie-Antoinette where jailed. This part of Le Marais offers a rememberance of french history at every crossroard.
...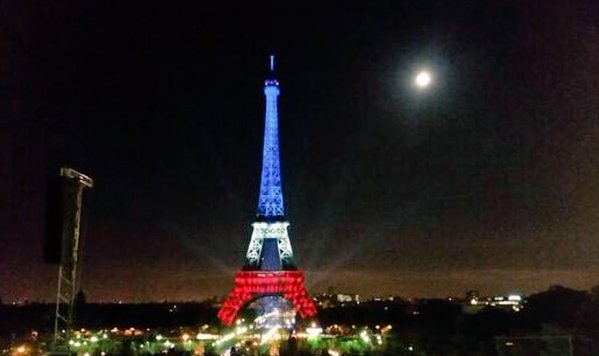 Thank you from Paris
The Paris Tourist Office realized this short movie after the november 13th terrorist attack. The popular way to say thank you to all Paris lovers all around the World
Video "Thank you from Paris"
...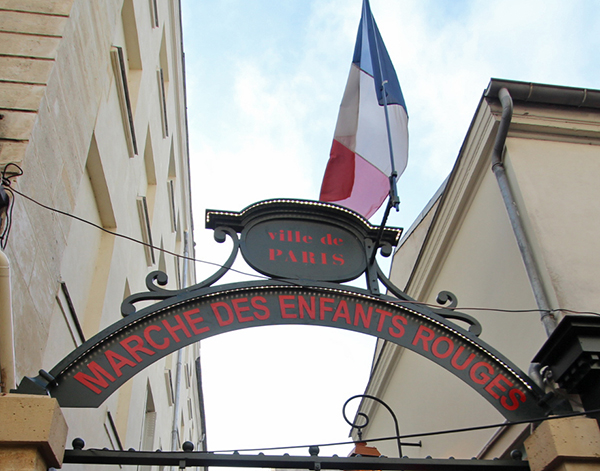 Marche des Enfants Rouges . Paris oldest market celebrates its anniversary
The oldest covered market in Paris is in the Haut Marais (3rd district) and can be found where the rue de Bretagne meets the rue Charlot, taking its name from the former hospice des Enfant-Rouges, which closed its doors in 1777. The hospice, established for the orphans of the area by Marguerite de Navarre was so called as the children's uniforms were red. The efforts of nearby residents and the input from local council team of the 3rd district saved this lovely market from demolition some 20 years ago. Today, with its emblematic history, it has gained cult status in Paris and is seen as an idea spot for socialising. For a more intimate encounter with the market, watch the film made by Laurent Lefèbvre : "le Marais, un trésor à Paris" as part of it was filmed in the market itself. More pictures on PARISMARAIS newsletter https://www.parismarais.com/newsletter/2015_11_09/marche-des-enfants-rouges.html
...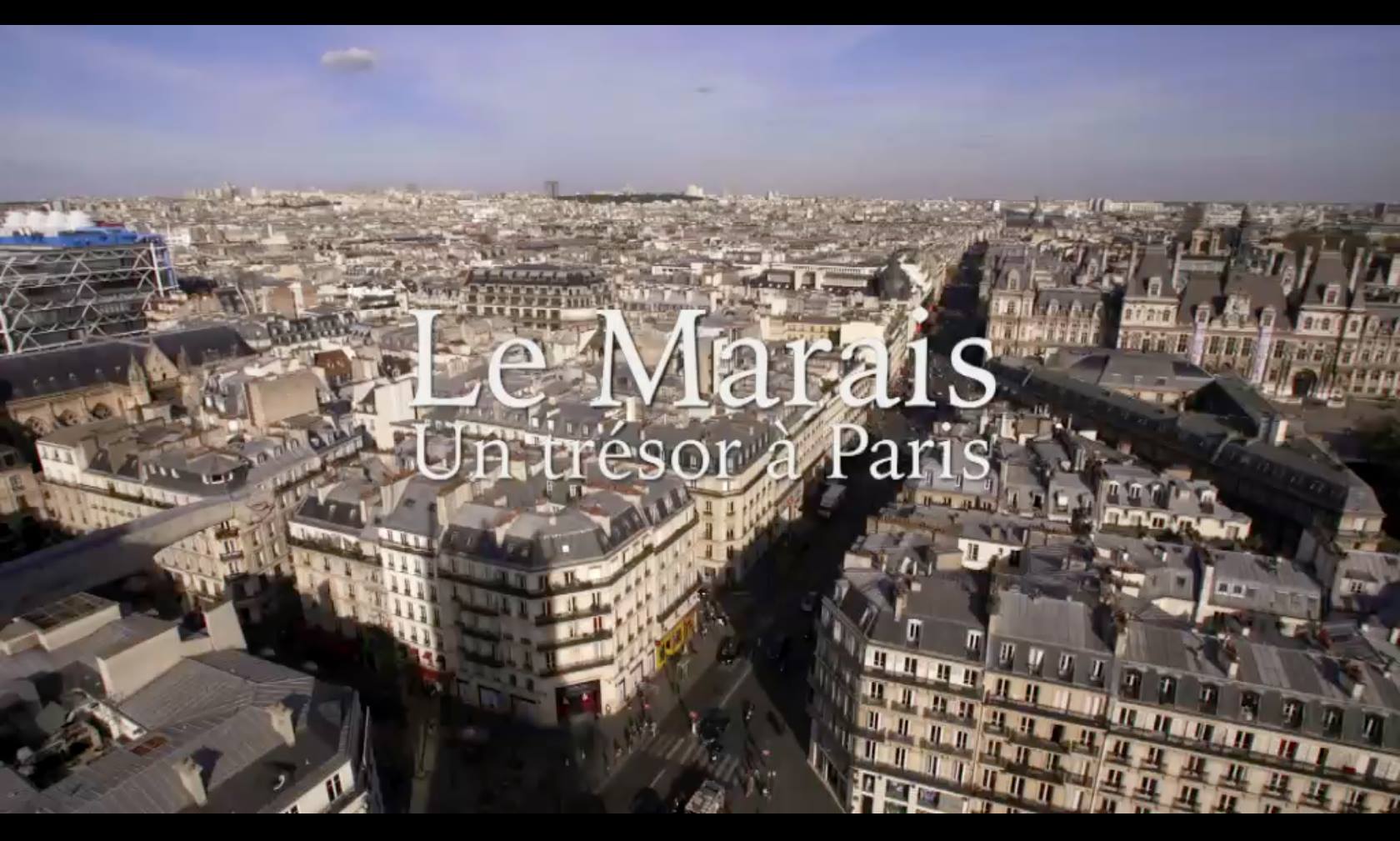 DISCOVER THE MOST BEAUTIFUL FILM EVER MADE ABOUT LE MARAIS
This week, we bring you news of the most beautiful film ever made about le Marais, and in which we were truly honoured to have taken part. Directed by Laurent Lefèbvre for Elephant Productions, it was shown at prime time on France 5, the cultural channel of France Télévisions. We were very fortunate to have worked on this wonderful documentary, which was made by people who are passionate about the district, and the film reflected the true issues of the people who live there such as the loss of the identity of their neighbourhood....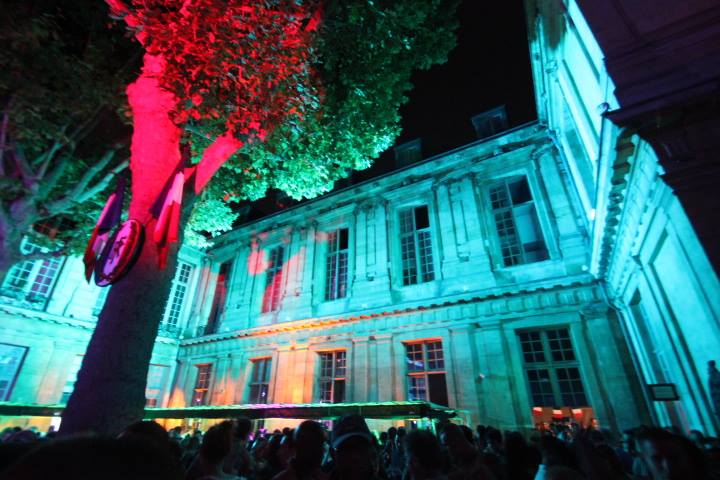 TONIGHT 9 pm PARIS FIREMEN BALL 7 rue de Sevigné
Two nights of excitement, fun, dancing, drinking, meeting new people... Paris' oldest fire station, converted into the biggest Parisian dancefloor...
Celebrating Bastille Day with Firemen in Le Marais

We are honoured to be sharing with you the work of Parisian photographer Anne Barot who joined us here at PARISMARAIS.COM for an exceptional event that took place in the magnificent gardens of The Hotel de Soubise, Headquarters of The French National Archives....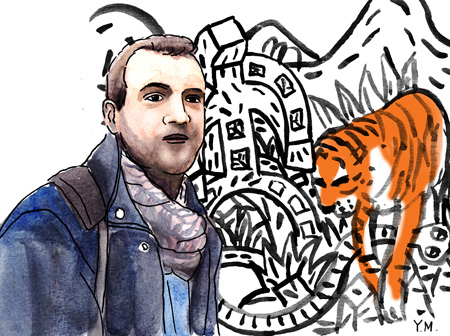 Mon Beau Paris : the most inventive team of guided tours!
Last Saturday I participated in "Le Marais Street Art Polaroid Tour" with Alexis.
We started at Place de Stravinsky by the Centre Georges Pompidou and walked around in Le Marais. Alexis pointed out many street arts which I was not aware of...