Renovating properties
RENOVATION AND REFURNISHMENT OF APARTMENTS
PARISMARAIS has compiled in its address book its selection of talented partners who can help you endow your Marais apartment with exceptional style by emphasising existing features and enhancing its typical character. Their strong point: they live in the district, and are familiar with the constraints and laws that characterise this city quarter which is a listed historical district.
We have selected for you a creative "dream team" that has worked on major scenographic projects as well as re-styling spaces, venues and apartments with inventiveness and panache. Together they will coordinate all of the parties involved in your project: Renovation companies, cabinet makers, stained glass designers, carpenters, plumbers, electricians, painters ...
Bérengère Tabutin & Olivier Wagnies together make up the BUROBONUS team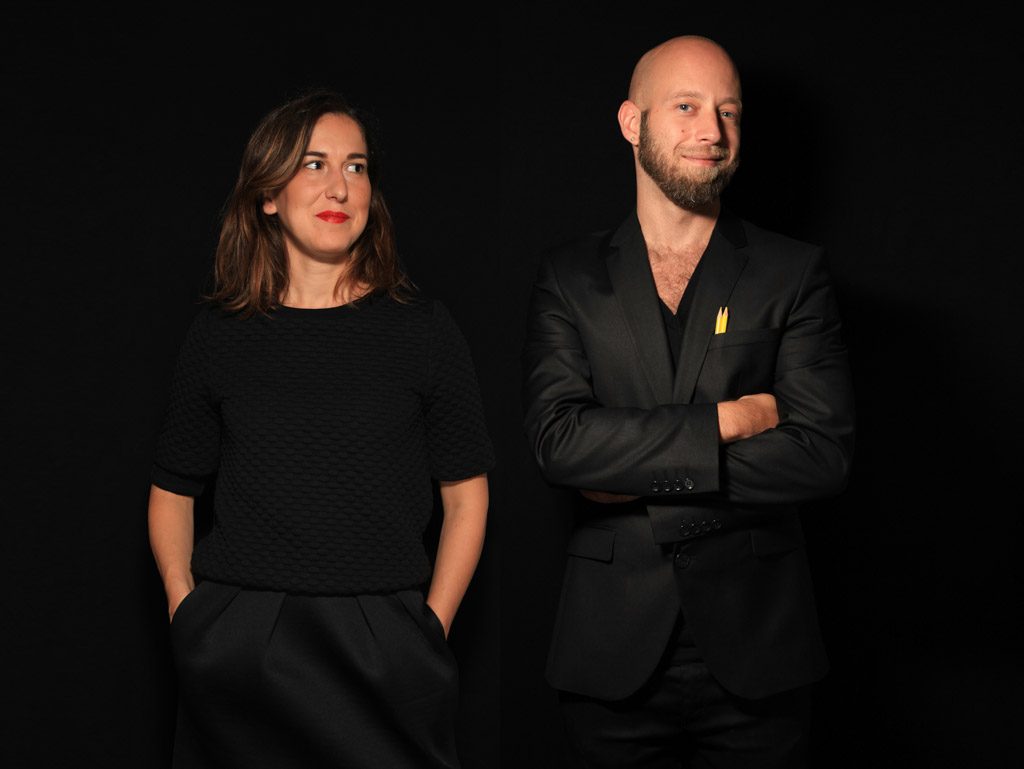 Private clients
1 - You want to sell your property?
We can help you make it more sale-compatible, applying the aesthetic criteria of the moment.
"Depersonalisation" Service: Simplify your property so that future buyers can visualise their own ideas in a clutter-free space that looks bigger. (Half-day meeting + provision of a list of recommendations: €650)
Home Staging Service: To keep it simple, optimise the apartment's potential using your current furniture, making the flow of traffic simpler and more fluid, maximise the available space to get a better idea of the apartment's development potential and thus create optimum sale conditions.
Advice and guidance in connection with minor works, making it possible to update a kitchen or a bathroom that might be a little dated and which could hinder a sale
Half-day meeting + provision of a list of recommendations: €650)
"Preparation of Pre-Sale Plans and Estimates" Service in connection with the restructuring of the apartment, for example, by creating a second or third bedroom, in consultation with your future buyers. (Half day of surveying and measurement on site + preparation of the plan 1/2 day and 1 working day to prepare several development designs based on your requests: Two days of work: €1650)
2 - You want to buy an apartment?
But don't know how to estimate the works that you would like to carry out or don't know how to adapt it to your needs?
We can help you verify what is possible and can assist you in defining a budget, whether you are working with an agency or buying directly. PARISMARAIS also works in collaboration with agencies and apartment hunters who can help you find that rare pearl, and avoid overpaying.
Services in connection with a meeting :
Discussion of your needs and expectations in order to determine what you want to do. On-site visit to examine the possibilities offered by the space, list technical feasibility constraints and ascertain the current condition of the property according to the structural parameters of the property: Many houses in the Marais were built between 1600 and 1800, most have timber frames, if not of cut stone, and are extremely fragile. Working in this listed and protected sector requires real know-how.
After the budget estimate, we assist you with all the different stages and propose different ways of designing the spaces.
Half-day meeting + provision of a budget estimate: €850 (deductible from our fees if we assist you subsequently with the implementation of your project)
3 - You have just bought an apartment? Or you want to transform your current home.
You want to refurbish, convert or simply reorganise your apartment.
First meeting : On-site visit and discussion of your project and your budget, without any commitment on your part. You will subsequently understand how we would work together and what the different stages of a project are.
Whether you want to us perform all or only part of the project, we can divide up our offer so that it best meets your expectations. Every project and every client is different. You have complete freedom to define what you want or to cancel our mission at any time. A la carte service according to your needs.
This type of service is different every time. After this first meeting we provide you with our service offer that best meets your specific needs.
"I've never worked with an interior designer before ...
How will my project be managed?"
First of all we must understand your needs and your expectations in order to define the "specifications" of the project. You want to convert every room, move the kitchen or the bathroom, maximise storage space, create a second bathroom or an office or a guest room for example ...
Next, we need to know what your budget is for the project. We can check if your budget corresponds more or less to what you want to do. Based on that budget, we can help you to prioritise the various works so that you can carry out the essential works first. For example bringing all the electrical lines and power and installing the plumbing for a new bathroom that will be created in a few months' time.
The interior designer's know-how in the design of a project allows you to maximise your space of course, but also allows the suitability of the project and the breakdown of your budget to be verified. That way, you can be sure that you won't make mistakes and will pay the right price for the whole project.
The interior designer's know-how in the design of a project allows you to maximise your space of course, but also allows the suitability of the project and the breakdown of your budget to be verified. That way, you can be sure that you won't make mistakes and will pay the right price for the whole project.
We always provide several cost calculations and will help you read between the lines to understand the advantages and disadvantages of certain types of designs, materials or of certain contractors
The first step is the "pre-project" phase, which allows you to explore different ways of reconfiguring your spaces.
The first step is the "pre-project" phase, which allows you to explore different ways of reconfiguring your spaces.
Then once your choice has been validated, we develop the project by proposing different materials, arrangements, the ambiance, equipment and decorative effects to clearly define the whole project. This allows us to describe in detail the jobs to be carried out so that the contractors can prepare their quotes. Then we prepare a summary table that allows you to compare precisely each company and validate the chosen works. All this is part of the "project" phase
It also forms the basis for the works contracts that will be signed with the companies selected. The "works" phase then begins. Week after week, we oversee the works to ensure that the timing and quality of the works correspond to what was initially defined.
You will deal with us alone for your project so that no information is lost, orders are not given directly to the contractors without our knowledge and to ensure that there are no surprises or additions to the budget in the course of the works.
In any event, all the documents we produce and the type of contracts signed with contractors are designed to protect you.
This ensures that everything is done according to the rules of the trade, contractors remain responsible for their work, no unplanned work is added to the initial budget and you don't have to worry about the technical aspects or the supervision of the project.
We are here to act in your best interests and ensure the quality of the project and above all to create spaces and an atmosphere that correspond to your temperament, because your living space is a reflection of YOU!
Professional clients : businesses, hotels, bars, restaurants.
You want to stand out in an increasingly competitive market. You have to carry out compliance works in order to open to the public or accommodate persons of reduced mobility. You want to revamp your image and radically change the style of your establishment.
You need to maximise your various spaces and your storage areas or want to rethink how to sell your products.
Retail outlets, pop-up shops, restaurants, neighbourhood shops, hotels, offices or the premises of associations, we can assist you in the various implementation phases of your project.
We understand the impact a temporary closure can have on your sales revenue: We can therefore work out together the best way to organise the stages of the project so that you can stay partially open for business if possible.
With good project planning, we can ensure previously established deadlines are met so that the necessary absence of your staff causes the least disruption possible and the impact on your sales is kept to the strict minimum.
During the project design stage, we can consider many alternative materials/finishes/working methods in order to make the necessary savings.
We are not limited to one aesthetic style, our job is to satisfy your expectations, your desires and the aesthetic values of your brand as fully as possible. We will nonetheless be able to make proposals to reinforce your brand identity, your aesthetic differentiation and make your image more contemporary, innovative and unique at your request. It's up to you to define the creative leeway that you want to give us. Along with our architectural skills, the PARISMARAIS team consists of talented communications strategy experts, graphic designers, illustrators and creative writers who will be able to assign words and images to your brand values.
Naturally, each project is totally different, if only because of its location or how the space is used.
Architectural and stylistic haute couture, that is what we offer
A FEW REFERENCES: Le Triskell Restaurant in Paris - Les Bonnes Sœurs Restaurant, Paris, Place des Vosges / Headquarters of Innocent France / D2SI business spaces / Saint-Gobain Showroom / Setting for balls at the City Hall of Paris: www.parismarais.com/newsletter/Paramour-le-Bal
Bérengère Tabutin & Olivier Wagnies
bonjour@burobonus.com
7 rue des Lions Saint-Paul, 75004 Paris le Marais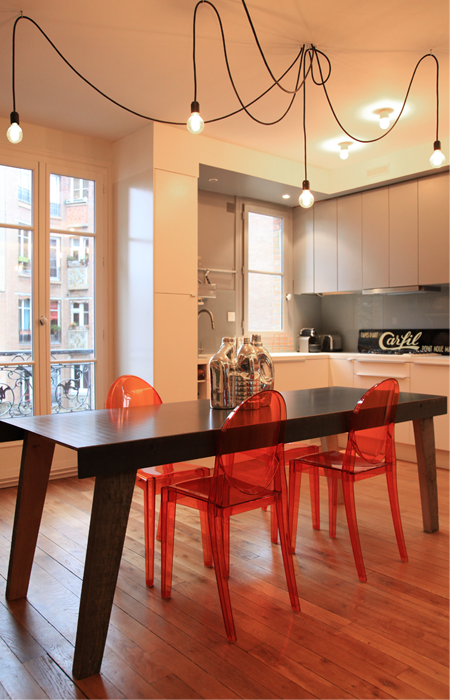 Appartement rue du Bac Paris 7ème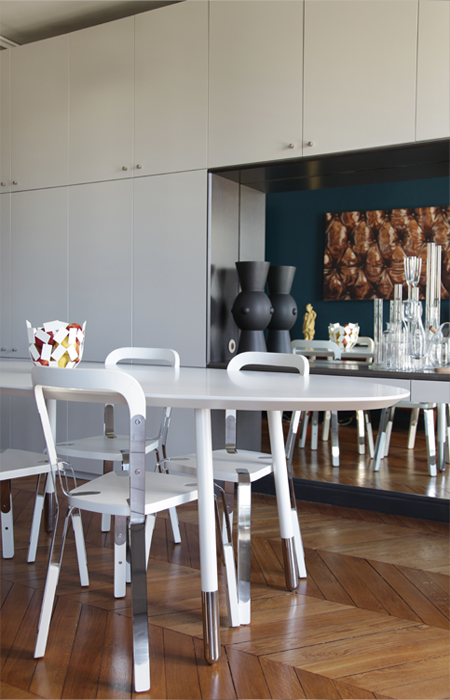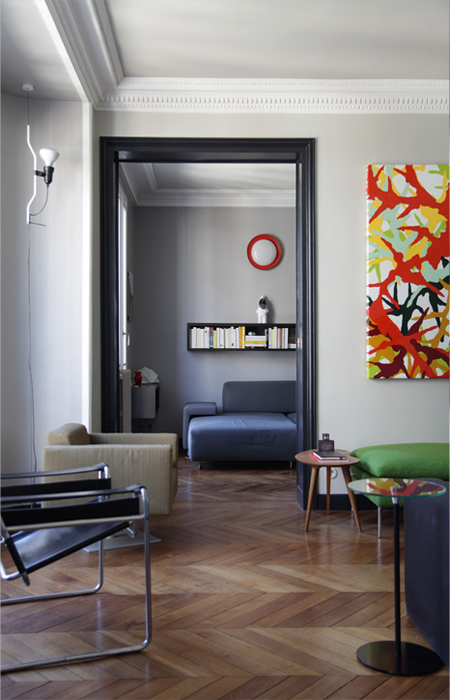 Appartement rue des Tournelles Paris 4ème Le Marais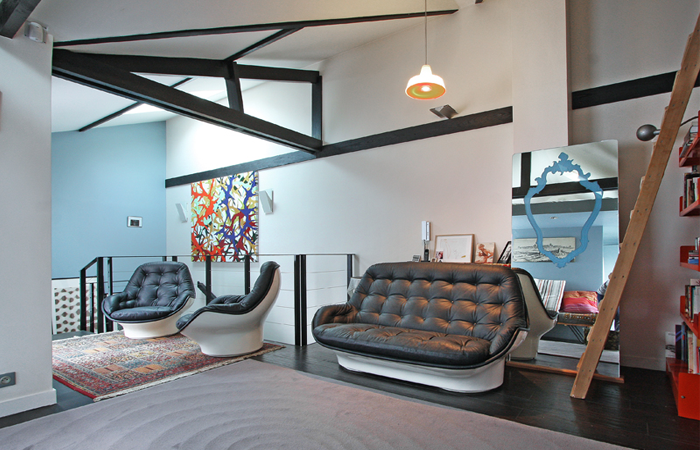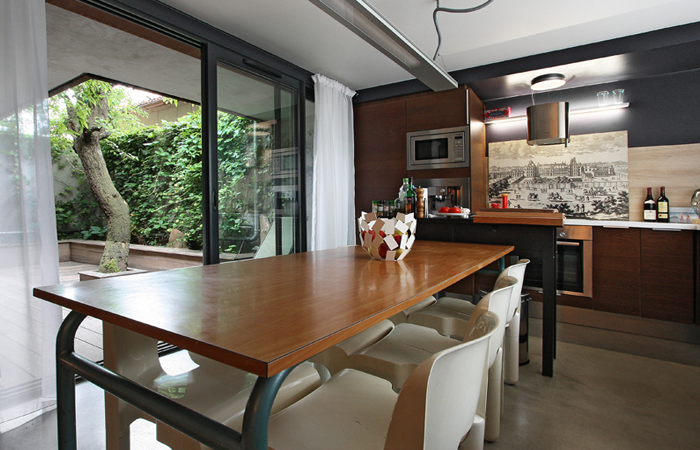 Appartement Loft à Montreuil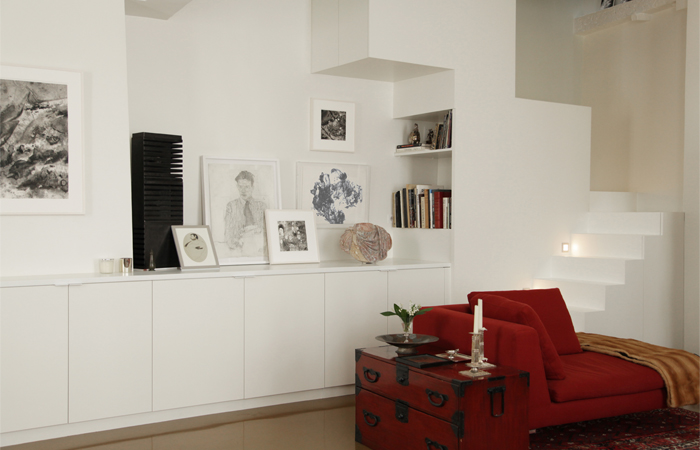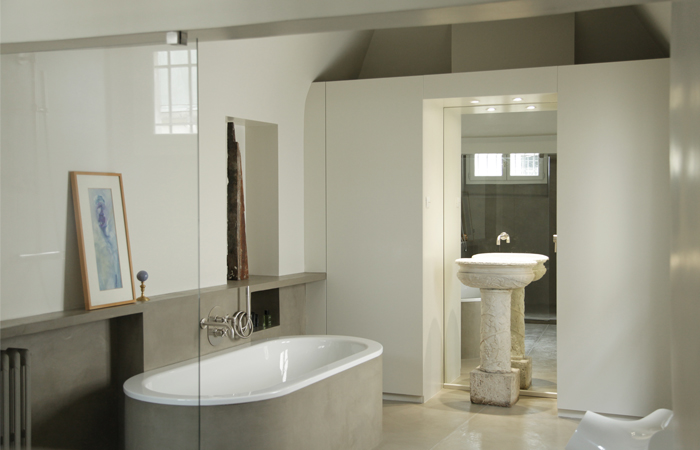 Duplex du Faubourg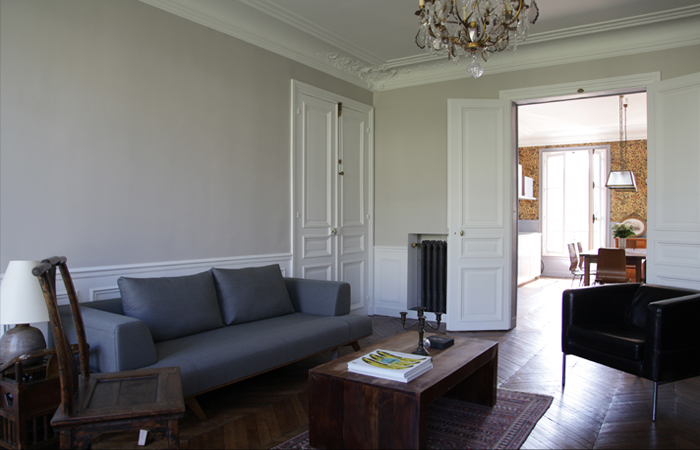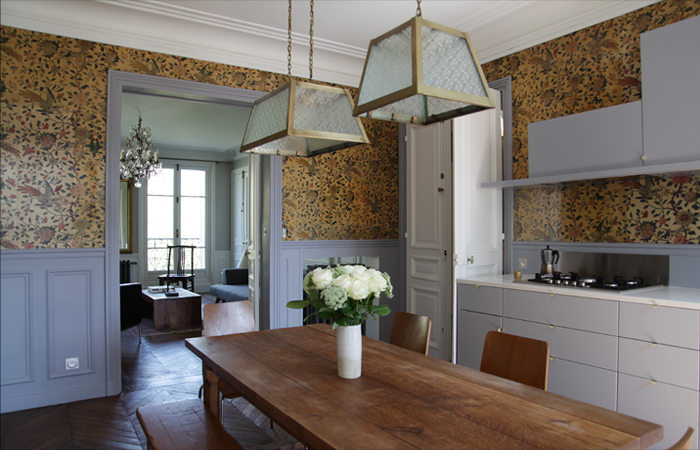 Appartement Haussmanien Paris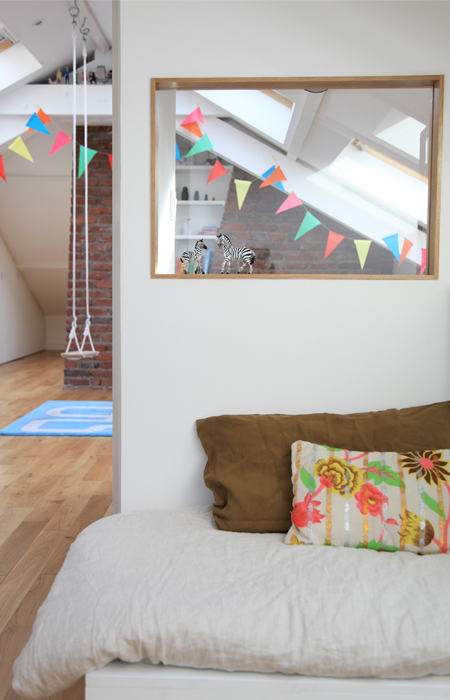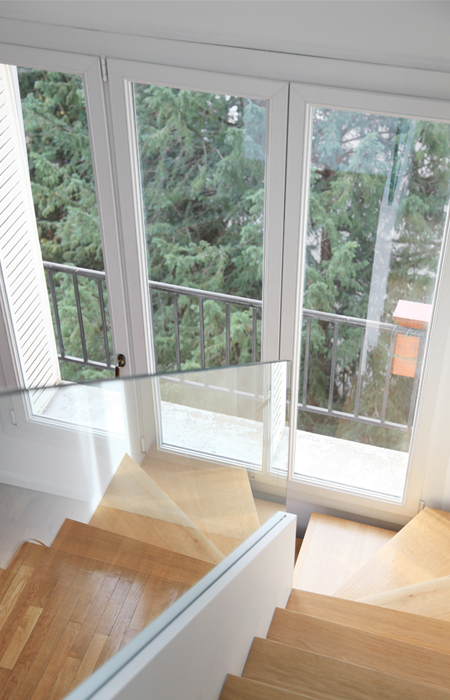 Duplex rue Saint Médard.