Gastronomic Treasures
Discover the best of French gastronomy in the heart of the Marais. Passionate professionals will welcome you offering a wide selection of wines, from an authentic wine cellar. You can enjoy a cheese and wine tasting course within the Haut-Marais or learn all the wine making secrets inside the walls of a 17th century "hôtel particulier" (private mansion). You may want to taste fancy and delicious cakes or take some time to enjoy a baking course
KING'S CAKE : NOT TO BE MISSED IN JANUARY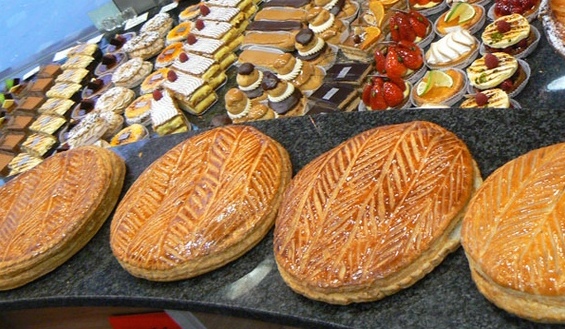 Enjoy one of the best tradition in French cuisine: the galette des rois (king's cake) which has been an institution in France since the Middle Ages. Forget about your diet !

Galette des Rois
Ingredients:
1 1/4 lb frozen puff pastry
2 eggs
7 oz almond paste
Preparation: Leave the puff pastry at room temperature for about 2 hours until defrosted but still cold.
Preheat the oven to 400°F.

Line a baking sheet or pizza pan with baking parchment or grease the pan and lightly sift flour on it. Shake off any excess flour. Roll each sheet of pastry into a circle about 12 inches across. Place one circle on the prepared pan.
SWEET-TOOTH OR PASTRY PIG ? IT'S A FINE LINE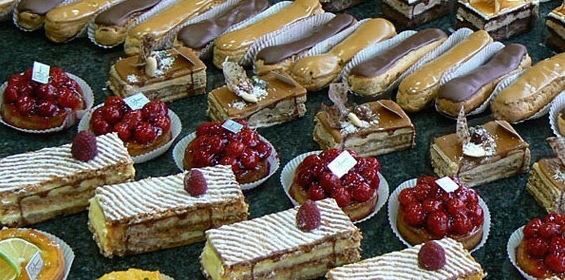 Along with the museums, monuments, concerts and exhibitions, what do we do in Paris? We eat! After the fois gras, steak frites and choucroute, what do we eat? I don't know about you but I pig out on dessert of course!! Hello?
These are the confessions of a sweet-tooth which in my case is only a polite word for " pastry pig ". After 15 years of living in and around the Marais I suddenly realized one day that I was an expert on where to find the best desserts in the neighborhood. An expertise that was finely-honed on painstaking, trial and error experimentation. Sometimes my legs will automatically transport me to the bakery that makes the best chocolate eclairs before I even know it. Suddenly my face is covered with the chocolaty goo that my body craves.
The Marais lives up to France's reputation as the food capital of the world or as my friend Kitty calls it "the land of buttery goodness". Of course not everyone has the same taste in pastries so I'll try to give you a broad spectrum of how to put on the pounds, but I think my favorites will eventually win you over.
Let's start with the Tarte Citron Méringué or Lemon Meringue Tart shall we?
The criteria is obvious: A lemon custard that's not too sweet. The meringue must be soft yet sticky with a crumbly crust that holds together. Hard to find? Not at Chez Paul. Chez Paul is a chain that you see everywhere. Convenience counts when you're calming a pastry pig attack!
Gateau Espresso? This is a specialty of the restaurant Les Philosophes (28 rue Vieille du Temple)
The perfect combination of gooey and crunchy presented with a smattering of coffee flavored Jackson Pollock driblings.
You can't go wrong and it'll even wake you up! They also do a mean Key-lime pie they call « cheesecake ». I guess the fromage blanc gives it the name, but for you and me it's a delicious fluffy key lime pie with a graham cracker crust. Oink! In case the place is full and you start to tremble don't panic, the same desserts can be ordered at the two other cafés they own next door. Chaise au Plafond (rue Trésor) and l'Etoile Manquante (rue Vieille du Temple)
Of course we cannot forget the classic Pain aux Raisins. But in this swanky bakery it's called an Escargot (don't worry there aren't any snails involved) it's just because of the spiral shape. But who cares what the shape is! It sticks to your face and raises your cholesterol! Go for it at Du Pain et des Ideés (34 rue Yves Toudic and their new store on rue Saint Martin). You'll find excellent breads at this high-end bakery as well.
Eating pure sweetened butter may sound gross but this pastry proves the theory wrong! Fulfill your wildest butterbdreams with a
Paris Brest at the patisserie/boulangerie Sylvie et David Béatrix (149 rue Saint Martin)
Next we have the racy Orgasme au Chocolat Noir which you'll find at the restaurant Dos de la Baleine (40 rue des Blancs Manteaux.) It's hot, it's cold and it oozes. I laughed and cried. The name of the restaurant means "the back of the whale". But don't let that scare you!

Dammann Frères
France Biggest tea House that was already in the 1650 Louis XIV favorite tea house
A large selection at a much better price than Marriages Freres with fabulous packagings
15 Place des Vosges
75004 Paris

Comptoirs Richard - Coffee house
Rue de Bretagne
75003 Paris
Choose from a fantastic selection of ground coffee.

Open Air Market des enfants rouges
Rue de Bretagne
75003 Paris
Over 20 stalls to find the best products from the countryside… Also the oldest market in Paris opened in 1615 !

Jadis et Gourmande - Chocolate maker
39 Rue des archives
75004 Paris
Some of their chocolates are crafted into letters so you can write your own messages and have them packaged in a box " I love Paris," "eat me," "Wonderful Marais"… The choice is yours !

Lafitte – foie gras Specialist
8 rue Jean du Bellay 75004 Paris
01 43 26 08 63

Pasta Linea - Fresh italian pastas
9 rue de Turenne 75004 PARIS
01 42 77 62 54

Aux Ducs de Gascogne – South west specialities
111 rue St Antoine 75004 PARIS
01 42 71 17 72

L'Epicerie – Fine delicatessen
51 rue St Louis en l'Ile 75004 PARIS
01 43 25 20 14

Finkelsztajn Sacha – Yiddish and russian specialities
27 rue Rosiers 75004 Paris
01 42 72 78 91

Thanksgiving – The american food hall in le Marais
14 rue Charles V 75004 PARIS
01 42 77 68 29

Aromes et Cépages – Wine bar
33 Bis rue Charlot 75003 PARIS 01 42 72 34 85
fax : 01 42 72 34 95