Flowers & Gardening
FLOWERS, ALWAYS AND FOREVER !
The French art of living celebrates beauty, and this is especially evident in Parisians love of flowers. Most Parisians don't have gardens, so they bring fresh or artificial flowers into their homes. In Paris, a floral shop can be found on practically every corner, with gorgeous blossoms spilling out into the street. Pass through the door, and the mingling of delicious fragrances from a vast array of blooms is intoxicating. Each store is unique, a masterpiece - the florists are artists, the flowers, works of art.

When visiting the City of Light, embrace the French lifestyle and treat yourself to flowers, whether to mark a special occasion or to brighten any day. Choose from the elegance of traditional bouquets, the contemporary style of exotic plants, the charm of the smallest, most exquisitely delicate arrangements. The flower shops in The Marais are imaginative, creative and offer something to suit every floral taste. Here we have listed a few of our favorites.

Tip : When you are invited to a dinner party in a French home, remember that just as the wines are meticulously selected to complement each course, flowers are carefully chosen to create an atmosphere and set the stage for the meal.
If you wish to give flowers as a thank-you gift, it is best not to bring them with you, send them the morning of the dinner or the next day. Avoid red roses as they have romantic undertones, and chrysanthemums as these are considered funeral flowers.
THE SECRET GARDENS OF LE MARAIS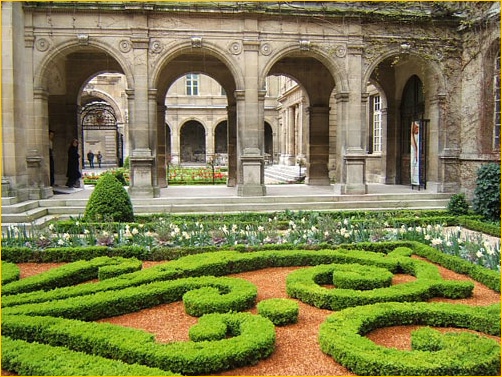 Le Marais has a number of public parks and gardens springtime visitors shouldn't miss. Our favorite is Place des Vosges (originally named "Place Royale" during the time of Louis XIII and inaugurated in 1612). It is an absolute square, surrounded by perfectly symmetrical brick and stone apartment buildings sitting atop a colonnaded walkway. Under the arches are some of Paris' chicest designer boutiques, art galleries, three-star restaurants and four-star hotels. Planted with well-pruned square-shaped trees, there are patches of lawns that only a few years ago were opened to the public for trespassing on -- sunbathers and picnickers quickly spread their blankets. Children play in the sandboxes and the harmony of the scene is entrancing.
A hidden garden worth taking a peep at are just behind the gates of the Musée Carnavalet at 16, rue des Francs Bourgeois. The museum is dedicated to the history of Paris and is formed of two 16th and 17th-century mansions around a perfect example of a formal French garden. It is designed to reflect the time of Madame de Sevigné, who was born there in 1626, and where she died in 1694. The true secret gardens of Le Marais lie behind the massive doors of the "Hôtels Particuliers" that the average visitor doesn't venture into. Don't be afraid to peek in. Very often, the "digicode" allows entry during the day with the press of one button and what you will discover are quiet cobblestone courtyards and lovely gardens. Those who live in the converted apartments of these private mansions overlooking such serenity cannot help but to truly love living in Le Marais !