A new captain for Le Marais Fire Station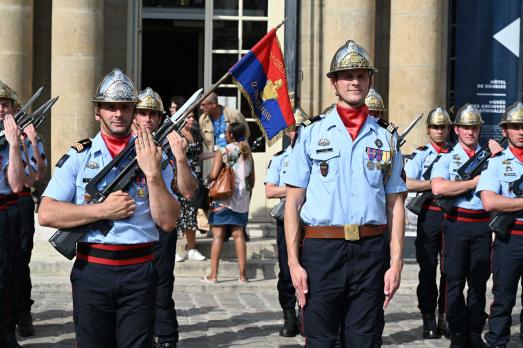 Welcome to the new Captain of le Marais Fire Station. We are honoured to share with you an exceptional event that took place in the gardens of the magnificent Hotel de Soubise, Headquarters of The French National Archives. A lucky few were privileged to witness the ceremonial transfer of command of authority held at the Archives Nationales in Paris on 9 June 2023 by Lieutenant-Colonel Ronan Perfetta, for the change of command between fire chief Quentin Hemery and fire chief Nicolas Lux of the 11th Company Paris Fire and Rescue.
This event takes place once every 2 years in this exceptional historic location. From now on, the new captain will be managing the 200 firemen of the 11th company of "la Brigade des Sapeurs Pompiers de Paris". Photographer Marianne Ström was with us and took some amazing photos of this glorious moment for the Company that saved Notre-Dame from destruction 4 years ago.
Next Week end 17 and 18 june it will be also the annual Open Doors Show of the Caserne Sévigné. Come and visit, meet our heroes and enjoy climbing the lader, learn first aid tips and see the wonderful sport show of the gym team that really reach olympic levels. Free Entrance drom 10 am to 6 pm.
Caserne Sévigné : 7 rue de Sévigné, 75004 Paris. Metro Saint Paul - Le Marais
Read More about the Paris Fire Brigade : https://www.parismarais.com/en/discover-the-marais/events-in-the-marais/bastille-day-firemen-ball.html