Paris Firemen ball in le Marais on Bastille Day!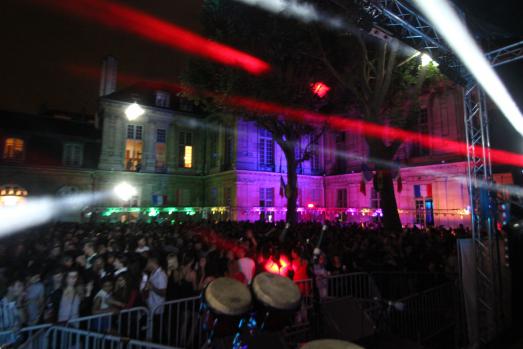 Every year the Bastille Day celebrations take place in most of the Fire Stations in Paris. They will be held on 13 & 14 July, at the beautiful Hotel de Chavigny, built by François Mansart who was the architect of the Palace of Versailles. The Sevigné Fire Station was the first to be founded by Napoleon in 1814. Newly promoted Captain Sébastien and his team will welcome you like friends.
Champagne is affordable enough for visitors to drink all night long and softs drinks are less than 3 euros. In both courtyards, live DJs will be playing the latest hits as well as avant-garde techno and electro music. More than 10,000 people are expected including a mix of military, firemen, local residents, tourists, couples, and young people creating an ambience you will not find anywhere other than in Le Marais. Entry is free, but please give what you can or what you want… 10 euros each minimum would be a fair price to support the incredible work they do every day to protect us and save us.
It is a very popular event, doors open at 9pm but we highly recommend you to start queuing from 7.30 pm to make sure you don't wait too long. The event will end at 4 am.
All profits from the party will go to the charities dedicated to the firemen like ADOSPP.
Visit our page dedicated to The Paris Fire Brigade History www.parismarais.com/en/visit-the-marais-district/events-in-the-marais/bastille-day-firemen-ball.html and enjoy pictures from last night 13th july. Vive les Pompiers, Vive le Marais et Vive Paris !