Mon Beau Paris : the most inventive team of guided tours!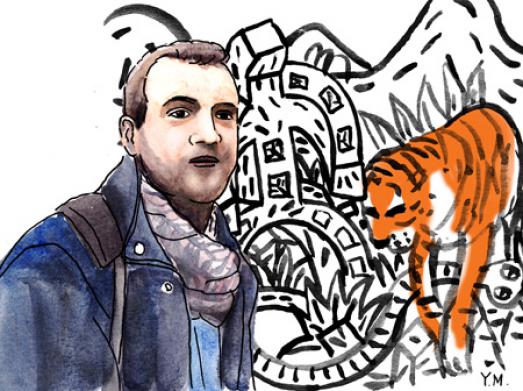 Last Saturday I participated in "Le Marais Street Art Polaroid Tour" with Alexis.
We started at Place de Stravinsky by the Centre Georges Pompidou and walked around in Le Marais. Alexis pointed out many street arts which I was not aware of them before.
Samedi dernier j'ai participé au "Le Marais Street Art Polaroid Tour" avec Alexis. Nous avons commencé Place de Stravinsky près du Centre Georges Pompidou et nous nous sommes promenés dans le Marais. Alexis nous a fait découvrir de nombreux "street arts" que je n'avais pas remarqués avant.
Note from Mon Beau Paris :
"The team of Mon Beau Paris works to offer unique visits to explore a district or a monument of Paris. Within Mon Beau Paris, we design tours incorporating new and entertaining experiences. We have created new ways to discover our city so that your trip is primarily pleasant." — Mon Beau Paris
Message de Mon Beau Paris
"L'équipe de Mon Beau Paris travaille à vous offrir des visites uniques pour explorer un quartier ou un monument de Paris. Chez Mon Beau Paris, nous concevons des visites qui intègrent toutes une expérience inédite et distraction. Nous avons imaginé de nouvelles façons de découvrir notre ville, de manière à ce que votre balade soit avant tout un vrai moment de plaisir."
— Mon Beau Paris
MON BEAU PARIS .COM is RECOMMENDED BY PARISMARAIS.COM
Le Marais Street Art Polaroid Tour is a unique guided tour inside one of the most famous Parisian districts.
A new and unique Parisian culture experience where your guide will take you to the heart of the Marais, to discover the myriad art works that line the streets of this eclectic Parisian area, combining both tradition and modernism. A veritable plunge into the Parisian underground art world, allowing you to learn about the most famous street artists of the city, their approach, philosophy and techniques. You will discover the works of YOSH, SPACE INVADERS, CLET, SOBR, GZUP, COST for example… and many other original and innovative artists. An unusual and original tour, fully immersing you in present day Paris. Become an artist yourself: Mon Beau Paris will provide 10 Polaroid cameras to help you take souvenir snapshots of the works you enjoyed the most!
Your guide will advise you how to get the most out of your camera and will show you the best locations so that your shots are the most successful. Smaller groups of up to a maximum of 10 people are ideal and manageable for everyone from youngsters to seniors. A delightful, colorful tour, suitable for everyone's eyes.