Festa del Vino at Eataly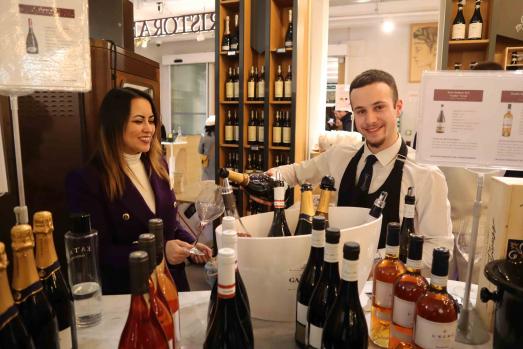 It was the second Festa del Vino at Eataly. A VIP evening dedicated to the discovery of the best Italian wines. There was a lot of people this February 2nd in the temple of Italian gastronomy. Guests, journalists, foodies and neighbors were there. An initiatory tour on two floors, the Piazza and the Enoteca, for this tasting experience. Each guest is given a large glass balloon in a canvas bag to wear as a necklace around the neck ... it's fun and unexpected! You have your hands free to pick from the antipasti platters, nibble on olives and nibble on the cold cuts and cheeses of Italy and Sardinia.
We follow the route and we wander around the buffets that make us look, with the passionate explanations of the producers present to tell the story of their creations. We taste, two sips, then we try others. Among the famous houses present: Firriato, Feudi Scregorio, Fontanafredda, Bianca Vigna Villa Sandi, Carobbio, Celstina Fe, Buscareto, Frecciasrossa, Salchetto... We discover Lambrusco, Bianco di Bianchi, Spumante... We are surprised to discover a Blanc de Noir from Etna in Sardinia... We can't imagine the quantity and quality of Italian wines. The French have to admit it, the Italian terroirs and their productions are at the level of French wines, often with a better quality/price ratio. Go and discover them at Eataly.
EATALY 32 rue St Croix de Bretonnerie 75004 Paris. https://eataly.fr/visitez-eataly-paris-marais