DISCOVER THE MOST BEAUTIFUL FILM EVER MADE ABOUT LE MARAIS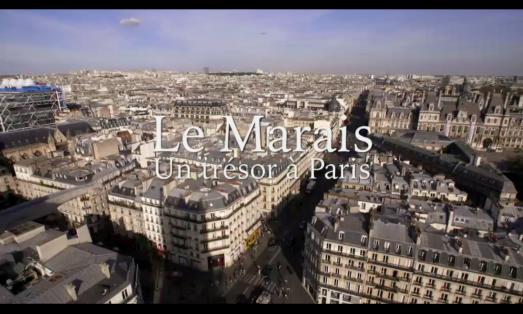 This week, we bring you news of the most beautiful film ever made about le Marais, and in which we were truly honoured to have taken part. Directed by Laurent Lefèbvre for Elephant Productions, it was shown at prime time on France 5, the cultural channel of France Télévisions. We were very fortunate to have worked on this wonderful documentary, which was made by people who are passionate about the district, and the film reflected the true issues of the people who live there such as the loss of the identity of their neighbourhood.
The most visited area of Paris, le Marais is aristocratic, common, bohemian and bourgeois at the same time. It is home to craftsmen and traders, a sector of society that fights daily to preserve the soul of le Marais, which, rooted in a frivolous capital city has been both cherished and abandoned. Today, the Hôtel de Ville at la Bastille is considered to be the artistic and creative breath of the city. An open air museum, the secret gardens and its many Renaissance mansions take us poignantly back in time.From the Column of July to the Tour Saint Jacques, passing by the rue des Rosiers and the rue des Archives, the Jewish quarter, the Gay quarter, the secret, private hotels…
You will discover le Marais in a very different light; this is le Marais we love and will defend to the end. Many thanks to Laurent Lefèbvre and to France Télévisions for inviting us to play such a big part in this stunningly beautiful film.The first screening was on 20 September 2015, the film will be repeated on 27 September at 16.00 hrs and again on 8 October.
You can watch it on catch up this week until 27 septembre on PLUZZ :
http://pluzz.francetv.fr/videos/le_marais_un_tresor_a_paris_,128110075.html