The Marais Blog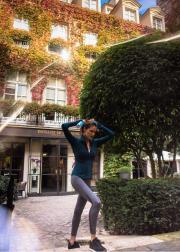 Whether visiting Paris for business or pleasure, grab your running shoes and prepare for a sightseeing experience like no other. In line with the growing industry trend for health and fitness programs, Le Pavillon de la Reine is launching a new partnership with Paris Running Tours....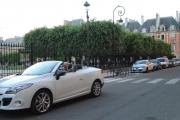 Guided visits by the PARISMARAIS.COM press team, intended for journalists specializing in tourism, and culture. Discover the Marais by night, in a convertible with the wind in your hair, guided by an expert, bilingual, team of a private driver and a private guide....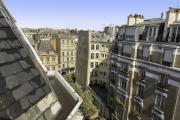 Hotel De Neuve is an elegant hotel that offers a warm and cozy atmosphere in the heart of trendy Marais....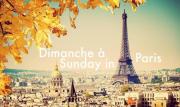 Enjoy discounts of up to 30% on your summer vacation 2018! Book your holiday now and enjoy many benefits ... From 13 July to 31 August 2018 it is summer in the most Parisian hotels!...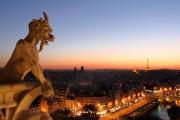 The Hotel de la Bretonnerie is the ideal place for your charming stay in the heart of the Marais. From July 15th to August 31st 2018 get 6% off on your reservation if your stay 2nights minimum and 12% off if you stay 3 nights....

Every year, the Bastille Day celebrations take place in most of the Fire Stations in Paris. True to form this year again, they will be held on 13 & 14 July, at the beautiful Hotel de Chavigny, built by François Mansart who was the architect of the Palace of Versailles....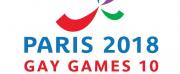 Since 1982, the Gay Games have brought together people from all walks of life, without discrimination, around the values of diversity, respect, equality, solidarity, and sharing....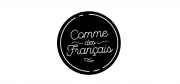 "COMME DES FRANCAIS" a new tourist network for you to find the best experts and city guides in France with exceptional knowledge of their district or region. ...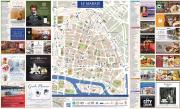 Soon in every chic Paris Hotel, in 300 places in Le Marais : restaurants, museums, bars, anglophones places, ambassies, paris tourism office... 100 000 copies, 10th edition, the best ever produced....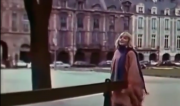 France Gall, one of the the most popular French Singer died at 70 four days ago. ...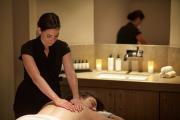 Guests can relax and enjoy the Spa de la Reine by Codage, with gymnasium, Jacuzzi and steam bath.
Open daily from 7am – 9pm, there are two peaceful treatment rooms and a dedicated menu of treatments...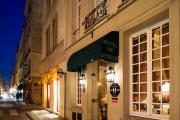 The Hotel de Lutèce is situated in the very heart of Paris, on the exclusive Ile Saint-Louis island, a great starting point to visit the French capital and enjoy romantic strolls on the banks of the Seine River....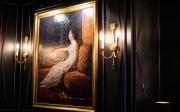 The Hôtel de Joséphine Bonaparte, JoBo to those in the know, opened this charming residence, with its lounges and 24 rooms, to all would-be Parisians – for a night or a longer stay, a cup of tea, an evening drink, or even a whole night of cocktails and delicious nibbles. Hidden behind a flamboyant courtyard, Hôtel de JoBo is the intimate and delightful escape after a long journey, a day of strolling, visiting museums, and fabulous shopping to be found in this multi-faceted part of old Paris.
Book on PARISMARAIS.COM and get special offer per night for two people including breakfast, no refunds or cancellations available, totally pre-paid offer including continental breakfast, free high speed WiFi access and welcome drink
Single room from 150 euros
Double room - Classic from 165 euros
Twin room - Classic from 165 euros
Double room - Superior from 245 euros
www.parismarais.com/en/hotels-marais/luxury-4-star-hotels/hotel-de-jobo.html
Offer valid depending on availability.
...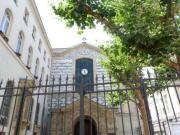 L'Art Lyrique arrives on rue Charlot on Thursday 16 November at 8pm in the Cathedrale Sainte Croix des Arméniens. Pauline Feracci (soprano) and Magali Albertini (pianist and lead singer), winners of this year's Canari International Lyrical Song Festival in Corsica will charm us with their flawless performances that won them the much-coveted prizes....
Leclaireur Sévigné
In the heart of the Marais, Leclaireur Sévigné – a work of art in itself – is dedicated to the most reknown and talented fashion designers. The space gathers art, technology, Design and Leclaireur's legendary sense of style in this wildly interactive environment, one of five locations, each unique in its own way....
Fabulous event in a fantastic place : Le 153 ! We had the pleasure to welcome many of the vip's who make the soul of Le Marais and keep it alive. The Party was called "Principauté du Marais" and we elected our Queen for this season ...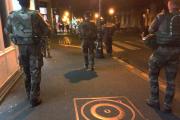 5 minutes chat on rue des Archives, in Le Marais, with the troups of "Operation Sentinelle". Friendly and courageous french army watching us at all time. PARISMARAIS has signed an agreement with the "Prefecture de Police de Paris" to make sure we provide foreign visitors the useful information you need to enjoy your stay in Paris. Visit this new rubrique and pass the word to your friends www.parismarais.com/en/safety-in-paris.html © photo parismarais.com with permission of "operation sentinelle" troups, taken sunday 10 sept at 11 pm.
...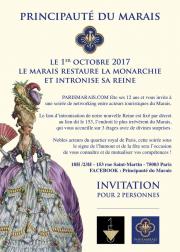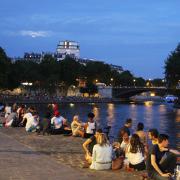 Surprisingly, August is slow season in Paris and even if the French capital remains the most visited city in the world, most of you Paris fans, prefer to visit Paris later in September or October, when the city centre is packed with trade shows, fashion weeks, designer shows etc, that mean hotel rooms are harder to find and also more expensive. So why not visit us now, last minute-style? ...

In just 3 months, be prepared for the very best night dedicated to creative advertising in Paris' most beautiful theatre......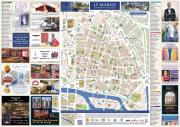 With an impressive circulation of 100,000 copies, listing 120 restaurants, the best restaurants, shops, hotels in the Marais (3rd and 4th), the new 2017 Paris Marais map, has just been released....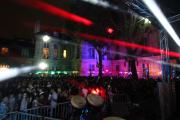 Every year the Bastille Day celebrations take place in most of the Fire Stations in Paris. They will be held on 13 & 14 July, at the beautiful Hotel de Chavigny, built by François Mansart who was the architect of the Palace of Versailles. The Sevigné Fire Station was the first to be founded by Napoleon in 1814. Newly promoted Captain Sébastien and his team will welcome you like friends.
...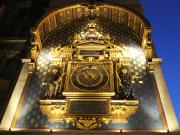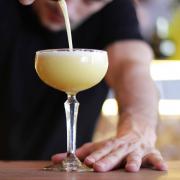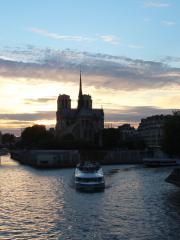 Discover the top selected guides to explore le Marais district and other places in Paris'region ! Nothing compares to a private guide and passionate expert to help you discover the wonders of Le Marais, so in this issue we share with you our selection of the best experts and top Marais experiences, be it walking, driving, cycling, taking a boat trip or being driven around at night in a convertible.
www.parismarais.com/newsletter/2017_05_29/Le-Marais-Selected-Guided-Tours.html
...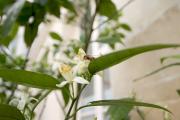 Parismarais.com is very happy to offer you the choice of over 20 different tours in Paris. one of them is dedicated to the so many tiny and secret gardens and courtyards you would not see from the streets. First of them is where our office is located in a charming house dated 1612. Flowers are blooming, our orange tree welcome the parisians bees and our mascotte Charlot the Cat is having insane sunbathing in public. C'est la vie ! C'est Paris, C'est le Marais !
www.parismarais.com/en/arts-and-culture/le-marais-guided-tours
...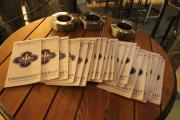 PARISMARAIS.COM 2017 edition is now distributed in over 500 luxury hotels in Paris and 300 selected adresses in le Marais. We still have a few thousands to offer for the ones who do not have them yet. Contact us at parismarais.com to have yours and reserve your space from now for our 10th edition 2018 that will be simply amazing !
...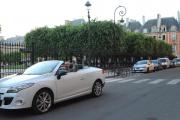 You want to discover the Marais by night, in a convertible with the wind in your hair, guided by an historical expert Isabelle who speaks Italian, English and French and Pascal, Editor of Parismarais.com... Discover architectural treasures from another angle by raising your eyes to the heavens. Discover the baroque and Medieval Paris as you have never seen it before. This tour is available by reservation only, pick up in palaces, and luxury 3/4/5 stars Paris Hotels or meet at Place des Vosges. A three-hour VIP tour of Paris and the Marais from 350 euros for 2 people, including one bottle of champagne for the two of you and divine macaroons. + Photos of you as much as you like ! more options on request such as gastronomic pause wherever you want.