The Marais map printed or online : simply the best you can find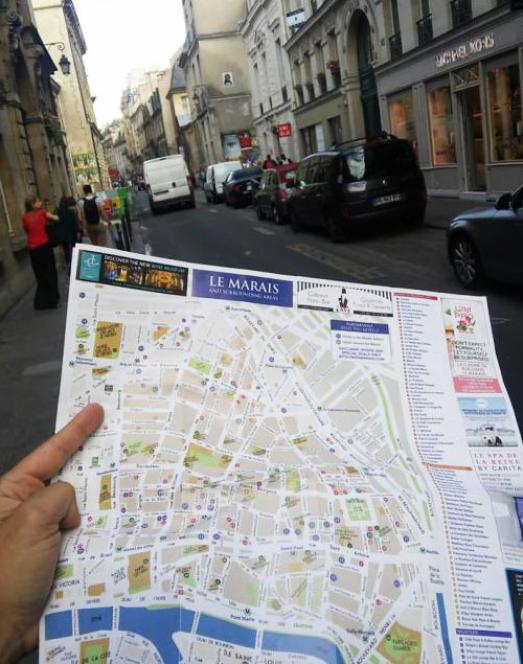 PARISMARAIS.COM has recently celebrated its 20th anniversary, as the domain name was created at the end of 1998! At first it was just a small blog written by empassioned residents of the former royal district and had only a few short posts, and listings of hotels and restaurants… Time after time, with the help of many local, foreign, talented contributors, we ended up creating several touristic tools to help you enjoy Le Marais district with the help of our insider point of view, the most famous of them all being our Marais Map.
Now our printed map is available from over 500 luxury hotels in Paris including the top Marais hotels like the Pavillon de la Reine, Hotel Duo, Le Petit Moulin, and also in some of the Palaces like Le Crillon or Le Lutetia that have just re-opened in the past year. Our map is so far the best you can find, and the only one showing you all the little streets that do not appear on Paris main maps.
This year, we have improved our interactive version of le Marais Map for tablets and smartphones, and we also offer you a greater choice of many more hotels in Central Paris in or around Le Marais district, as well as our top addresses for restaurants shopping, culture, and guided tours
Discover our top hotels selection.
Try «Marais Map» on your search engine and you will find our great local map at the top of most search results. The 10th edition was so popular we had to reprint twice, to the tune of 20,000 copies. The new 2019 – 2020, 11th edition will be printed this year over the summer with many more upscale addresses dedicated to gastronomy, theatre, culture and creativity. Here's the link to either download the printed version or access the interractive map.
We always welcome messages and accounts of experiences and stories of your time spent here in the former royal district of Paris so do feel free to share them with us. You can write to us in English, French, German, Russian, Italian or Spanish, and we will publish the best stories on Le Marais Blog
So as we say, Bonne année, bonne santé and we look forward to welcoming you soon in Le Marais.