mercredi 31 juillet 2019 -
blog
Refrench your vision of life in le Marais !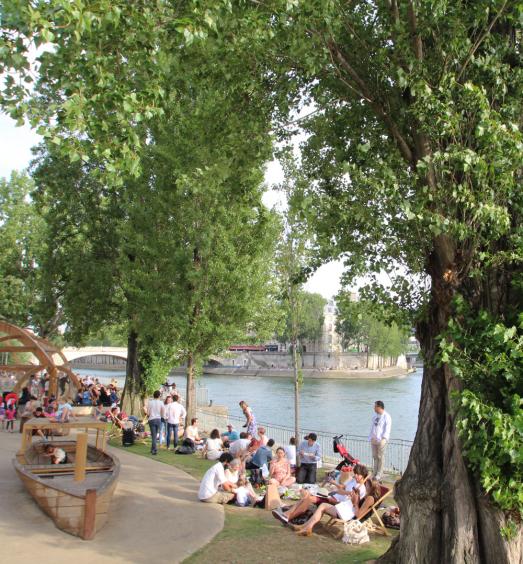 Once upon a time in Le Marais, the most beautiful quarter of the most beautiful city in the whole world, on the famous square of the Hôtel de Ville in Paris, stood "the BHV MARAIS", one of the oldest department stores in Paris, originally known as the Bazaar of the Town Hall. Over time this iconic store had become the darling of Parisians, especially those passionate about interior design and creativity, so much so that they affectionately referred to it as le BHV, an acronym which still stands today.
As time went by, our friends from overseas didn't understand what these three letters meant, and the store elected to add in an homage to its origins and renamed it LE BHV MARAIS. Logical, and so much easier to find, given that the store is situated literally, on the threshold of Le Marais, the former royal quarter adopted by the Kings of France and where many many famous events in French history took place. Within Le Marais, which is a triangle of land only a few square kilometres in size, contains over two hundred palaces and remarkable, unique and historical monuments, all built between the medieval era and today.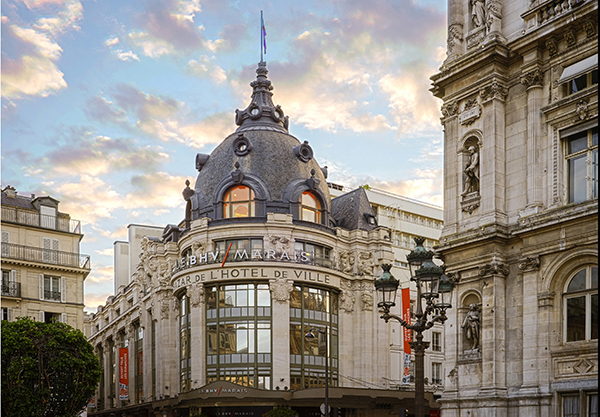 This summer, we are delighted to share with you the newest top notch locations to take you through the season. At Parismaras.com, we have one thing in common with LE BHV MARAIS: we are creatives and seekers, and we are all « made in Le Marais ».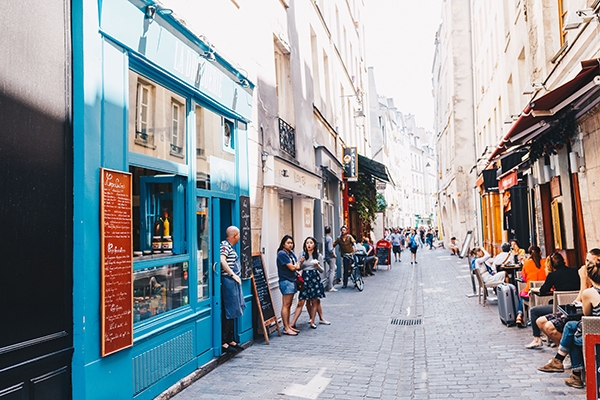 Indulge into an immersive experience of one of the most artistic quarters of Paris and discover all its secrets via guided visits of the area, organised by LE BHV MARAIS. The visits are organised by partnering guides and take place every Sunday at 10am.
Sign up for an unforgettable visit by clicking the link here
Price : €15 Vat inc / per person. Duration : 1h30
Input the code PARISMARAIS at checkout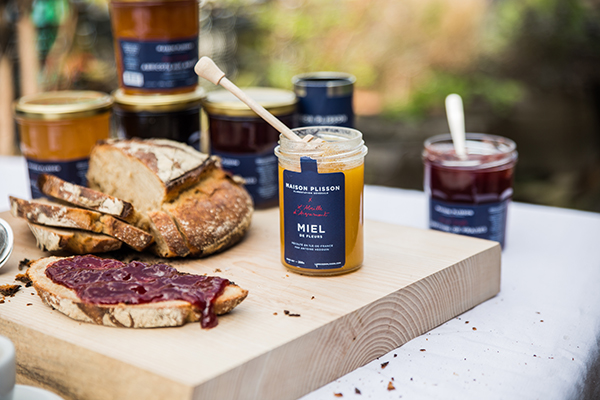 The first stop is a very welcome air-conditioned stop at a gourmet location called le Petit Plisson. Maybe you already know of la Maison Plisson, a most treasured name, dedicated to epicureanism. On the boulevard Beaumarchais, you can indulge in a meal at the sister restaurant until early afternoon.
Meet on the ground floor of Le BHV MARAIS where you can sample some really good quality coffee, fill up on treats like delicious honey and jams with pain de campagne…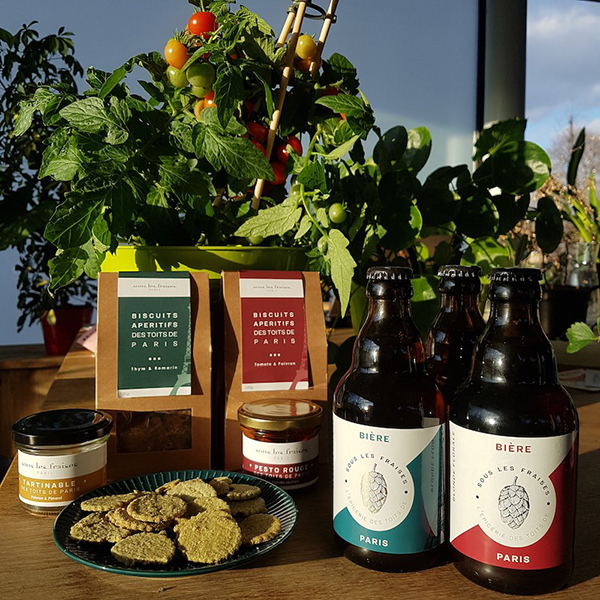 If you want to take home some iconic examples of Parisian art de vivre, we will lead you through the store to the St Paul du Marais t-shirts, souvenirs saying « I SAW THE VIRGIN » and the full range of merchandise from SOUS LES FRAISES.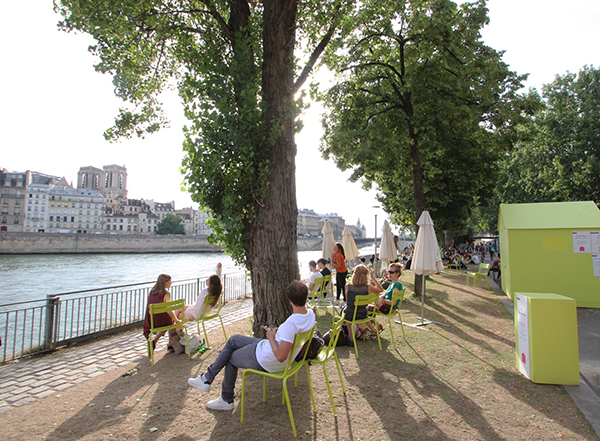 Et the end of the afternoon, you could take a trip to Paris Plages, an old urban dual carriageway transformed into a city beach by the Mayor of Paris some 10 years ago, where you can catch some fresh air, enjoy a picnic, try out the new activites, relax and imagine you are back in the Paris of centuries ago…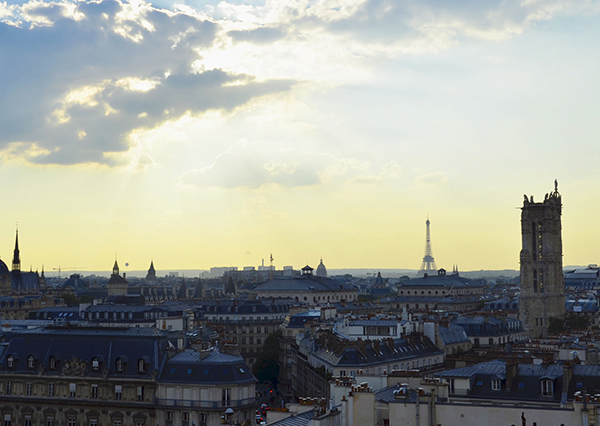 Early evening… up we go in the lift to the heights of the Terrasse with spectacular views across the rooftops of Paris!
SOUS LES FRAISES WEBSITE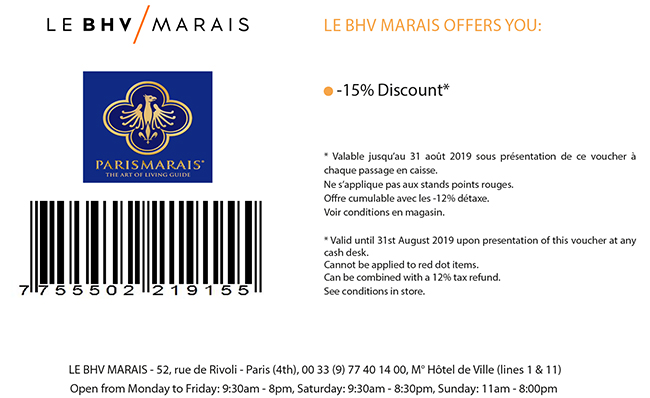 And finally, for those in love with Le Marais, avid fans of Parismarais.com and the ever-faithful visitors to LE BHV MARAIS, you will receive a 15% discount* valid until 31 August* with this link.
Click and print or present it at the checkout on your smartphone ; a little added extra to tempt you to come back a little more often.
Enjoy a beautifully fresh summer in Le Marais !
PS : Below, some historic photographs of interest :
The Bazaar Hotel de Ville in 1913 and several vintage posters of their advertising at the time, which are absolute treasures.