Gastronomic Treasures
Discover the best of French gastronomy in the heart of the Marais. Passionate professionals will welcome you offering a wide selection of wines, from an authentic wine cellar. You can enjoy a cheese and wine tasting course within the Haut-Marais or learn all the wine making secrets inside the walls of a 17th century "hôtel particulier" (private mansion). You may want to taste fancy and delicious cakes or take some time to enjoy a baking course
KING'S CAKE : NOT TO BE MISSED IN JANUARY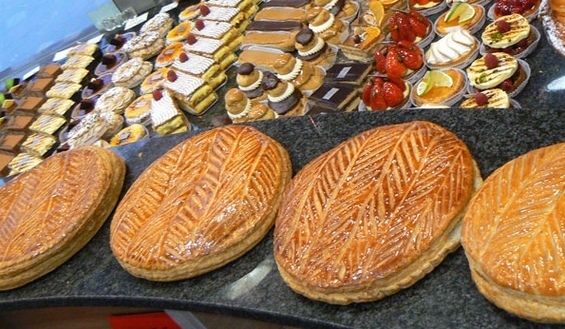 Enjoy one of the best tradition in French cuisine: the galette des rois (king's cake) which has been an institution in France since the Middle Ages. Forget about your diet !

Galette des Rois
Ingredients:
1 1/4 lb frozen puff pastry
2 eggs
7 oz almond paste
Preparation: Leave the puff pastry at room temperature for about 2 hours until defrosted but still cold.
Preheat the oven to 400°F.

Line a baking sheet or pizza pan with baking parchment or grease the pan and lightly sift flour on it. Shake off any excess flour. Roll each sheet of pastry into a circle about 12 inches across. Place one circle on the prepared pan.
SWEET-TOOTH OR PASTRY PIG ? IT'S A FINE LINE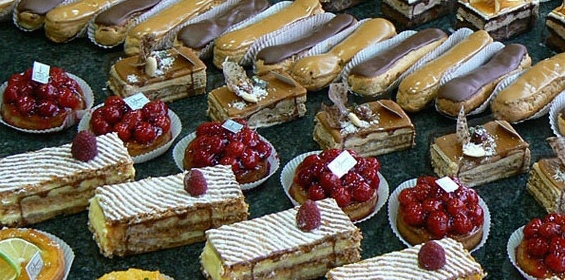 Along with the museums, monuments, concerts and exhibitions, what do we do in Paris? We eat! After the fois gras, steak frites and choucroute, what do we eat? I don't know about you but I pig out on dessert of course!! Hello?
These are the confessions of a sweet-tooth which in my case is only a polite word for " pastry pig ". After 15 years of living in and around the Marais I suddenly realized one day that I was an expert on where to find the best desserts in the neighborhood. An expertise that was finely-honed on painstaking, trial and error experimentation. Sometimes my legs will automatically transport me to the bakery that makes the best chocolate eclairs before I even know it. Suddenly my face is covered with the chocolaty goo that my body craves.
The Marais lives up to France's reputation as the food capital of the world or as my friend Kitty calls it "the land of buttery goodness". Of course not everyone has the same taste in pastries so I'll try to give you a broad spectrum of how to put on the pounds, but I think my favorites will eventually win you over.
Let's start with the Tarte Citron Méringué or Lemon Meringue Tart shall we?
The criteria is obvious: A lemon custard that's not too sweet. The meringue must be soft yet sticky with a crumbly crust that holds together. Hard to find? Not at Chez Paul. Chez Paul is a chain that you see everywhere. Convenience counts when you're calming a pastry pig attack!
Gateau Espresso? This is a specialty of the restaurant Les Philosophes (28 rue Vieille du Temple)
The perfect combination of gooey and crunchy presented with a smattering of coffee flavored Jackson Pollock driblings.
You can't go wrong and it'll even wake you up! They also do a mean Key-lime pie they call « cheesecake ». I guess the fromage blanc gives it the name, but for you and me it's a delicious fluffy key lime pie with a graham cracker crust. Oink! In case the place is full and you start to tremble don't panic, the same desserts can be ordered at the two other cafés they own next door. Chaise au Plafond (rue Trésor) and l'Etoile Manquante (rue Vieille du Temple)
Of course we cannot forget the classic Pain aux Raisins. But in this swanky bakery it's called an Escargot (don't worry there aren't any snails involved) it's just because of the spiral shape. But who cares what the shape is! It sticks to your face and raises your cholesterol! Go for it at Du Pain et des Ideés (34 rue Yves Toudic and their new store on rue Saint Martin). You'll find excellent breads at this high-end bakery as well.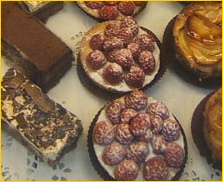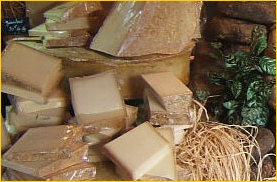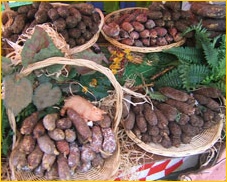 Eating pure sweetened butter may sound gross but this pastry proves the theory wrong! Fulfill your wildest butterbdreams with a
Paris Brest at the patisserie/boulangerie Sylvie et David Béatrix (149 rue Saint Martin)
Next we have the racy Orgasme au Chocolat Noir which you'll find at the restaurant Dos de la Baleine (40 rue des Blancs Manteaux.) It's hot, it's cold and it oozes. I laughed and cried. The name of the restaurant means "the back of the whale". But don't let that scare you!
A TASTE OF CHOCOLATE IN CENTRAL PARIS...
The last Chocolate Show, held in Paris from October21 to October 25, 2005 illustrates the tendency of chocolate to test much more than one's greediness. The virtues of cocoaare innumerable and thousands of years old – 4,000 years in fact. When cocoa was combined with sugar, it made a nectar witha such a smooth and velvety texture, it could tempt even the strongest will. Once only available to nobility and the rich, the democratizationof chocolate started in the 1940s, and its luxury was without question.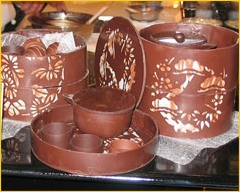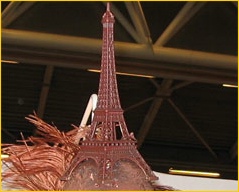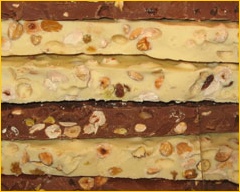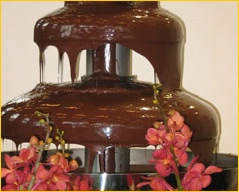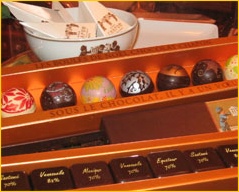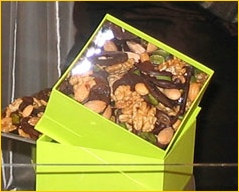 The 2005 Chocolate Show offered many hidden treasures. Chocoholics could seek out innovative tastes with praline-flavored ice cream and fennel from the House of Chocolate, France…sample cultural co-education such as chocolate with kidney beans from Mrs. Setsuko, Japan…enjoy the exaltation of imagination and creativity with dresses and hats from French designers and confectioners' sculptures from countries all over the world. There were even shapes from daily life, including cigars from Jean-Paul Hévin, Paris. One could even benefit from this "direct source of energy" without crunching a single square of chocolate through the care of esthetics and cosmetics – they stimulate the sense of smell and the skin. Talk about "chocolate therapy"!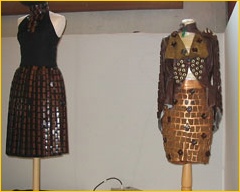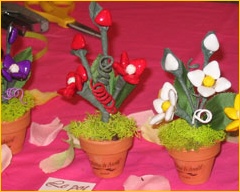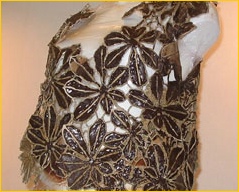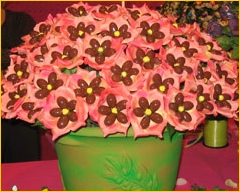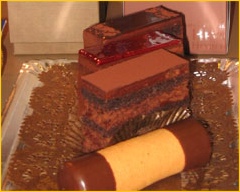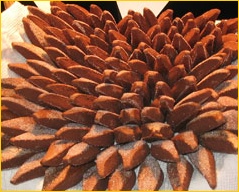 Interior design did not escape the chocolate treatment,offering articles of furniture and decorations with chocolately nuances, rare and elegant jewel cases with the claw of the Houseof Chocolate or Queen Astrid, and table decorations from the confectioner Mazet.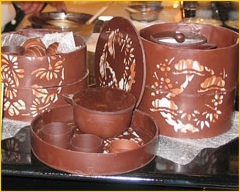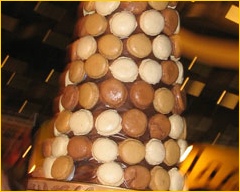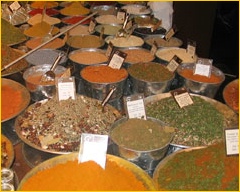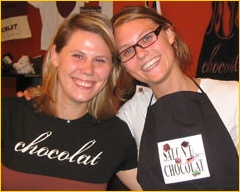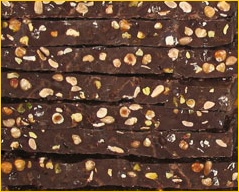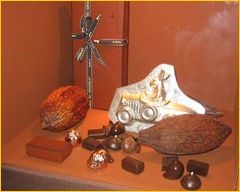 The tasting of chocolate takes time…and in that is luxury and happiness.
PIERETTE'S GUIDE : THE FIRST GUIDEBOOK WITH THE TRANSLATION OF FRENCH DISHES.
Enjoy one of the best tradition in French cuisine: the galette des rois (king's cake) which has been an institution in France since the Middle Ages. We found a very special one in the Marais at Chez Manon on rue de Bretagne. Forget about your diet !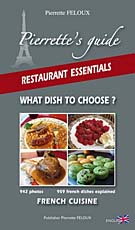 Being definitely aware of the difficulties encountered by travellers when confronted to unfamiliar cooking traditions and terms, the author dedicates this first guidebook to the tourists, amateurs of French gastronomy.
Pierrette, who has a passion for cooking, hopes to make her contribution to valorize the products of French "terroir" and enable foreign visitors to discover them through photos and full descriptions. Choosing a dish or a menu and tasting it brings any gourmet a real pleasure. The terms used on menus in most French restaurants have been adapted by the author . It will make it easier for tourists to understand the menu in any French restaurants or "brasseries".The guidebook is already available in 5 languages : English, German, Spanish, Italian and French. A publication in russian, Japanese and Chinese is coming soon… About the guidebook : RESTAURANT ESSENTIALS - WHAT DISH TO CHOOSE? 959 dishes explained along with 942 photos 276 pages paperback - price : 29.90 euros.
AVAILABLE in bookshops , galleries and tourist information offices and on Pierrette's website : www.cuisine-francaise.org or write to guidepierrette@neuf.fr
Goumanyat & son royaume
3 rue Charles-François Dupuis
75003 Paris
Tel: 01 44 78 96 74
For connoiseurs, Goumanyat is a rediscovery of the pleasures of taste and the taste of pleasures to renew with the warm sensuality of magic emotions shared with relatives and friends.

Dammann Frères
France Biggest tea House that was already in the 1650 Louis XIV favorite tea house
A large selection at a much better price than Marriages Freres with fabulous packagings
15 Place des Vosges
75004 Paris

Comptoirs Richard - Coffee house
Rue de Bretagne
75003 Paris
Choose from a fantastic selection of ground coffee.

Open Air Market des enfants rouges
Rue de Bretagne
75003 Paris
Over 20 stalls to find the best products from the countryside… Also the oldest market in Paris opened in 1615 !

Jadis et Gourmande - Chocolate maker
39 Rue des archives
75004 Paris
Some of their chocolates are crafted into letters so you can write your own messages and have them packaged in a box " I love Paris," "eat me," "Wonderful Marais"… The choice is yours !

Lafitte – foie gras Specialist
8 rue Jean du Bellay 75004 Paris
01 43 26 08 63

Pasta Linea - Fresh italian pastas
9 rue de Turenne 75004 PARIS
01 42 77 62 54

Aux Ducs de Gascogne – South west specialities
111 rue St Antoine 75004 PARIS
01 42 71 17 72

L'Epicerie – Fine delicatessen
51 rue St Louis en l'Ile 75004 PARIS
01 43 25 20 14

Finkelsztajn Sacha – Yiddish and russian specialities
27 rue Rosiers 75004 Paris
01 42 72 78 91

Thanksgiving – The american food hall in le Marais
14 rue Charles V 75004 PARIS
01 42 77 68 29

Aromes et Cépages – Wine bar
33 Bis rue Charlot 75003 PARIS 01 42 72 34 85
fax : 01 42 72 34 95