The Gay District of le Marais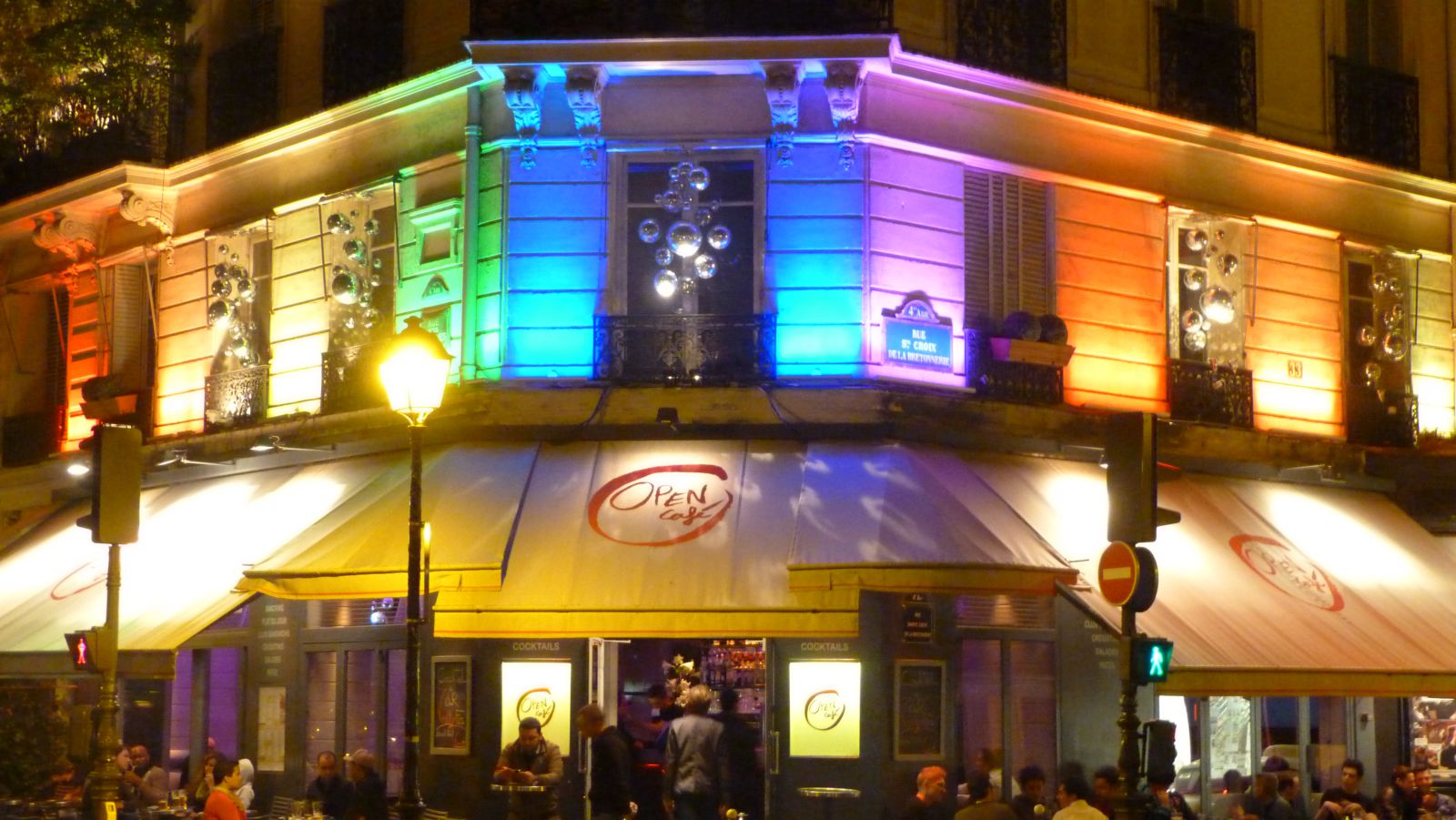 WELCOME TO LE MARAIS, WELCOME TO GAY PAREE.
For the last years, a revolution has come up in the peaceful elegant and bourgeois Parisian sky. Paris which is the world's most visited city has become one of the world's most gay city as well and the first capital to elect an openly gay mayor in March 2001, re-elected with 57% of the votes in march 2008. Then, his first hand Anne Hidalgo, became teh firts women to be elected mayore of Paris. Every year, Gay Pride March gathered nearly 700 000 people in the streets. In a France which is going rather conservative, Paris remains the city of freedom and tolerance. The gay district is set in the historical center known as "Le Marais". It is one of the most fashionable districts, and most expensive to live in too. Real estate value has taken +100 % in 5 years, an average price is often 10 000 to 15 000 euros per square meter, still far below Central London Prices... It's now The place to be and stay. With an open attitude to all foreign visitors, Paris has now one of the biggest gay scene in Europe with over 100 gay places to go out, hundreds of excellent gay-friendly restaurants and bars, and more and more opportunities to be guided and welcomed in the beautiful historic center. If you've never been to Paris and even if you've stayed there before, you should decide to visit again the city of lights... Parismarais.com is the number one guide to le Marais, made by insiders... We' ll be happy to help you discovering our city.
AN INSIDER'S VIEW OF TODAY'S GAY PARIS BY AMERICAN WRITER SCHUYLER HOFFMAN
"I have seen many changes over the years — the hot spots, the hot looks, etc. Fifteen years ago, the Gay community was not yet centered in the Marais. There weren't as many clubs and they were more spread out. Many of my favorites have come and gone — Swing Bar, Le Boy and Le Palace (a major player in the history of the Gay community). Many remain, though, and new places open all the time.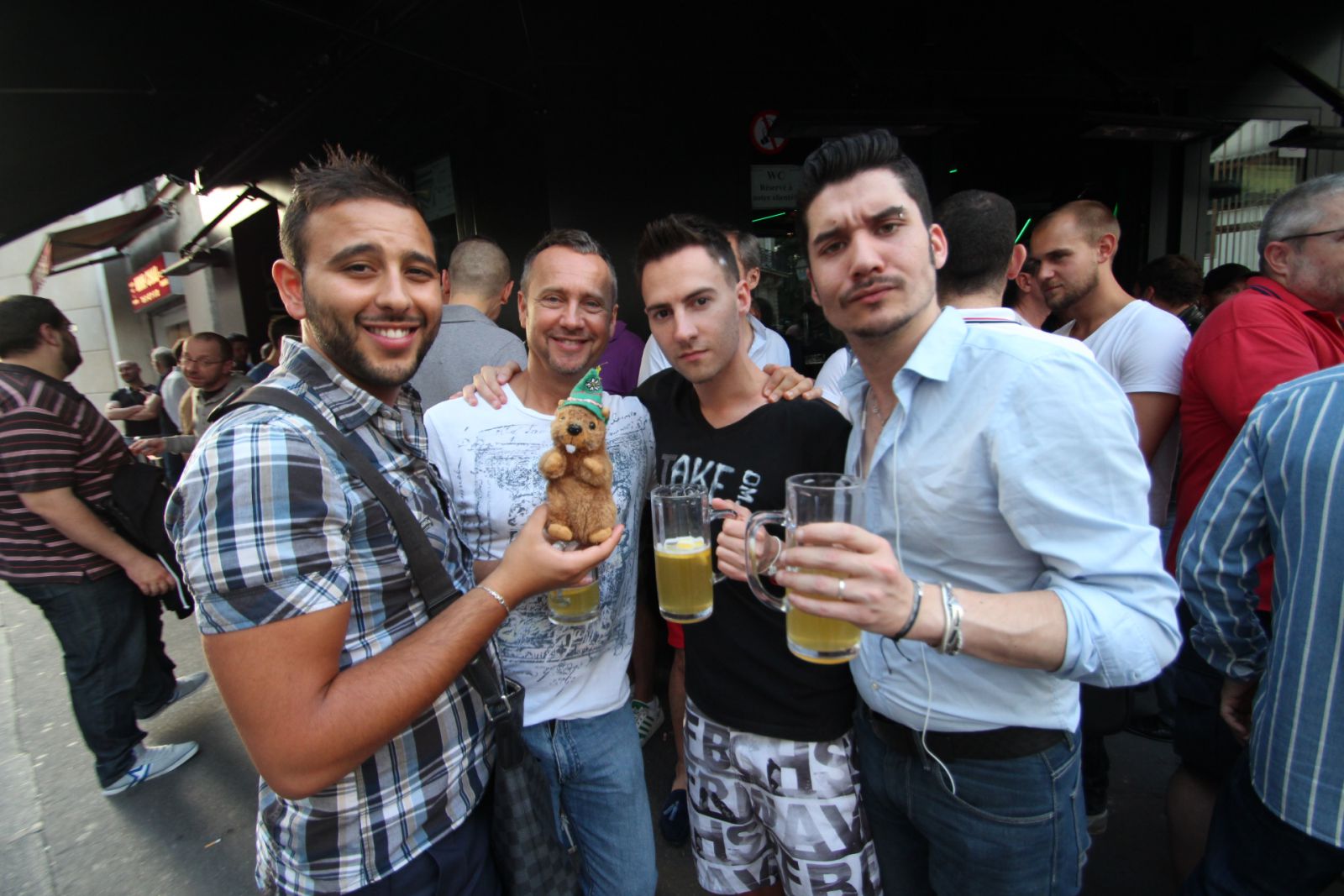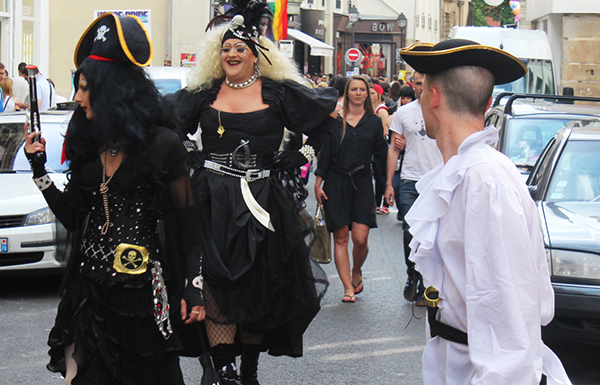 The fitness craze had already hit the "boys" in the States long before reaching here, so at the time I first began to discover Paris, Parisian Gay men weren't obsessed with muscle "bods." Looks were important to an extent, but personality, style, individuality, intelligence, and especially the ability to hold one's own in a discussion, those were the turn-ons. That's all still true, though it has changed somewhat. Health clubs and fitness have come into their own here as well, so it's much more common now to see in-shape, muscular French men. Most of the muscle "boys" you'll see in Paris are older — 30 and above. Among younger Gay men the trend is to be thin, even waifish. This is not to say that they're effeminate, not at all.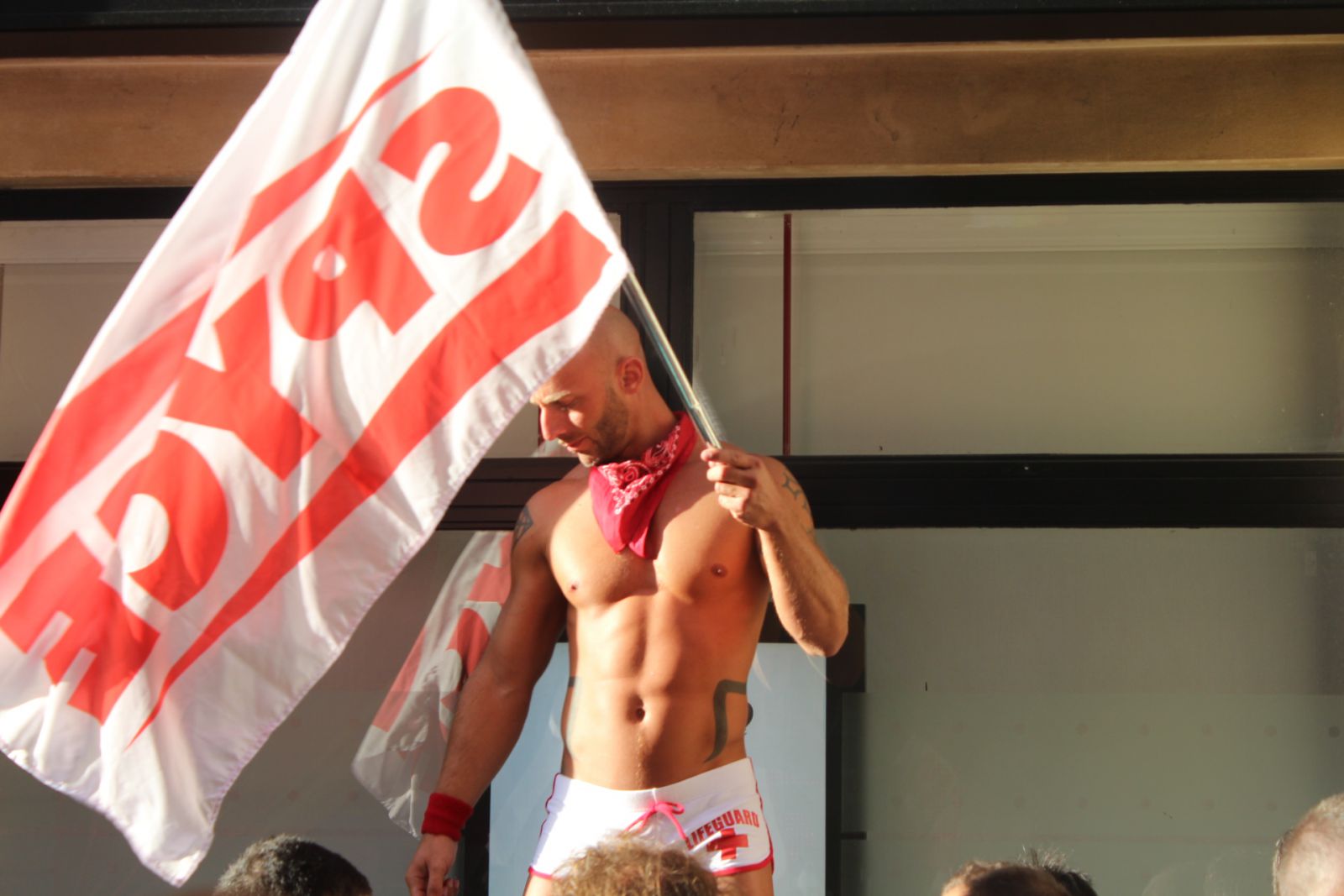 As for the scene, clubbing in Paris is different than what you might be used to. Here everything starts late. Some clubs don't even open until midnight. We generally meet at a friend's place or a café for drinks, maybe some hors-d'œuvres, then head off to dinner around 9:30 p.m. A typical dinner is usually pretty casual, filled with lots of conversation, lasting at least two, usually three hours. Then it's off to the clubs. By the time we're clubbed out the Métro has closed (the last train leaves the end of the line about 12:30 a.m.). So, unless home is within walking distance, someone drove, or taking a taxi is an option, we just stay at the club. Since the Métro doesn't reopen until 5:30 a.m., most clubs stay open until then, if not later. This is also true when someone has a party. They're expected to go all night since most people won't be able to go home until the Métro opens the next morning. It's fun to do once in a while -- honest.
More and more the Lesbian sector of the community here is growing and thriving. There are one or two clubs that have been around a long time, but the last few years have seen an increase in clubs and restaurants specifically for Lesbians.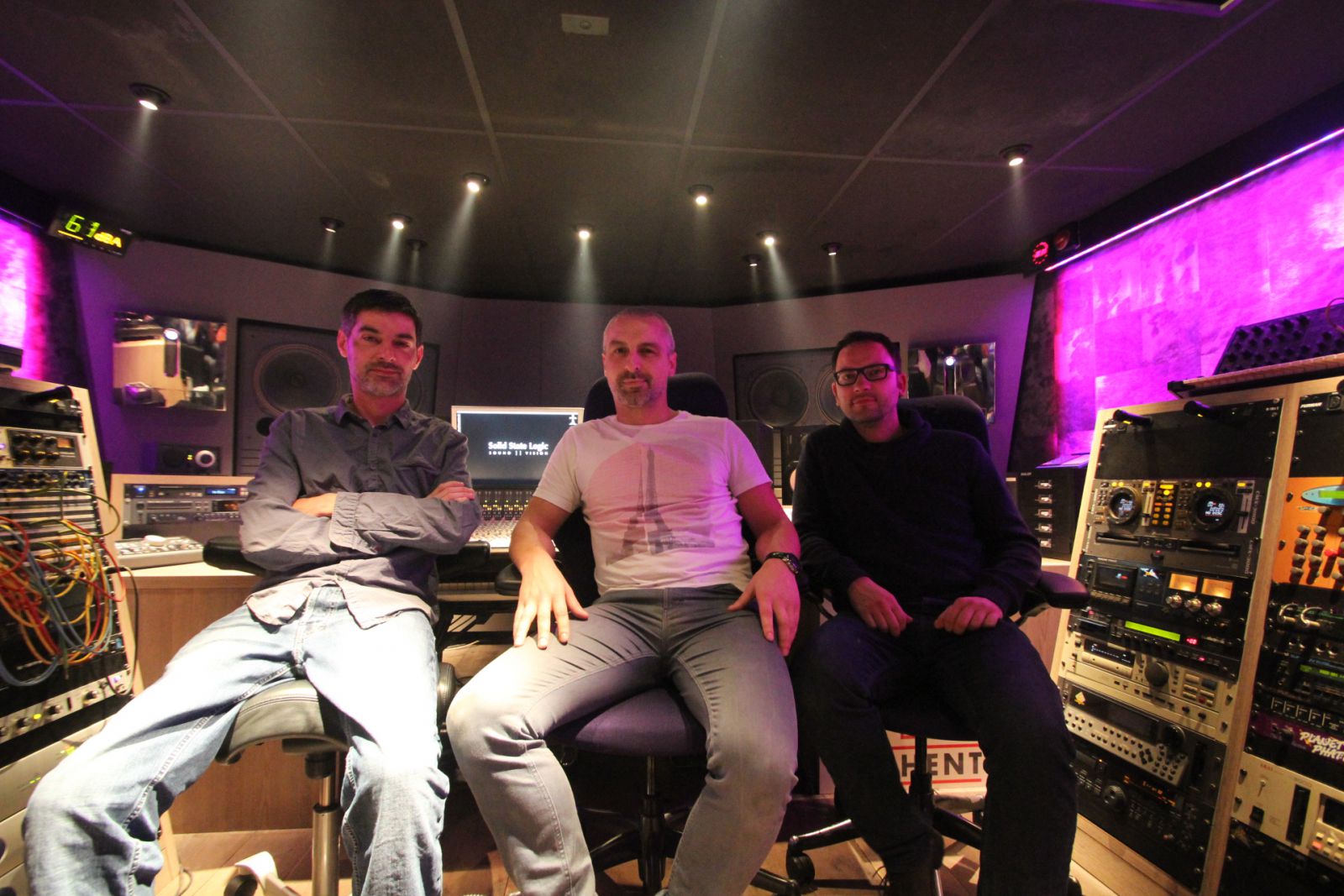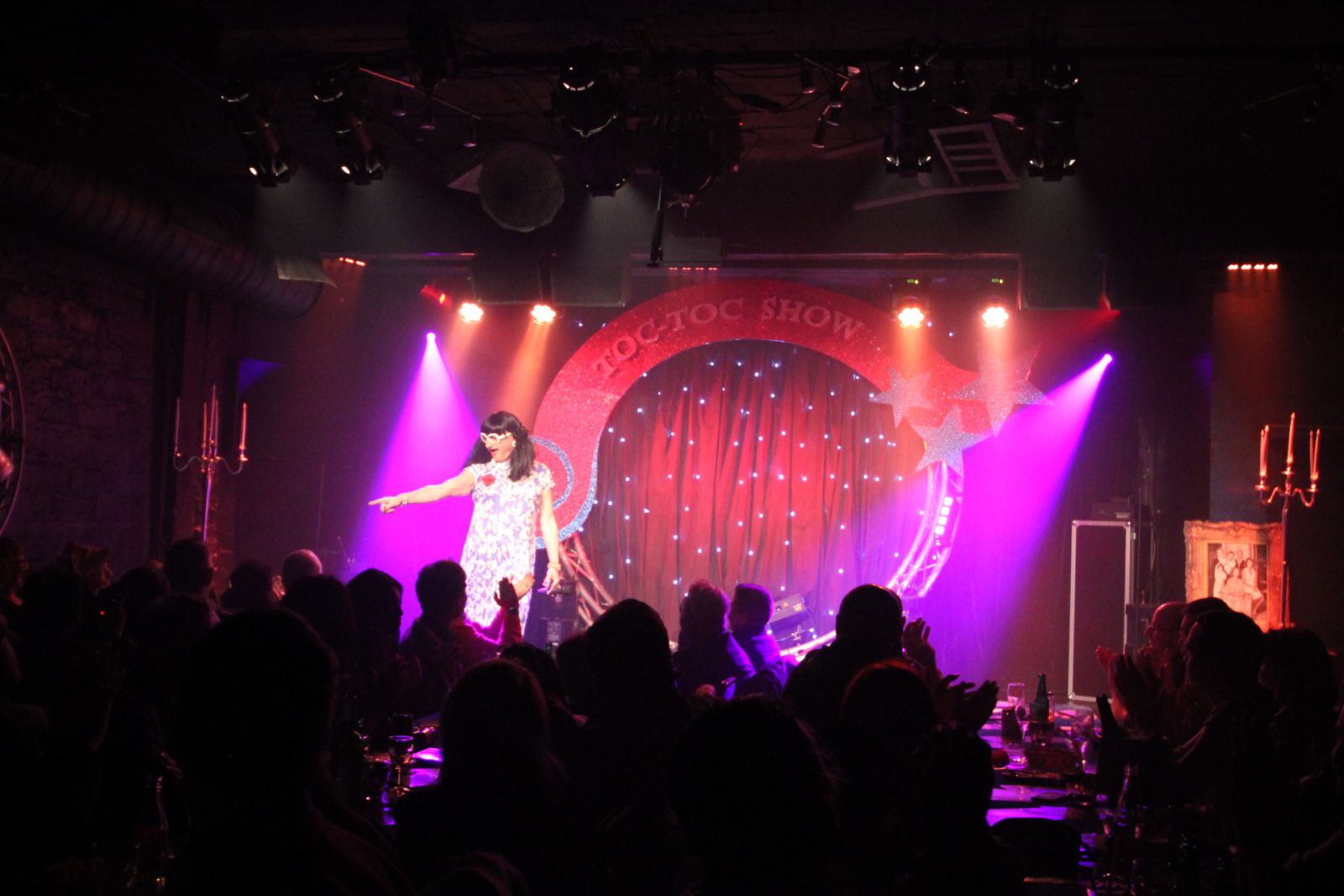 Sex clubs have made a big comeback the last few years – very big. Paris has now the world record with around 20 sex clubs ! While some of them are pretty sleazy, many of the newer ones are more upscale, taking the form of saunas and salons for "musculation" (gyms). Some are all-in-one places. On one level there's a bar, dance floor, and stage — for the go-go boys — while downstairs... well, you know what the downstairs is for. You may be familiar with such places in the States, but you have never seen anything like the sex clubs in Paris !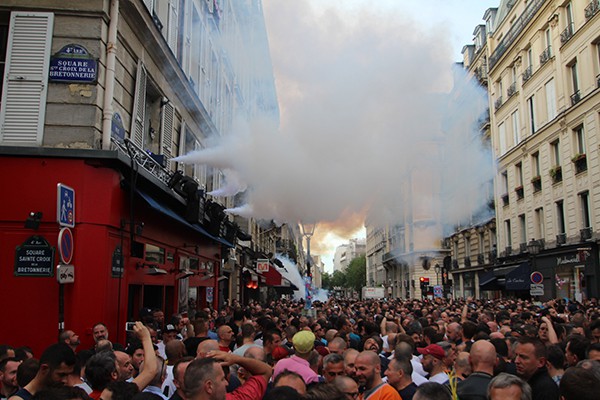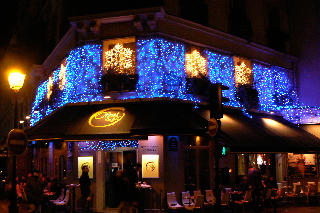 Large numbers of Gays and Lesbians from smaller towns around France and from other countries come to Paris to experience life in the big city. It is, after all, the center for the French-speaking world. With the advent of inexpensive travel, an easing of immigration laws, and the extension of the EU that has now 25 countries, Paris has become even more of a melting pot of cultures and nationalities. This is evident in the Gay community as well. So, in addition to French men and women, the community here is made up of just about any skin color, hair color, eye color, size, shape, and age you find attractive and interesting — all with adorable accents !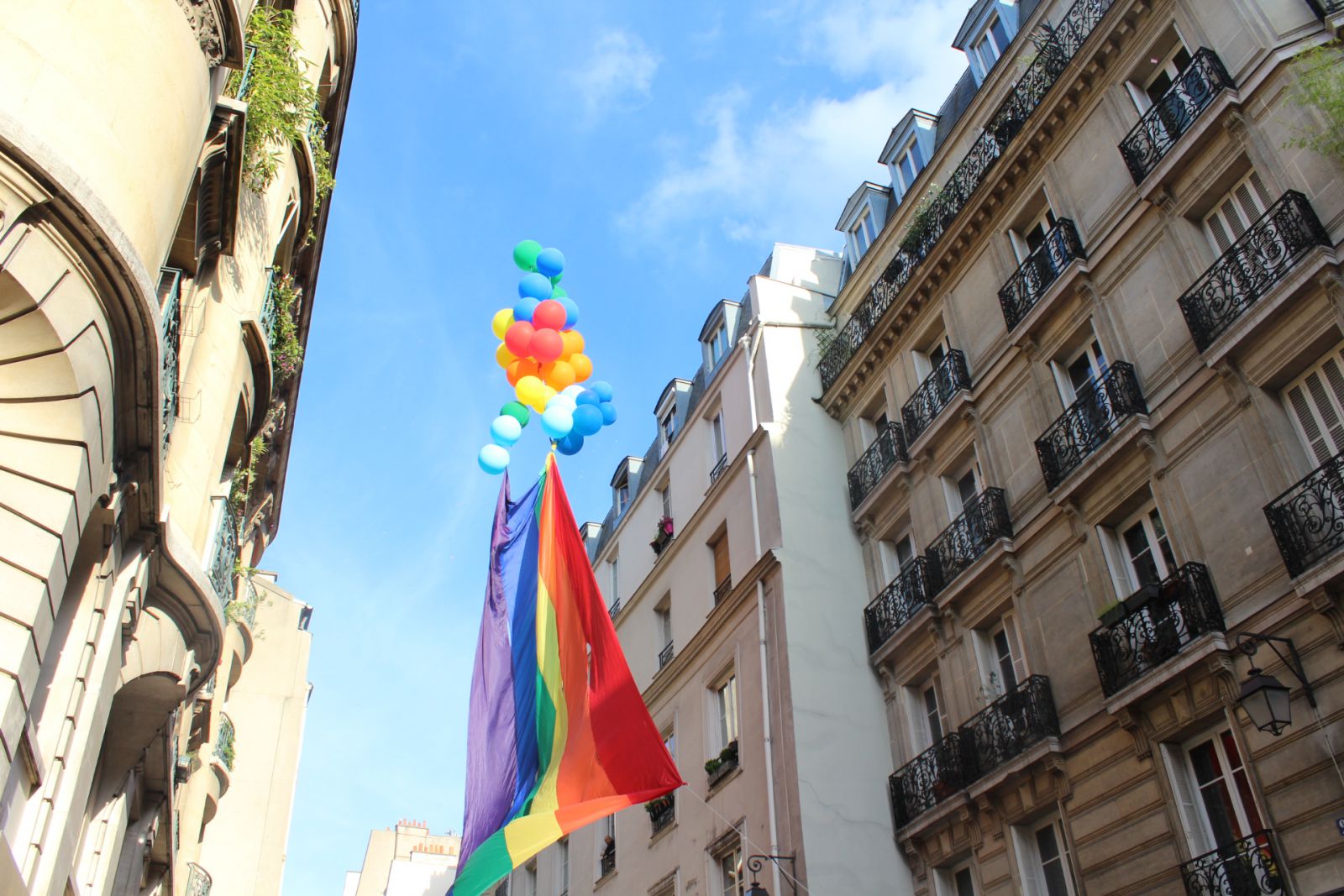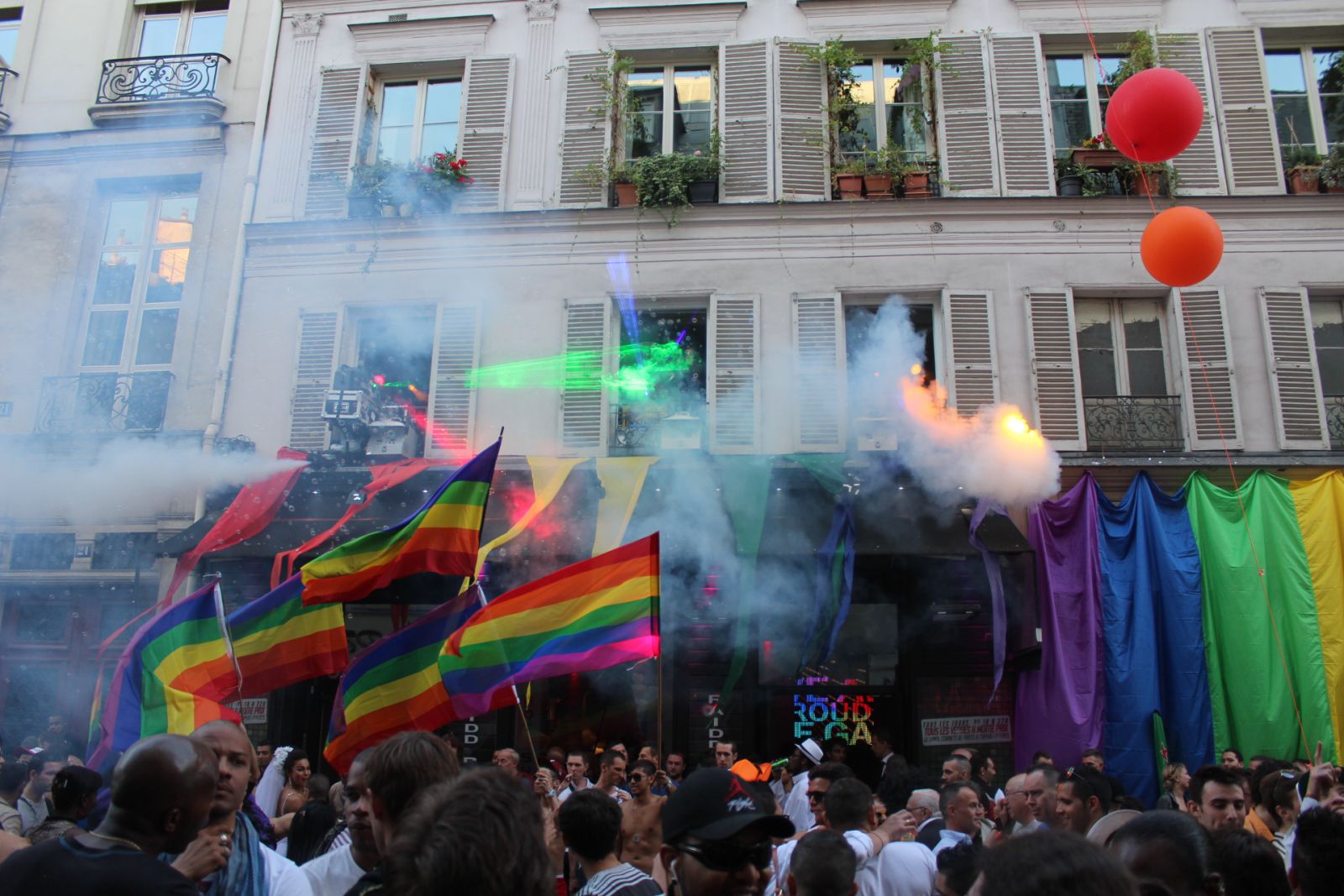 Paris is pretty accepting of its Gay community. Oh, there are the stalwart critics with their religious objections, but it's far less strident than other places. The French generally adopt a live-and-let-live view of the Gays. In 2000 they created the PACS, a civil union for straight or gay people. In the 2001 city elections the people of Paris put an openly Gay man in the mayor's office, Bertrand Delanoë. A large part of his support came from the 3rd and 4th Arrondissements, but it still took the majority of mainstream Paris to put him in office. Even more telling is the fact that his sexual orientation was never made an issue in the campaign and rarely mentioned, by either side. Further evidence of acceptability is the huge Gay Pride Parade/celebration held every June. The turnout of people from all over Europe, Gay and straight, is enormous. It's an incredible celebration that covers most of central Paris. Paris is a great city for Gay and Lesbian residents and for Gay visitors as well !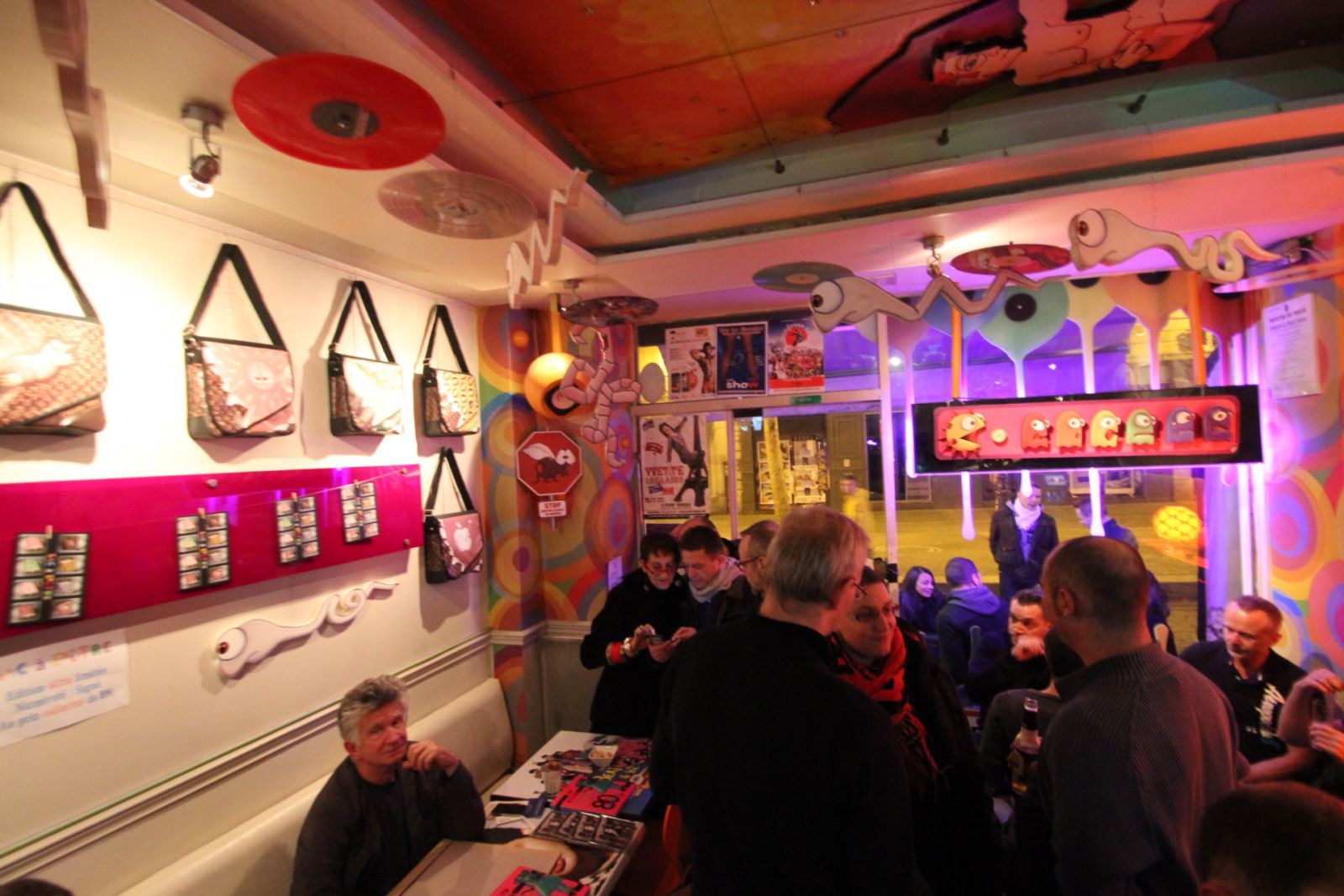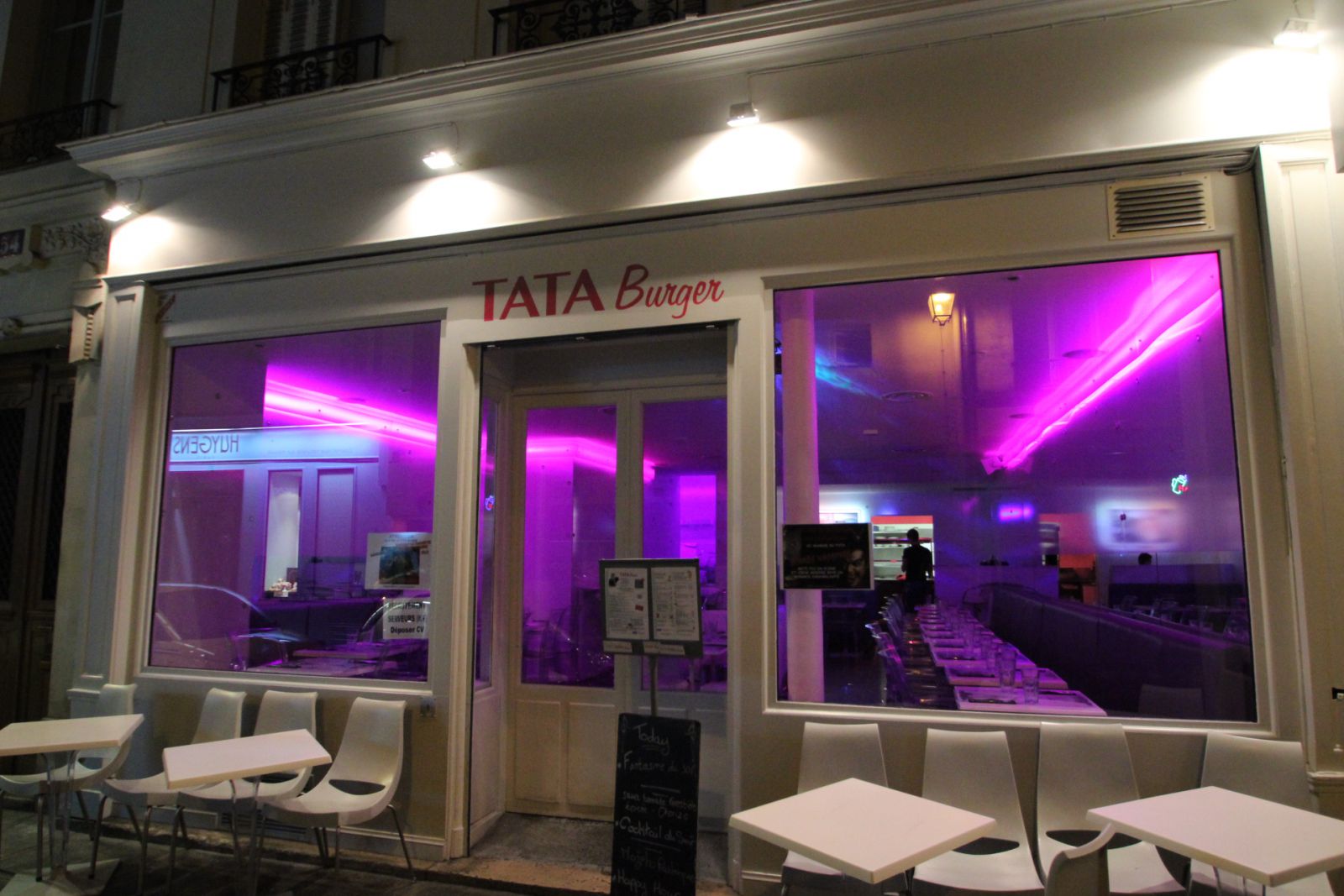 In May 2007, France elected a new liberal-conservative president, Nicolas Sarkozy. Among the many subjects that are listed as political issues, gay marriage is a very serious one. The unfortunate socialist candidate Segolene Royal who got only 47% of the votes had promissed gay marriage and equal rights for all couples would be adoped if she was elected... But she lost and despite a more open minded attitude towards gay issues, the french right wing was not ready for gay marriage. It's only in 2013, after the election of social-democrat François Hollande taht gay marriage and adoption wer finaly adopted after long debates and many unfriendly street protests. Today France follows Danemark, Holland, Belgium, Spain and England as one of the many European countries that have legalized gay marriage.
TEN WAYS TO SAY "I LOVE YOU" IN PARIS
Few people will argue that Paris is one of the most romantic cities, if not the most romantic city, in the world. From the top of the hills of Montmartre, to the luscious Luxembourg
Gardens, to the bridges on the Seine with jaw-droppingviews of the city, Paris is just oozing with romantic spots.

We know that you are a savvy, sophisticated traveler, and you gravitate to the coolest places, but we invite you to indulge your inner tourist a little and fulfill some of the Paris stereotypes like climbing to the top of the Eiffel Tower, sipping cheap Champagne while watching the tacky but fun Moulin Rouge show, or having a street artist draw a caricature of you and your lover at the Place du Tertre in Montmartre. Here are ten ways to say je t'aime in the City of Light.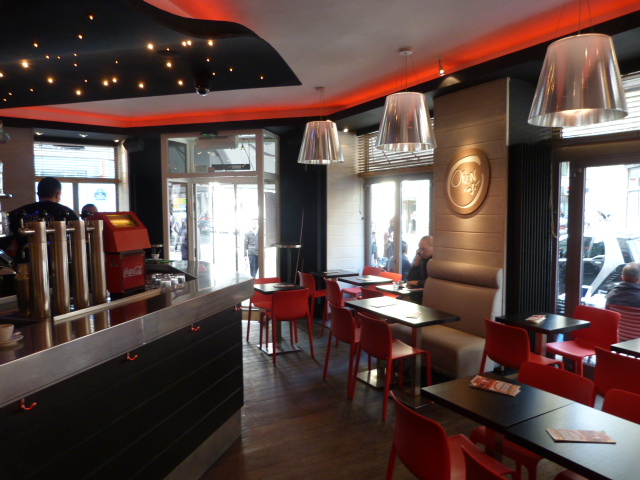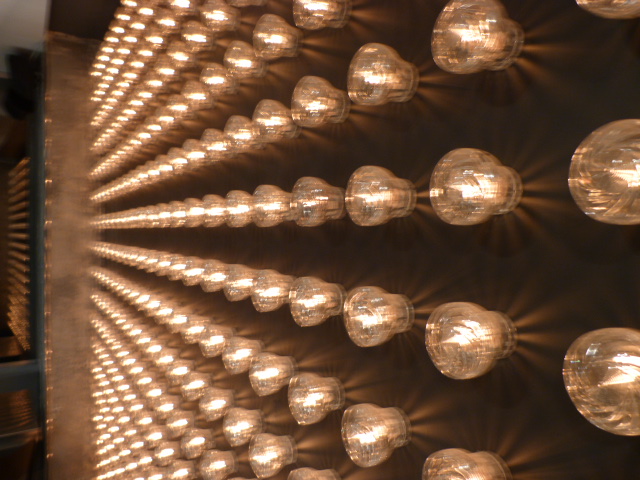 AT THE PERFECT LOVE PAD
Nothing will set the mood better for your romantic Paris sojourn than the perfect hotel room. The best place to start is to search the comprehensive list of gay and gay-friendly hotels listed on www.parismarais.com,
the gay-owned site all about the Marais, the top gay area of Paris. From charming, inexpensive small hotels to penthouse suites in chic boutique hotels, you will find many wonderful options here.

One of the only four-star hotels in the Marais, Pavillon de la Reine, is tucked away in an ancient courtyard in front of the handsome Place des Vosges Square. The hotel speaks quiet elegance and 54 individually decorated rooms and suites are accompanied by a newly opened Carita Spa for the ultimate in relaxation. A more rustic choice would be Hotel de la Bretonnerie in the heart of the gay Marais, housed in a former 17th-century private mansion. Ask for the attic rooms with slanted ceilings and wooden beams. If you are in a more uptown mood, the Hotel Costes on the rue St. Honore (the designer paradise shopping street) is a hip, happening hotel where the very stylish stay during Paris Fashion Week. The sumptuous Napoleon III-style rooms by Jacques Garcia are dark and elegant and the lobby bar is the place to be seen. Linger over a long lunch in the fab open terrace restaurant and purchase one of their music CDs speciallymixed for the hotel by hot DJ Stephane Pompougnac.

The quieter, more bohemian left bank offers the intimate L'Hotel, where Oscar Wilde spent his last nights holed up in his suite. Get the star treatment like other famous guests Princess Grace, Frank Sinatra, and Elizabeth Taylor with a one-star Michelin restaurant, pool and hammam for hotel guests only, and personalized service.

Get under the sheets with Christian Lacroix who designed the whimsical

rooms at the conveniently located Bellechasse Hotel, across from the Musee Orsay. The seven categories of rooms have names like St. Germain, Avengers (a wink to Emma Peel), and Jeu de Paume with décor that ranges from modern sleek to baroque and cozy. Request a room that has a white, shiny bathtub in the center of it.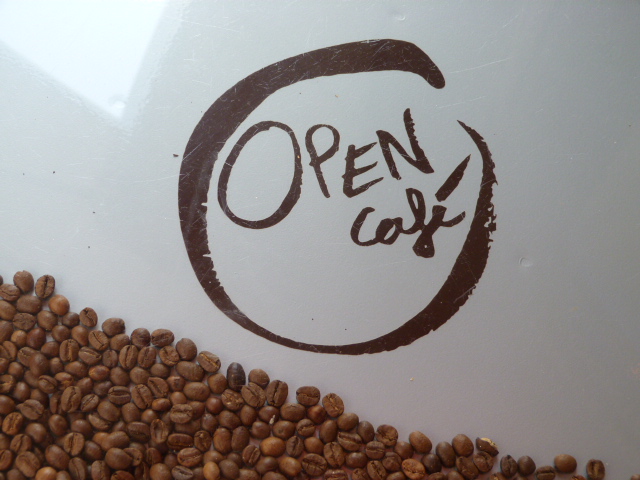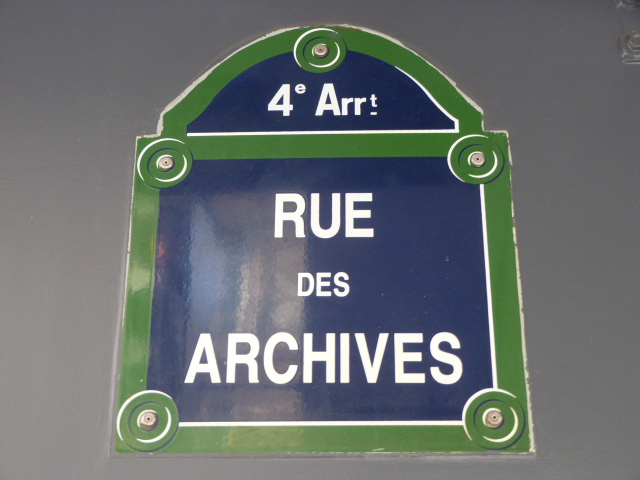 IN MONTMARTRE
Perched on a hill almost 1,400 feet above the city, Montmartre has some of the most breathtaking panoramas of Paris. The name means "mountain of the martyr" for which Saint Denis, the patron saint of France, was decapitated for his sins in 250 A.D. Until the late 1800s, Montmartre was a separate village outside of Paris, and since it didn't incur the same high taxes on wine and spirits as Paris, it became the hotspot for nightlife in the late 1800s with the famous nightclubs and cabarets Le Chat Noir, the Moulin Rouge, and the Lapin Agile. Starving artists of the day (Picasso, Dali, Modigliani, and Monet) allhad their studios in Montmartre and frolicked away their days and nights in the local cafés while creating their masterpieces. Feast your eyes on the creamy white domes of the Russian influenced Sacré Coeur, one of the most beloved churches of Paris. Discover the haunts that precocious Amélie used to frequent, including the café where she was a waitress, Les Deux Moulins. Mosey down the winding streets with quirky, private homes, buy a clichéd painting of Paris in the Place du Tertre, and feed each other sweet crepes made fresh by the local street vendors.
ON A SEINE RIVER CRUISE
Did you ever dream about sailing down the Seine in the evening, maybe like Cary Grant and Audrey Hepburn did in the 1963 romantic thriller Charade? Bateaux Parisiens fulfills the dream with three-course dinners plus wine and Champagne on a sleek, modern boat. An orchestra and a singer will serenade you while you gaze into each other's eyes with magical Paris in the background. Less intimate, but just as romantic, are the 70-minute Bateaux Mouches cruises, which run every 20 minutes from 10:15 A.M. to 11 P.M. from April till September, with longer intervals the rest of the year. For a very special voyage, the Romantic Refuge is a tastefully refurbished barge available for private dinner or lunch parties for up to eight people. A private chef cooking an all-organic menu will cater to your
every whim, and the unlimited organic wine will be flowing.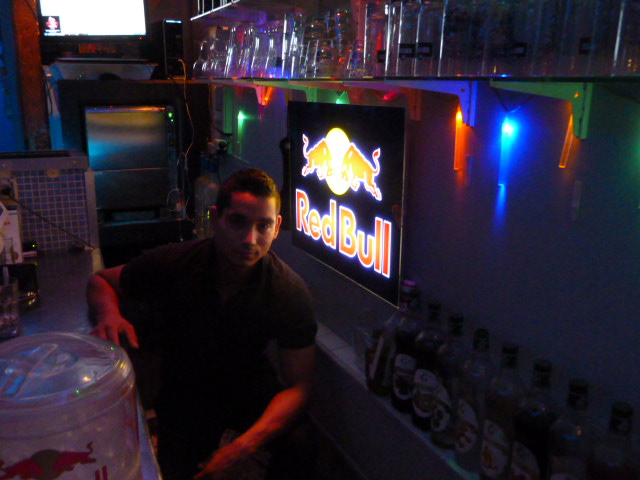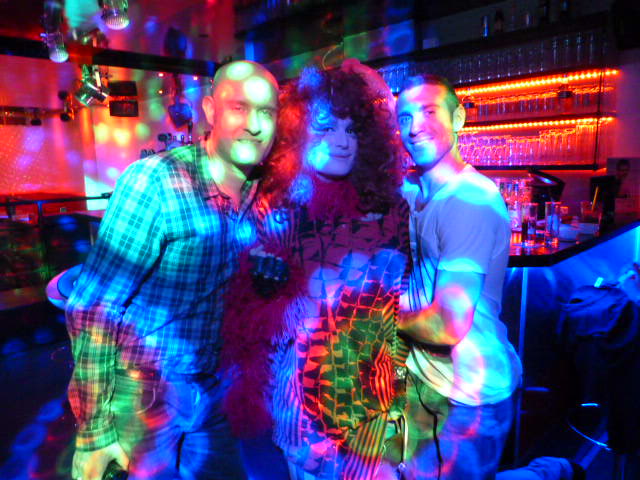 SWEETS FOR YOUR SWEET
Chocolate is an aphrodisiac, so be careful or you may turn into a sex maniac with the dizzying amount of chocolate available in every corner of the city.

Jean Paul Hévin, Patrick Roger, and Michel Cluizel, known for their dark, intense chocolate, are the premier chocolatiers and their shops stock every form of chocolate imaginable, from chocolate stilettos to designer versions of Nutella. (Don't be embarrassed if you like
milk chocolate, it's also available). Truffle hounds will go crazy over the sinful, velvety truffles lightly dusted with cocoa at Jean Charles Rochoux, a tiny shop on the Left Bank.If you prefer your chocolate in liquid form, Cathy, the genial proprietorof tiny Comme à la Maison (just like home) café prepares homemade to-die-for hot chocolate, which is pretty much like drinking a melted chocolate bar. Parisians take their pastries very seriously, and there are many players in the high stakes Paris pastry world. Pierre Hermé is the master of
the universe, with his modern and inventive confections. Fans line up single file at the minimalist boutique for his famous macarons in traditional flavors like raspberry, coffee, and lemon and unusual combinations like strawberry and wasabi, passion fruit and milk chocolate, and white truffle and hazelnut.

His sweet rivals include Gerard Mulot, who makes the most delicious classic French pastries and Ladurée, also known for their large assortment of macarons. Meanwhile, Legay Choc boulangerie and patisserie bakes its naughty Baguette Magique, a creative brioche sculpted like a penis, once a week. If chocolate and pastry ever had an official house of worship,

Jacques Genin would be it. The stunning shop and café in the northernMarais, is as much a feast for the eyes as it is for the taste buds with its grand metal staircase, stone walls from the tenth century, and sleek eather club chairs. Don't let the interior distract you from the most orgasmic salted caramels; delicate, exotic, flavored chocolates; and mouthwatering pastries you will ever taste.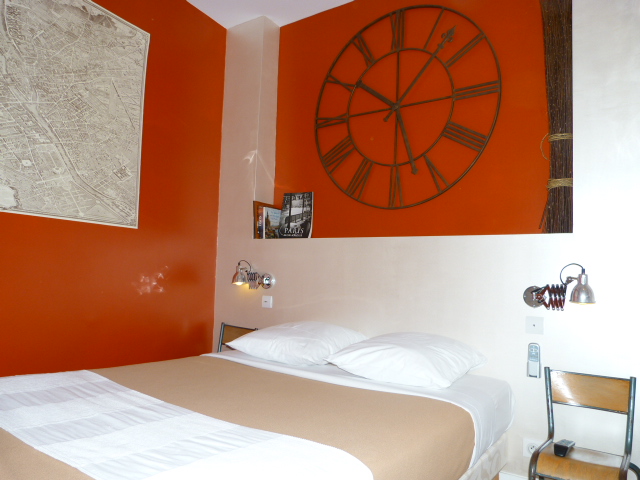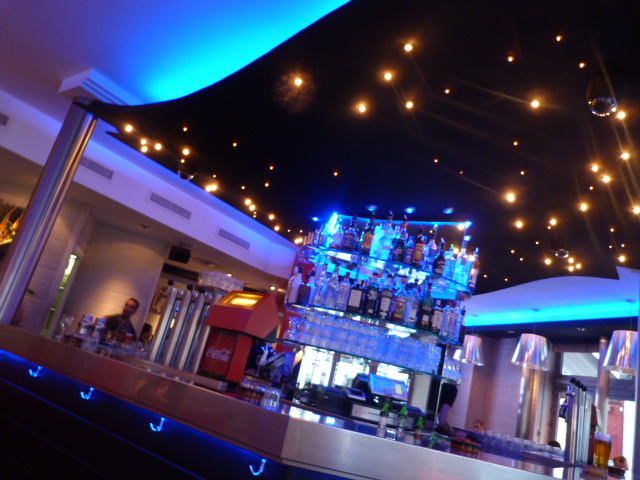 A SENSUAL SPA EXPERIENCE
After your long days of wearing down your Pumas on the cobblestone rues and being weighed down by shopping bags, a delicious reward of a massage or spa treatment can be just the thing.

Anne Fontaine, famous for her shops filled with pristine white blouses, has opened her first spa in Paris. Anne was baptized in the rainforests of the Amazon so her treatments have a South American theme to them. Your body will feel like swaying to the samba beat after
The Girl from Ipanema package with a guarana scrub, 12-coconut massage, and invigorating seawater bath.

Il Fait Beau in the Marais is a day spa and well-being space dedicated to the beauty of men. Hot stone and aromatherapy massages, seaweed and mud wraps, light hair removal, and mani-pedis are just a few of the choices from the large menu of treatments. Are you missing your workout and feeling a little flabby after eating so many buttery croissants?Drop in for a quick Power Plate session to tone your abs.For the ultimate in pampering, treat yourself to the Dior Institut at the Plaza Athénée Hotel (where Carrie from Sex and the City had her disastrous affair with Baryshnikov). Indulge yourself with five-star luxury and haute couture service with an anti-jet lag facial, a detox energy treatment, or the reviving leg treatment, which will resuscitate your weary shopping legs.
IN A PAINTING
Art has inspired love and romance over the centuries. From the halls of the Louvre, to the Impressionist collection at the D'Orsay, to the contemporary galleries in the Marais, let great art sweep you off your feet. Are you intimidated a bit by the big museum experience? Paris has many excellent small museums, with some located in former private homes. The Carnavalet is the museum of the history of Paris and is housed in a magnificent 17th-century palace, along with some stunning formal gardens. For sculpture, nothing compares to the black and white marble figures masterfully carved by the great Rodin, including his most recognized work, The Thinker. The mostly outdoor museum is famous for its lush green gardens, an amazing untouched oasis in the middle of the city. A not-so-well-known gem is the Marmottan Museum, the former hunting lodge of the Duke of Valmy, which has the largest collection in the world of Monet paintings under one roof.

Galerie NEC, one of the top Marais galleries, has two spaces, one dedicated to museum-quality, Scandinavian, mid-century modern furniture and a newly opened space for contemporary art with a focus on modern ceramics.

The Palais de Tokyo is a fun, multi-cultural space with modern art installations, art bookshop, concept museum shop, and trendy restaurant.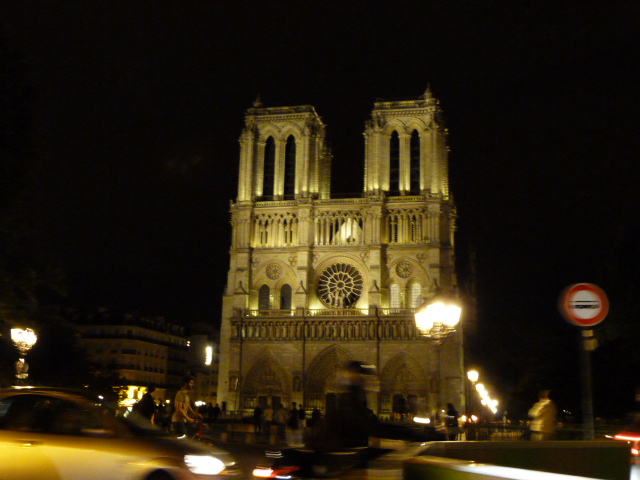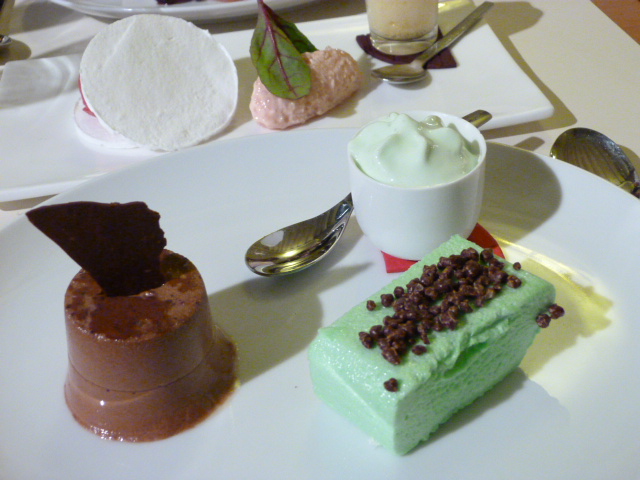 STROLLING HAND-IN-HAND IN THE MARAIS
Le Marais is the gay section of Paris and one of the most beautiful in the city with grand, former private palaces and mansions dating from the 1600s, gorgeous small parks, squares, serene gardens, and narrow, winding streets. You will feel comfortable walking arm-in-arm or planting
WITH FOOD, GLORIOUS FOOD
France is probably most famous for its unbeatable cuisine, aspired toand copied all over the world. When it comes to romance, one of your fondest memories could be an unforgettable meal. If a restaurant with a view means romance to you, here are two of
our top choices. On the Place du Trocadero, a well-kept secret is the Le Café de l'Homme, which provides a view of the Eiffel Tower that seems so close you can almost touch it. With excellent contemporary cuisine, we recommend going at night for dinner so you can witness the astonishing sparkling lights on the tower, which flash every hour on the hour. Georges, atop the Pompidou Centre, has some of the most impressive views and is a sleek, modern affair with eclectic food. Go at dusk and put on your chicest outfit because there is someserious people-watching going on.

Rue de Gravilliers, a small, gritty street, is practically monopolized by three trendy, cool establishments. 404 is a stylish restaurant with delicious, authentic Moroccan food, and next door is Andy Whaloo, a Moroccan bar and lounge with exotic cocktails and Moroccan tapas. The new kid on the block is Derrière, a combination restaurant, lounge, playroom, and private dining room. For haute cuisine without breaking the bank try L' Atelier Joel
Robuchon, which specializes in exquisite small plates that look like works of art. A hidden foodie gem among the trendy cafés in the Marais, is Monjul, with highly inventive cuisine. Chef Julien Agobert, who worked in some of the top hotels and restaurants like Plaza
Athenee and Le Laurent, surprises with his unusual presentation and tantalizes the taste buds with winning pairings of world cuisine.

Bofinger, off the Bastille, is a lavish, La Belle Époque-style brasserie, built at the turn of the century, that specializes in humongous raw seafood platters that are piled high with the freshest oysters from Brittany, as well as langoustines, crab, and mussels. For steak lovers, Le Relais de l'Entrecôte is a divine carnivore heaven with only one main course on the menu, steak, and it's served with a tangy secret sauce, the crispiest frites, and a simple green salad. Vegetarians can rejoice with the Rose Bakery, a casual organic restaurant and takeout food shop with homemade vegetable tarts, minipizzas,
and American-style desserts.

One could easily be overwhelmed by the number of great restaurantsfrom which to choose, so we have the perfect solution: The must read/must bring book for foodies, Hungry for Paris by Alec Lobrano, which has reviews of 102 of his favorite Paris restaurants.

WHILE SHOPPING
Shopping is practically an Olympic sport in Paris, with more shops per capita than anywhere else, so go for the gold. L'Eclaireur is the most cutting edge fashion boutique in the city with a well-edited mix of unknown, up-and-coming designers and heavy hitters
like Comme des Garçons, Balenciaga, Dior, Lanvin, and Dries Van Noten. The women's shop has a Fornasetti boutique along with a Fornasettidesigned restaurant and the men's shop has an industrial feel to it. René Talmon L'Armée, a hunky, gorgeous, blond German, makes exquisite handmade jewelry on the premises of his handsome boutique. Working with semi-precious stones, black pearls, silver, and gold, the jewelry is rugged and masculine but finely crafted. René can custom design those special rings you have been waiting to give each other. Two concept store must-visits are Coletteand Merci. Colette practically invented the concept store over ten years ago with two floors of innovative books, CDs and DVDs, techno gadgets, high fashion, jewelry, sneakers, and skateboards along with a restaurant and water bar with over 50 types of bottled water.

Meanwhile, Merci is a mega emporium with an eclectic combination of used book

café, designer clothing boutique, perfume bar, organic restaurant, vintage shop, and home

and house wares store.Scoop up some clothing bargains at La Piscine, an outlet store with labels like D&G, Martin Margiela, and Valentino at 50–70% off, or at L'Habilleur, which hasPaul & Joe, Duffer, and Plein Sud at bargain basement prices. If fetish wear is your thing, Rex has a full supply of black leather and rubber along with, believe it or not, a large selection of Fred Perry shirts. Thinking of getting an Eiffel Tower tattoo? Get inked at Abraxas tattoo and piercing boutique.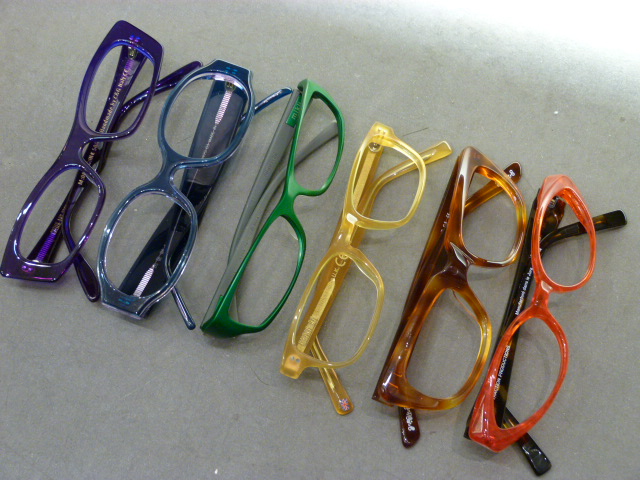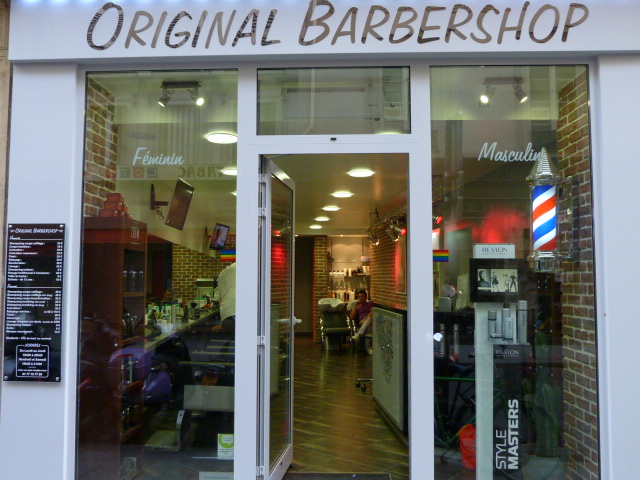 NIGHTTIME IS THE RIGHT TIME
Experience the real Gay Paree at night with a myriad of bars, clubs, and cafés. Rue des Archives is the main street for gay bars and cafés and the L'Open Café is a good place to start for a friendly drink with the natives.

Tables outdoors serve simple food like burgers, salads, and sandwiches and inside is small and crowded with a mostly standing room bar.Cox is more hardcore and cruisy with a Chelsea boy and beer drinking crowd. Les Marronniers is a relaxed café with a large sidewalk terrace open till the wee hours. Around the corner, things heat up a bit more at Raidd, a dance bar with famous DJs and live, steamy shower shows of French go-go boys.

L'Enchanteur, which attracts a more down home crowd. There is also a free jukebox withover 6,500 tunes, happy hour drinks at only three euros, and a smoking room. Go at it cheek-to-cheek at Le Tango/La Boîte à Frissons, by dancing the tango, waltz, polka,and paso doble until 12:30 A.M. After that, the club turns into an all out disco with a DJ. 3w, which stands for woman with woman, is a friendly, unpretentious, all girls bar, but boys are welcome if accompanied by a girl.

RESSOURCES :
A SEINE RIVER CRUISE

Bateaux Mouches, Port de la Conférence—Pont de l'Alma.Tel: 01 42 25 96 10. Seine river cruises that run all day till 11 P.M. www.bateaux-mouches.fr

Bateau Parisiens, Tel: 01 76 64 14 45. Romantic Seine dinner cruises with Champagne. www.bateauxparisiens.com

Romantic Refuge, Converted barge for private dinner parties for up to 8 people with private chef. www.romantic-refuge.com

SWEETS FOR YOUR SWEET

Legay Choc, 45 rue St. Croix de la Bretonnerie.Marais bakery that specializes in penis-shaped breads. www.legaychoc.fr

Michel Cluizel, 201 rue St. Honoré. Tel: 01 42 44 11 66. Dark chocolate specialist. www.cluizel.com

Jacques Genin, 133 Rue de Turenne. Tel: 01 45 77 29 01. Heavenly chocolate & pastry haven.

Pierre Herme,72 rue Bonaparte. Tel: 01 43 54 47 77. Master French pastry baker makes minimalist works of edible art. www.pierreherme.com

Jean Paul Hevin, 231 rue Saint-Honoré. Tel: 01 55 35 35 96. Hevin scent chocolates. www.jphevin.com.

Laduree, 16 rue Royale. Tel: 01 42 60 21 79. Famous for their delicious and colorful macarons. www.laduree.fr

Comme la Maison, 9 rue St. Paul. Tel: 06 89 32 00 10. The best homemade hot chocolate in Paris.

Gerard Mulot, 76 rue de Seine. Tel: 01 43 26 85 77. Some of the best French pastries in the city. www.gerard-mulot.com

Jean Charles Rochoux, 16 Rue d'Assas. Tel: 01 42 84 29 54. Sinfully rich chocolate truffles and other chocolate treats. www.jcrochoux.fr

Patrick Roger, 108 Blvd. St. Germain, Tel: 01 43 29 38 42. Voted the best chocolate in Paris by many food critics. www.patrickroger.com

A SENSUAL SPA EXPERIENCE

Dior Institut, Plaza Athenee Hotel, 25 Avenue Montaigne. Tel: 01 53 67 66 67. Luxury spa for the ultimate in pampering. www.plaza-athenee-paris.fr

Anne Fontaine Spa, 370 rue St. Honoré. Tel: 01 42 61 03 70. Serene spa with Brazilian inspired treatments. www.annefontaine.com

Il fait beau, 52 rue des Archives. Tel: 01 48 87 00 00. Men only day spa with Power Plate workout equipment. www.ilfaitbeau.fr

IN A PAINTING

Carnavalet Museum, 23, rue de Sévigné. Tel: 01 44 59 58 58. Museum of the history of Paris set in a 17th-century former palace. www.paris.fr

Marmottan Museum, 2 Rue Louis Boilly. Tel: 01 44 96 50 33. Museum in an 18th-century mansion with the largest collection of Monet paintings in the world. www.marmottan.com

Galerie NEC, Furniture space, 117 rue Vieille du Temple. Tel: 01 42 77 88 83. Art Gallery, 20 rue des Coutures Saint Gervais. Tel: 01 42 77 88 83.
Furniture gallery with museum quality mid-century furniture and objets. New gallery space with contemporary art, specializing in ceramics.

The Palais de Tokyo, 13 Avenue du Président Wilson. Tel: 01 47 20 00 29 Modern art and installation museum with hip, cool restaurant. www.palaisdetokyo.com

Rodin Museum, 77 Rue de Varenne. Tel: 01 44 18 61 10. Rodin's famous sculptures surrounded by lush gardens. www.musee-rodin.fr

STROLLING HAND IN HAND IN THE MARAIS

Download a free Marais map
www.parismarais.com/map/A.pdf
www.parismarais.com/map/B.pdf

WITH FOOD, GLORIOUS FOOD

404, 69,Rue des Gravilliers. Tel: 01 42 74 57 81. Trendy Moroccan restaurant.

Bofinger, 7 Rue de la Bastille. Tel: 01 42 72 87 82. Romantic Belle époque-style brasserie that specializes in raw seafood platters. www.bofingerparis.com

Derriere, 69, Rue des Gravilliers. Tel: 01 44 61 91 95. New hotspot restaurant, lounge, and private dining room.

Le Relais de l'Entrecote, 20, rue Saint-Benoît. Tel: 01 45 49 16 00. Excellent steak only restaurant. www.relaisentrecote.fr

Georges, Centre Pompidou, Place Georges Pompidou. Tel: 01 44 7 47 99. Modern eclectic cuisine with killer views of the city.

Le Café de L'Homme, Musée de l'Homme, 17 Place du Trocadero. Tel: 01 44 05 30 15. Best kept secret/non-touristy restaurant with amazing views of the Eiffel Tower and great food.

L' Atelier Joel Robuchon, 5 Rue de Montalembert. Tel: 01 42 22 56 56. Lesser priced, more casual restaurant of celebrity chef Joel Robuchon. www.joel-robuchon.com.

Monjul, 28 Clos des Blancs-Manteaux. Tel: 01 42 74 40 15. Creative, haute casual cuisine in the Marais. www.monjul.com

Rose Bakery, 30 Rue Debelleyme. Tel: 01 44 78 08 97. Mostly vegetarian restaurant with dishesmade with fresh organic ingredients. Breakfast and lunch only.

Andy Whaloo, 69 Rue des Gravilliers. Tel: 01 42 71 20 38. Hip Moroccan lounge with exotic drinks & Moroccan tapas.

SHOP TILL YOU DROP

Abraxas, 9 Rue Saint-Merri. Tel: 01 42 76 99 89.

Tattoo and piercing parlor. www.abraxas.fr

Rene Talmon L'Armee, 3 rue Cunin Gridaine. Tel: 01 4 87 1712. Jewelry handmade on the premises by a gorgeous German hunk. www.renetalmonlarmee.com

Colette, 213 Rue Saint-Honoré.Tel: 01 55 35 33 90. Innovative concept store on three floors with water bar & restaurant. www.colette.fr

L'Eclaireur. 40 rue de Sévigné. Tel: 01 48 87 10 22. Cutting edge designer clothes with labels Balenciaga, Dior, and Lanvin. www.leclaireur.com

L'Habilleur- 44 rue de Poitou. Tel: 01 48 87 77 12 . Outlet store with labels Paul & Joe, Duffer, and Plein Sud at 40–60% off.

Merci, 111 Blvd. Beaumarchais. Tel: 01 42 77 00 33. Chic emporium with bookshop, designer clothing, organic restaurant, house wares and furniture. www.merci-merci.com

La Piscine, 13 Rue des Francs Bourgeois. Tel: 01 48 87 59 24. Designer outlet store with 50–70% off on men's and women's clothing, shoes, and accessories.

Rex, 42 Rue du Poitou. Tel: 01 42 77 58 57. Leather, rubber and fetish boutique. www.rexfetish.com

NIGHTTIME IS THE RIGHT TIME

3w, 8 rue des Ecouffes. Tel: 01 48 87 39 26. Girls bar that lets men in who are accompanied by a girl.

Cox Bar, 15 Rue des Archives.Tel: 01 42 72 08 00. Cruisy bar.

L' Enchanteur, 15 rue Michel Le Comte. Tel: 01 48 04 02 38. Fun and friendly bar with karaoke cabaret room and jukebox with over 6,500 tunes.www.lenchanteur-bar.over-blog.com

La Boite a Frissons, 11 Rue au Maire. Tel: 01 48 87 25 71. Dance the tango, waltz, polka, and Paso Doble all night long. www.boite-a-frissons.fr

Les Marronniers, 18 Rue des Archives. Tel: 01 40 27 87 72. Cruisy gay café open till the wee hours.

L'Open Café,17 Rue des Archives. Tel: 01 42 72 26 18. Friendly, neighborhood bar. www.opencafe.fr
GAY MARRIAGE AND GAY PARENTING.
In early 2013, with the arrival to power of François Hollande, there is a debate focused on marriage for all and the right to same-sex parenting. Demonstrations are organized in front of our town halls by those who demand equality as advocated. Others, spouting rather dubious arguments, gather to prohibit marriage for all, meddling with the happiness of others.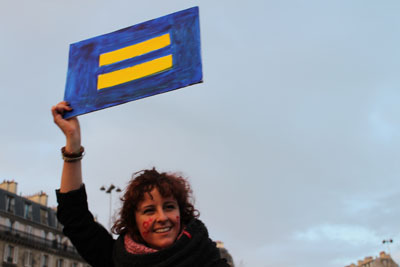 Maurice Godelier, one of the greatest French anthropologists and director of studies at the Ecole des Hautes Etudes en Sciences Sociales is quoted in the leading French newspaper Le Monde: "For thousands of years, society has valued heterosexuality for reproduction. However, homosexuality within societies such as ancient Greece has often been recognized in the formation of the individual. I spent seven years living with the Baruya tribe in New Guinea where, in order to become a man, one must be initiated.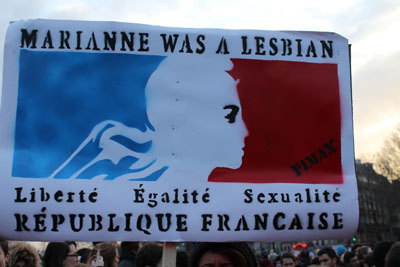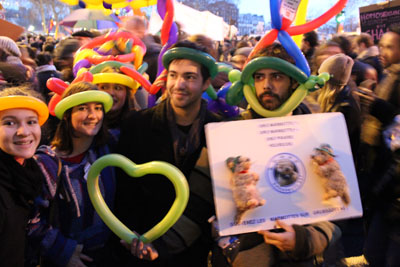 The initiated men lived until the age of twenty in homosexual couples." He adds, "Humanity has continued to invent new forms of both marriage and descendants." He goes on to say that "Homosexuality is a different sexuality than heterosexuality but it is normal. It is neither a disease, nor a perversion, nor a sin. The two primate species closest to us are bisexual, just like humans. It is a scientific fact. If we do not recognize this fact, we will continue to magnify homophobia. Homosexuality like heterosexuality means desire and love." he states.
Concerning the right to adoption, the slogan brandished by the reactionary anti-marriage and anti-adoption group "one dad, one mom, you do not lie to children" is an obvious delusion since we know after many studies that fatherhood and motherhood are functions. They are not linked to the gender of the person upholding these values. Have fathers not been given the right to nurture?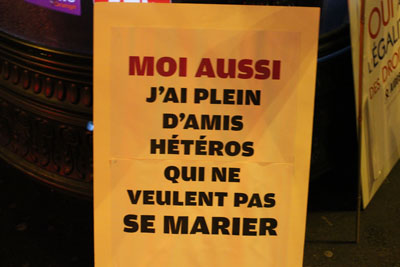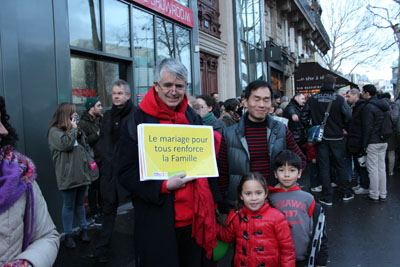 Have they not the right to paternity leave? Moreover, in analyzing psychological traits, it becomes clear that the role of the father or the mother is much more complex than the reactionary appearance of the perfect nuclear family. It is a concept shaped by centuries of Western Christianity and has no meaning for many other societies.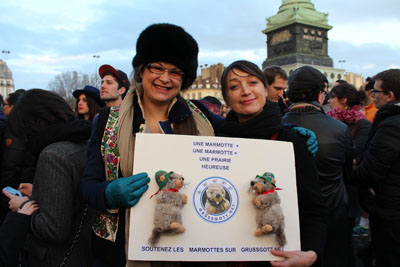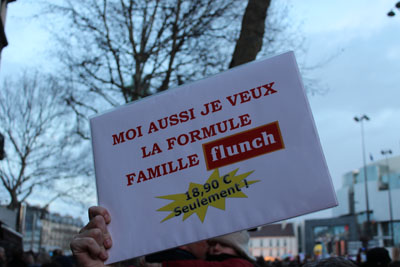 On January 27 2013, 400,000 people from all walks of life expressed support for France's Holland government's bill which was elected in May 2012. The overall tone of the demonstration was quite positive. The most humorous slogans ridiculed opposition to the project with gusto, such as: "we want two gay dads because we want to be well dressed", "yes to the right to drive in a large, unattractive car", "yes to divorce and alimony, "a woodchuck + a woodchuck = a happy meadow", "our happiness will not harm yours" and "we love each other, so what?"
The bill establishing the right to marriage and adoption for all was finally voted in spring 2013 by the National Assembly.
SNEG : A BUSINESS MODEL FOR GAY NETWORKING.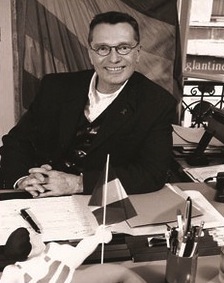 Gay life in Paris truly began in the late 70's after the women's sexual revolution in France and flower power in the United States; as always, a bit behind anglo-saxon countries. Prior to this, the Marais was not really considered a place for gays and was certainly not fashionable. It was a rather dilapidated and undervalued neighborhood, as nobody had yet realized the historical and architectural valuewhich in fact makes it the greatest 17th century neighborhood in the world.
Gay life was found in Saint Germain des Prés in the 60's and on the rue Sainte-Anne near the Opéra in the 70's, followed by Les Halles in the 80's, which with the demolition of the former markets, the construction of the new mall and the pedestrian streets, was also the era of Broad and Haute Tension.
The Marais' first gay bar, the Village, opened in 1980, followed by the Duplex which still exists today as an alternative bar…until 1981 and the beginning of François Mitterand's reign, homosexuality was still punishable by law and considered an illness. The bars had no visible windows on the street, one had to ring a bell to enter, discretion was required, and police harassment was quite common. It was in order to counter these pressures and organize a counter force that the SNEG was created - a syndicate of gay companies presided over by Bernard Bousset and comprised of a number of other militants and owners of gay establishments.
With the AIDS epidemic, the SNEG plays a preventative and informational role to fight against discrimination. It participates in the lobbying of associations to encourage targeted advertising campaigns that account for the specific needs of the gay community. By bringing together institutions and associations, they also manage to create their own campaigns.
1992, the SNEG also became a lobby to defend gay businesses during the development boom of bars, restaurants, and clubs in the Marais. 1994 was truly a pivotal year, and 70 establishments in the Marais were then members of the SNEG. Gay Pride brought together 500 000 people for Europride in 1997 gathering always more and more people.
Each weekend, tens of thousands of boys go out in the Marais, the advantage of the neighborhood being its density; everything is in close proximity and can be visited on foot within several minutes, a bit like London's Soho or Schoneberg in Berlin. Today the SNEG also focuses on the importance of the tourist clientele to boost the economy of the neighborhood…an important part of the revenue of our establishments comes from tourists, without whom it would be difficult for us to survive. The Open is certainly the most cosmopolitan spot in the Marais, with all languages spoken, the first being English. It is an uncontested stop for tourists from all over the world. They take pleasure in sitting on the terrace and watching the people go by, and contribute to the liveliness of the neighborhood.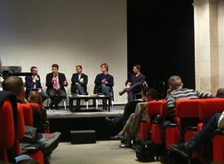 Because of our struggle to integrate the gay community, our establishments have ultimately been accepted, and even invaded, by a family clientele…we should sometimes be a bit on the defensive; it is the bittersweet success of integration. Heterosexuals come to our places and the gays go where they like, generally welcome as long as they are discreet and well behaved.
At the Open, we clearly display openly gay videos to avoid being invaded by families with children and strollers on the terrace. The space is not obviously "gay" and suffers from the success of being strategically well located.
Older gays rarely go out, the neighborhood lacking in comfortable and cozy gay establishments…we need more variety to satisfy all groups. However, the high cost of space currently limits our development, and in general, the number of establishments is not progressing. Internet is in direct competition with these establishments for meetings and recreational drug use is a new battle for the SNEG as it threatens the closing down of establishments who allow it. This is why we are so vigilant regarding this topic.
The future of the gay Marais is uncertain; we are in a transitional period. The Marais has become so popular and international, that gays are no longer the only influencers of its renovation. In fact, few gays actually live in the Marais as real estate has become too expensive. They come here because it is the ideal neighborhood to go out, but are unable to stay, with the exception of those who were lucky enough to buy 10 years ago when the neighborhood was still affordable.
Paris and the gay quarter are true assets for attracting tourists from all over the world, and it is imperative that we make efforts towards improving the quality of our welcome in order to seduce the international clientele. Take London for example, a city I adore, and an excellent model of a successful gay quarter…but what is possible elsewhere is not always possible here. Paris will always be Paris, with its restrictions and its state of mind!