Chateau Style in Le Marais.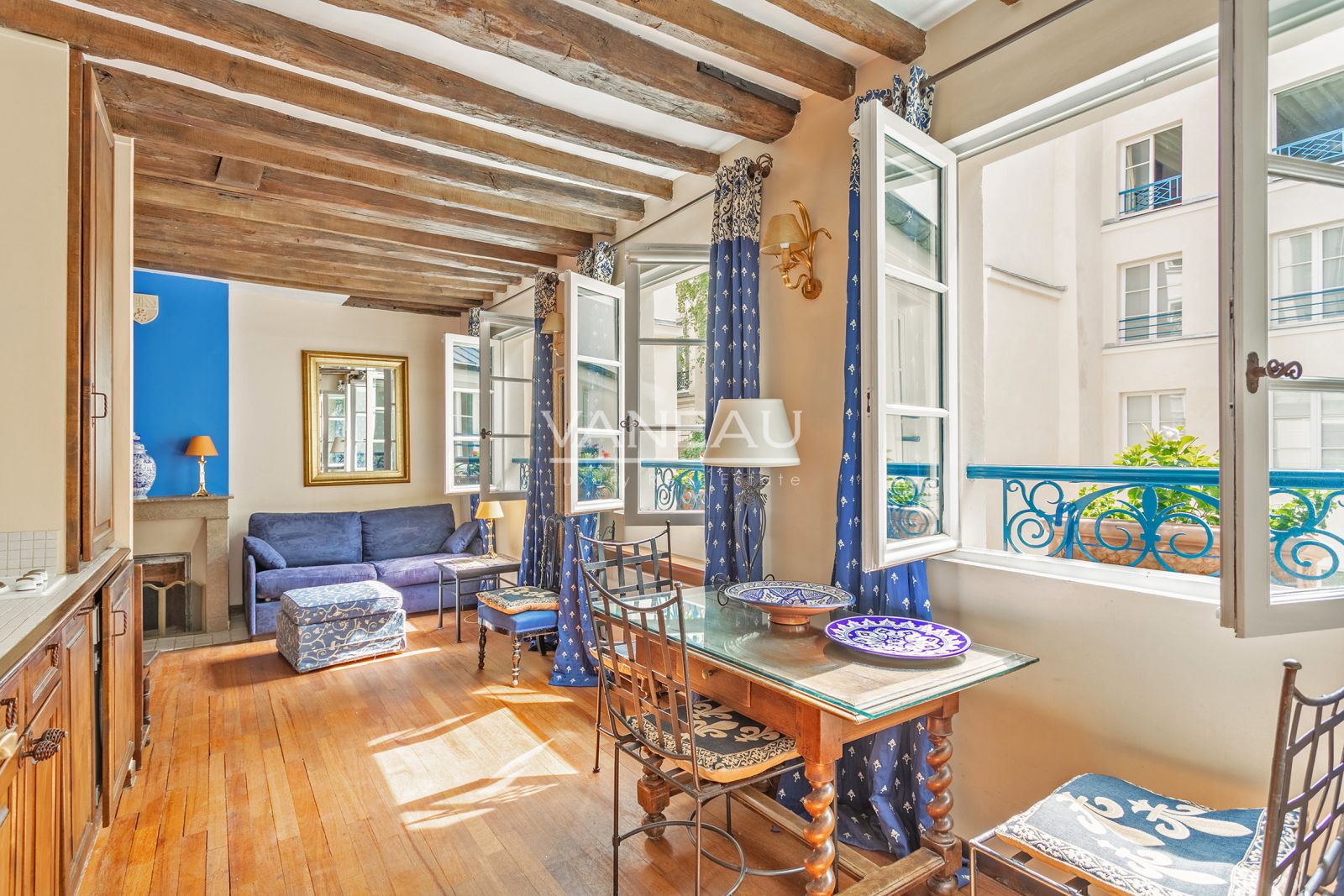 Inspired by historic castles of the Loire Valley, this appartment located in a 1612 Marais house has definitely an unique style that make you travel in time and History. Situated in the top location of The Marché des Enfants Rouges, next to the local city hall of Paris-Centre, the charming Square du Temple and the brand new Central Police Station, it is probably the ideal pied-a-terre you have always dreamed of...

Where is it ?
Rue Charlot Paris district 3. One of the most fashionable Marais street with arts galleries, designers, tea-rooms, typical french restaurants and cafés, and Paris oldest covered food market build in 1610, just round the corner. Rue Charlot is still keeping its soul and spirit with its beautiful 17th century houses and a mix of chic and alternative people and with more artists and creative people than anywhere else. In this fashionable movement, a friendly village life remains here, like in a small town of the Loire Valley…
What is nearby ?
The Local city Hall of Paris Centre for all your administrative needs.
The new central Paris Police station with 500 policemen nearby that makes it one of the safest area to live.
Just down the steps of your flat, the real village life is there, almost like nowhere anymore in Paris.
The open-air market rue de Bretagne every morning with fresh organic food, fresh fish from the north sea, great italian, japanese and oriental delicatessen… You can even sit down and have lunch outside at one of the tables.
· Over 100 delicious grocery shops are just round the corner all along rue de Bretagne : butcher, seafood, pastries, wine dealers, the best chocolate shops from Pierre Hermé to Ladurée, Jean Paul Hévin, fruits and vegetables, amazing cheese shop, supermarket… Every food you could possibly desire is here, at your doorstep.
· Also in the same neighbourhood: antique dealers, gardens and terraces, cafés, tea houses, bars, and hundreds of restaurants from 20/30 Euros for a 3 course menu at lunchtime.
· Private parking spaces are available for rent just round the corner of the house at 14 rue de Bretagne, for cars motorbikes and bycicles.
5 minutes walk:
Follow down rue Charlot, turn left rue du Perche, you are facing The Picasso Museum set up in a fabulous 17th century Palace.
Two more minutes walk and you're reaching the Jewish quarter rue des Rosiers… Experience the traditional Falafels !
Visit also the gay village rue des Archives, with its trendy clothing shops, friendly terraces open to everyone with no attitude.
Go along the rue des Francs Bourgeois, the other elegant Marais street for all major brands and deco shopping, open late and fully pedestrian on sundays.
10 minutes walk:
Visit the amazing Place des Vosges build in the 16th century by King Henry IV and inaugurated in 1612
The Carnavalet Museum, the historical museum of Paris
The Centre Pompidou, modern art museum,
The magnificent renaissance City Hall and Notre-Dame
Closest Metro stations:
Temple or Arts & Métiers or Filles du Calvaire.
The house:
The building: Historic house 17th century completely renovated in 2022. The flat was completely renewed in 2015.
The flat is located on the second floor (0-1-2 )of building C. It has a charming view over the private garden with sun all day.
Building C is in the courtyard facing you when you come in the house, you ll never hear a car or anything that make you think you're in a city.
Every morning, you' ll hear the little birds in the green courtyard beautifully set up with orange trees, roses, jasmine, olive trees and magnolias…
For your security, the house has a digit code on its first door and a second door with an intercom entry.

The appartment
The flat, has been decorated in a neo-medieval style, inspired by the historic Marais spirit. It is sold fully furnished and ready to live in.
The flat is considered as a very large studio or one bedroom flat according to Parisian standards. It is superbly furnished and decorated by its owner who was an interior designer. Size is 27 square meters, about 300 square feet + two separated cabinet - storage rooms beside the flat at the same level. ( 3 square meters )
Part of the original decoration are restored wooden oak beams on the ceiling. One of them tells the age of the building : 1612. Stain glass windows, stone sculptures, wonderful teck floor, Italian marble, a fireplace, French countryside antiques and beautiful paintings and lighting… Heating is electric with new generation radiant radiators that provide a warm and comfortable atmosphere. Fibre connection with wifi is installed in the house.

Main room
Entrance door is highly isolated for cold and noise and have one super security lock of the best standards. Every part of each wall ceiling and wooden floor have been highly insulated so you would not suffer from the cold during wintertime and will never hear your neighbours. Each window has double-glazing. The 3 windows are overlooking onto a quiet, peaceful and planted courtyard with roses, magnolias, and provençal species.

Kitchen side
The kitchen is open in the main room. Fridge and freezer, 2 electric rings with safety system, microwave oven, coffee maker, toaster, kettle and all the basics needed to have a snack or dinner at home.

Bathroom
The bathroom, decorated with superb white and blue Italian mosaics and antique marble floor has an x-tra large shower for two with 2 separate water systems, a sink and a WC. Big mirrors and a few drawers for your personal belongings. A cupboard to hang your clothes.Efficient and fabulous light with the sun passing trough the antique colour stained glass windows.
Storage room
There are also included in the flat's price two small storage rooms at the same level where you can place winter clothes, luggage, or extra furniture.

Conditions and restrictions
17th century house. no lift, but large stairwell make it easy even for seniors
No smoking house in the stairwell and garden
Airbnb or equivalent are not suitable in the house all year and restricted by French laws. Local rules apply in this quiet residential house.The former owner of this flat still lives in the same house in another stairwell: a real plus, he'll be enchanted to help you and advice you anytime with any question you would have to settle your new life! Some residents speak French, English, german, Italian. We love cultural mixity… And cats owners are welcome too !
Starting price is fixed at 467 500 € including the two extra storage rooms and all furniture, decoration and equipments, and agency fees. (Notaire's fees are not included)
The flat will be available for visits from 15 th september 2023. This property is exclusive to Vaneau Marais.
Contact the agency in charge of the visits.
Vaneau Marais
39, rue de Turenne
75003 Paris - France
Téléphone : +33 (0)1 42 74 16 16
arnaud.sloim@vaneau.fr

Contact the actual owner who still lives in the house to find out more about location and extra services such as private conciergerie and maintenance. Having already a friend and local expert in the house when you move in is definitely the big plus of this property.
https://www.parismarais.com/en/contact-us
This property has been tested and classified D in the energy consumption sheet. An excellent result for an historic house. The flat has been completely insulated and restructured. Bills and maintenance costs are exceptionnaly low. ( less than 100 euros per month )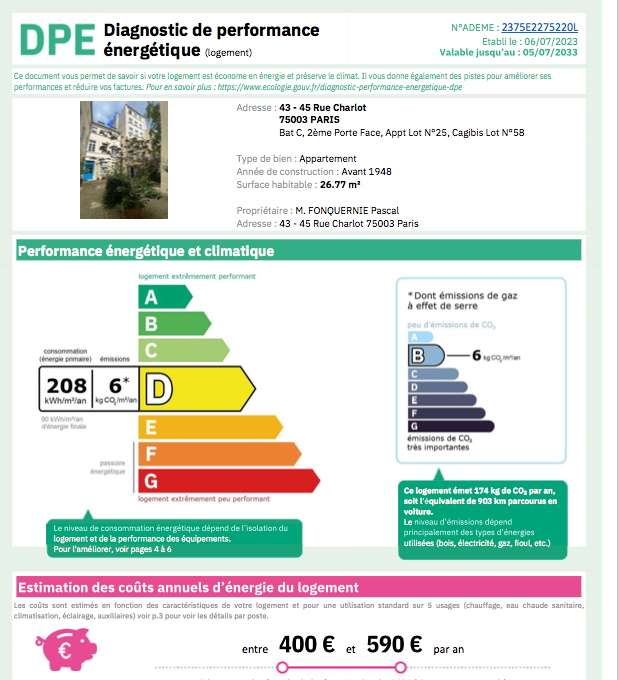 More Photos of the Property.