FAQ ABOUT LE MARAIS

Who lives in le Marais ?
The residents of le Marais are mainly elegant people called Bobo's, meaning bohemian bourgeois: they have good standards of living, good values, lots of savoir-vivre, and are unconventional and multicultural. They love American and English visitors and most of them speak good English… You'll be welcomed everywhere and realize the French are not as grumpy as their reputation says they are! Being so open to differences and respecting them made it possible to have a big Jewish community in this district, around rue des Rosiers, one of the biggest Gay communities in Europe around rue des Archives and rue du Temple, and more artists and creative people living here than in any other district of Paris.

Is le Marais a safe district ?
In terms of safety, Paris is very unlike many other major cities in the world. Despite an increase in crime levels of some suburbs, crime in the historical center of Paris is very low. Due to strong gun and personal weapons control laws, crime in the city is virtually non-violent.
This district, which is also one of the most residential and prestigious one, is safe at any time of the day. Of course, like everywhere, you should always be careful and sensible, especially in the metro. Walking anywhere at night or day in this neighborhood is probably the most peaceful thing to do.

Tipping in Paris ?
You normally do not tip for services or in restaurants. By law services and taxes are included in all bills. If your waiter is very nice and helpful you are welcome to give him a little bonus depending on your bill, but it is not compulsory.

Where to withdraw cash ?
France is the number one country in the world for the number of cashpoints per capita! ATM's are everywhere and it's the most flexible and reliable way to obtain cash in Euros. There is no need to change money before you leave home. Almost every shop accepts payment by Visa or Amex. Forget about travellers cheques, no bank accept them anymore.

Prices in Paris ?
Here is a small list of prices to give you an idea of the cost of living:
- Carnet of 10 metro tickets : 17 euros
- 3 courses meal in an average restaurant (lunchtime): 18 to 28 euros 3 courses meal in a good restaurant (evening): 30 to 60 euros
- Opera ticket top category: 180 euros
- Theatre Ticket top category: 100 euros
- CD's anfd DVD's : 5 to 20 euros
- Beer of soft drink at a terrace: 3 to 7 euros it depends where you go. Happy hours between 5 and 7 pm
- Museum ticket: 8 to 12 euros
- Cinema Ticket: 9 to 12 euros
- Disco / club entrance: from 10 euros
- High speed train ticket to Burgundy: around 100 euros round-trip, cheaper if you book long time in advance
- Taxi from champs Elysées to le Marais at night: around 20 euros, or use our partner car company marcel.cab
- 3 star hotel room in the center: 90 to 150 euros, check our best offers direct with the hotels to get the best deals.

Cinemas in Paris ?
Paris has more cinemas than any other city in the world, far more than London or New York. Prices are cheap, around 10 Euros, and some cinemas offer cards of 5 / 6 tickets for around 30 Euros (UGC). The best of all is the UGC Cite Ciné in Les Halles, district 75001, near the church of St Eustache: more than 20 screens with the most terrific sound system and wide screens. Most films are shown in their original language version ("vo") but with French subtitles. The most romantic is Le Grand Rex, with 3000 seats and a star-gliding ceiling that makes you feel as if you were in an open-air cinema. This place is so beautiful it has been classified as an historical monument. Métro Bonne Nouvelle. District 75002.

What about Nightlife ?
Nightlife in Paris is very active. It is changing all the time, so it is difficult to give particular advice! Apart from the usual and well established clubs and cabarets, you'll find day by day recommendations in papers than you can either buy throughout the city or pick up for free in the cafés and bars.
The best papers to find out what's on and where to go are definitely l' officiel des spectacles - found at any bookshop
To go out on the gay scene, pick up the free papers like Qweek, where you'll find a lot of addresses in Le Marais district. For the most elegant options, have a look at Where Paris, Paris Magazine, and of course parismarais.com blog and going out chapters.

What about transportation in Paris ?
Taxis Paris Cabs are reasonably cheap... It will cost you around 8-12 Euros to go from Pompidou Center to Gare du Nord and about 50 Euros to go to the airport from Le Marais district.
Another option is to book our partner car company marcel.cab and book with us on this page : https://parismarais.marcel.cab/reservation and benefit of cheaper rates by booking in advance.

Métro
Paris has the biggest and probably the best Métro system in the world with over 350 stations! The Métro is cheap, convenient and runs until 00.45 hrs (12:45 a.m.) and later on week ends. The best deal is to buy a carnet of 10 tickets for around 17 Euros. Be sure to hold on to your ticket until you exit the station as there is a fine if you don't have a current one.
Experience the new high tech automatic line 14 to go to the Great Library François Mitterrand on the south bank and to the charming new district of Bercy Village, formerly a wine market.

Buses
An excellent service and one of the best ways to see Paris! But, it will be slower and can be difficult to use when you don't know the town so well... You can use Métro tickets to take them but make sure you punch them in the machine at the door by the driver.

Parking your car
Driving and parking in Paris is a nightmare, no question! That's why 80% of the Parisians do not have a car and use the efficient and cheap public transportation. If you still decide to come by car, we'll recommend safe private parking nearby. Parking in the street can cost you as much as 4 Euros per hour… Well just forget it ! The parisians do not want more cars in the city center.

Rent a bike
So far the best solution to enjoy the city and have fun using the many cycling pists and streets reserved for bicycles. Our best selection is Paris Bike Tour, rue Brantome, next to Pompidou Center https://parisbiketour.net/
PEDESTRIAN PERILS IN PARIS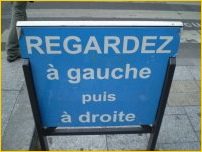 "LOOK LEFT, THEN RIGHT"

So reads this sign found on a street in the 13th arrondissement of Paris. One would think that this is a basic rule taught to small children when they are learning to cross the road. I shudder to imagine what unfortunate incident may have prompted the need for such a sign to be placed at this particular crossing.

As a pedestrian in Paris, crossing the street is a constant contest of man vs. machine. When encountering a red light, most North Americans stand obediently at the corner waiting for it to turn green. Not so the Parisians!

They simply give an almost imperceptible glance left and right, and if there are no cars in the immediate vicinity, step boldly into the street. If a car does come close, they simply pretend not to notice, and the drivers will often yield to pedestrians. Now it may be that many of the streets in Paris are so narrow compared to those at home in Toronto, it often takes just a couple of steps to get you across, so why bother waiting? Each time I visit Paris, it takes me a day or two to get back into this rhythm of crossing against the red, almost without hesitation.

On my recent visit, I found that the Champs Elysées was one of the more dangerous destinations for pedestrian crossings. I suspect this is due to the fact that the most famous avenue in the world is filled with many tourists who are simply not trained in the Parisian art of crossing against the red. They see Parisians step into the street, think it's safe and don't bother to check for that oncoming vehicle racing to make the green light.

I witnessed this firsthand, holding my breath as three young American ladies stepped into the path of a speeding scooter. As the driver screeched to a halt, he yelled several nasty words, in French, as the girls simply giggled and went on their way. I don't think they got it. So when in Paris, certainly do as the Parisians do, cross as the Parisians cross… but please, be careful !