For Kids
Kids and parents won't be able to resist the creative, eco-responsible and ethical shops in the Marais. You will discover a selection of clothing, accessories, and toys with as high a quality that only France can offer! Count on originality and uniqueness to delight your kids or yourself with a great gift.
A STORY ABOUT NANA AND ZAK IN PARIS...
Nana and Zak walked into the small lobby of their hotel in Paris and the man behind the desk with dark curly hair and a thin moustache leaned forward and said "Bonjour Zak". Zak knew that word but how did the man know his name? Hmmm. He held Nana's hand a little tighter and whispered "bonjour". The man chuckled and motioned to Zak to follow him to the elevator which was barely large enough for Zak, Nana and the hotel man. The walls of the elevator, had fancy grill work you could see through. Zak pressed the button and slowly they edged their way up.
Their room was small and cheerful with red and violet flowery bedspreads. Zak chose the bed closest to the window from where he could see some buildings and people and cars. Nana had told Zak that Paris was sometimes called "City of Lights" and he wondered if he would ever see the lights from his window. Nana told him he must wait and see -- that there were many wonderful surprises ahead.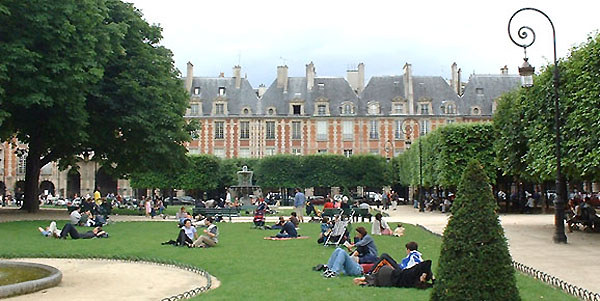 Nana took Zak to her favorite park in Paris. It is called Place des Vosges (plass day vojh). Zak joined the French children who were playing in the sand pit and climbing on the jungle gym. There was much to see in this park -- a beautiful fountain and a large statue of a man on a horse. Nana explained that the statue was a man who was the King of France many years ago, and he lived in the house at the entrance to the park. He ordered all the buildings which surround the park to be built in the same style as his house and because he was king, he could do that.
They stopped at a Café for a snack and Zak ordered French toast. The waiter looked puzzled. "French toast" Zak repeated, but the waiter didn't know what that was. Zak had made up his mind to have French food, so he asked for French fries. "Ah, pommes frites", the waiter exclaimed. "That's what French fries are called in France" said Nana. In no time, Zak's hot chocolate and Nana's coffee arrived with a plate of crispy, golden brown pomme frites. Oh, what a yummy aroma filled the air and what fun to dip those fries into their drinks. Nana smiled, realizing that Zak had discovered what a special place an outdoor Paris Café could be. At that very moment, Zak jumped to his feet. He heard beautiful violin music and just had to see the musician. He didn't have far to go; right next to the Café, he saw not one but two young women playing their violins as one; it sounded like one instrument. The music was beautiful and everyone at the café stopped to listen. Nana told Zak that Parisians love music and he answered that he also loves music and next time he visits Paris, he would like to bring his guitar and play Frere Jacques and some other songs that Parisians would enjoy. Nana was positive that would be a wonderful treat for the people of Paris.
There are so many museums in this city -- Nana and Zak had a big decision to make. After browsing a book with pictures of many of them, Zak decided on the Pompidou Museum, so they could ride on that very long, high escalator, from where they could see so much of Paris and many of it's slate, sloped roof-tops. They especially loved the huge paintings and sculptures in the museum. Zak saw a few art students with their own easels and paints, sitting in front of smaller paintings, trying to copy them. He thought that was a very good idea. Maybe, next time, he would also bring his paints. But for now, since it was not crowded and there was so much floor space, he got in a little run, here and there. Just outside the museum is a wonderful pond with all sorts of colorful mobiles. What fun watching them spin around and around. And there was a clown juggling oranges--first two, then three, then four. Another clown played French songs on an accordion. Zak was very excited and took lots of pictures.

He wanted to return to the Pompidou Museum the next day, but when Nana suggested a boat ride on the River Seine, Zak thought it would be fine to return to the museum on his next visit to Paris. Bateau (bah toe) is the word for the flat-bottomed river boat which went back and forth along the river. Nana and Zak climbed into the boat with about twenty other people from different countries who were also visiting Paris. The Captain who steered the boat described all the buildings they passed. He spoke in French and in English. They passed a huge cathedral called Notre Dame; it was more than one thousand years old. Zak didn't understand anything being that old. Nana also could hardly believe a building so spectacular could have been built that long ago. The Bateau cruised under bridges which connect the right side, which is known as the right bank, with the left side or left bank of Paris. Pont Neuf means ninth bridge and is the oldest and most handsome of the bridges, especially at night when it is all lit up. Nana promised Zak that they would go out one evening in a horse and buggy, to see all the lights which give Paris the name of 'City of Lights'.

Zak made many discoveries in Paris -- such as that they had excellent pizza, that they loved to eat very long hot dogs with melted cheese in a long crispy baguette, that their cakes and chocolates were not only delicious, but beautiful enough to display in a museum. Nana enjoyed taking Zak into a bakery shop, called a Patisserie, just to admire the cakes. Zak asked "do artists make the cakes?" Nana answered "yes, the bakers are indeed artists."
He also noticed that most French children do not wear baseball caps, so he asked Nana if he could pack his until he got home to America. Nana bought Zak a French beret, so he felt very much at home while riding on a carousel along with children who live in Paris.
Every evening when they returned to their hotel, the hotel man greeted them with "Bonsoir" or good evening, and soon, Zak was saying 'bonsoir' to everyone he saw on his return at the end of an exciting day. On their last night in Paris, after Nana told Zak a sleepy time story and he could barely keep his eyes open, he asked "Where can we go next, Nana?" "We'll see, sweetheart -- we'll see."