Decoration & Design
FRENCH STYLE AT HOME
The French are masters at all things aesthetic…and the many beautiful home decoration and design shops found in Le Marais are proof of this imagination and creativity. The shops themselves are lovely…their contents inspiring. Whether your style is classic or modern, traditional French, baroque, avant-garde or vintage, you'll find quality furniture and the perfect accessories to complement any décor. If you are furnishing your dream pied-à-terre in Paris, or want to purchase a bit of French flair to enjoy at home, take some time to browse through these shops. Most accept credit cards, and some will give you a tax refund for goods you are exporting (for non-EEC residents only) – be sure to ask.
Tips on Decoration and Design
The nesting impulse, redoing the family home, couple on the go or just creating your own personal pad ? Whatever the reason reality rears it's proverbial head and the decorating world has all the answers. Whether warming up your walls or expanding those too small spaces, creative solutions in decorating carry their weight in gold and can cure all ills. So let's go shopping because le Marais is the capital of design and décor par excellence. Décor starts with the architecture of each building and home. Classic, Baroque, Medieval, Neo-gothic, like the Arrow of Notre Dame redone by Violet le Duc, even Art Nouveau style can be found in le Marais. Hundreds of little boutiques remind us that creativity has it's heart in le Marais and is in fact more than welcome.
Avoid the pretentious designer chain stores and the tacky Malaysian imports. You'll find the same products in London and Singapore. Check out the real styles made by the real creators in the neighborhood who carry on the tradition of artisan commerce. But watch out for trendy things that burn out of style before you've even crossed customs with your new discovery. Oops! I saw that on 5th Avenue , I found the same thing in Nice! etc… Think original but classic. Simple good taste never goes out of fashion and is passed from generation to generation.
Don't forget that certain times are designated as special sales seasons. January and August are the best months to go wild without ruining your decorating budget !
Paris capital of creativity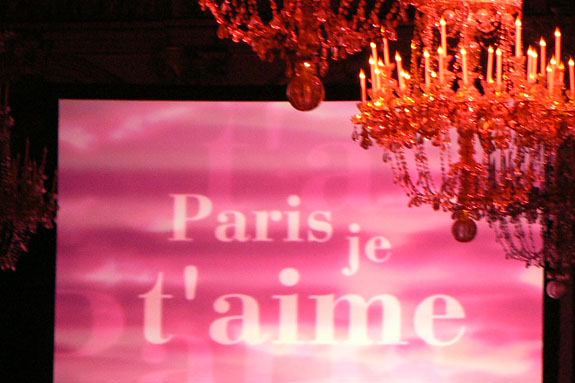 "Paris Je t'Aime" was the theme of this year's "Paris, Capitale de la Création" celebration two weeks ago. This organization is designed to promote 16 professional design trade fairs in fashion and housewares. Over champagne cocktails and hors d'oeuvres, in front of an audience of hundreds in the salons of the Hôtel de Ville, three of Mayor Bertrand Delanoë's deputies – Jean-Bernard Bros, Lyne Cohen-Solal and Christophe Girard – honored a line-up of creative and innovative leaders in the design community, including Jean Bousquet, manager of Cacharel.

The entrance, lobbies and main ballroom were lit entirely in pink, and a large screen showed attendees as they entered by the grand staircase. Adrian Leeds, Editor of ParlerParis.com, and I received a warm welcome from Laurent Queige, who is in charge of tourism promotion at Paris City Hall. The Champagne was not pink but it was delicious, and it was fascinating to see the gigantic ballroom that usually only receives the world's top representatives opened to so many people – artists, journalists and creative heads from around the globe. The ambiance was definitely informal, and if we had any doubt before that Paris was the city of creativity, we were certain about it when we left. For those couple of hours we had the best vie en rose we could imagine.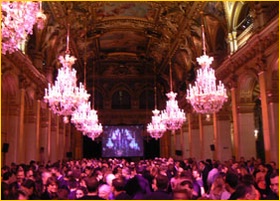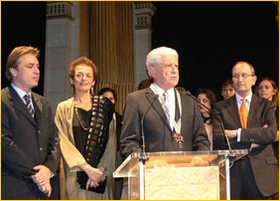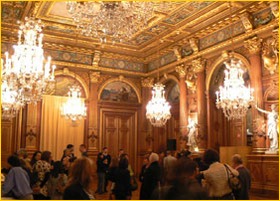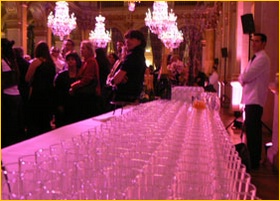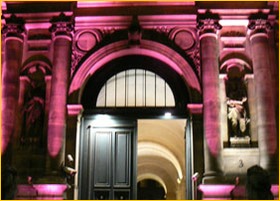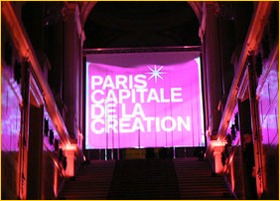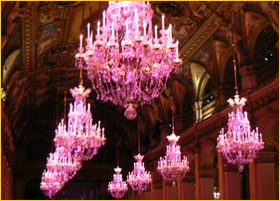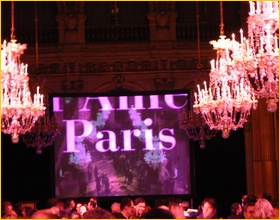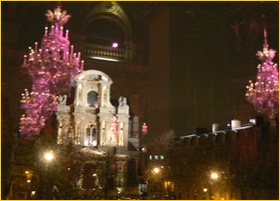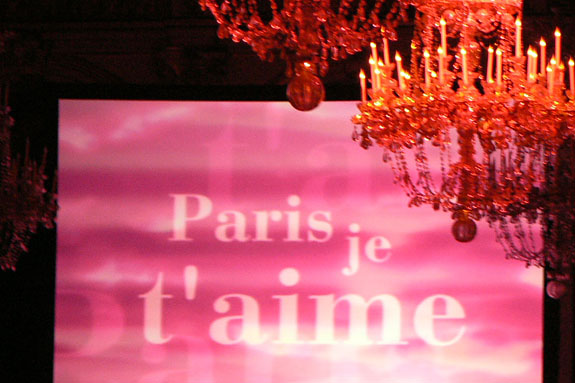 Entrance of Paris city hall for the event and the grand ballroom, with «la creme de la creme»
of creative Paris.
The Paris Capitale de la Création annual event had the Hôtel de Ville in the heart of le Marais lit bright pink from the entrance at 3 rue Lobau to the grand salons where Mayor Bertrand Delanoë and his staff honored 16 of the city's most creative individuals - those designers responsible for 16 trade exhibitions this coming year in the City of Light.
The grand ballrooms of the Hôtel de Ville are lavishly stunning even when completely empty, but bathed in pink light, the chandeliers and gilded carvings took on new meaning. The hundreds of chic Parisians who attended by invitation took on a rosy glow, downed their glasses of champagne, snacked on foie gras topping a "petite Madeleine," mingled and schmoozed to see and be seen.
A lot of shops and designers in le Marais are taking part of the events and offer creative circuits between designer shops and glamourous restaurants and cocktails bars…
Visit http://www.pariscapitaledelacreation.com for more information.
Le Monde Sauvage
21 Rue de Sévigné
75004 Paris
Elegant, stylish and baroque accessories and curtains to match every kind of décor.

Comme une étincelle
9 rue Elzévir
75003 Paris
(closed on Tuesdays)
Everything for Christmas and tableware, stylish and surprising, even for everyday or all year !

BHV Bazar de l'Hôtel de Ville
On the rue de Rivoli, 75004, facing the City Hall is our favorite department store where you can find a wide choice of design for home furnishings. BHV is Paris' biggest space for decoration and DIY in the basement and on level 4. Do not miss the convenient and cheap restaurant on the 5th floor and the rooftop terrace overlooking the fantastic Renaissance Hôtel de Ville.

Marie Robin
18 rue Montmorency 75003 Paris
01 42 78 65 53

Méchiche Frédéric
4 rue Thorigny 75003 Paris
01 42 78 78 28

Pingeon Christian
33 bd Beaumarchais 75003 Paris
01 42 77 22 22

Ottomania
125 rue Turenne 75003 PARIS
01 40 27 83 12

Farfelus Farfadets
17 rue de Poitou 75003 PARIS
01 48 87 29 38

Gibeaux Christian
6 rue du Parc Royal 75003 PARIS
01 42 78 05 28

J P Molyneux Studio
4 rue Chapon 75003 PARIS
01 49 96 63 30

Kiener Daniel
14 rue Rambuteau 75003 PARIS
01 42 74 79 70
Caravane
6 rue Pavée 75004 Paris
01 44 61 04 20

Daisy Simon
43 Bis bd Henri IV 75004 Paris
01 48 87 88 55

Françoise Dorget
6 rue Pavée 75004 Paris
01 44 61 04 20
Buzz Décorateur
8 rue du tresor 75004 PARIS
01 44 54 80 26
Ile Saint Louis Décoration
51 rue St Louis en l'Ile 75004 PARIS
01 43 29 86 62

Les Ateliers St Florent
37 bd Henri IV 75004 PARIS
01 40 27 87 67

C.S.A.O (Compagnie Sénégal d'Afrique de l'Ouest)
13 rue Elzévir 75003 Paris
01 44 54 55 88

Pays d'Ailleurs
163 rue St Martin 75003 PARIS
01 48 87 55 52

NeC Nilsson et Chiglien
117 rue Vieille du Temple 75003 PARIS

Salih Mekhici
A lamp designer who has been awarded the first prize of the «INNOV'ART» competition
100 rue Vieille du Temple 75003 PARIS
01 48 04 53 37