WELCOME TO LE MARAIS
WELCOME TO PARISMARAIS.COM
Welcome to the royal quarter of Paris : Le Marais.
Created in 2005 by long term residents of Le Marais, PARISMARAIS ® is the most comprehensive and original tourist website dedicated to the Le Marais district. Our passion for this part of Paris knows no bounds as we are all lucky enough to live or have lived in the most sought-after area of Paris - the most admired few square miles in the entire world.
Because we have lived here for ever, we know this area like the back of our hand, all the local treasures better than any tour guide. Hotels, restaurants, boutiques, museums, galleries, gardens, hidden treasures, architectural wonders… If you visit each one of our recommendations, we guarantee you will have a wonderful time.
From the 16th century, the Golden Age of Le Marais, until the present day, Le Marais has always been the place of intrigue and mystery, the spot for lovers' trysts, where architectural design is at its most resplendent, THE place to be for nobility, and the site of creativity for artists from all over Paris. After several decades of neglect and dilapidation, it is thanks to author and former Minister for Culture André Malraux in particular, that from the sixties onwards, Le Marais recovered and became once again the quarter of nobility and rose back up to its previously enjoyed position as the royal district of Paris, with great social diversity. The Marais is the location of imagination, non-conformism, the place where everyone feels at home, where all communities coexist in harmony, and where creativity and luxury blend well within a real life authentic village.
The creators of the site PARISMARAIS.COM are at one with their neighborhood: passionate, playful, irreverent and unconventional ... On this site you will find our favorite spots, places to avoid, our favorite places and those that should definitely be discovered, places that foster a sense of welcome, and the French savoir-vivre.
We will always give priority to those who appreciate the value of service and have sense of good etiquette; the authentic characters of life in our neighborhood, the boutique hotels, ingenious creators rather than the standardized and globalized signs, finally all Paris enthusiasts, those who by their attitude, their writings, actions and creativity share the most beautiful image of our neighborhood with the world.
Pascal Fonquernie,
Editor in Chief PARISMARAIS ®
In Love With Le Marais
WHY YOU SHOULD BOOK YOUR HOTEL WITH PARISMARAIS.COM?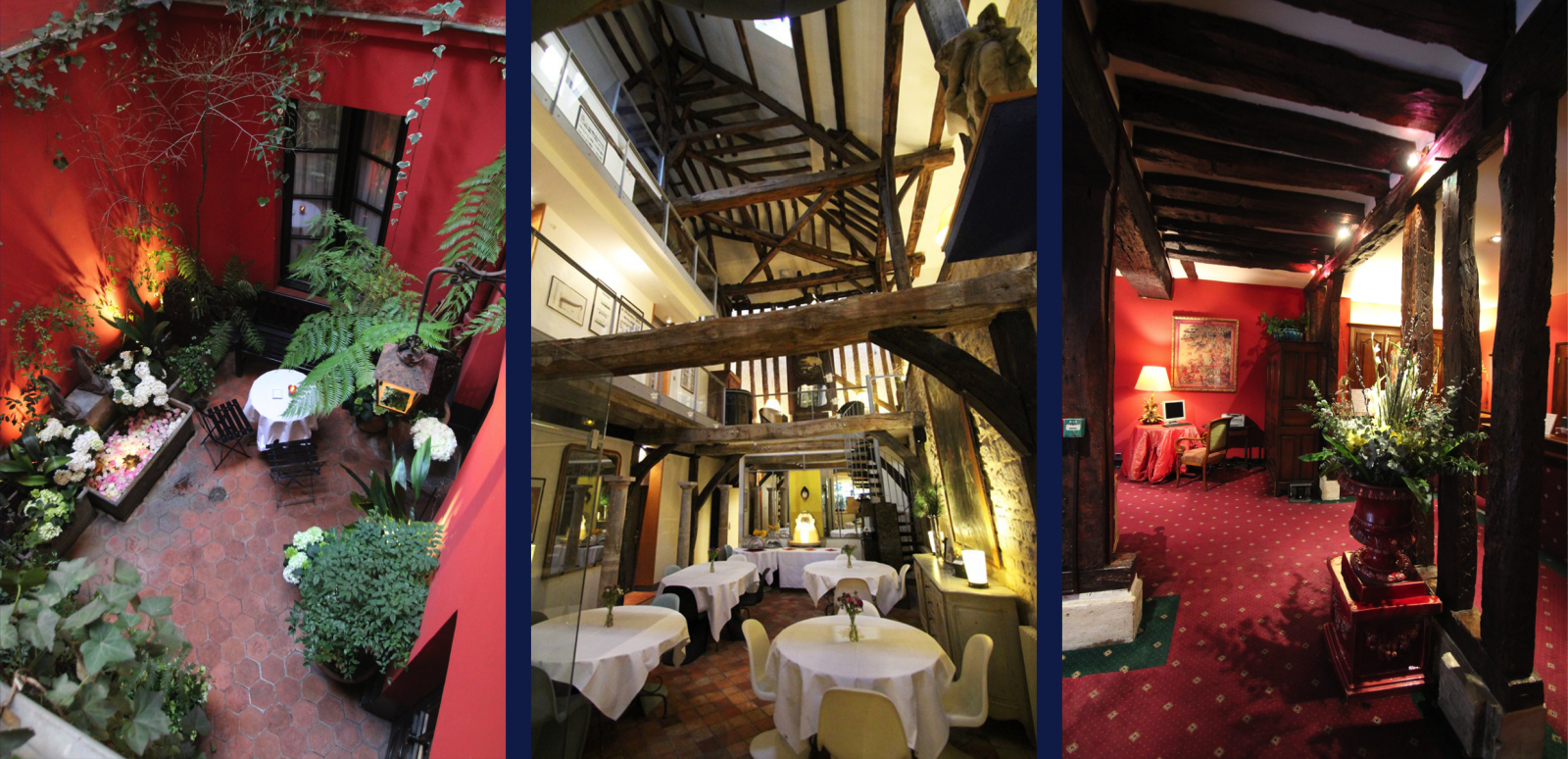 Booking a hotel that has been recommended to you by PARISMARAIS.COM means you will get the best rooms in the most beautiful hotels with the very best offers on the market.
From its inception, PARISMARAIS.COM has forged the best of relationships with hotels in Le Marais, and has become the "must" in terms of online hotel reservation for the area.

When you book your room via PARISMARAIS.COM you will be but into direct contact with your hotel, and you will always get the very best rate available at the time, as well as any available upgrades and special offers. For example, sometimes 4 nights for the prices of 3, or a free welcome glass of champagne on arrival. You will be welcomed like a friend and not like an anonymous number that came through a big faceless international hotel chain.
Contact takes place between you and the hotel. Simple and straightforward. The hotels that feature on our site are the best ones in each category and are chosen for the quality and warmth of their welcome, their beautiful decor, their attention to service and their impeccable service. We have visited them all, personally and individually, and we know the directors and the staff who have since become our friends and neighbours. This is what makes the difference for the host and for you our client, as you too will be welcomed like a friend. When you book via PARISMARAIS, you are supporting equitable tourism and a company that is 100% French which contributes towards the local economy and generates sustainable revenue for the residents, who passionate about the history and culture of their neighbourhood.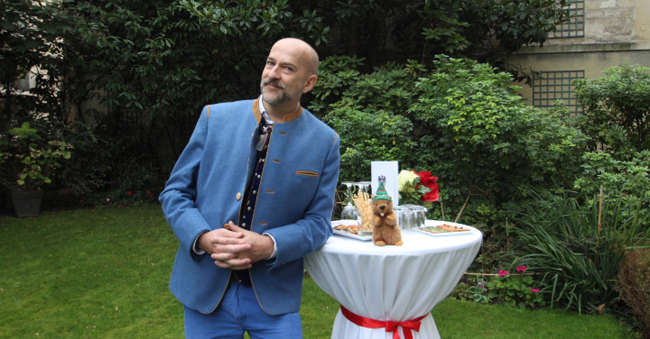 Pascal Fonquernie, the unofficial Ambassador of Le Marais.
interview with Pascal Fonquernie, creator of the site, held for the site www.rue de Bretagne.eu
Pascal Fonquernie is the creator of Parismarais tourist media and has lived in the 3rd arrondissement of Paris since 1987. Fascinated by history and architecture, he created Le Marais tour guide with a group of friends in 2005. An American TV channel named him «the unofficial ambassador of Le Marais» and not only has it stuck, it suits him perfectly. The site is a member of the Office du Tourisme de Paris and is the partner of dozens of tourist guides and tourism organizations all over the world.
He contributes largely to a tourism outreach regarding Le Marais in particular the 3rd arrondissement, where 70% of the historic buildings of Le Marais can be found.
The 3rd Arrondissement has travelled through history and has a history of its own. What's you story of Le Marais?
Les Enfants Rouges of the 3rd Arrondissement were orphans in the Middle Ages and were raised in convents. They wore a red cape so people would recognize them. In this sense I am an Enfant Rouge for several reasons. I was orphaned at a very young age, I learned very early on how to get by and to fight for myself. I owe so much to my godmother, who just like in fairy tales was my lucky star, and I spent the most beautiful moments of my childhood with her, between Burgundy, the Alps and Monaco.
I left my hometown of Dijon, still very young but came back every holiday to see my grandparents, who were Resistance fighters and had protected and looked after the poet Max Jacob during the War. He dedicated a table top them which has remained in the family as a treasured heirloom. I developed a very tolerant view of society due to these various adventures and legacies.

I am naturally altruistic and a humanitarian. I am against all the injustice in the world. I spent my adolescence in Annecy where I fell in love with the Alps, Switzerland, Austria. I settled in the 3rd Arrondissement in 1987 after spending two years in London, which is a city very close to my heart, and should I ever have to leave Le Marais and I will definitely go back there. From my British experience I kept the sense of irony and dry humor that is not always well understood. Please forgive me! True, there is not only the 3rd Arrondissement in life, there is also the Boho Quarter."
Le Marais is moving. Towards who, towards what, in your opinion?
Nearly 30 years after I arrived in the 3rd - the upper Marais - I find myself torn between two feelings: a district village feel which remains human like the center of a beautiful provincial town, but also the feeling that this part of the city is fast becoming a luxury, globalized neighborhood.
From my work in advertising, I actively support the hotel business and independent restaurants whether modest or luxurious long as they are genuine. I like companies that are created and who manufacture here, and embrace solidarity between neighbors. I do not like globalization of trade as it destroys the individual spirit of our neighborhoods. It has already killed the soul of Saint Germain des Près and is now attacking Le Marais imposing the same products in every capitals of the world.
It is not what true luxury is about. True luxury is having something unique, something rare ... The blue jacket I'm wearing in this photo has a story. I bought in Salzburg in the hotel shop where the Romy Schneider film Fuschl Empress Sissi was filmed. It was locally made. Nobody else has the same in Paris, it is unique and that is the meaning of real luxury. If no one is aware of this new business arrogance which is as extreme as their pricing policies, they will invade the area, much to the distress of all residents.
And you in all of this, what is your role?
I'am the defender of the spirit of Le Marais, by promoting really good authentic places that are our roots and our expertise. If we are the most visited area of the most visited city in the world, it is due to this unique and authentic aspect. We offer hotels and shopkeepers an international showcase to support them, because without international visitors, we would almost all be unemployed. Tourism keeps us alive and counts for 50% of the traders' turnover. Every year we publish the most prestigious Marais maps distributed in all luxury hotels. In 2016, 200 000 copies of two editions will be printed. My company is also full service communication agency including TV production, direct marketing, international press relations, and it benefits from the expertise of a team of creative people who have worked at the best British and French advertising agencies. If you take my advice, visit my recommended address, see the things I love the most from the simplest to the most prestigious, you will have a fabulous experience in Le Marais. All this things have one thing in common; the spirit of Le Marais.