19 May : Return to Happiness in le Marais.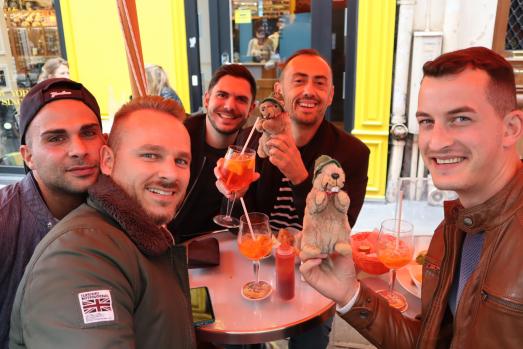 Just like every other day for the past 40 years that I have lived in Le Marais, I hopped on my bike on Saturday afternoon, and took a leisurely ride around the area to gauge the atmosphere, now that cafés and restaurants have started re-opening. My ride lasted a few hours and the further I rode, the more I picked up on the old familiar, reassuring joie de vivre that has always been a huge part of the Marais experience. Life is back in Paris City center. Seeing the cafés and restaurants up and running, teeming with smiling people sat on distanced terraces but behaving far better and being way more respectful than any media would have you believe, really lifted my spirits. People are learning to live outside again, it was as though they were discovering their town in a new light. I took plenty of pictures of some of the beautiful open café with temporary terraces in Paris' favourite district. Life "almost as we knew it" will return to Le Marais at 100 % from 30th June and all being well, a selection of hotels will re-open during July. Parismarais.com will, of course, keep you apprised of these dates as soon as they become available. So now we await, with pleasure and joyful anticipation, visitors from all over the world, those of you who do, and will, absolutely love Le Marais in its uplifting style. Hope to see you soon again !
Pascal Fonquernie, Chief Editor.