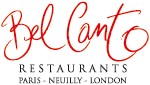 Bel Canto
72 Quai de l'Hôtel de ville 72 Metro Pont-Marie, Saint-Paul, Hotel de Ville 75004 Paris
+33 1 42 78 30 18
Metro St Paul Le Marais or Hotel de Ville.
Every night from 7 pm

> Website
Reservation compulsory
Imagine a gourmet meal where opera singers wander around the tables and offer you a wonderful Bel Canto recital: you dine on stage!
This is the experience we offer you. Our quartet of young professionals, accompanied by piano, will perform solo or duo extracts from the repertoire: Carmen, Don Giovanni, Tosca, The Magic Flute, La Bohème and more.Their proximity and friendliness will enchant you. These young artists, who belong to a troupe of 100 singers and 20 pianists, are undoubtedly the opera stars of tomorrow.Bel Canto is the story of the encounter between two worlds of passion: gastronomy and lyrical singing.Did you know that we dined at La Scala in Milan in the 18th century? This is the experience we offer you in our restaurants in Paris le Marais and in Neuilly Sur Seine. Since their creation in 2000, rigour and quality have guided our designers to recreate a harmony of flavours and notes every evening.