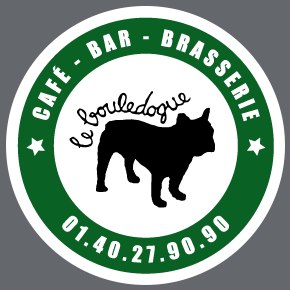 Le Bouledogue
20 Rue Rambuteau, Paris, France
+33 1 40 27 90 90
Métro Rambuteau (ligne 11)
Monday to saturday lunch and dinner
> Website
New management, new team still fabulous cuisine
Situated in the freshly renovated rue Rambuteau with its newly planted trees and smartly tiled terraces is Le Bouledogue, favourite restaurant of Bertrand Delanoé, former Mayor of Paris. The restaurant takes its quirky name from the breed of the pet dog Elliot, who belonged to the previous owners.Laurent Hertout, formerly chef of the famous Bistrot Richelieu in the first district and his friend Rudy have taken over this well-loved place and welcome you to their mahogany-walled establishment where art and culture are the order of the day.
Simple and traditional meals that have made the fame of the great Parisian brasseries adorn the à la carte menu. The menu changes daily, or according to the mood of the chef and what is seasonally available on the markets, which creates a fabulous choice especially for regular diners. Everything is made in-house, and rapidly served so no excessive waiting times.
All tastes are catered for, from the traditional, old-fashioned French egg mayonnaise or marrowbone to farm-raised chicken or steak tartare, and profiteroles or ice cream to die for.
Le Bouledogue has an impressive wine collection, all reasonably priced and served by the glass.
The courtesy and kindness of the team, and the veryfairly-priced menu - dishes of the day from 17 Euros, and evening, à la carte; around 40-50 Euros - will charm you into returning time and time again. Happiness comes from tradition so be sure to come back and check, just for good measure.