Tourism Marketing : LGBT+ post Covid-19 tourism survey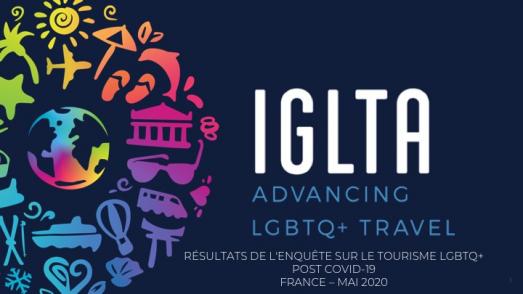 Paris (22 July 2020)—The International LGBTQ+ Travel Association (IGLTA) recently surveyed members of the LGBTQ+ community to gauge their attitudes toward leisure travel in the face of the Covid-19 pandemic. Along with its global overview, IGLTA prepared a special report on LGBTQ+ travelers in France, the country with the highest representation among European respondents.
Once global timelines and safety protocols are established, there is a strong desire within this segment to resume travel in 2020.
Over two-thirds (68%) of French respondents said they would feel comfortable traveling again for leisure before the end of 2020, with the month of September 2020 being the most popular choice.
Over half (54%) said they would not change the types of destinations they choose to visit after the coronavirus situation is resolved, reflecting a high degree of destination loyalty amid the uncertainty. While 19% of respondents are still undecided, only about 27% said they would change their destination choices.
One out of two (50%) French respondents indicated they planned on staying in France for their next leisure trip once conditions allowed travel. The other top destinations were Spain (35%), the United States (16%), Italy (12%) and Greece (10%).
Amongst those that indicated they planned to stay in France for their next leisure trip, one quarter (26%) did not specify a destination. However, amongst those that did specify a destination, the top choices were: Paris (15%); Nice (8%); Corsica (6%); Bordeaux and Marseille (each 4%).
"We have studied LGBTQ+ inbound travel to Europe, most notably in our 2018 report with the European Travel Commission, but this is the first time we've captured significant data on LGBTQ+ travelers in France," said John Tanzella, IGLTA President/CEO. "The survey results illustrate the resilience of the LGBTQ+ travel community during this challenging moment in time and serve as a reminder to the tourism industry at large that LGBTQ+ travelers should be a valued part of their recovery plans. Tourism businesses in France should take advantage of the immediate opportunities to welcome domestic LGBTQ+ travelers."
The survey also focused on the likelihood of LGBTQ+ individuals choosing a variety of travel-related activities in the next six months, again showcasing strong willingness to travel and the diversity of interests within the LGBTQ+ travel market in France:
45% are likely/very likely to stay in a hotel or resort
66% are likely/very likely to take a domestic leisure trip
54% are likely/very likely to stay in a vacation home, condo or rental apartment
37% are likely/very likely to take an international leisure trip
20% are likely/very likely to visit an amusement park
13% are likely/very likely to take a group trip
8% are likely/very likely to take a cruise
39% are likely/very likely to take a short-haul flight (3 hours or less)
26% are likely/very likely to take a medium-haul flight (3-6 hours)
6% are likely/very likely to take a long-haul flight (6 hours or more)
27% are likely/very likely to attend an LGBTQ+ Pride Event
The France report and the global survey report are available for free download at iglta.org/research
Additional country reports are also available on the IGLTA website for the United States, Canada, Brazil and Mexico. The U.S. report contains a special section benchmarking LGBTQ+ traveler responses against data collected on travelers at large by MMGY Travel Intelligence for the US Travel Association.
The IGLTA Post Covid-19 LGBTQ+ Travel Survey was conducted between 16 April and 12 May 2020 through the association's global network, including members and media partners, with support from the IGLTA Foundation.
About IGLTA and the IGLTA Foundation: The International LGBTQ+ Travel Association is the global leader in advancing LGBTQ+ travel and a proud Affiliate Member of the United Nations World Tourism Organization. IGLTA's mission is to provide information and resources for LGBTQ+ travelers and expand LGBTQ+ tourism globally by demonstrating its significant social and economic impact. IGLTA membership includes LGBTQ+ and LGBTQ+ welcoming accommodations, destinations, service providers, travel agents, tour operators, events and travel media in more than 80 countries. In 2012, the philanthropic IGLTA Foundation was launched to support the mission of the association and its membership through education, research and leadership development. For more information: iglta.org, igltaconvention.org or iglta.org/foundation and follow us on Facebook, Twitter and Instagram @iglta or @IGLTAFoundation on Facebook.