Death of a Hair Salon in Paris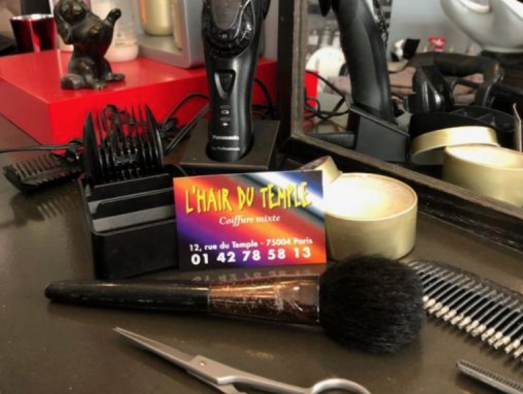 On April 15, 2019, the world was moved by the (fortunately, only partial) destruction of a Monument that is an essential figure of the Parisian landscape and heritage; its wooden frame, the roof and the spire went up in smoke in just a few hours, creating an emotional response that was as strong as the flames themselves. Like many others, I wondered what would become of Paris without Notre Dame? What had we – the residents of the neighborhood, inhabitants of the Capital and citizens of the world – lost, both material and immaterial, with the disappearance of this amazing architectural accomplishment? Thanks to the brave women and men of the Paris Fire Brigade, Our Lady still stands with walls that have survived 8 centuries, under the graceful thrusts of its vaulted ceiling and flying buttresses. However, on the morning of October 11, I was puzzled by the imminent disappearance of another kind of monument, one that belongs to my neighborhood and my daily heritage, the scope of which is incommensurate as compared to the Cathedral, but whose real value shouldn't be underestimated. I had just learned that my hair salon would close at the end of October.
This small space, barely 15 square meters, located at 12 rue du Temple in the 4th arrondissement of Paris, has been home to the "Hair du Temple" since 1997. The name of the salon is a play on words that illustrates just how much it is a part of our lives. Anne, the owner of the business, announced the bad news to me this morning, with tears in her eyes. An entire chapter of her life comes unraveled. Not that it is really a surprise, for the past five years she has been fighting the venal acts of the owner of the walls that house the salon. She won an initial legal battle but lost the ongoing commercial war. She can no longer afford to resist. In a few weeks, yet another luxury optician will replace this historical business that faithfully provided much-needed services to the local residents for the past 22 years. The future tenant is willing to pay three times more to rent this popular retail location (3000 € / month for 16m2). In real estate jargon, this is known as the "boutique effect".
Small miniature spaces are being snapped up throughout the neighborhood. Formerly home to artisan's work-shops, today the Marais has become a hotspot for rampant consumerism. In the words of Anne-Cécile Mermet, the Marais is transforming into a "creators' showcase" rather than a "creative neighborhood stricto sensu", becoming a "concentration of showrooms".".
I deeply regret this transformation! Although, I know it is futile to oppose change. The inexorable transformation of our downtown neighborhoods is also in the "Air du Temps": we're witnessing the death of the small, local businesses. What else can I do, but tell the tiny story of my beloved hair salon, in my own words? For our time is not only told through the big events, whether they be happy or tragic; it is also narrated by the daily life and the simple memories of those who live it.
Every month, for almost 20 years, I've been making an appointment at Hair du Temple, the hair salon less than a hundred meters from my home in the heart of the 4th arrondissement.
For more than 10 years, it is Anne who has cut my hair and often anticipated my desires. A cut, shampoo and hairstyle usually takes 45 minutes to an hour and costs only 28€.
I find this price more than reasonable, given all that Anne provides her clients in the course of a coiffure. Anne does not simply propose a "way of arranging, carving or modeling my hair in order to give it a structure to my liking"; she also offers a peaceful respite in the vain agitation of our city, a moment of intense conviviality and an exchange of information from an insider about the small world around us. Last but not least, she also gives me a new look! I enjoy this little "moment of eternity", which transforms me both physically and mentally. After each appointment, I feel ready to face the rest of the day, the week and the entire month. This is the "confidence building" haircut! It is as if the scissor's blades, whether they be smooth or serrated, could give light and shape to more than just my head of hair, to my nebulosity, and unravel more than just my capillary entanglement: my complexity. Yes, all that in a simple haircut!
Today, Friday, October 11th, will be my last appointment with Anne at Hair du Temple. We will talk about the past, the present and the future; we will share our memories.
We will pretend to believe the old adage: "That's life!" "C'est la vie!" Yes, things disappear in our lives: comfortable habits, useful businesses ...
Soon, I will have to find a new hair salon and adopt a new routine. In a few weeks, the Hair du Temple salon will be replaced by a chic opticien, whose owner will have never seen, ironically, anything of the essential monument they will have replaced. Farewell, my little artisan of everyday. Farewell, my dear hair salon. Like the commemorative plaques that adorn building facades, street corners, fountains or parks to honor the memory of an event or pay tribute to a famous person, I believe there should be an inscription on rue du Temple that would remind everyone passing by of the life and death of a Hair salon, named Hair du Temple. A sign of the times...
Death of a Hair Salon By Goliathus, initialy published October 11, 2019