Charity Gala in aid of The Robert Grace Trust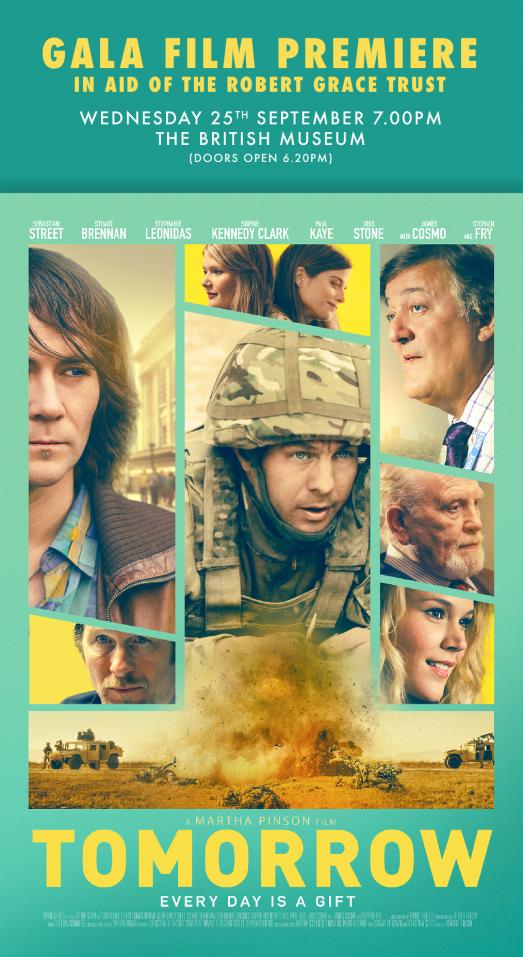 The premiere of the award winning film TOMORROW – Executive Producer Martin Scorsese
British Museum Wednesday 25th September 7.00. (Doors open 6.20)

Watch the trailer : www.independent.co.uk/arts-entertainment/films/news/tomorrow-trailer-movie-watch-martin-scorsese-stephen-fry-joss-stone-cast-a9082086.html
Tickets are £30 which includes free drinks and canapés. There will also be a Q&A with director and cast members after the screening.
Book via Eventbrite : www.eventbrite.com/e/tomorrow-london-charity-premiere-tickets-69710633381
Synopsis
TOMORROW is a story of how friendship, love and courage can overcome great odds.
Injured by an IED in Afghanistan, Tesla has returned home to London, but it doesn't feel like home anymore. Suffering from PTSD (post-traumatic stress disorder), with no friends or family, he is alone with his regrets and a very bleak horizon.That is, until the universe conspires to help him with an unlikely friendship. The charming and larger than life Sky bounds into Tesla's world, quickly proving that friendship can be a great healer
Joy, enthusiasm and hope prove infectious and soon Tesla, not only finds meaning but also, a job and a girlfriend.However, Sky is hiding a secret and it's catching up with him fast. Even a metropolis can be a lonely place if you're hiding from your problems.
Sometimes the hardest battles are fought at home and the only way out, is to let others in.