Le Marais in 1600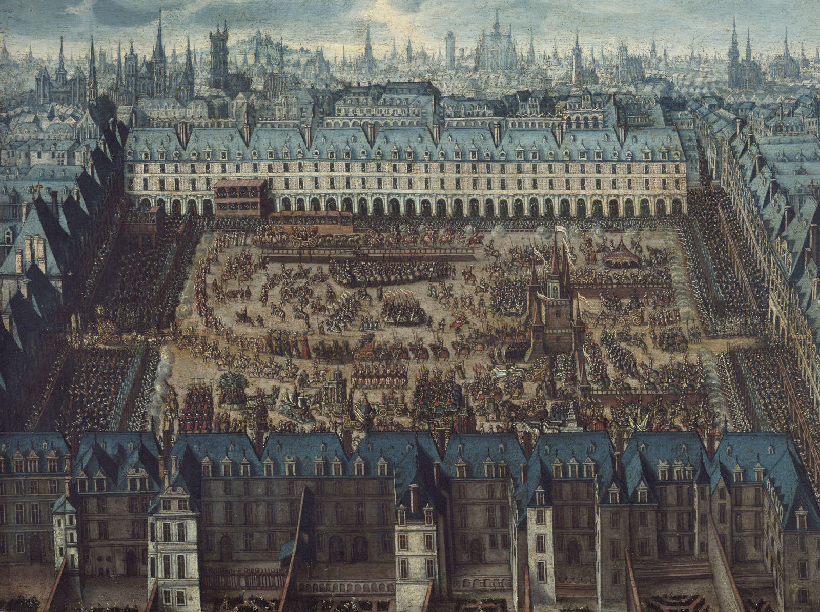 The 1600s were a glorious period for Le Marais. The French court had moved to this district from the Ile de la Cité in the 14th century at the demand of Charles V, king of France at that time. In the early 17th century, Henry IV created the Place Royale, the beautiful area that is today known as Place des Vosges. Magnificent hôtels particuliers or mansions, the homes of aristocratic families and nobles, began to appear in the area. It soon became the most fashionable neighborhood in all of Paris in which to live.
The Musée Carnavalet was one of these mansions. Between 1677 and 1696, it was the home of Madame de Sévigné. Hers was considered to be one of the most brilliant salons in Paris, the meeting place of the "crème de la crème" of high society.
Today, most of the spectacular private mansions found in Le Marais have been restored and are now museums, open to the public to be enjoyed by all.
Musée Carnavalet
The Musée Carnavalet is the museum of the history of Paris. It is the place to learn the entire history of this celebrated city. The collection housed within its exquisite walls shows the development of the city from the prehistoric era through to the 20th century. The museum occupies two mansions in Le Marais, and displays a vast collection of works of art and historical objects in period settings, evoking the capital's everyday and intellectual life.
The museum is conveniently organized by time periods, so the history buff can easily locate and explore their favorites. Here is a brief description of each:
From prehistory to the Gallo-Roman period - sculptures and objects found during the excavations in Paris
Paris in the Middle Ages – models and paintings
Paris in the 16th century – the exhibits illustrate a city that enjoyed the splendors of the Renaissance, but suffered the long tragedy of the Wars of Religion
The 17th century and Madame de Sévigné – examples of the many major construction programs of the time that began to give Paris the appearance of a great capital city
The 18th century Reigns of Louis XV and Louis XVI – the beginning of this period was marked by a reduction in building projects and emergence of the Rococo style; the second half of the century saw a resumption of ambitious building programs and return to classical tastes inspired by antiquity
The French Revolution – the works of art and objects on display illustrate the different phases of the 1789 revolution
Paris in the 19th century – the city endured complex political events and physical transformations, but remained the focus of intense artistic and literary creativity
Paris in the 20th century – the avant-garde triumphed in the arts and Paris was a center of literary activity, with the portraits of many writers on display
Musée Carnavalet
23 rue de Sévigné 75003 Paris
01.44.59.58.58
Entrance Free ( except for special exhibitions )
Open 10 a.m. to 6 p.m. Closed Monday and some public holidays.
Métro: Saint Paul (line 1) or Chemin Vert (line 8)
Bus: 29, 69, 76, 96