Gay Bars Paris
Size matters- and time matters too! People don't go to the same places at the same time, so be sure to follow our recommendations for the best hours to frequent these fabulous gay bars in Paris!

LUNCHTIME AND COFFEE TIME 11 AM TO 2 PM

LES PIÉTONS
( tapas bar ) A taste of Spain in Paris. Very friendly with a small terrace. 8, rue des Lombards - 75004 Paris Métro: Hôtel de Ville 11 am to 2 am daily

OPEN CAFÉ
( café/bar ) 17, rue des Archives, 75004 Métro: Hôtel de Ville Phone: 01.48.87.80.25 Serves lunch Monday to Friday 11 am to 2 pm, café/ bar daily 11 am to 2 am, and happy hours from 6 pm to 8 pm.

AFTERNOON 2 PM TO 8 PM

LES MARRONNIERS
( café with terrace ) The best drink is their awesome hot chocolate! Rue des Archives 75004 Métro: Hôtel de Ville 9 am to 2 am daily.

Au Bienheureux
New stylish local bar with a friendly staff and wonderful selection of wine and cocktails. Their cheese and ham planchas are a perfect snack to munch on while socializing. Just next to the Doll Museum, so bring your favourite Barbie !
2 impasse Berthaud 75003 Paris 2 am to 2 pm

HAPPY HOURS 7 PM TO 9 PM

COX
( bar ) Busy butch bar with a new decor every season. Just next door to the Open Café in case you're in the mood for pub-crawling!
rue des Archives 75004. Open from 2 pm to 2 am but their busiest time is around 8 pm.

FREED'J
A mixed clientele mostly in their thirties with a small yet fun music disco downstairs.

EARLY EVENING 8 PM TO 11 PM

LE DUPLEX
( Bar )
New York style bar with art expos and an alternative crowd. Rue Michel Lecomte 75003 Paris
Rambuteau

UNIQ LOUNGE
( lounge club ) A new cocktail bar with tapas a la française, adorable bartenders, and fabulous XL cocktails. Open from 6 pm until late.
7 rue Simon le Franc 75004 paris

LATE AND VERY LATE

L'ENCHANTEUR
( bar karaoké, night club ) Local French style bar with a magic touch. Open 11 am to 6 am daily. 15, rue Michel Lecomte -75004 Métro: Rambuteau

SPYCE
(Mini cabaret with amazing shows) Their Burlesque Thursday is not to be missed!
Rue sainte-croix de Bretonnerie 75004 Paris
CRUISING AND LEATHER BARS
AFTERNOONS AND EARLY EVENINGS 5 PM TO 10 PM

ONE WAY
Neighborhood bar of mostly bears and older men. 28 rue Charlot Tel: 01 48 87 46 10. Metro stop: Republique.

BEAR'S DEN
A fun, friendly, 3-level venue for bears and their friends with a super friendly staff. Just next door to the Spanish tapas bar Les Pietons.
6 rue des Lombards, 75004 - Metro : Chatelet

BUNKER
( FORMERLY DOCKS ) Cruising bar with private rooms. A good place to mingle on Sunday afternoons as well as Tuesday and Thursday nights. Open from 8 pm to 2 am on week days and until 4 am on weekends. 150, rue Saint Maur. Tel: 01 43 57 33 82.
Metro stop: Goncourt.

EVENINGS 10 PM TO 2 PM

FULL METAL
Gothic and atmospheric cellars open Monday to Sunday from 6 pm to 4 am. Strict leather dress code on Wednesday. 40, rue des Blanc Manteaux
SECTEUR X 49, Clos des Blancs-Manteaux A new cruising bar with friendly staff managed by Francis, former owner of "The Block" in Nice.

L'IMPACT
Now the only Parisian naked cruising bar that is natural every single day of the week! Open from 9 pm to 3 am. 8 rue Greneta 75002 Paris impact-bar.com Metro: Reaumur-Sebastopol

Mench's pub
A a sex pub lost in between the chic designer boutiques on rue Charlot where you must ring the bell to enter. Guy, the boss, often greets you dressed as a sexy cowboy. This is for the serious ones, so drama queens and sensitive souls, this is not for you. Basically everything is possible here. Dress code is casual or nothing, but at least keep your shoes on! They even have a maze and other serious equipment. Open from 5 pm to 5 am.
34 rue Charlot 75003 Paris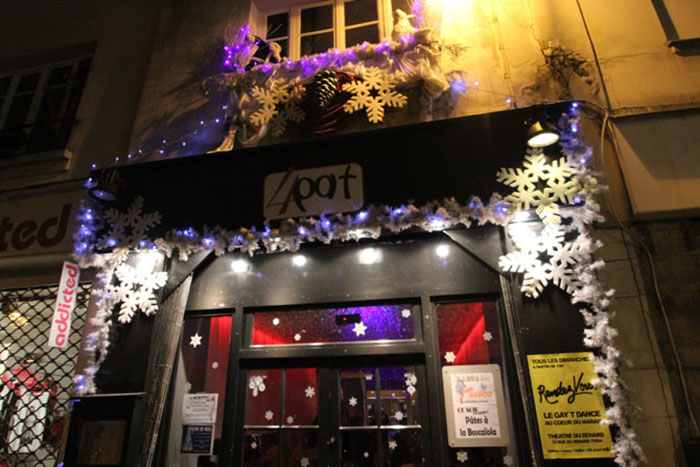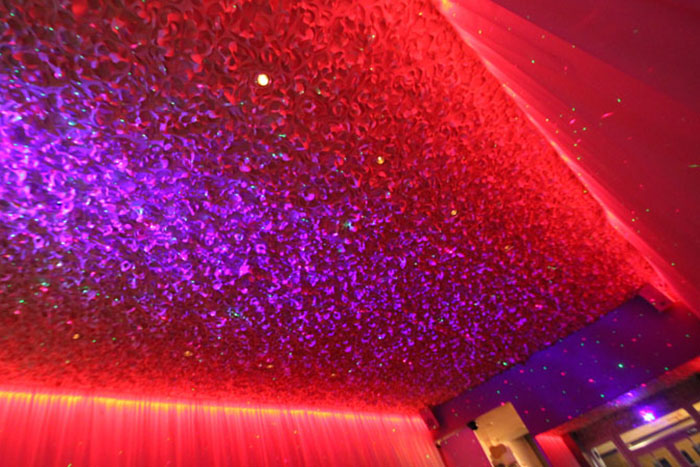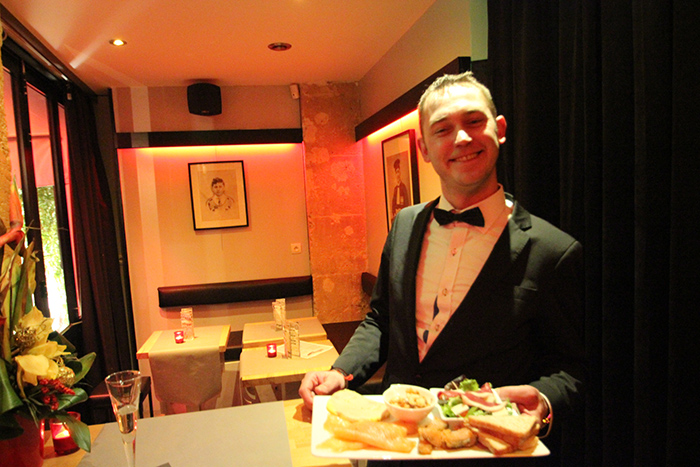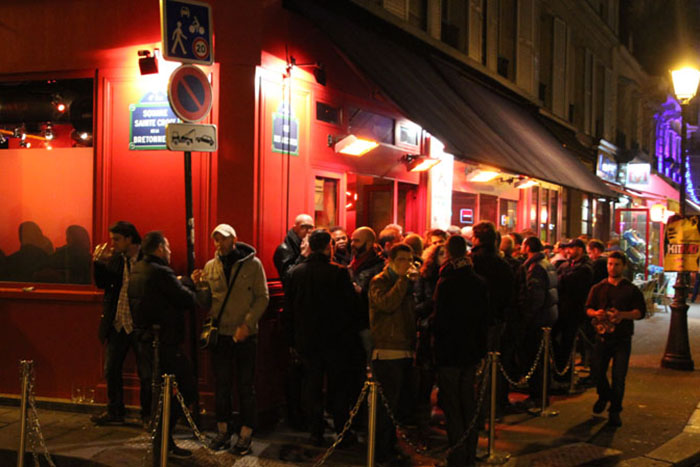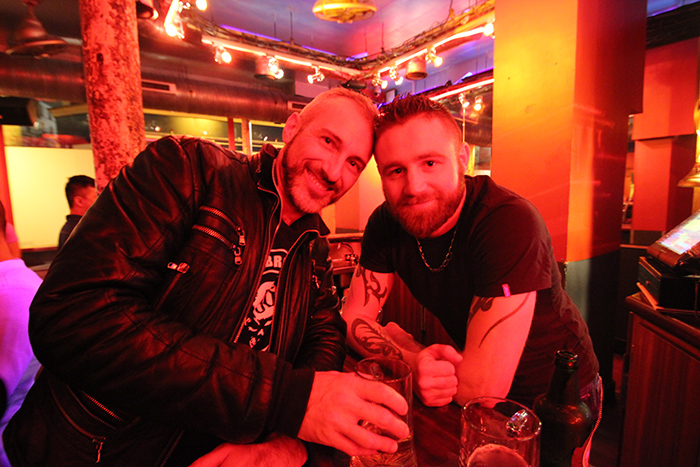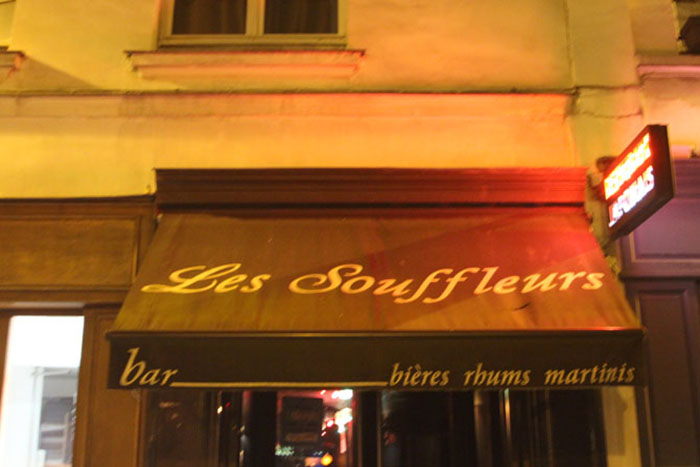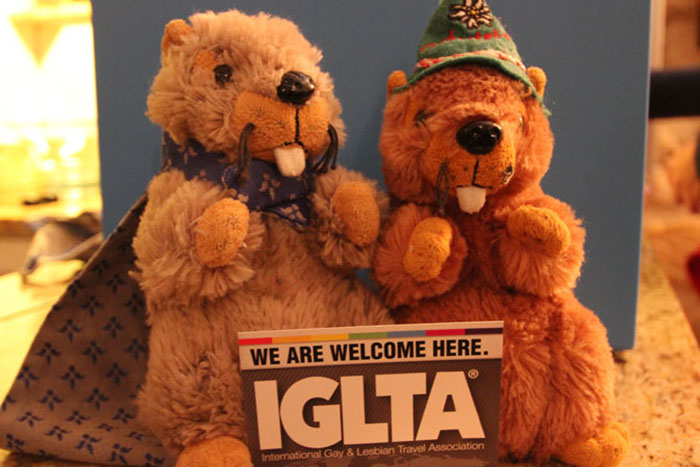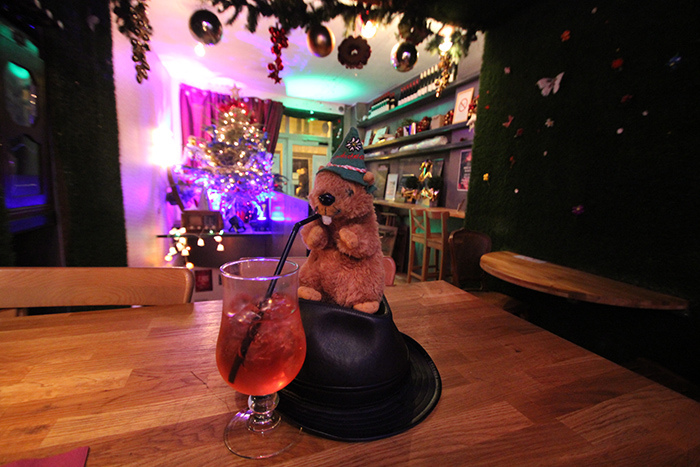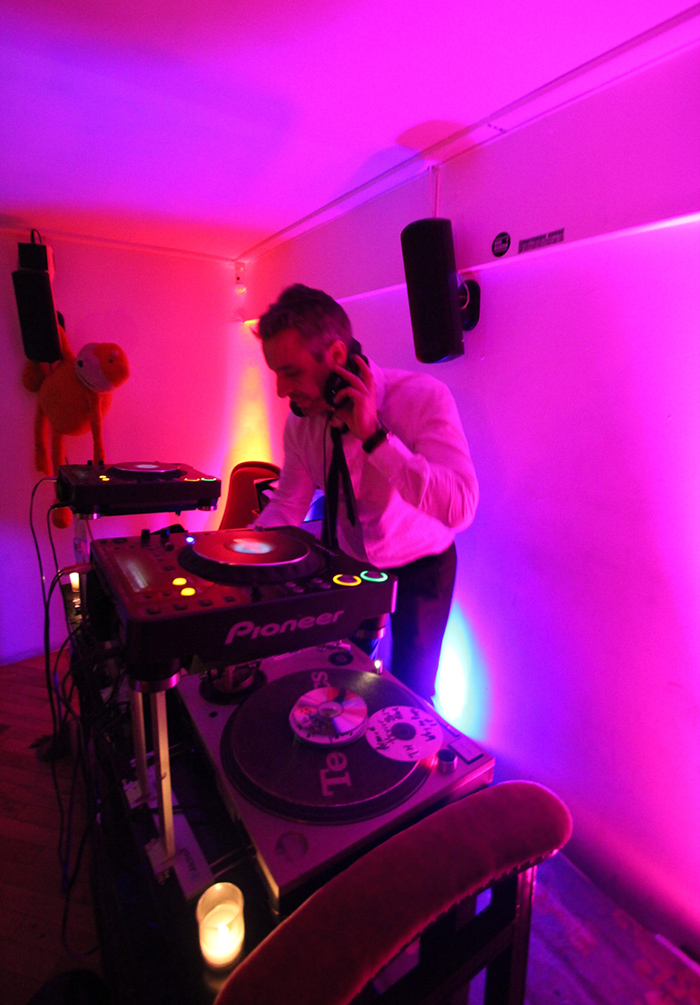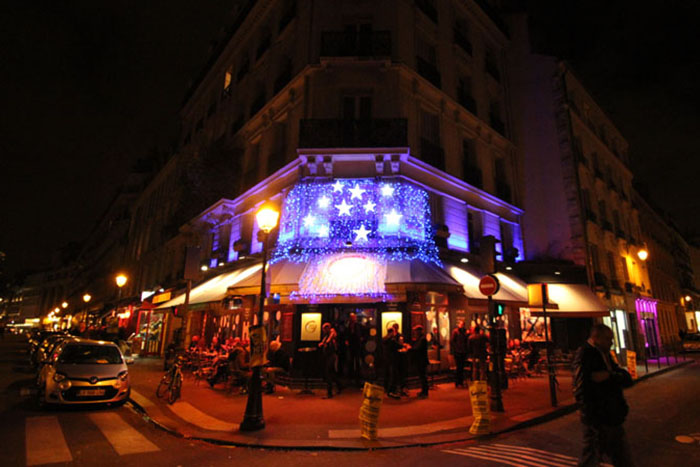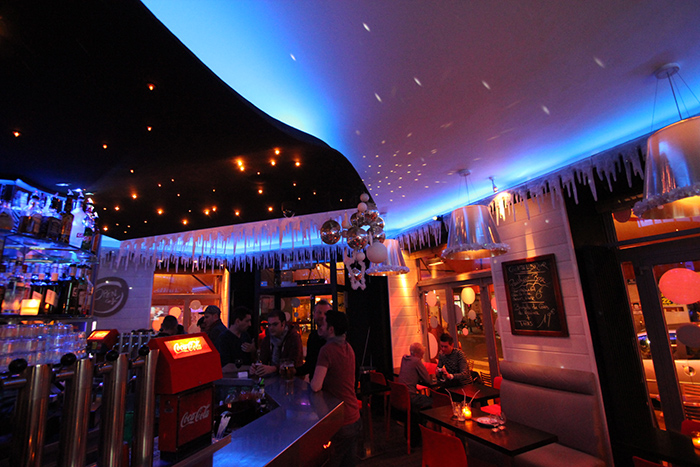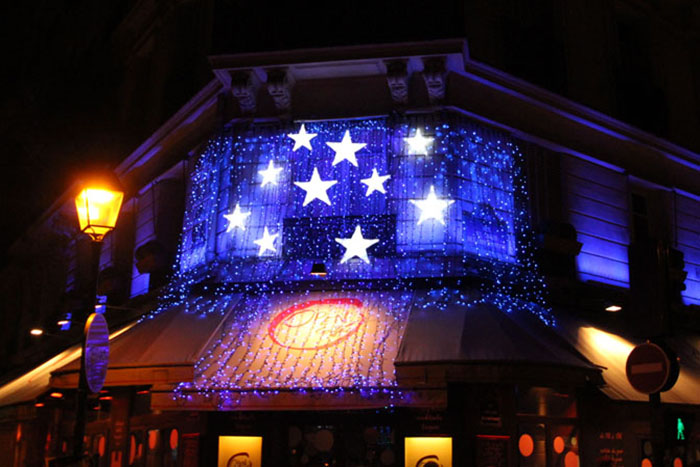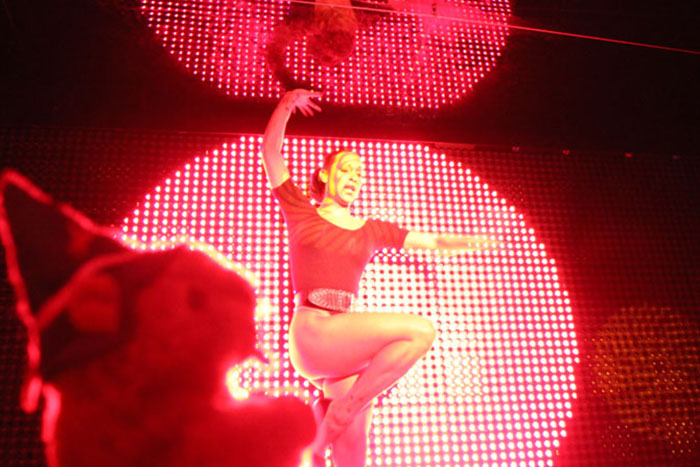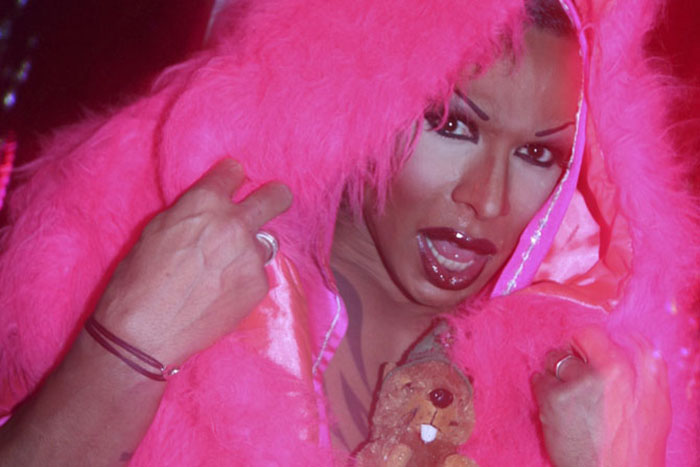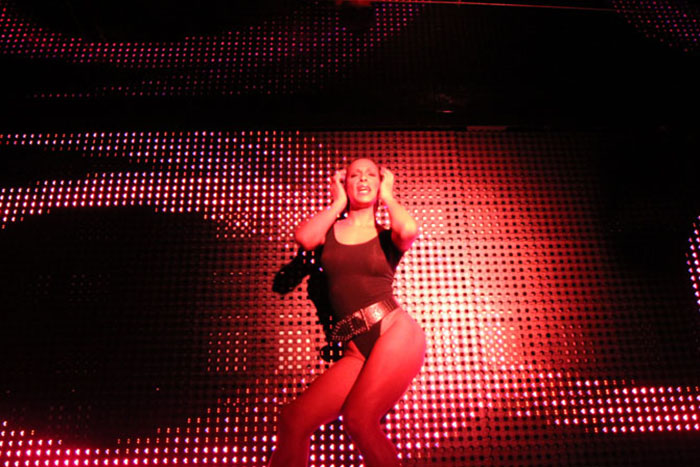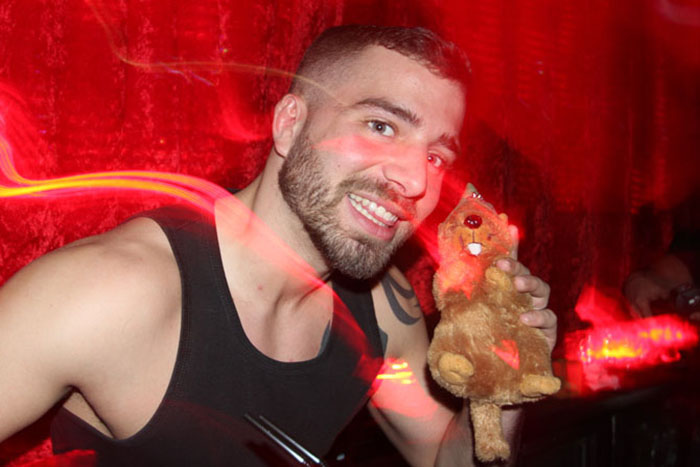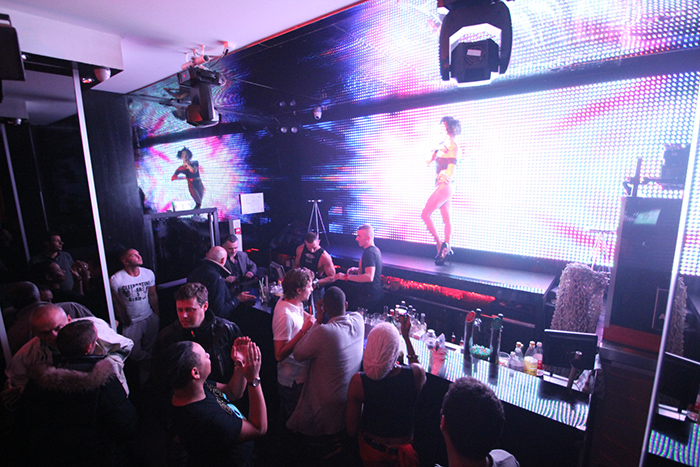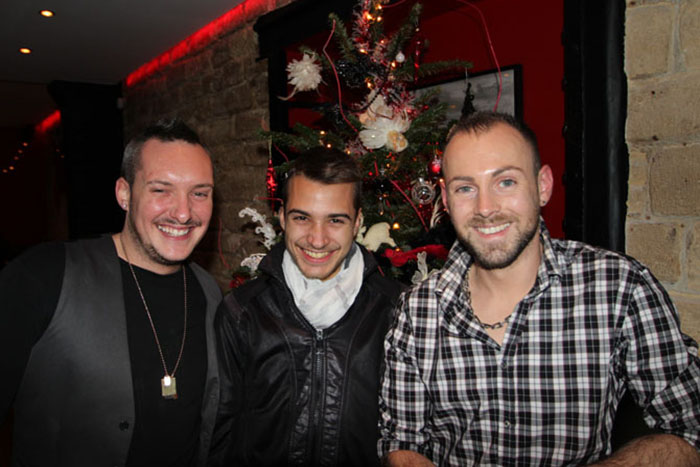 PARIS GAY BARS FROM SOFT TO HARD.
In every metropolitan capital where there is a visible gay scene one should expect its nightlife to splinter off in all directions. Paris and the Marais are no exceptions. I'd say Paris is even more varied than most cities. After all we are not all the same and we don't all like the same things. Edwina likes Lacroix, Patsy has her bottle and Saffy her books.
Of course all this variety doesn't help a traveler who is exploring a new city and wants to go out. The generic question where can I go to have some fun? just needs to be a bit more specific. So what do you call fun?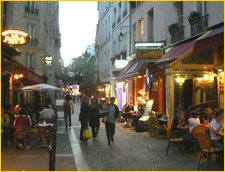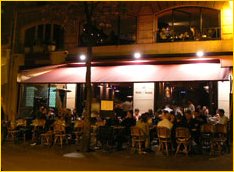 A favorite pastime for many Parisians, gay and straight, this one is a piece of cake. Edmund White the American author who once lived in Paris, titled one of his books The Flaneur meaning a person who hangs around without a purpose observing and watching, but especially allowing the spectacle to unfold on its own. This will be the sitting and drinking version of that.
What I look for in this type of bar is some colorful variety in the crowd and a low level of sexual tension. People might be flirting but they're not cruising. Perhaps a decent air filtering system would play a part too if everyone is smoking. Paris risks to ban smoking in bars but it hasn't gotten there yet and even if it does I'm sure the bars will find a way around it as they do in New York. With some exceptions I'm focusing on bars for men though some of these bars are also cafes and/or restaurants too that certainly do not exclude women.

SOFT OR "JUST A NICE PLACE TO SIT, DRINK AND WATCH PEOPLE"
L'ENCHANTEUR – Hidden behind a door that you might easily pass without noticing is this friendly bar that charms and entertains on rue Michel Lecomte. When introduced to a stranger the first thing you say in French is enchanté. Well that should give you and idea of the ambience here. The age group is varied and the look is innocent and not pretentious. It's a be yourself type of place. The extra bonus is the downstairs. While many Parisian bars sport backrooms in their lower parts, l'Enchanteur uses this beautifully renovated a l'ancien space for singers, shows and other fun things. Easily avoided upstairs if you prefer.

DUPLEX – Just a few doors down from l'Enchanteur the Duplex is known as the intellectual's spot where often a local artist exhibits his photos or paintings. It's a lovely bar that welcomes you with an engaging innocence. Friends in their 40s meet after work to decompress here. Tables on the upstairs balcony offer an intimate view where you can watch the happy hour from above. The furtive looks of young men searching Mr Right add to the innocence without creating a sexual tension.
Banana Café –Not really in the Marais, but close to, Banana Café remains an institution on the circuit especially in the fashion scene. I haven't been there in years but I feel obliged to mention it here. Ok that's done.

SEMI-SOFT OR "A PLACE TO WATCH GUYS AND PRETEND YOU'RE NOT"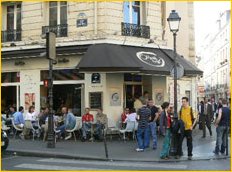 A special note about rue des Archives or what I refer to as "The Strip" The Castro, Christopher Street, Chelsea, West Hollywood, Warmoestraat, Schöneberg or Old Compton Street The Paris equivalent is the intersection of rue des Archives and rue Sainte Croix de la Bretonnerie in the heart of the Marais. Just fake a sneeze when trying to pronounce it. If they hear croix they'll know. A relatively recent phenomena this intersection has become gay central. The four businesses that comprise the main gay circuit of rue des Archives have certain particularities that need mentioning. The visibility of these establishments add to their notoriety but what is really going there?
OPEN CAFÉ
- In the words of any good real estate agent it's all about location. Smack dab on the corner sprawls the Open Café offering .....openness? Everyone goes there at one time or another but they might not admit it. Sort of like MacDonalds.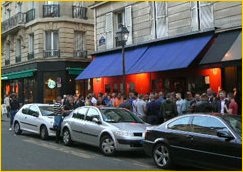 COX
– Cruisy, muscled Parisians and tourists with a touch of attitude. Fills to the max around 7pm and blocks the traffic on the sidewalk until 9:30 or 10 and then empties out completely until they all come back the next night. If a visiting friend insists that we go I often strike up a conversation about flower arrangements or feng shui in a loud voice just to see the reaction.
Les Maronniers –Food service at all hours which is convenient and nice chestnut trees in front of a big, outdoor terrace, hence the name Maronniers.
LE CARREFOUR
– Mostly straight during the day when suddenly at 7pm, guys of different ages and looks fill the place. This bar/cafe is for those who prefer sitting comfortably outside with a beer rather than being pushed around the sidewalk at Cox.
DEPOT
– not on rue des Archives and in fact a large backroom bar, the Depot falls into this category because the main occupation here is watching and pretending not too. It's big and confusing with a dance floor and a million empty, messy cabins. Careful of pickpockets and the overpriced coat check.
SEMI-HARD "A GOOD PLACE TO MEET GUYS BUT NOT A HARD LEATHER BAR"
Paris has more gay bars with backrooms than any other city I know. The fad has slightly declined recently only because of the enormous competition and perhaps the sluggish arrival of internet cruising which is just now gaining its stride compared with other countries. One gets the impression that Parisians are hooked on enhanced reality and scoff a bit at lonely virtuality.
These are the bars that may or may not have a backroom but do have a cruising atmosphere nonetheless. They differ in age groups and styles but you can be sure that you'll be experiencing gay Marais reality and not the Internet. They are usually busy after work and before dinner from 7pm to 9pm when happy hour prices kick in and then enjoy a second wave around midnight. Sunday happy hours are often popular too.
BEAR'S DEN
– Yes it's a bear bar and yes the crowd is on the "natural" side. On rue des Lombards, the Bear's Den shares this mostly pedestrian street with numerous gay restaurants and stores that are listed here on the site. The age group edges to the late 30s and more but I've seen all ages here. The small upstairs tends to bottleneck when there are a lot of "natural" guys there. But don't worry there are 2 other levels below in a nicely decorated labyrinth that includes a dance floor, a mini backroom and a mini lounge where "natural" men can be seen lounging in their "natural" habitat.
ONE WAY
– the other bear bar with the caps hanging from the ceiling. The One Way has a split personality. Generally friendly and drunk upstairs, then ravenous and Caligula-esque downstairs. Be careful where you sit and always count your change.
MicMan – Same crowd as the One Way but open at noon with friendly barmen and cleaner.
HARD OR "THE CITY OF LIGHT WHEN IT GETS DARK"
With the exception of Berlin or maybe Amsterdam (though I still think Paris wins) hard sex bars do very well. Practically unknown now in the United States and very few in England, Paris continues its long established tradition of tolerance and freedom and in some cases encouragement of open sexual contact. If the tide is changing you wouldn't notice in these places.

The clientele of the hard cruising scene overlaps but has specific nights that work best for specific bars. It's useless to arrive anywhere before midnight (except for the Bunker) and in some places preferably around 3 or 4am. Many have strict dress codes or undressed codes. They all provide a coat check service that is generally trustworthy. I'll try to be specific but I warn you these bars are for those looking for hard action and sometimes the spectacle can be a lot for the prudish at heart. Let's start with the most extreme. That way we can catch our breath later. Both of these bars have been around for about 30 years and are just outside the Marais, the Transfert on the west and the Keller heading east.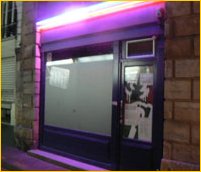 FULL METAL
– Keller's little brother is on rue des Blancs Manteaux. The leathery dress codes are strict and highly accessorized and somewhat precious. There's a cage in case you want to play gorilla.
L'IMPACT
– A naturist's bar, not to be confused with bears, that insists you check all your clothing at the door except your shoes. Sort of like a sauna with no water or towels.
THE BUNKER
–The former Docks that was a former sauna but now without the water and towels is outside the Marais near République. Direct and without any social atmosphere whatsoever The Bunker's naturist Tuesdays and Thursdays packs them in. It's very popular among the sexually serious. Busy hours from 8 to 11pm. There you have it in a hard nut shell.