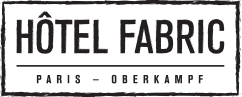 Hotel Fabric
31 Rue de la Folie Méricourt, Paris
CLUB ROOM from 153 €
SUPERIOR ROOM from 168 €
DELUXE ROOM from 217 €
TOP FLOOR ROOM from 230 €
Hotel Fabric
HOTEL FABRIC PARIS: UMA ANTIGA FÁBRICA TÊXTIL EM PLENO CORAÇÃO DO BAIRRO OBERKAMPF
O Hotel FABRIC Paris situa-se na rue de la Folie-Méricourt, entre as praças da République e da Bastilha, no 11o arrondissement da capital. Foi justamente aqui, em torno da rue Oberkampf, que se desenvolveu no século 19 um novo bairro popular batizado Ménilmontant, em plena revolução industrial. Operário durante o dia, com as suas oficinas de animados artesãos, ele se tornou festivo ao cair da noite graças aos seus cabarés. O Hotel FABRIC, instalado em uma antiga oficina, presta homenagem a esse passado popular.
HOTEL FABRIC PARIS: UM LUGAR ÚNICO, DECIDIDAMENTE CONTEMPORÂNEO
Transformado em hotel refinado e com design próprio, o imóvel em nada desfigurou o seu charme de outrora: as estruturas metálicas, as grandes janelas ornadas de azulejos, as paredes com tijolos à vista e os materiais rústicos, aludem com modernidade às profissões exercidas na rue de la Folie-Méricourt. O arquiteto Vincent Bastie solicitou apoio dos decoradores Agnès Louboutin e Patrice Henry para recriar esta atmosfera industrial. A recepção – exibindo os seus belos azulejos, a sua imponente mesa em carvalho e o couro do confortável sofá Chesterfield – é um exemplo perfeito deste estilo! O bufê do café da manhã foi adquirido junto a uma antiga retrosaria da região de Vosges e um magnífico armário de oficina foi especialmente restaurado para a recepção. Os objetos de decoração foram garimpados em lojas de artigos de segunda mão de Popincourt, pertinho do Hotel.
O acesso aos quartos é um convite para um passeio sob a insígnia de uma Paris by night secret, entre neons, cabarés e teatros.
Best rates guaranteed with PARISMARAIS.COM. Free PARISMARAIS map offered to all guests.