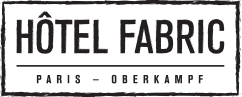 Hotel Fabric
31 Rue de la Folie Méricourt, Paris
Tel : +33 1 43 57 27 00
Fax : +33 1 43 55 56 02
CLUB ROOM from 153 €
SUPERIOR ROOM from 168 €
DELUXE ROOM from 217 €
TOP FLOOR ROOM from 230 €
Cheaper rates at last minutes online !
Best rates guaranteed with PARISMARAIS.COM. Free PARISMARAIS map offered to all guests.
Hotel Fabric
HOTEL FABRIC : A FORMER TEXTILE FACTORY IN THE HEART OF OBERKAMPF NORTH OF THE MARAIS
FABRIC Hotel Paris is located on the rue de la Folie-Méricourt, between the Place de la Republique and the Place de la Bastille, in the 11th district of the capital. In the 19th century an industrial area developed around the rue Oberkampf and the former hamlet of Ménilmontant. A place of arts and crafts workshops during the day, this new artisan district became transformed after nightfall into a place of bustling bars and cabarets where the tired labourers and craftsmen could relax and prepare themselves for another busy day. The Hotel FABRIC, housed in a former textile factory, draws inspiration for its design and theme from this colourful past.
HOTEL FABRIC PARIS: A UNIQUE, RESOLUTELY CONTEMPORARY PLACE
Transformed into a stylish and boldly designed hotel, the building has lost nothing of the charms of former days. Much of the period structure and architectural details have been retained. The metallic framework, the large, multi-paned windows, brick-built walls and raw materials are powerfully evocative of the formerly industrial nature of the rue de la Folie-Méricourt. The architect Vincent Bastie, with interior designers Agnès Louboutin and Patrice Henry, has maintained the functional ambience and blended it with an inspiring modernity. This approach is exemplified by the lobby, where design features have been made of the cement tiles, the distinctive oak of the guest table and the comfortable leather Chesterfield. The breakfast buffet furniture was reclaimed from a former notions and haberdashery in the Vosges region and a magnificent piece of worktop furniture has been restored for the reception desk. Authentic period decorative items were sourced from dealers in the Oberkampf district's Popincourt Market not far from the Hotel. As they make their way to their rooms, our guests are reminded of a secret, bygone night-time Paris of neon, cabarets and theatres.