Paris Museums
POPULAR PARIS MUSEUMS
FEATURED MUSEUM: Malmaison Palace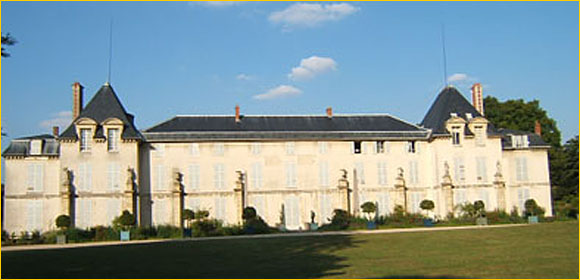 The name of Malmaison came from the Normans who invaded France in the middle ages -- it literally means "bad house," and it probably was when it was first built. Today, there is nothing bad about Malmaison…it is simply magnificent due to the great renovations that have taken place throughout the years under the control of the French Minister of Culture and Malmaison Director Bernard Chevallier, who is now in charge of keeping the house valuables and treasures. The former medieval castle of Malmaison no longer exists, and most of what is now standing was built in the 18th century.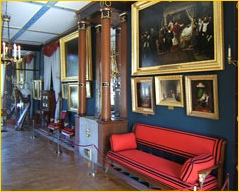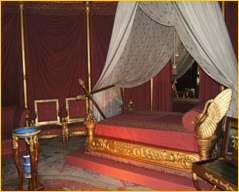 During the French Revolution of 1789, the rich families who owned Malmaison were forced to sell it to Joséphine Bonaparte, wife of Napoleon, First Consul, for the equivalent of 45,000 euros, a real fortune at this time. Returning from Egypt, Napoléon Bonaparte, who had not yet been named emperor, became the real owner of the castle. From 1800 to 1802 this small castle was fashioned to be quite splendid, reflecting the diversity and richness of the arts of the new imperial style. It became the head of French government under the name of " Palais Impérial de Malmaison."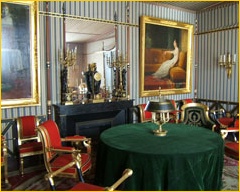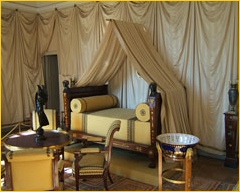 In 1809 Napoléon, who had conquered almost all of Europe, divorced Joséphine and gave her the castle, including all the prestigious collections inside. Joséphine died on May 29, 1814, leaving the castle to her son, Prince Eugène. In 1828, Eugène's widow sold Malmaison to a Swedish banker. Queen Christine of Spain, bought it in 1842 as a holiday residence, then in 1861, resold it to Napoléon III, grandson of Joséphine, who restored it to the glory of the Napoléon Dynasty.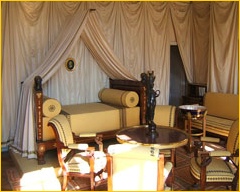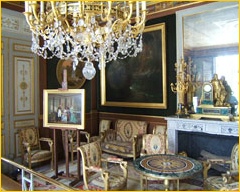 The castle was seriously damaged by the war between France and Germany, and for a short time in 1870 it became a miserable military camp and lost all of its brilliance. The whole house and park was finally sold to the French State in 1877, and the land of the park was used to build private houses. In 1906 the castle became a national museum, dedicated to Napoléon and Joséphine.

Located just 6 km west of Paris and easily reached by suburban trains, buses or cabs, Malmaison is a wonderful place to visit and a unique castle, reflecting the golden age of the Napoleonic French Empire. Closed on Tuesdays.
Visit Malmaison official web site :
http://www.chateau-malmaison.fr
Visit Pierre-Jean Chalençon Private collection of Napoleonic Arts, run in the USA by Russel Etling Company : Napoleon, an intimate portrait
http://www.napoleonexhibit.com