Jewish businesses
STORES AND RESTAURANTS IN THE PLETZL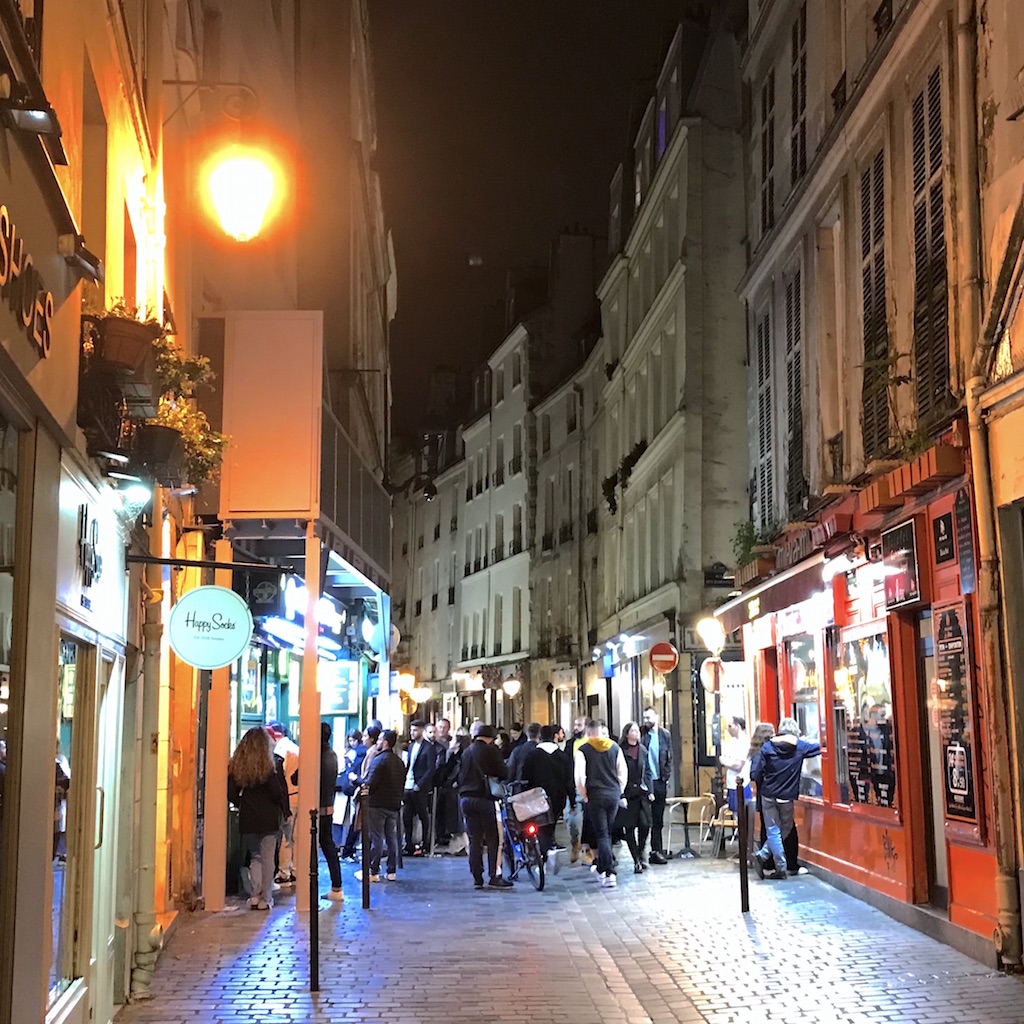 Chir Hadach - Librairie - 1 rue des Hospitalières Saint Gervais. Tel. 01 42 72 38 00
L'As du Fallafel – le plus célèbre d'entre tous, 34 rue des Rosiers
Yann Couvreur Pâtisserie – 23 bis Rue des Rosiers
King Fallafel – 26 rue des Rosiers, Tel. 01 84 14 30 31
Florence Kahn - Pâtisserie – 24 Rue des Ecouffes, Tel. 01 44 61 00 20
Sacha Finkelsztajn - Pâtisserie – 27 rue des Rosiers, Tel. 01 42 72 78 9
Chez Marianne – Restaurant - 2 Rue des Hospitalières Saint-Gervais, Tel. 01 42 72 18 86
Le Beef – Steakhouse - 33 Rue des Rosiers, Tel. 09 81 34 91 79
Korcarz - Pâtisserie – 29 Rue des Rosiers, Tel. 01 42 77 39 47
Le Loir dans La Théière - Salon de thé – 3 Rue des Rosiers, Tel. 01 42 72 90 61
JEWISH GASTRONOMY WITH HUMOR AND TENDERNESS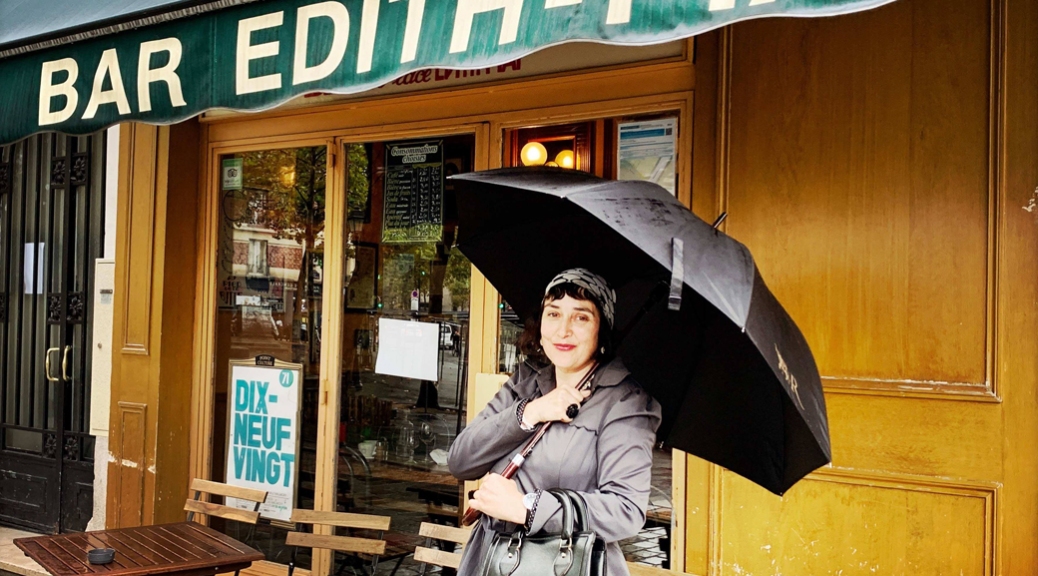 Edith de Belleville. Photo © Chrissy Willey
"This is just my luck. Just when I start a diet I have to write an article about Jewish gastronomy. There is no such thing as Jewish gastronomy anyway. Because there is not one Jewish gastronomy but many Jewish gastronomies just as there is not one Jewish community but many. The Marais is the place in Paris where Jews arrived when they had to flee poverty and pogroms in Russia, Poland, Romania and other Eastern European countries in the late 19th century. Like my grandparents who left the city of Lodz in Poland.
My grandfather chose France and Paris as a refuge because he revered Victor Hugo, the courageous defender of the miserable. I know what you are thinking. What is the connection between Jewish gastronomy and Victor Hugo, the famous French writer? Absolutely nothing... Yes, in fact there is. It is me. I was raised in Paris between the croissant and the poppy seed cake. When I feel nostalgic for my childhood, I bite into a poppy cake bought at Korkacz, the bakery located in the rue des rosiers. It's in the rue des Rosiers, in the Marais, that you will find the Jewish gastronomy of Eastern Europe: the onion bread, the herring, the strudel with apples and cinnamon, the gefiltefish, which is stuffed carp, the big pickles, the cheesecake and of course the poppy cake. Last week I went to Florence Finkelsztajn, a Yiddish bakery since 1932, with my friend Didier. Didier is a warm Sephardic doctor who was born in Algeria. When Didier saw me eating my chopped liver on my black rye bread he frowned and asked me skeptically: "How can you eat chopped liver at 4 o'clock in the afternoon? You don't understand, you are not Ashkenazi! I replied with my mouth full of my delicious chopped liver."
I know what you are thinking. What is a Sephardic and an Ashkenazi? Didier is from North Africa, a land of the Mediterranean, so he is Sephardic. My family comes from Europe so I am Ashkenazi. Sepharadi means Spain in Hebrew because technically the Jews of the Mediterranean countries were first expelled from Spain in 1492 by Queen Isabella the Catholic... But I feel that I am going astray...
Suddenly Didier also wanted to remember his childhood. So in five minutes we were in Murciano's bakery and Doctor Didier chose a delicious North African pastry made of honey and semolina called Harissa. As Didier is a generous man he also offered me one. If you prefer salty Mediterranean food like falafel or schwarma, veal or grilled turkey, go to the Ace of Falafel. You can't miss this restaurant where everything is fresh. That's where the line is. But don't dream, you'll never eat a delicious Polish cheesecake in this Israeli restaurant. Because Ace of Falafel is a kosher restaurant and you don't mix milk with meat when you eat kosher. So no cheesecake right after eating grilled meat. Jewish gastronomy also has its own bread. It is a bread that all Jews all over the world, Ashkenazi or Sephardic, eat every Friday night to celebrate Shabbat. It is a kind of bun but without butter, called Hallah.
We all have a food that reminds us of our childhood. Because sometimes gastronomy is more than just eating something that tastes good. Really Marcel Proust, the greatest French writer of the 20th century was right. He wrote that his madeleine dipped in his tea had the power to recreate his lost and beloved childhood. Just like me and my poppy seed cake."
And you what is your favorite recipe discovered in Rue des Rosiers?
THE ADVENTURES OF RABBI JACOB: the funniest film made about the Jewish community with Louis de Funès.
The most famous French comedian Louis de Funès plays the role of a rabbi in the Rue des Rosiers. "Rabbi Jacob", released in 1973, is one of the greatest successes of French cinema. Several scenes take place in Paris, particularly in the Marais. The film tells the story of an angry and racist businessman who gets caught up in a terrorist score. He has no choice but to pose as a rabbi after meeting with Jewish clerics at Orly airport, south of Paris.
The Rue des Rosiers was to be used for the filming of the movie, but for practical reasons and in order not to block the traffic and the life of the inhabitants and shopkeepers, the street and its scenery were faithfully reconstituted in artificial settings with the entrance to its synagogue and its numerous small kosher shops.