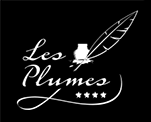 Les Plumes Hotel
10 Rue Lamartine, Paris, 75009
Reception open 24 hours
Multilingual staff
Access for people with reduced mobility
Free unlimited Wi-Fi
Air conditioning
Lift
Safe
Room service (breakfast and dinner)
Concierge service
Transfers to and from the airports.
"buffet" breakfast
Best rates guaranteed with PARISMARAIS.COM
Free PARISMARAIS map offered to all guests.
Les Plumes Hotel
Les Plumes Hotel Paris is a two dimensional place, a decidedly original place where historical allusions mingle playfully with technological touches; here you'll find what attracts dreamers to poetry and what attracts the down-to-earth to intransigence; a real modern-day guest house in which the past and future, rather than clashing, blend together to offer each visitor the best of today....
These chronological caprices are the hallmark of our hotel; they start playing tricks on you as soon as you step through the door! In what other place can you imagine being welcomed by staff sporting period attire while using cutting-edge digital tablets? Whether you're more of a fan of old books or a touch-screen addict, rest assured: the level of service at Les Plumes Hotel Paris will suit everyone's tastes.
An honesty bar and lounge to enjoy a drink, chat or relax in a cosy setting
A furnished patio to soak up the sun during the fine weather