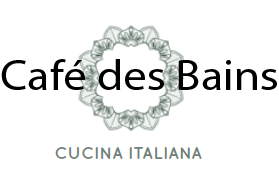 Le Café des Bains
33 Rue des Blancs Manteaux, Paris, France
Closed recently, le café des bains is no longer open.
> Website
> Facebook

Creative, Italian-inspired, gourmet cuisine. New head chef Salvatore Armonia draws not only on his childhood memories of Italy, but also on the memories of his many travels around the world. The menu here changes daily, so you are guaranteed a fresh choice with market-fresh produce, chosen every day depending on deliveries, with the Gourmet menu changing with the seasons. Le Café des Bains is open to everyone, whether you have booked a spa treatment or whether you have just popped in for a swift glass, a detox tea, dish of the day, the gastro menu or the "cocktail hour special" that includes a dish that you compile yourself from the Tuscan table.

Open daily until 1am, there are several options to choose from: The healthy, organic lunch menu, Italian-style starter and takeaway dishes like soups, quiches, salads, cheesecakes and desserts. Evenings bring a more elaborate choice, based around various themes and in a more intimate setting. Aubergine parmesan, breaded Mozarella, avocado, mango and baby spinach. Octopus carpaccio, pesto with citrus fruit, red tuna 'sashimi'/carpaccio with orange, Milano cutlet, pasta San Matteo, forester's ravioli, sage, portobello mushrooms, pecorino cheese.

If you are dining in the evening, try the creative cocktails such as the French Spritz (St Germain liqueur, Prosecco, fresh mint, lemon, crushed ice). Each day at lunchtime, a dish of the day is available from just €12. Fresh and fast, cooked whilst you wait. On Sundays, diners can enjoy a generous brunch, or book the special deal of hammam + brunch. Do not miss to try our Tiramisu served with a ladle, just like back at Mamma's house.