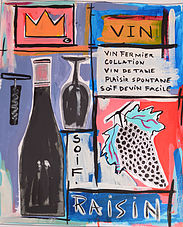 L'Etiquette
10 Rue Jean du Bellay, 75004 Paris, France
Tel. : 01 44 07 99 27 ou 06 78 46 70 66
Metro : Pont Marie
Monday from 2pm to 8:30pm
Tuesday to Saturday from 10am to 8:30pm
Sunday from 1pm to 8:30pm
Private wine tasting upon reservation.
Biodynamic wine without sulfur is the keynote of this authentic Ile Saint Louis wine cellar, passionately defending the art of the organic vine. L'Etiquette will show you more than 300 references, all from French vineyards, all worked by passionate winemakers. This unusual wine cellar returns the winemaker and nature itself to the heart of the winemaking process. The wine is less a case of grapes than minerals according to Hervé, passionate founder of the label, and with 30 years of experience in this sector under his belt. Winemakers of all soils are represented here, provided they make a successful and quality product. A fine selection of organic champagne is also available to discover. Among the wide selection of wines, about 50 of them are priced at less than 10 euros a bottle. Tastings are also offered, with an emphasis on the overall experience and emotion provided by these sweet nectars, far from traditional and sometimes stuffy tastings.