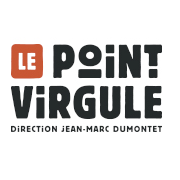 Théâtre du Point-Virgule
7 Rue Sainte-Croix de la Bretonnerie, Paris, France
01 42 78 67 03
Métro 1 et 11: Hôtel de Ville

Bus: N° 75 (Arrêt La Verrerie) ou N° 29-67-69-76-96 (Arrêt rue Vieille du Temple)

Parking: 4 Rue Lobau
> Website
> Facebook
Structured around the former joinery, the Semicolon is a theater situated at the heart of the Swamp, in 7 of the street Sainte-Croix-de-la-Bretonnerie in the 4th district of Paris. Specialized in the humor and the one-man show, she was of use as first scene to numerous humorists today very known.
It is in 1975 that built up himself the theater "The Widow Pichard" at the instigation of the young comedians Martin Lamotte and Gérard Lanvin. We gave it in particular The Secret of Zonga de Martin Lamotte and The Revenge of Louis XI of Roland Giraud.
In April, 1978, a group of comedians film directors authors resumes this room and renames it the Semicolon. They are Michel Bouttier, Sissia Buggy, Pierre Chevallier, Christian Pernod, Bernard Turpin, Christian Varini.