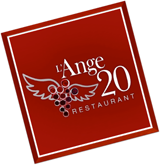 L'Ange 20
44 Rue des Tournelles, 75004 Paris, France
Tel.: +33 (0) 1 49 96 58 39
Metro: Bastille, Saint-Paul Le Marais.
reservation compulsory : info@lange20.com
> Facebook
Reservation is highly recommended. Service from 7,30 pm until midnight
This an excellent place to try as soon as you possibly can. After working behind the scenes in some of the best renowned places in London and Paris, Thierry Pauli welcomes you in charming simplicity as he cooks the food in the dining room, right in front of you, just like at home but in a modern bistro-style setting. Everything is fresh, made in-house, served with a smile and a simplicity amongst good friends, just as if the man of the house were a famous chef who had remained modest. House style foie gras with apples caramelised in Amaretto, lamb fondant... Humble rue des Tournelles, next to Bastille and Place des Vosges and its wonderful eateries will never fail to impress you. 20/20 for them all! It's the least one can give them for such a fabulous welcome and such fine food. Booking is essential. New Location, New Decor, but same fantastic welcoming and food ! Best value gourmet bistro in Le Marais.