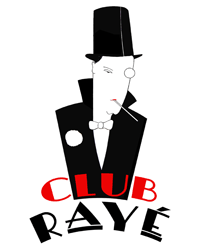 Club Rayé
26 Rue Dussoubs, Paris, France
01 40 13 72 93
Monday to Saturday from noon to midnight
> Website
> Facebook
Get thee to a nunnery. Or a whorehouse. Or both.
Club Rayé, a stylish new piano bar in Paris whose location has a multiple-personality past as both a convent and a maison of ill repute.
Located at 26, Rue Dussoubs, next to the western part of Le marais, across the street from the old stable of Catherine de Medici, Club Rayé -- with its large white baby grand piano, chic bar and creative kitchen on the main floor and its private subterranean KafKa Bar downstairs -- promises to transport customers to a world of elegance, gaiety and romance with its rotating roster of guest musicians and singers, delightful bar menu and elegant décor.
The enterprise stems from the two owners' love of Paris and New York. The team -- Kein Cross, a New York interior designer with homes in Paris and New York whose work has been showcased in The New York Times, and Jane Sudler Black, a landscape designer in the New York/New Jersey area whose specialty is procuring European and vintage garden sculpture, planters and furnishings -- has respectfully maintained the history of the location, which dates to the 13th and 16th centuries.
Among the updates: refined yet funky black-and-white furnishings and décor throughout the rooms, including black-and-white stripes on some of the walls inside and on the awnings outdoors. In fact, it was those stripes -- a passion of Mr. Cross' since his childhood days in Arkansas -- that inspired the club's name,"rayé" means "striped" in French.
From the kitchen, an extensive menu of en-cas finger foods, both French and American, from an assortment of savory and sweet, as well as artisanal cheeses and a selection of homemade breads. The menu takes a detour to Italy, with several special items from the noted New York chef Raffaele Ronca (of Rafele, in the West Village), including his succulent arancini, or rice balls. On the dessert side, Club RaYé's offers several alcohol-based treats, mini black-and-white cookies. The wine menu features bottles hand-picked by someliers and vintners from all over France.