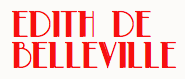 Edith de Belleville
> Website
Experience Paris from the Perspective of a Real Parisienne.
The enchanting Edith will stroll with you through the cobbled streets of Paris, exploring hidden corners only true Parisiennes know. Edith will recount the storied love affaires, the «Liaisons Dangereuses» of Paris. On your personalized tour, you will fall under the spell of Paris and find yourself captivated by the magic and beauty of this city of legends.
Edith is both French and Parisian to the core. Born in Belleville close to the birth place of Edith Piaf, but not of the same vintage.
Edith is a licensed tour guide who began her career as a lawyer with a degree from the Sorbonne University.
Edith is fluent in French, English and Spanish. She currently has a radio program on Parisian Radio about Influential French Women in History hosted by Ollie George Austrailian producer and journalist at RFI Radio France Internationale.
She appears as the first chapter in the recent book Parisian Charm School by Jamie Cat Callan which has been translated into 21languages!.
Join Edith and share the joy and excitement of the Paris that is so much a part of her memory.
For a group from 1 to 4 persons:
A half day (3hrs): 200 € and each additional person is 70 euros
Full day (6hrs): 400 €
FREE FOR CHILDREN under 14 years old (with their parent(s))
During the walk Edith will be happy to make you discover a friendly Parisian Café .
( food and drinks are not included ...)

Disclaimers:
By hiring Edith for a tour, all participants understand that they remain under their own responsibilities, and Edith should not be held responsible of any issues due to walking, falling or sliding, or any thing happening during the walk

If you need more information or have questions, please email me at edithsparis@yahoo.com