Paris Gay Pride
Paris is definitely the sexiest city in the world !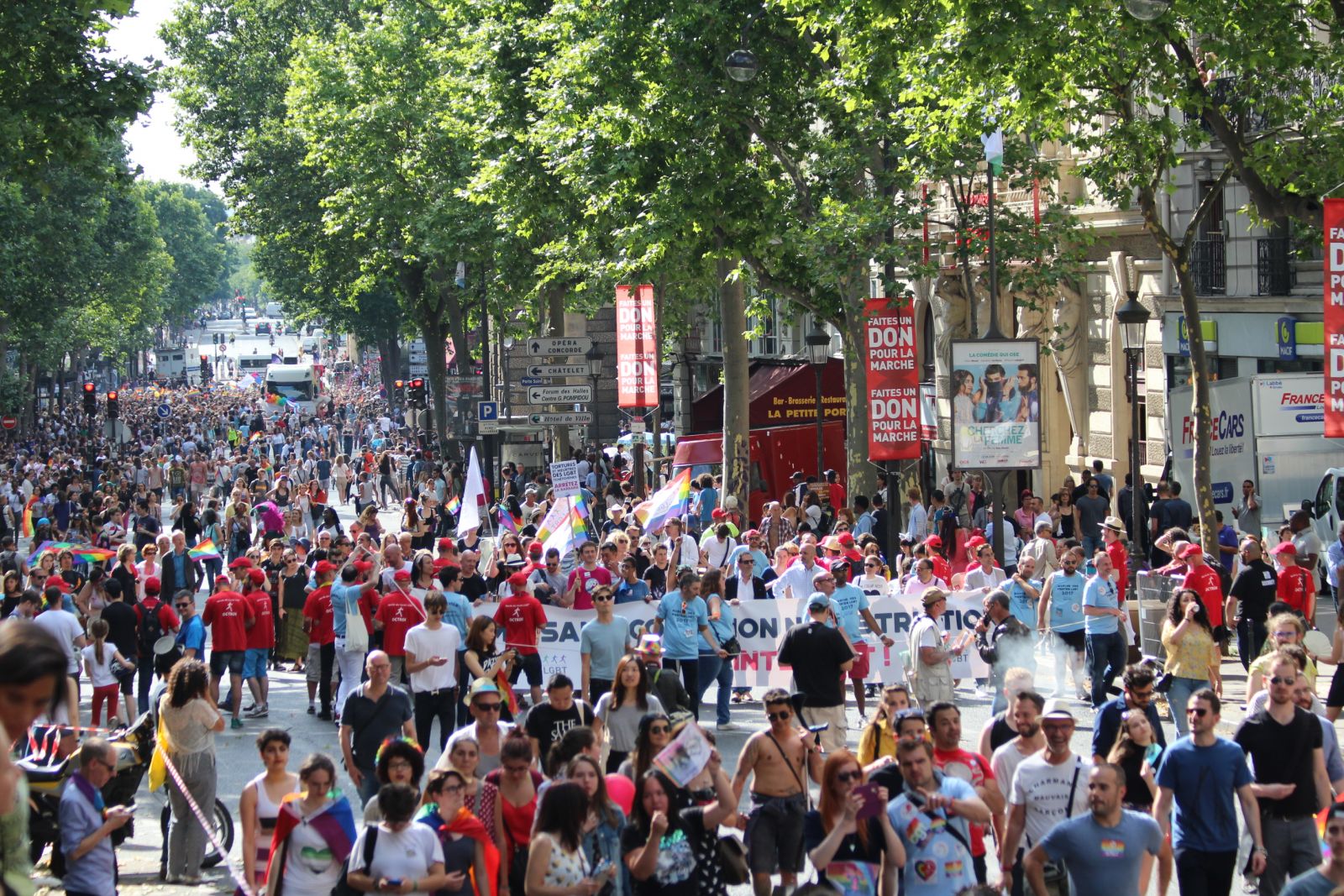 Up to 700 000 people took to the streets of Paris for the Gay Pride Parade on the last week end of june. Our new President François Hollande has promised equal rights marriage and adoption for gay people in France. it wa probabably his one and only major law for equality. And the law was voted by the parliament un summer 2013.
Political situation in Paris remains close to ideal, we even met some american guys from San Francisco who moved to Paris considering it was more welcoming to gay people than any American City. It's true that recent surveys confirm that beeing gay is not a problem at all for 80% of the French.

The march ended up at Place de la Bastille where FG DJ Radio Station had set up a gigantic podium. Until dawn The Marais most famous clubs and bars : Raidd, CUD, Spyce Cox and all bars were crowded. Here's our selection of Paris Gay Pride best photos... It's raining men in le Marais, who' s complaining about the forecast ?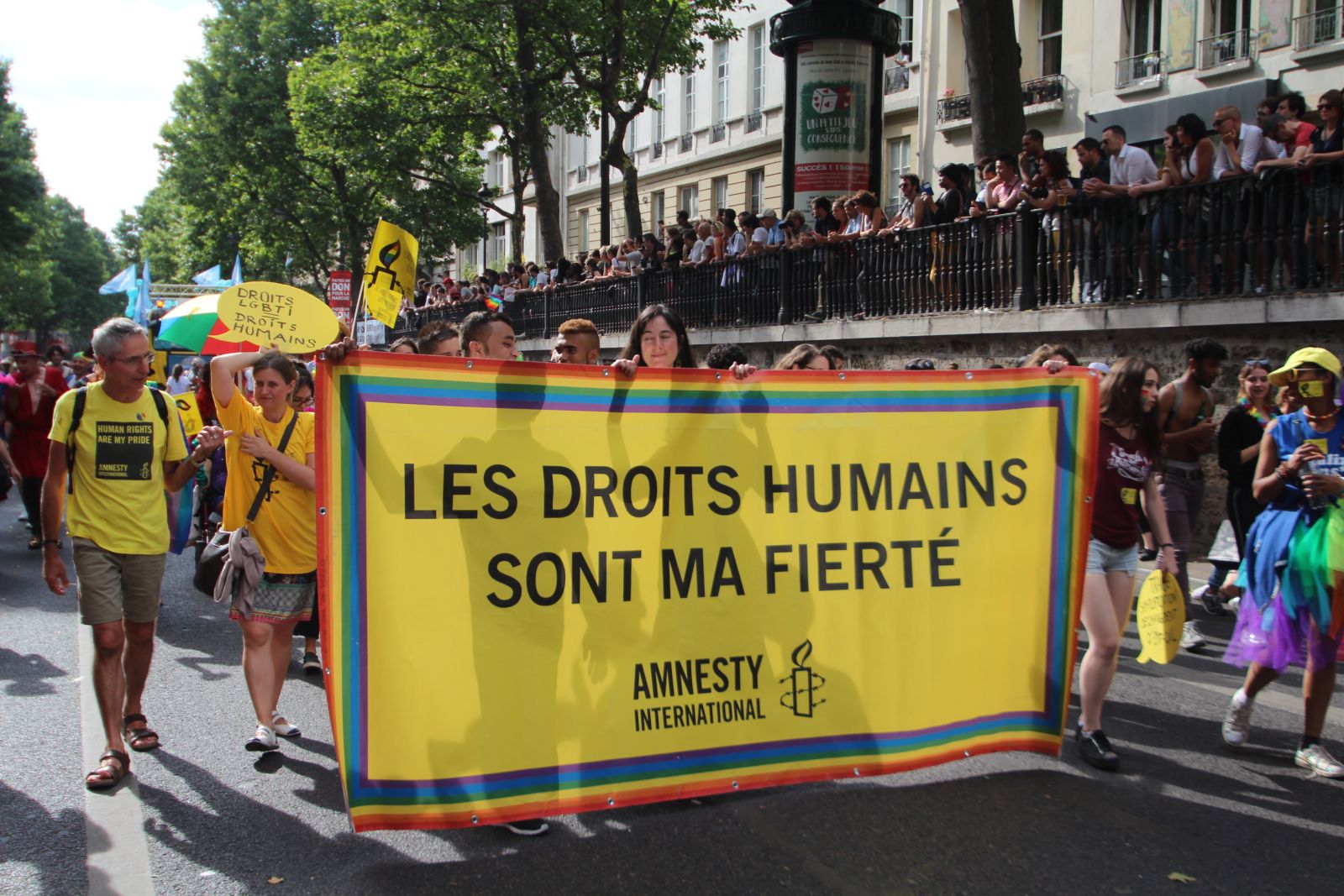 10 years ago the biggest march for equality.
PARIS PRIDE 2006 : 800,000 in the streets to ask for equal rights.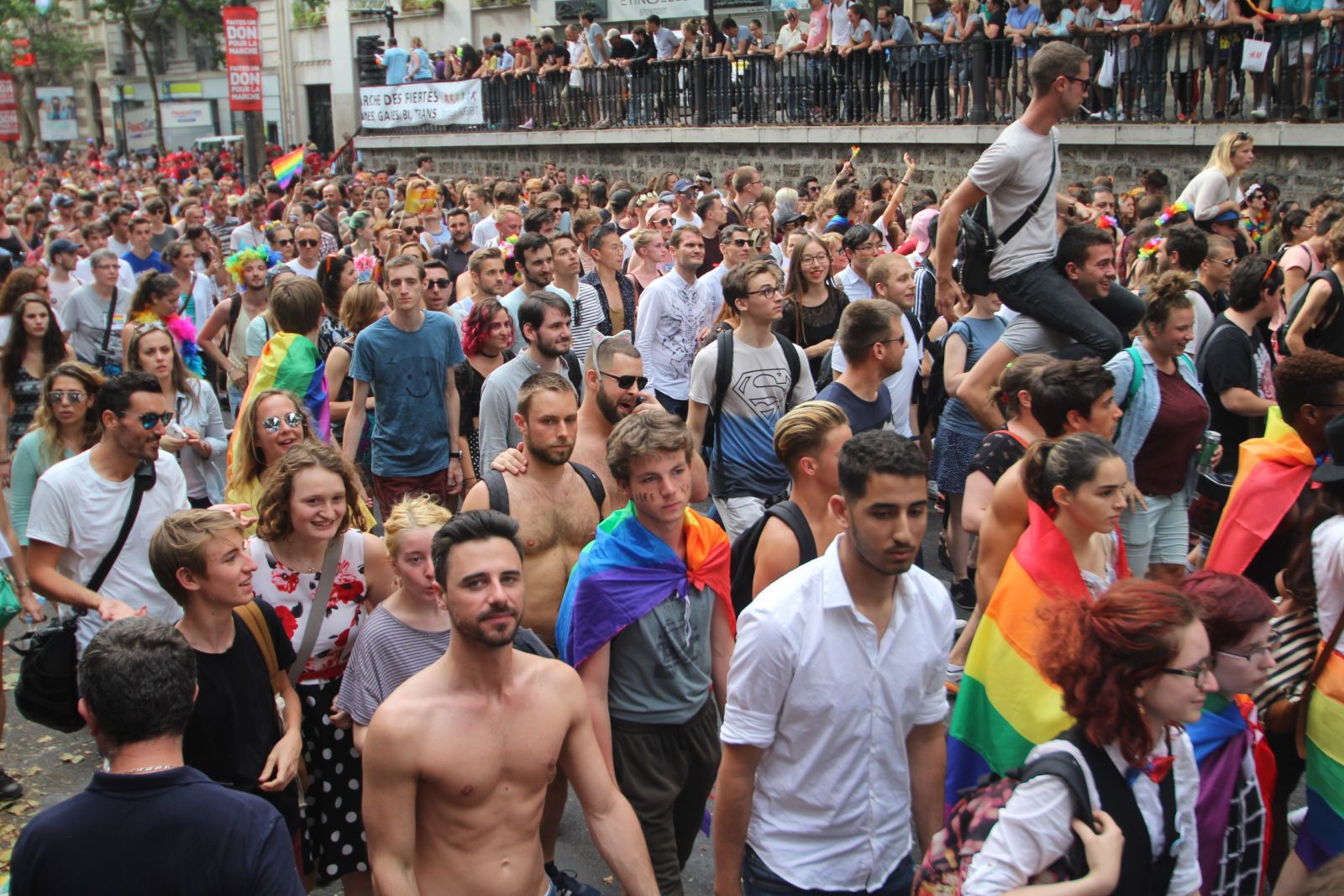 In May 2007, France elected again a conservatice presidnet : Nicolas Srakozy, after 12 years under the leadership of Mr. Chirac. There is no need to mention that most French citizens have seen enough of him – the polls show that his popularity is less than 20%, even worse than Mr. Bush in the U.S., or the U.K.'s Tony Blair, who some of my British friends call Tony "B-liar."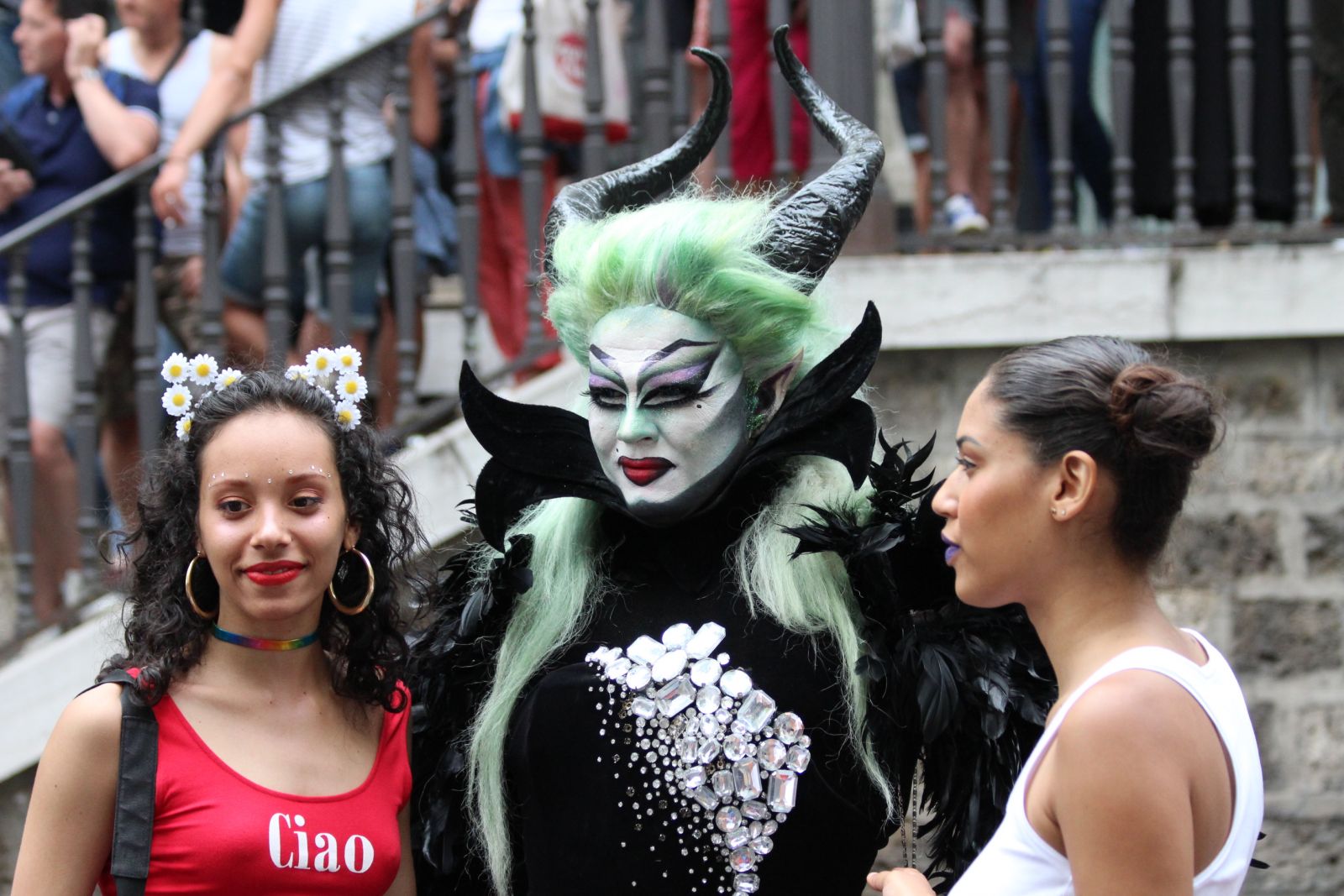 Among the many subjects that are listed as political issues, gay marriage is a very serious one. For the first time in history, 800,000 people marched in the streets of Paris to ask for equality in 2007.The socialist alliance took the formal stand that gay marriage will be adopted if they win the next election.
Bertrand Delanoé, Mayor of Paris and Jean Paul Huchon, President of the Region Ile de France, both socialists, and other political representatives including Mr. Jean Luc Romero, an openly gay member of the UMP, French Conservative Party, were marching at the front of the gay pride crowd. They were followed by the top representatives of the gay community, Mr. Gerard Siad, new president of the SNEG, People from Paris tourist office, and other VIPs, all joining forces to make changes in a France that is becoming rather conservative, and paranoid about security.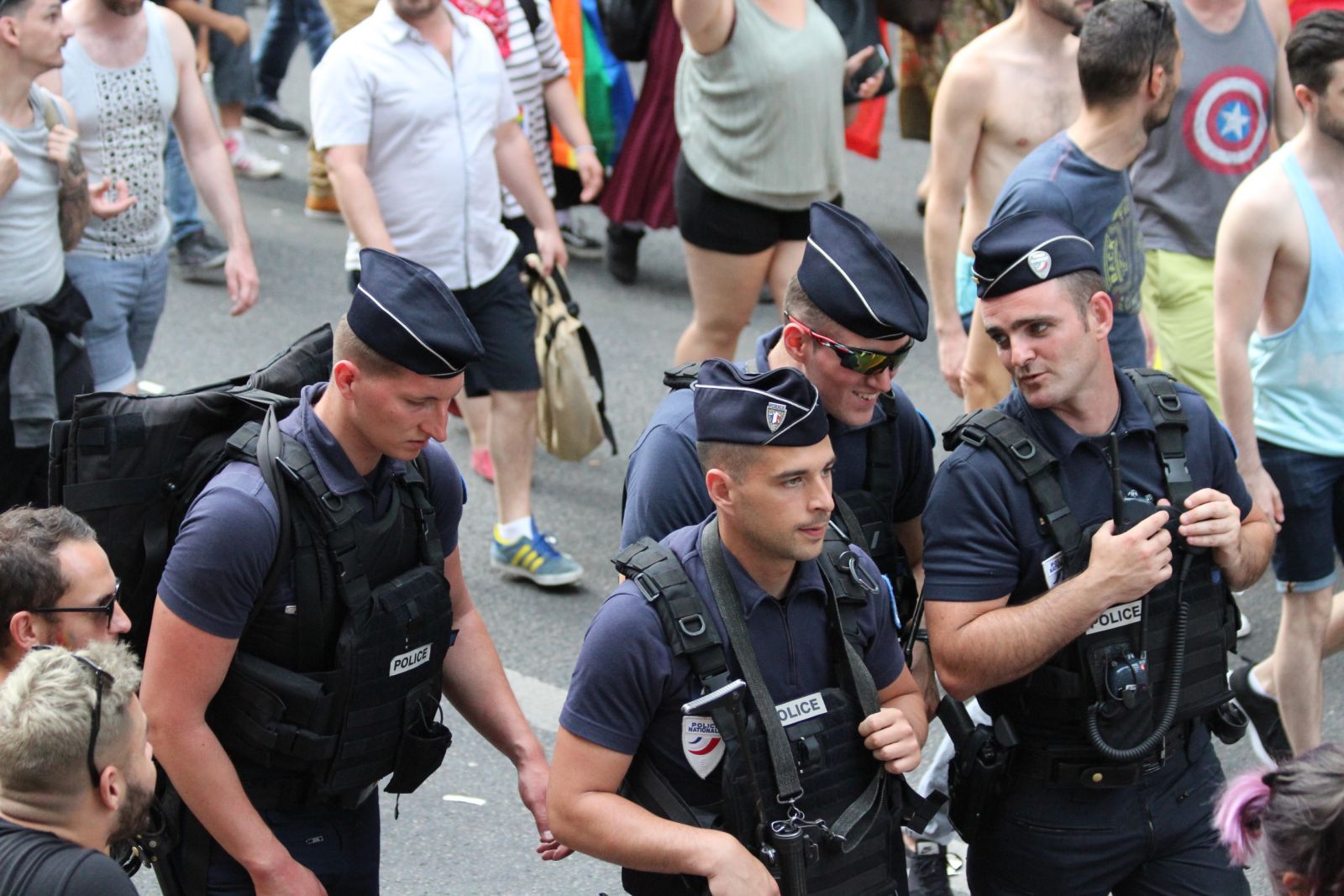 After gay pride, in the VIP lounge at Les Grandes Marches restaurant hosted by Mr. Henri Maurel, director of FG radio, the first gay radio station in France, we had the chance to meet with Mr. Jack Lang, former minister of culture. Mr. Lang has not missed the gay pride parade in 20 years. He is also a candidate for the socialist party. Mr. Lang confirmed that no matter who will be representing the party, gay marriage and equal rights for all couples will certainly be adopted. In this case, France will follow Holland, Belgium and Spain as one of the many European countries that have already legalized gay marriage.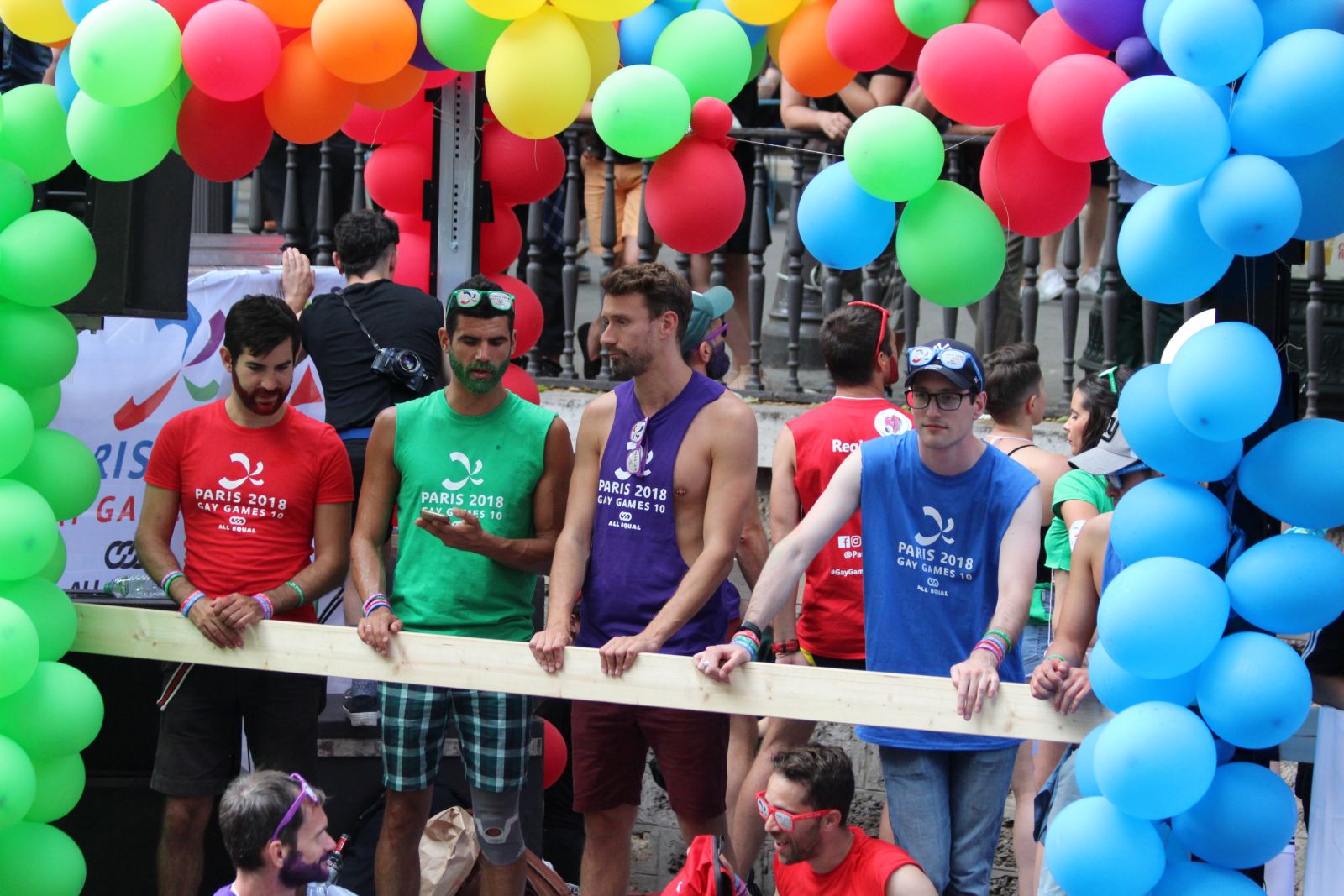 Royal or not Royal? Mrs. Segolene Royal, another former Minister of François Mitterand and also a socialist,wanted to represent the left in the next election. She was not at gay pride as her political position is more conservative regarding the "new types of families." She has reached 57% popularity in the polls. She also claims to be close to Tony Blair, so she is not a pure lefty, but more of a social democrat. It would have been quite amusing if a person named "Royal" was elected as head of the French republic, especially since she was a socialist. she finaly lost the election and Nicolas Sarlozy was elected with 52,5 % of the votes.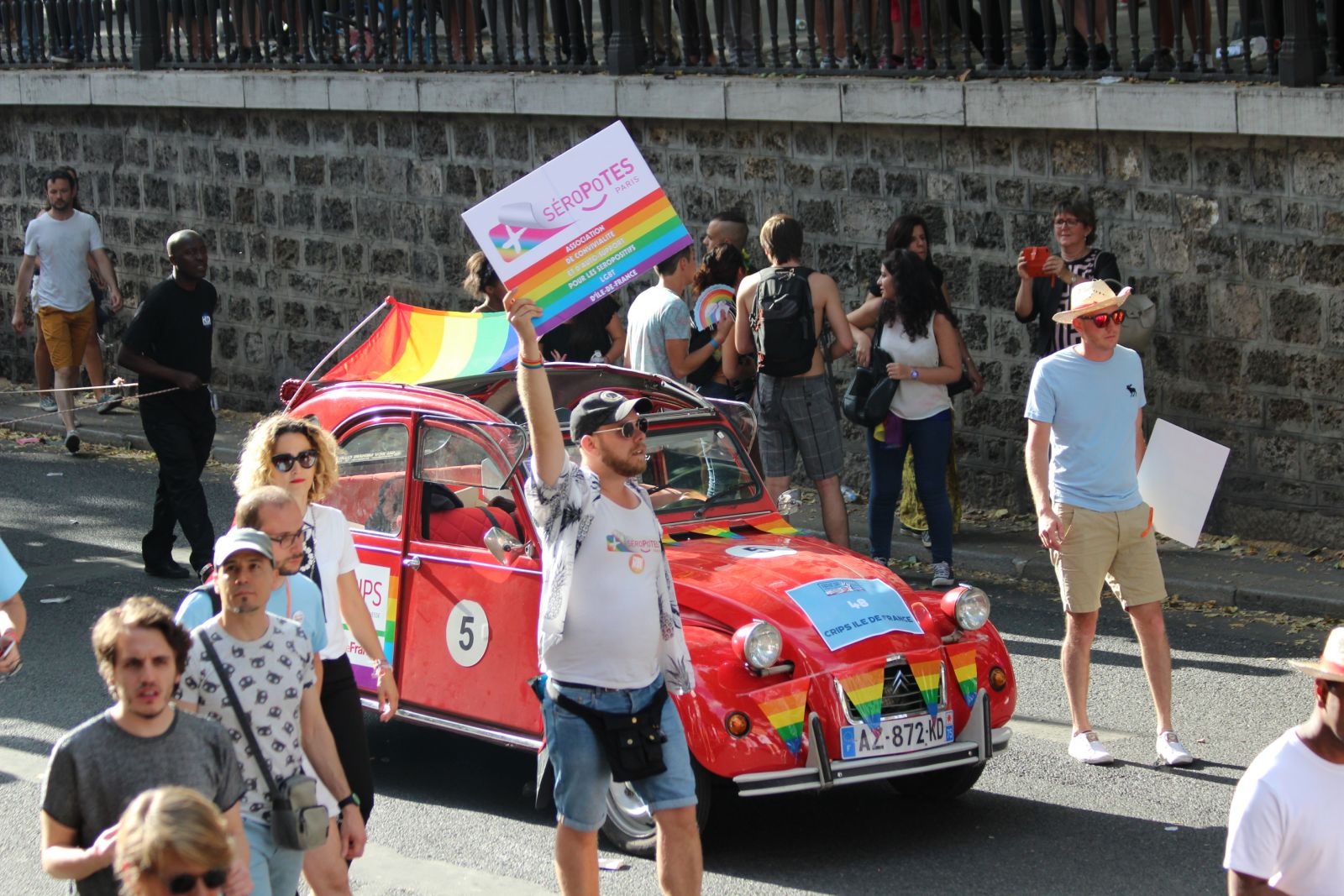 For those in the political world who see the Parismarais fleur de lys logo and ask us "Are you royalist?" we would say we are more Segolene Royalist, than Royalist. Our heart is definitely more Democratic than anything else. We chose the fleur de lys as our logo because it is the symbol of the old Paris that we love…it's found in every stone of all ancient monuments and is the symbol of quality and excellence. It is even part of Paris' flag: three fleur de lys and a boat. So don't be surprised by our fleur de lys; it's not a political symbol, just a symbol for the beauty, quality and excellence that we promote in every area – from hotels and apartments, to restaurants, businesses and boutiques. After all, Quebec, New Orleans and the Relais and Chateaux hotel chains also have their own fleur de lys, and this does not make a political statement.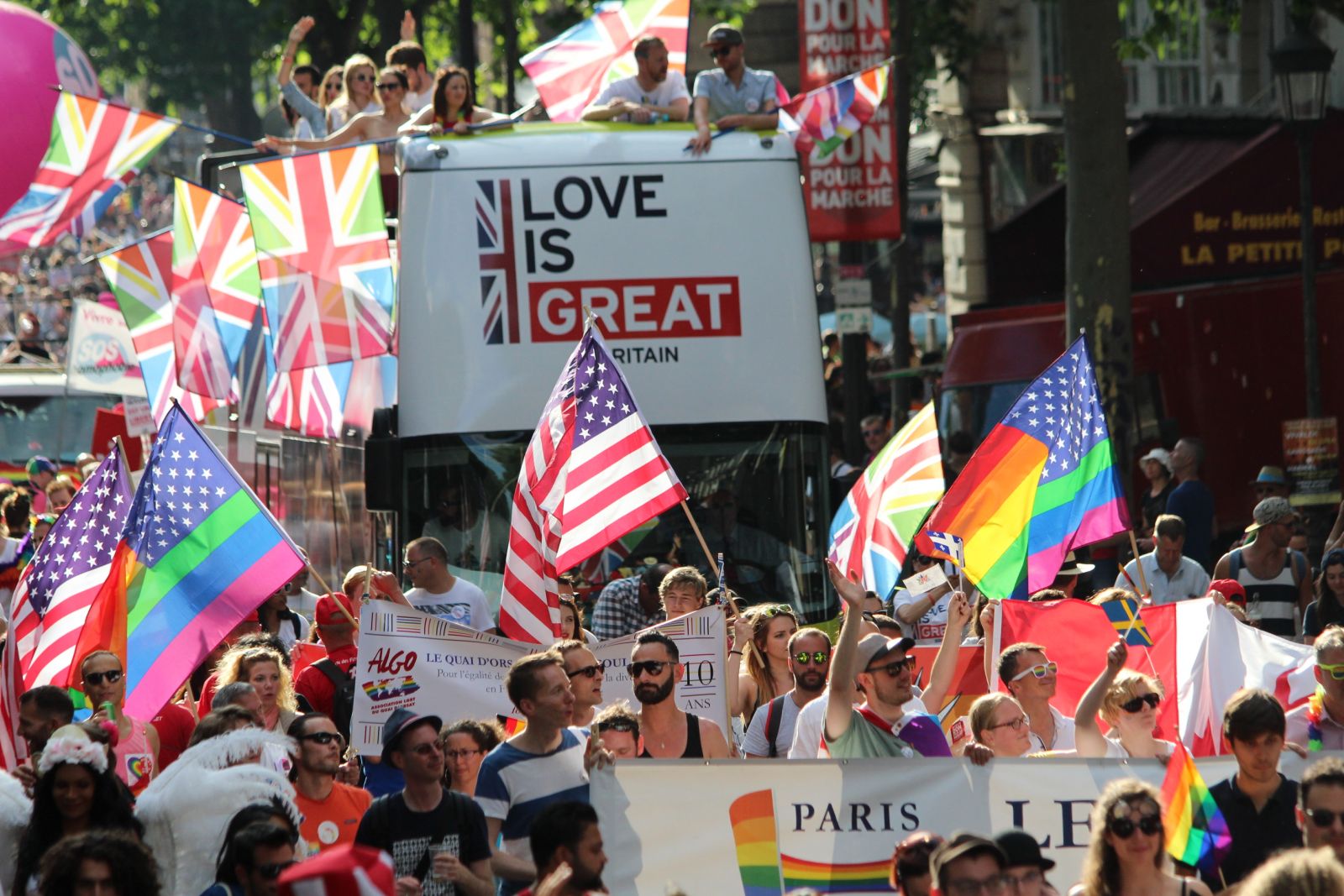 So at Parismarais, we choose to be "royal" in the way we live and welcome the world's visitors. Being royal has another meaning in French -- it means being open and generous with others…and that's just what every French citizen desires now.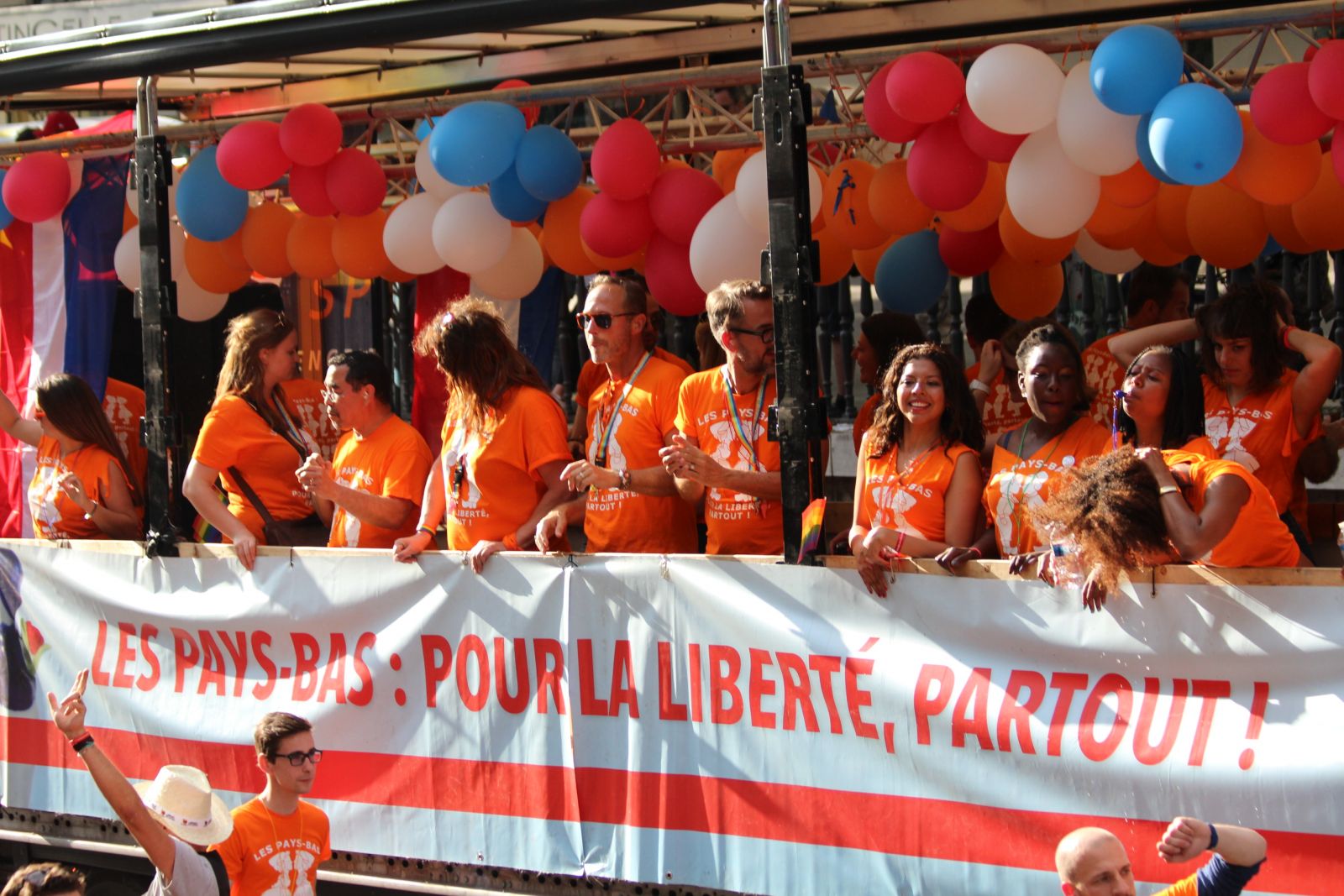 GAY PRIDE 2005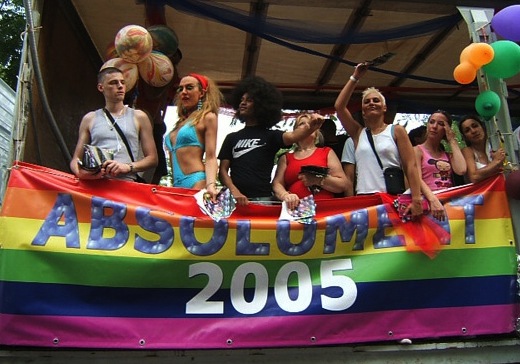 One report counted the crowd at about 300,000. My guess is that it was really at least double that when you count both the participants and spectators. I refuse to miss it every year..."La Marche des fiertés lesbiennes, gaies, bi et trans 2005 de Paris" -- the annual Gay Pride Parade in Paris.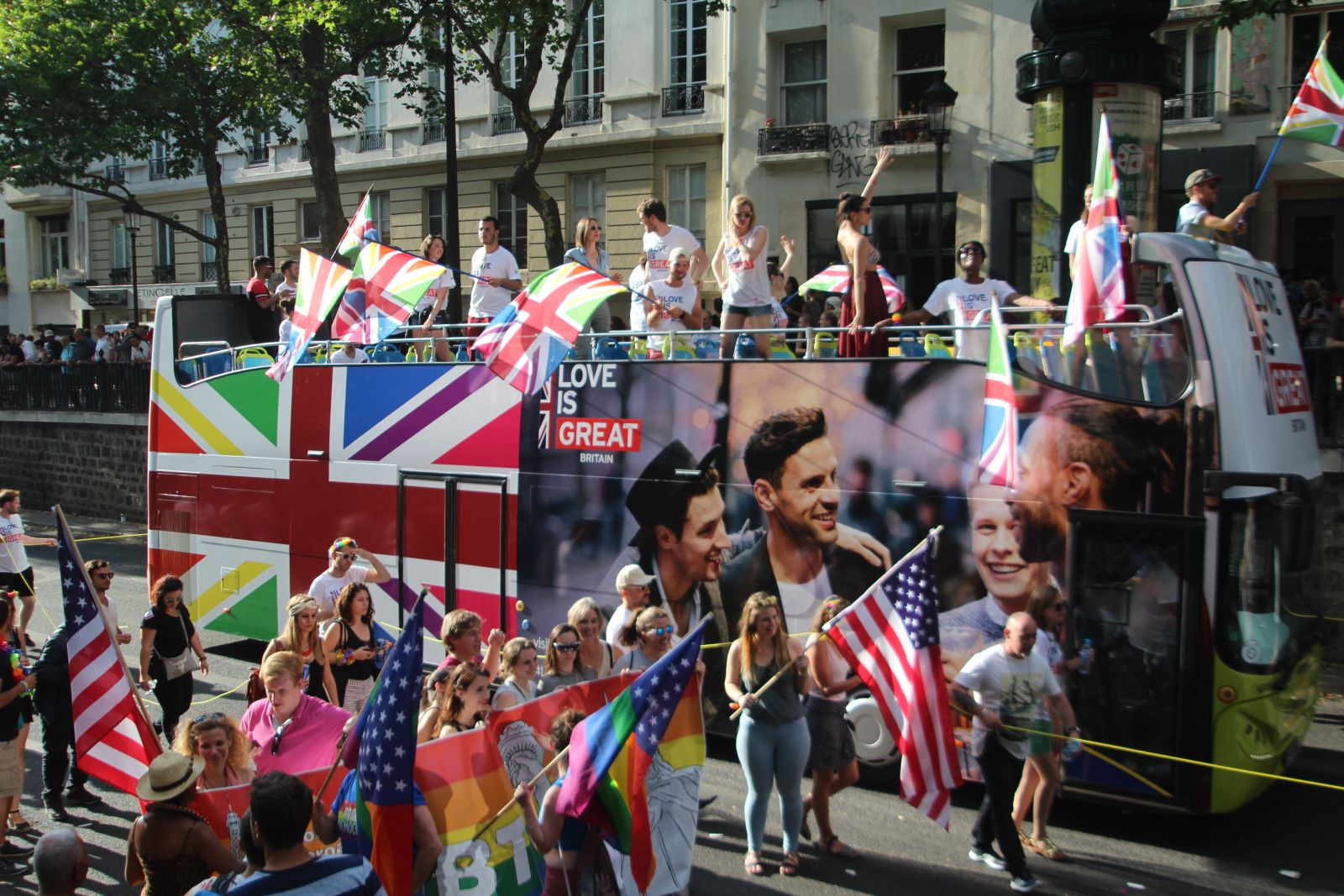 Regardless of your sentiments toward sexuality (of any kind) -- put them on the shelf for this event -- it's fun, funny, outrageous, poignant, contemporary and real. This year's theme was "Couples and Parents: Equality Now," a plea to the French government to change the law and to authorize marriage and adoption for homosexual couples.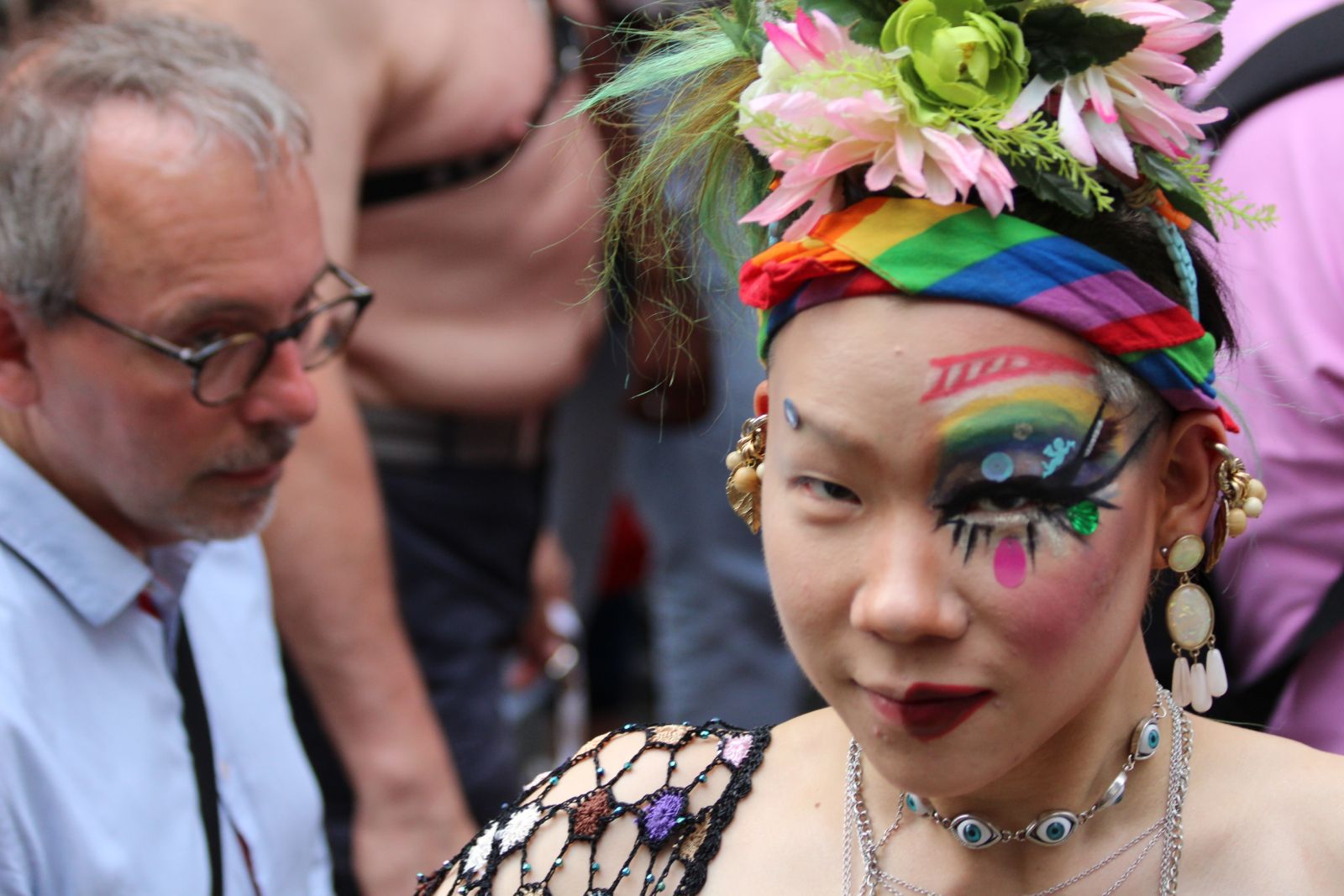 Bertrand Delanoë, Paris' openly-gay Mayor, led the parade, carrying banners and signs promoting these rights. At 4 p.m., the parade stopped for a three-minute silence dedicated to the victims of AIDS.
About a dozen of us had sat at Café Français for a few hours drinking, talking, joking and waiting for the parade to spill into place de la Bastille. It rolled in about 4:45 p.m. and took several hours to pass and disburse there. The moment we heard it coming, we jumped up from our seats and headed into the crowd, down avenue Henri IV toward the pont Sully.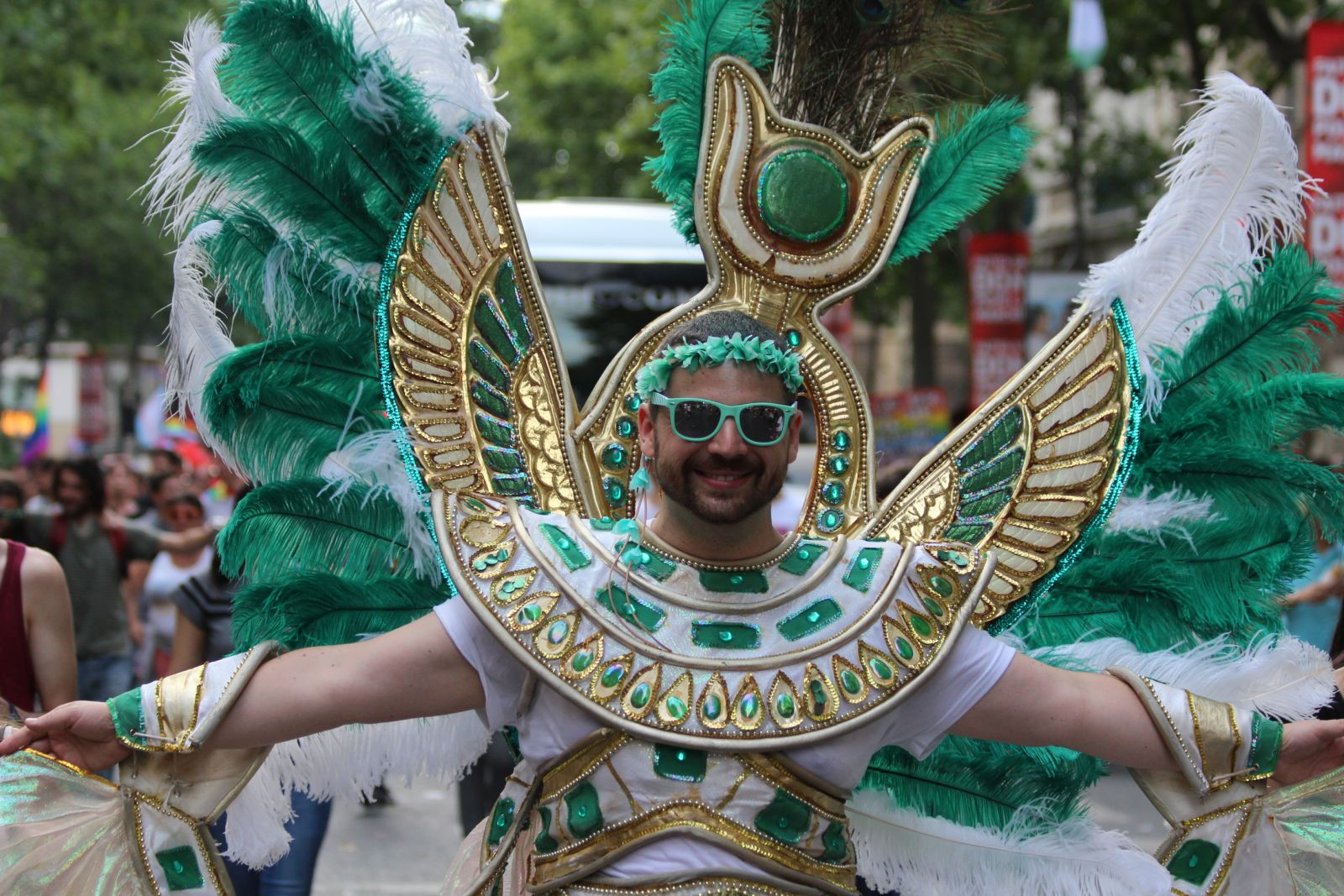 My favorite float sports the flight attendants from Air France. They wear white shirts and rainbow ties. In unison they do a routine to music resembling their in-flight passenger instructions motioning down the aisles, pointing to the emergency exits, demonstrating how to put on your oxygen masks! The RATP rides an old city bus decorated with rainbow-colored Métro tickets. Durex always blows up a giant pink condom and throws free samples.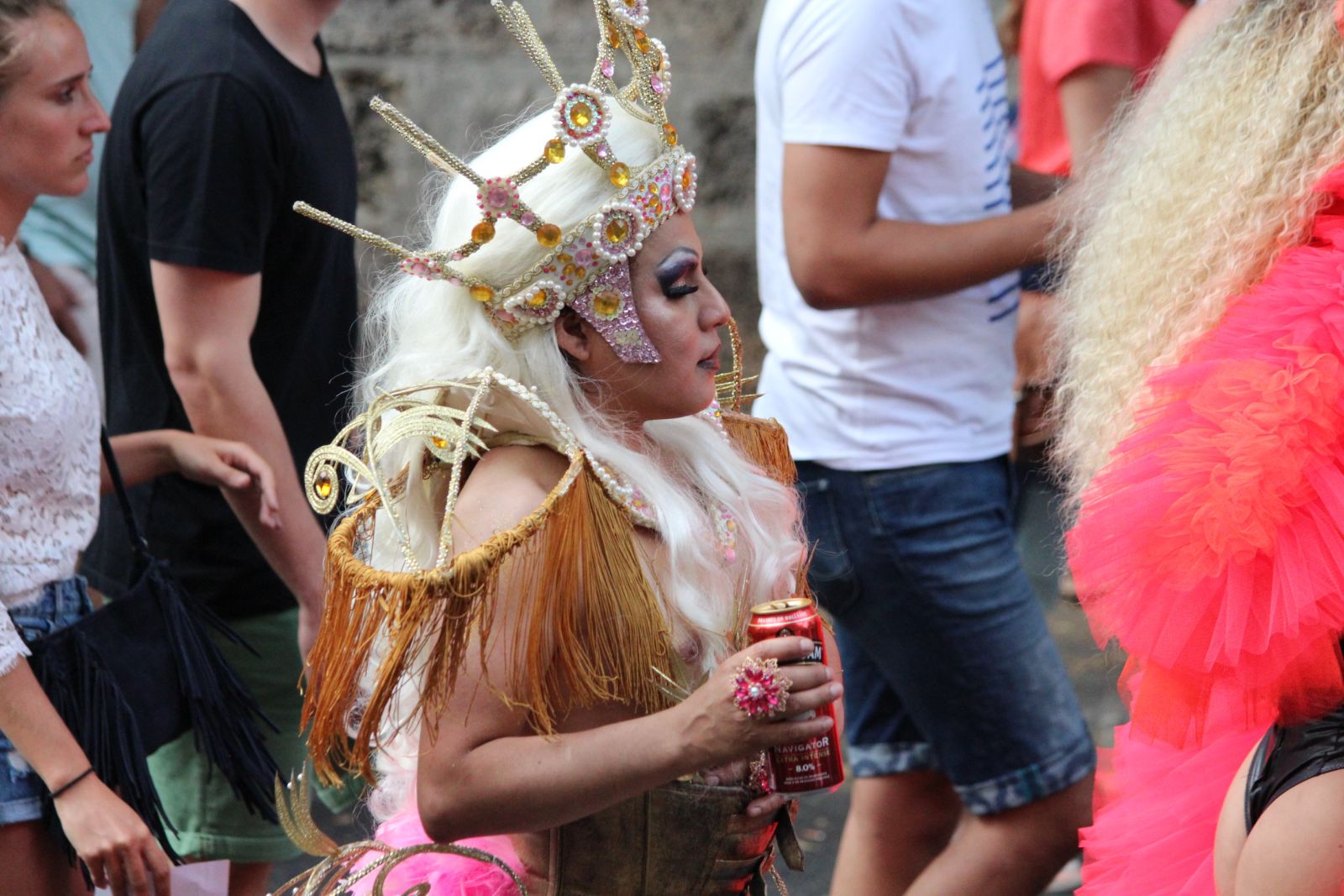 The transvestite costuming is fantastic! The shoes get higher every year -- some as tall as a foot (12 inches) and others that are really stilts disguised as shoes. There are lots of exposed breasts, mostly "manufactured" ones, on gorgeous transexuals I could easily be jealous of (oh, those long shapely legs!) Groups that parade are as diverse as the "Gothics" in black leather, overly pierced and tatooed, and the enormously fat Scotsmen baring big bellies overlapping scottish kilts!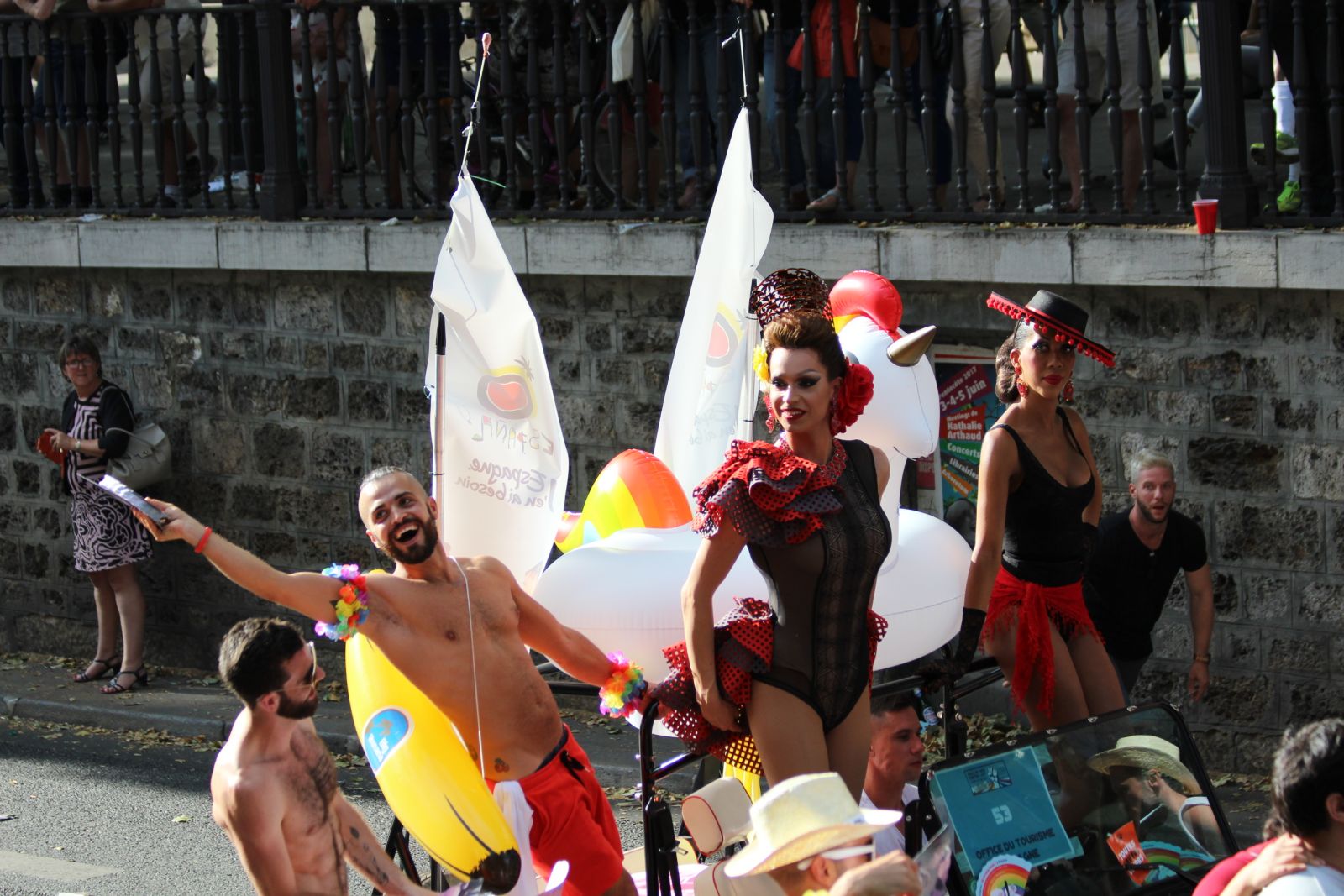 Everyone is smiling, laughing, dancing, enjoying the revelry and good spirit. What's missing at the Paris parade, compared to Gay Pride Parades in the U.S., from what I have observed, are the anti-gay demonstrators. Parisians aren't offended, just curious.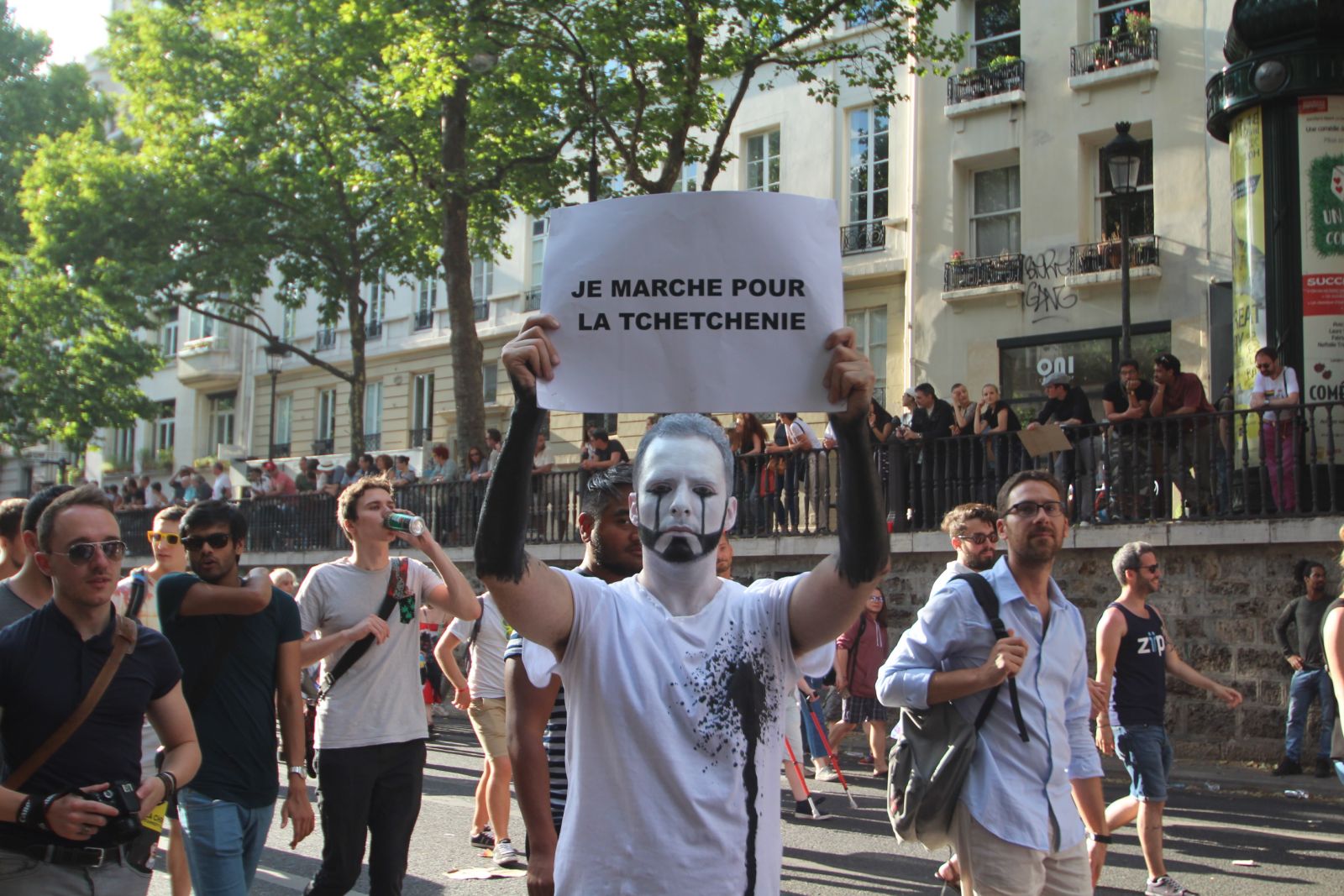 That evening, Le Marais was bubbling with celebration, especially between rue Vieille du Temple and rue des Archives, along rue Sainte Croix de la Bretonnerie. The Open Café was the center of a sea of men. The Weather Girls' song "It's Raining Men" was ringing in my head