DOWNLOAD THE MARAIS MAP BY PARISMARAIS.COM
DOWNLOAD THE ULTIMATE MAP OF LE MARAIS
with a selection of the best hotels, restaurants, shops, museums and places to go out:

NEW! Discover our live interactive map for tablets and smartphones . Connect and book your hotel direct.

© parismarais.com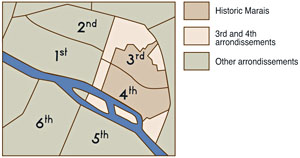 LE MARAIS IS ACTUALLY DISTRICTS 3 AND 4
OF PARIS:
The North Marais, district 3, where 70% of the beautiful hotels particuliers and museums are located.
The South Marais, district 4, closer to the City Hall, the River Seine and Ile Saint Louis.
Beware of unscrupulous hôtels located far away from the center who pretend to be in The Marais but are not. The Marais is only district 3 and 4.