Parismarais Newsletter
Issue 40, May 2008
http://www.parismarais.com
GREAT DEALS TO ENJOY UNDER THE SUN...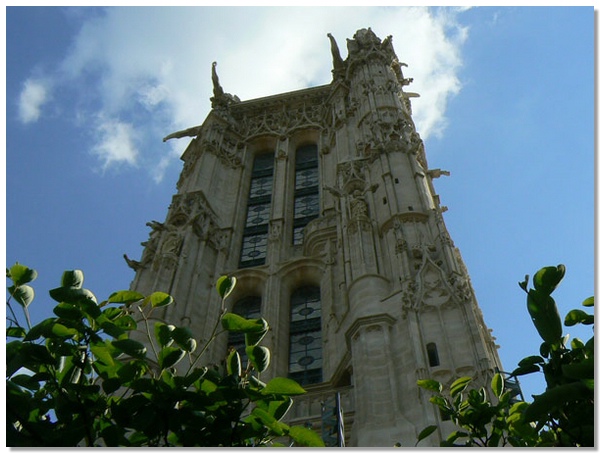 Saint Jacques Tower, (15th century) on Rue de Rivoli you can enjoy now after 5 years renovation
---
STAY IN FABULOUS HOTELS IN EUROPE
When planning your trip to Paris, why not extend your stay in other fabulous French and European cities? After a week in the City of Light, you may want to visit the prestigious resorts we have selected for you in the Loire Valley, the French Riviera and Monaco, as well as London, Berlin, Vienna, Prague, Rome, Venice, Florence...

Make your stay in Europe your most memorable ever in our specially selected dream hotels. Book now on Parismarais.com:
---
May is a quieter month in Paris in terms of social events as there are three official holidays, so most Parisians head out of town to travel abroad or visit the French countryside. That means this is one of the best times you can enjoy a lively and less busy Paris. As an added bonus, the fabulous weather has already reached 27°C, a temperature we usually don't reach until July.
Parisians are making a real effort to promote their city, and now you can discover all that Paris has to offer in the best conditions and at the best prices.
We have found some great deals for you, in hotels, restaurants, clubs and more…we have even found bargains on real estate and holiday rentals. We encourage you to check out the addresses throughout this newsletter.
Here's what you'll find in this issue:
Hotel Bars – A New Culture for Parisians

Hotel Deals for Next Summer

New Restaurants

New Exhibitions in Le Marais

Holiday Rental Bargains

Spas and Fitness

Gay Paris Events

Happy Hour Prices on Champagne

A New, Sexy Perfume made in le Marais

Real Estate Investment Solutions

London Hotel Deals for Your Summer Weekends

Cannes Film Festival, Monaco Grand Prix and French Riviera Hotel Deals
Enjoy Spring in Le Marais!

Pascal Fonquernie

Editor, Parismarais.com
---
HOTEL CULTURE
Just as in London, hotels are now part of the city life of Paris. Some offer fabulous bars and spaces where local residents can enjoy a cocktail and mix with the tourists. Here are some of the great places in le Marais where you can have a drink in a cool air conditioned atmosphere, without the crowds.
Visit: http://www.parismarais.com/selected-bars.htm
Hotel Deals in Summertime
The high value of the euro may not be helping the tourist industry in the Eurozone, and that's why many hotels in le Marais are offering great deals you won't believe.
Here is our selection:
The Marais House
A fabulous private guesthouse with only four rooms. Stay three nights for the price of one, and one week for the price of five nights. You are basically paying a 3-star hotel rate for a luxury château in the heart of le Marais. Book online now and mention the special Parismarais summer deal.
http://www.parismarais.com/4-star-hotels-paris-marais.htm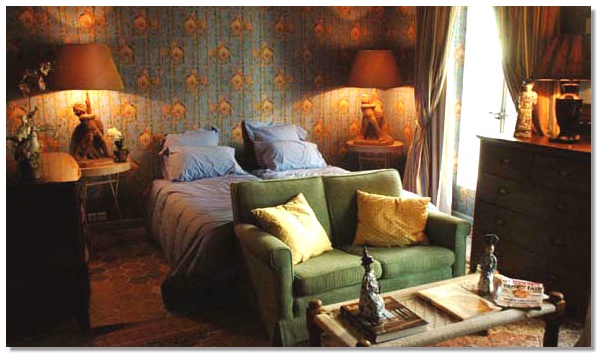 Villa Mazarin ****
Enjoy four nights for the price of three in July and August.
Le Bourg Tibourg ****
This fabulous boutique hotel managed by Mrs. Karen Costes is a haven of luxury in the center of le Marais. This hotel is so successful it never offers deals…until now! Ask for their special offer in August…and tell them Parismarais.com sent you.
Hotel Duo ****
Situated halfway between Notre Dame Cathedral and the Georges Pompidou Center, the Hotel Duo is now completely renovated and is being promoted to our 4-star category as it definitely deserves. At Hotel Duo, architectural décor, colors, space and materials merge in elegance and coziness with a warm modern theme.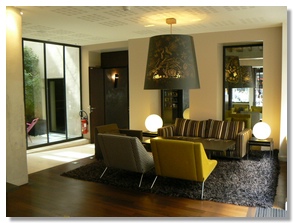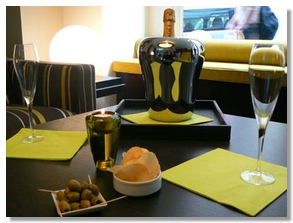 In perfect harmony with the neighborhood, Hotel Duo offers great ambiance and is close to all major landmarks, restaurants, nightlife and chic boutiques. Large comfortable rooms and suites, lobby and lounge bar, private spa and fitness center make the new Hotel Duo the ultimate luxurious and trendy spot in le Marais.
Receive special rates on request in August with Parismarais.com, starting at 130€
http://www.parismarais.com/4-star-hotels-paris-marais.htm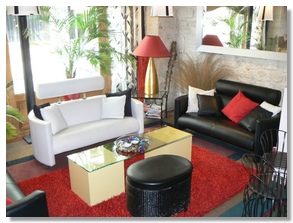 Hotel Molay ***
Welcome to a 400 year old home, completely renovated in 2004. Hôtel Jacques de Molay, located on rue des Archives, just a short walk from the Archives Museum, is an experience in its own right.Enjoy a friendly and warm atmosphere in a medieval inspired décor tempered with Provençal styling.
It features 23 exquisite rooms where the modern world subtly finds its place…superb colorful bathrooms, satellite TV, Internet access and minibar. Enjoy a great breakfast buffet after a workout in the private fitness club with sauna, hammam, hydrojet showers, or you can simply relax in the lounge bar.
From July 15 to 31: Single 110€, Double or Twin 130€
From August 1 to 31: Single 80€, Double 110€
http://www.parismarais.com/3-star-hotels-in-le-marais-paris.htm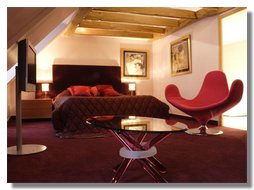 Hotel des Archives ***
Located in the northern part of the Marais, the Hôtel des Archives opened its doors in June 2005. The hotel is brand new, with the building being completely renovated in a modern style. Each room is decorated with contemporary furniture, beautiful and elegant, with natural colors. Each floor has been harmoniously designed with a varied palette ranging from caramel and anise green to orange and red. Soft lighting gives the lobby and rooms a calm and cozy atmosphere. The Hôtel des Archives has 19 rooms and two penthouse suites on the top floor. All rooms are equipped with cable TV, WiFi, high speed Internet, a direct telephone line, individual safe and air conditioning.
From July 15 to August 31:
Standard room: 130€
Family room ideal for one couple and 2 kids: 180€
Suite: 230€, breakfast included
http://www.parismarais.com/3-star-hotels-in-le-marais-paris.htm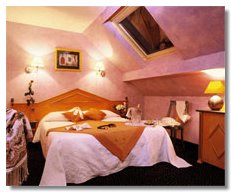 Hotel Ecole Centrale ***
Hotel Ecole Centrale is located next to the fabulous Arts et Métiers Museum in the heart of the Marais. With its charming, centuries old interior crowned by splendid wood beams, this friendly hotel offers rooms with a contemporary ambiance. Features include free WiFi access, air conditioning, satellite TV, minibar, and breakfast buffet. Although the hotel is centrally located, one of the main advantages is that it is located on a quiet street with very little traffic. Should you stay on one of the upper floors, you'll enjoy a lovely view of Paris rooftops.
Single: 90€ to 140€
Double or Twin: 100€ to 170€
Depending on the season...ask for special deals from July 15
http://www.parismarais.com/3-star-hotels-in-le-marais-paris.htm
---
FAVORITE RESTAURANTS
Le Gayridon
Le Gayridon has set up shop on rue Picardie with an inventive aesthetic cuisine, cultivating the French cooking standards we've come to appreciate. A modernist setting with dimmed lighting, plus lounge and jazz music sets the mood. Philippo, the chef, gives everyone a warm welcome. The menu's playful quality mixes a diversity of styles, genres and recipes. It's all pleasing to the palate and not hard on your wallet.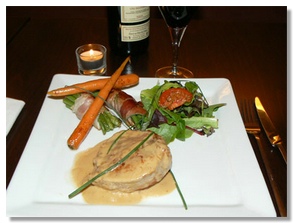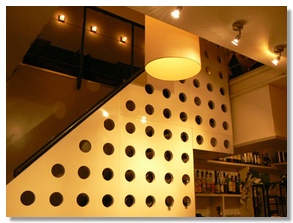 Escargots in a flaky pastry crust with hazelnut for 11€, warmed scallops emincé for 14€, veal cutlet in a creamy Saint-Marcelin sauce for 18€, red mullet in a buttery vanilla sauce 17€, Maison Jouanault cheese platter 8,50€, iced nougat with raspberry sauce or a choco-mint dream dessert 9€.
From the cellars: Menetou Salon 24€, Pouilly Fumé 34€, Medoc Château Bellegrave 2005 for 18€ and for a big celebration, Aloxe Corton 2004 at 83€. Go for an inspiring and enjoyable meal! Evening menu à la carte around 36€.
Exceptional lunch menu at 18,50€.

19 rue de Picardie, 75003 Paris
Tel: 01 42 71 31 71
www.Legayridon.com
Closed Monday lunchtime and Sunday
A New Chef and a New Menu at Les Bains Douches
At Les Bain Douches, gourmets will be delighted as much by the decoration as by the dishes!
Starters: King Crab Thaï, Foie-gras trio, (+6 euros), l'ardoise de salaison de la "Maison Douzeau."
Main dishes: Chicken Supreme with Mango Chutney, Salmon Tartare "Balik," Gigantic Beef Chop (400gr), Red Tuna with Orange Sauce, 1/2 Grilled Lobster... and much more to choose from "à la carte" including a fabulous caviar selection.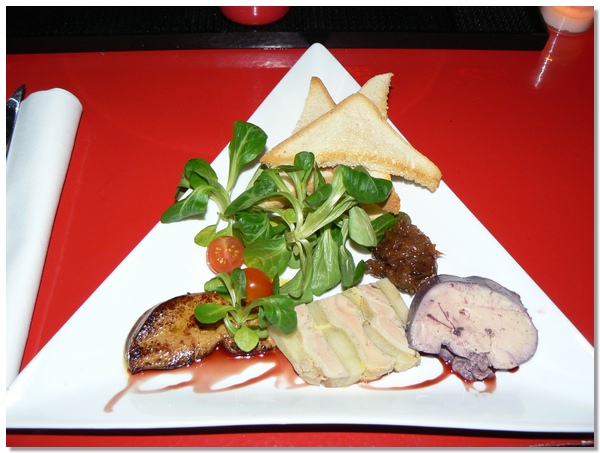 Desserts: Tiramisu "Mamma Italia," Cocoa Rich Cake with Vanilla Cream, Sablé Cake with Raspberries, Black Chocolate Fruit Dips Fondue...
Starter + main dish + desert = 39€.
Starter + main dish or main dish + desert 32€
So far one the best values for the money we've found in the design restaurant category.
Plus, restaurant clients receive free entrance to the club.
http://www.parismarais.com/gay-restaurants-in-le-marais-paris.htm
Do you love Opera? Eat out at Le Bel Canto
For those with an appreciation of Southern French cooking with a touch of Italian and a love of opera music, Bel Canto brings you the unusual dining concept of enjoying your meal while listening to the music of such classical composers as Verdi, Rossini, Mozart, and Puccini, performed by the talented young opera singers from the conservatory of the Paris Opera. Marinated salmon with fresh dill, homemade cannelloni with pancetta and fresh spinach, strips of duck with foie gras, or filet of sea bream with raspberry butter, all served to you by the same performers who will delight you with operatic interludes every 15 minutes, accompanied by a pianist who plays throughout your meal.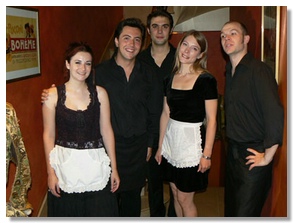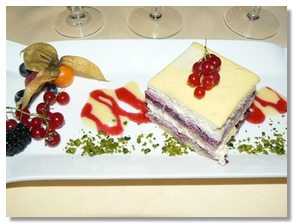 Located along the Seine near the Hotel de Ville, with two-level dining areas decorated with ochre walls and diffused lighting, as well as a beautiful terrace overlooking Notre Dame and the Ile Saint-Louis, Bel Canto is a perfect place for a special evening for small or large groups. Dinner with performance for 75€.
72, quai de l'Hôtel de Ville, 75004 Paris
Tel: 01 42 78 30 18
Fax: 01 48 78 30 28
Métro: Hotel de Ville, Pont Marie
Car Park Hotel de Ville or Pont Marie nearby
www.lebelcanto.com
infos@lebelcanto.com
---
TOP LOCATION APARTMENT RENTALS THIS SUMMER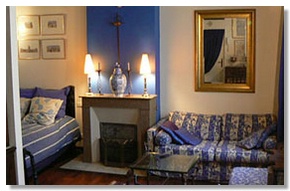 Looking for somewhere unique to stay for your next holiday? Parismarais selects only the best of the best apartments in each category, just for you. You know that when you rent a flat with the owners and companies we select, you'll be welcomed like a friend, benefit from great service and enjoy exceptional accommodations.
Great summer deals from July 15 to August 30, depending on availability:
Book 1 week and stay 3 extra nights for FREE!
Or BOOK 5 NIGHTS AND STAY ONE WEEK FOR THE SAME PRICE
This special promotion is specific to the following flats: FLORENTIN, MEDIEVAL, NAPOLEON, ATTIC, SEVIGNE, ART DECO
http://www.parismarais.com/visit-our-flats.htm
---
FEEL FAB AND KEEP IT
Oriental Spa and Massages in Le Marais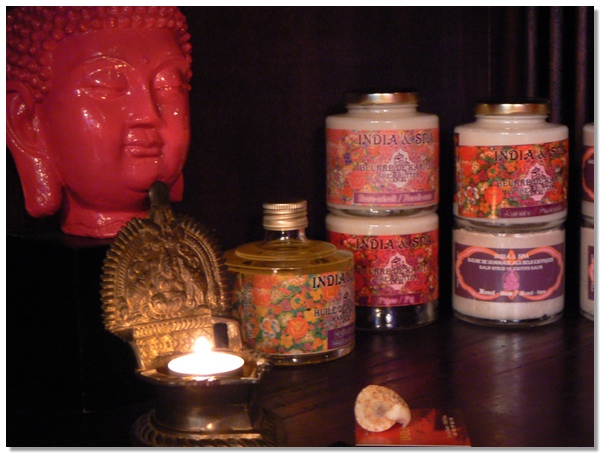 Step through the doors of India Spa and you enter a completely new world of well-being, inspired by ancestral traditions from Mauritius, India and North Africa. Hammam and body-scrubs, ayurvedic massages, a flower bath with ylang ylang from Mauritius, warm spice herb applications from Thailand, sweet massages from Bali, underwater massages, plus the famous chocolate flavored massage to delight your body and soul. The world's most precious spa rituals have found their home in a relaxing, timeless Indian décor, on the northern side of Le Marais. Experience a new level of total relaxation at India Spa.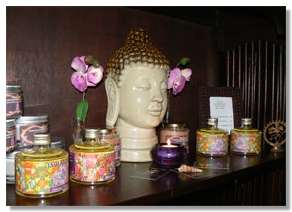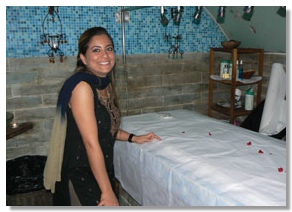 76 rue Charlot, 75003 Paris
Tel: (33) 1 42 77 82 10
Metro/Parking: République
www.india-spa.com
By appointment only. Open 7 days a week, Monday to Saturday 11 a.m. to 9 p.m. and Sunday 11 a.m. to 7 p.m.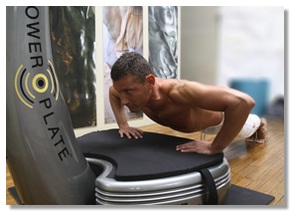 Keep fit and enjoy Massages
@ Il Fait Beau
On rue des Archives, discover a space entirely dedicated to well-being that offers skincare specially tailored to men's needs. Various types of facials, body treatments such as exfoliation, seaweed or mud wraps and hot stone massage, pulsed light hair removal, and the newest generation of body sculpting: Power Plate. Il Fait Beau uses top of the line professional products by Comfort Zone. Il Fait Beau means "it's a nice day" and also "it's beautiful." Treat yourself to relaxation and grooming…leave looking and feeling your best.
Special Deal in May: 20% more for the same price when you book a Power Plate session!
http://www.ilfaitbeau.fr/
At Home Shiatsu
Stéphane Prémel is a shiatsu specialist and masseur, certified by the French Federation of Traditional of Shiatsu and by Heisei Européan College of Traditional Japanese Medicine.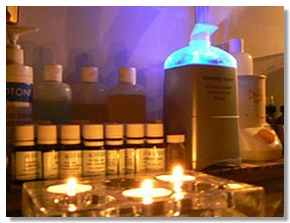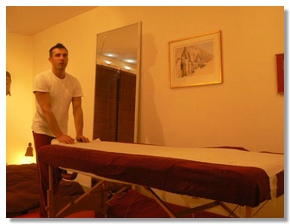 Japanese in origin, traditional Shiatsu massage enables rebalancing of the links between our mental, physical and emotional states. Unblocking of energy (yin/yang balance) stimulates and strengthens self-healing capacities, giving rise to an extraordinary sensation of well-being. Shiatsu is an officially recognized therapy in Japan. It promotes re-harmonizing of the mind and body's energy. After tuning in to your body's needs, the masseur focuses on key areas in order to enhance emotional stability, eliminate stress, improve drainage of fluids, help you feel lighter and more in touch with your body, intensify energy exchanges, and allow your tensions to be released.
http://www.praticienshiatsu.com
Email: stephane.premel@free.fr
1h30 session on-site: 80€ - At your location or hotel: 150€
---
GAY PAREE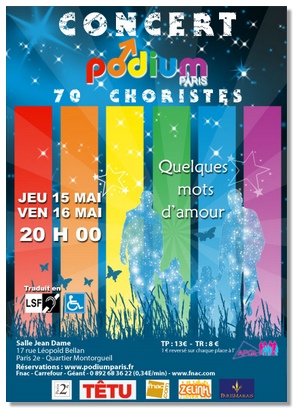 Podium Paris in Concert
on May 15th and 16th

Podium Paris is the must-know gay men's chorus in the capital! The name "Podium" is a reminder of the famous French magazine by Claude François during the 70's, and as a tip of the hat to our music register, completely composed of titles from pop/middle-of-the-road music, in French or in English. Podium Paris is the biggest men's chorus (Tenor 1, Tenor 2, Bass, Baritone) singing this musical register in France.

Thanks to its volunteers, our gay association is the only chorus that translates its concert in sign language, so that our deaf audience members are able to take part in our performances.

Created in September 2005, Podium Paris is made of 70 members, two "chefs de choeur" and two pianists, and has already particpated in many events such as the animation of the "Inter-LGBT's" float at the Gay Pride Parade in Paris, and the organization of the "Concert des Fiertés" (Concert for Pride) at the Jardin du Luxembourg.

This year, our annual concerts will be held on May 15 and 16 at the Jean Dame Hall. Last year, for each ticket sold, 1€ was donated to the association "Sos Homophobie." This time, the donation will be offered to the APGL who fight for the rights of homosexual parents. Please come and share these special evenings with us, featuring songs originally sung by Jacques Brel, Amel Bent, Christophe Willem, Madonna, Queen, Simon & Garfunkel, Michel Berger, Aznavour, Lara Fabian.

Thursday, May 15 and Friday, May 16, 2008 at 8p.m.
Salle Jean Dame
17 rue Léopold Bellan, 75002 Paris
Métro: Sentier
FR: 13 € - RR: 8 €

How-to-book:
- You can book directly on our website at http://www.podiumparis.fr ("Réserver" button)
- You can write to us at reservation@podiumparis.fr
- Visit your local FNAC and Carrefour shops

Podium Paris
17 rue du Bourg-Tibourg, 75004 PARIS
Tel: 06 31 78 73 44
contact@podiumparis.fr
www.podiumparis.fr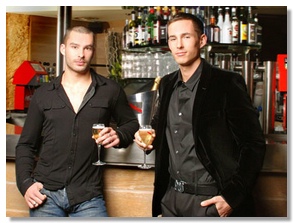 Open Café, for Lunch and Champagne Happy Hour!
Open Café is the ideal meeting place to begin your discovery of gay Paris. The central corner location with heated terrace seating on the busy rue des Archives makes it the perfect place to people watch, even in the wintertime. Inside you'll find giant flat screen TV's, beautiful lighting and a friendly English speaking bar staff. Every weekend, enjoy a great breakfast-brunch (savory for 11€ or sweet 9€) as well as giant salads and club sandwiches from 7,40€, plats du jour from 9,10€ and delicious chocolate cake, tarts and milkshakes from 4,50€. Also a great selection of drinks from 3,50€. With their affordable prices, the Open Café is one of the best spots to grab a bite and meet the international gay crowd…not to mention the adorable bar tenders!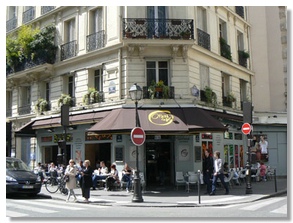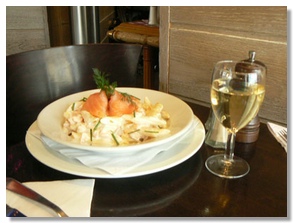 HAPPY HOUR CHAMPAGNE AND KIR ROYAL ONLY 5,80€
17 rue des Archives, 75004 Paris
Tel: 01 42 72 26 18
http://www.opencafe.fr
Open daily from 11 am to 2 am, and weekends until 4 am
Tom of Finland or Tom of Le Marais?
Find out on June 26 at 69 rue des Archives at a special VIP party to launch TOM'S perfume on the French market. Be there around 7 pm. Dress code: as sexy as you can…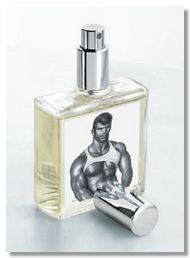 The Scandinavian artist known as Tom of Finland died about 20 years ago, but his drawings, re-edited by Taschen editions (http://www.tashen.com) are known worldwide.
Visit http://www.tomoffinlandfoundation.org/
For over 40 years, Tom's drawings have had a cult following on the gay scene. As sexy as ever, his drawings are an ideal way to sell anything, even perfume. Now the great perfume maker Etienne de Swardt located in le Marais at number 69 rue des Archives, 75003 Paris is giving Tom new life through perfume.
The British launch started with Harvey Nichols in London. Tom's perfume is not only targeted to gay customers but to all the new urban generation of free minded guys often called metrosexuals. It's all about being who you dare to be… Dare to buy this hot new perfume and especially enjoy the xxx packaging – inside you'll find x-rated drawings that we can't show you here…
Be Part of the First Happy Online Buyers: Visit http://www.etatlibredorange.com/
---
REAL ESTATE IN LE MARAIS
Soon a complete guide...
Who you should really trust
As the number one guide to le Marais, promoting the best addresses in every category, we have decided to select some real estate agents for you, too. In le Marais, 40% of the new residents are foreign buyers, mostly Italian, British, American, Irish, Dutch, Russian and Chinese. They all bring high income to the district which benefits the shops, restaurants and local businesses
With the city of Paris and region Ile de France combined, this can be considered "Le Grand Paris," just as there is a great London area and the Big Berlin. This means the small cities around Paris may sooner or later become new arrondissements of the French capital, and could lead to growing property values.
Paris is the number one tourist city in the world, but is not the most expensive city. Yet. Compare the quality of life in every popular capital city – where else can you find as much freedom, architectural wonders, great public transportation, fantastic healthcare, low city property tax (I pay only 300 euros per year for a large one bedroom in a historic 18th century house)? Where do you find so much safety, with only 250 murders in all France in a year and over 15,000 in the USA? We have our past history and our local politicians to thank for this.
If all of these benefits make you want to move to France, we can help you connect with the right property people and avoid non-professional services. To find the best services for you, we have three journalists of three different nationalities (French, British and Italian) investigating property purchase in le Marais and Central Paris. We'll keep you posted every month about their discoveries, and will promote the most reliable services in our new online real estate section, coming soon.
After checking prices in London, Rome and many other European capitals, we believe there is still growth potential in the Parisian real estate market, at least in the very good districts which appeal to permanent residents as well as tourists, foreign buyers and investors. These districts are arrondissements number 1(Louvre), 2 (Halles-Montorgueil), 3(North Marais), 4 (South Marais), 5 (Latin Quarter), 6 (Saint Germain des Près), 7 (Parliament and Embassies), 8 (Champs Elysées) and 9 (Opera).
Some parts of districts 10 (Canal Saint Martin), 11 (Bastille and Père Lachaise) and 12 (Arsenal and Bastille Harbor) bordering the Marais district are also worth considering, as well as some parts of district 18 (Montmartre). The prices in these districts will certainly continue to rise.
COMING SOON ONLINE – OUR TOP LIST OF PROFESSIONAL REAL ESTATE AGENTS AND PROPERTY FINDERS IN PARIS
Between the real estate agent and you, the buyer, there is another category of real estate professional that can help you save money and time by searching for you – Property Search Agents. They are becoming more and more numerous, making it more difficult to decide who you can trust. Some of them are legally based in France where they have their offices, while others are based abroad and have no real connection to the market – we recommend the first group.
For all properties in France, only French tribunals would be qualified to solve any legal or financial issues you may encounter, even if you buy your property through a British, Italian or American agent. You will want to choose the ones who are insiders and local residents, even if they are not French, as long as they do live here and really know the market.
---
Advertising
A luxurious pied-à-terre in Paris with private terrace
€120,000 for 1/12th share located in the Heart of the Historic Saint Paul District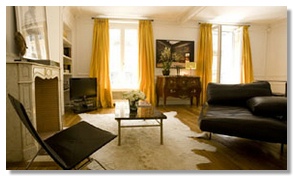 Just a stone's throw from the magnificent Place de Vosges, rue Malher is the perfect vacation home for those seeking a relaxing and luxurious setting in the center of one of Paris' most dynamic neighborhoods.
Located on the first floor (American 2nd) of a charming 18th century building in typical Marais style, this 800 square foot 2-bedroom, 2-bath apartment features a beautiful 100 square foot private terrace overlooking a secluded courtyard. Totally hidden from the street, this secret garden is all yours to enjoy. The property is available as a 1/12th share for €120,000 which gives the right to 4 weeks usage per year, in perpetuity, or until you sell your share. The price includes the all acquisition costs, renovation and furnishing, and legal and financing fees (except escrow costs).
To find out more about fractional ownership and the property at 7 rue Malher please visit www.fractionalparis.com. We are happy to answer any questions via phone or email at:
info@fractionalparis.com
---
Advertising

Trust our team of professionals to make your dream to live and invest in France come true!

Complete French Property Consultation Services and Information:
For more information contact: Info@AdrianLeeds.com
Adrian Leeds Group, LLC
http://www.frenchpropertyconsultation.com
http://www.adrianleeds.com
+1 (310) 427-7589 or 01 40 27 97 59
---
Advertise Your Properties and Sell Your Goods at Parismarais.com
Did you know that Parismarais.com is a great market place to make new contacts and to buy and sell practically anything you can imagine? Post a small ad online for only a couple of euros and have it promoted on 20 other Anglophone web sites. Great isn't it? Start advertising now – it's fast and easy!
http://www.parismarais.com/buy-and-sell-your-goods.htm
---
MUSEUMS & EXHIBITIONS
Louise Bourgeois @ Centre Georges Pompidou

Louise Bourgeois was born in Paris, and France is her spiritual home. Known for her "cells" and more recently for her giant spider sculptures, one of which recently graced the forecourt of the Tate Modern, she is considered one of the major artists of the 20th century.
The exhibition features over 100 pieces – sculptures, paintings, drawings, etchings – spread over two floors, with a chronological display from 1940 to 2005 on the 6th floor, giving special attention to her last ten years of activity. The exhibition is one of the bigger artistic events of the spring in Paris.
Pompidou Centre, 75004 Paris Marais district
Métro: Rambuteau
Until June 2, 2008
Hours: open every day except Tuesdays, 11am - 9pm, late opening Wednesdays, Thursdays & Fridays until 11pm for certain exhibitions (check the web site for details)
Admission price: 12€ for adults
"Les Parisiennes" Exhibit @ Carnavalet Museum
Kiraz is extremely well-known in France for his instantly recognizable style of drawings, especially his series of impossibly tall and thin women called 'Les Parisiennes'. The Musée Carnavalet, the Paris museum about Paris, is holding an exhibition showing his large body of work. They are sometimes completely brainless, sometimes wickedly satirical. If you want to get an idea of the image of Parisian women, equal parts style and snobbery, do not miss "Les Parisiennes," a series of drawings by Kiraz, starting May 14.

Carnavalet Museum
23 rue de Sévigné, 75003 Paris Marais
Hours: open every day except Mondays and public holidays from 10am to 6pm
Night of the Museums May 17
Enjoy all Paris museums in a completely different atmosphere "after hours." Most of le Marais museums will be open until midnight. This special event happens only once a year, so don't miss it – May 17!
If you have not seen Carnavalet Museum, Cognacq Jay Museum or Le Musée des Arts et Métiers, now is the time to go!
Visit our museum selection: http://www.parismarais.com/le-marais-museum-guide.htm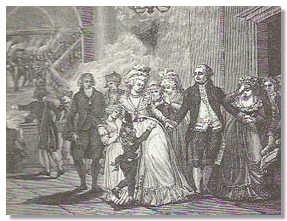 Marie-Antoinette Exhibition
Marie-Antoinette, Queen of France, was not exactly loved by her people. But little is known about the real life of this historic figure. Discovering the life of one of the last queens of France is the goal of this important exhibition.
Galerie Nationale du Grand Palais
3 avenue du General Eisenhower, 75008 Paris
Métro: Champs Elysèes - Clemenceau
Hours: 10am to 8pm (10pm on Wednesday); closed on Tuesdays.
More info: www.grandpalais.fr/programme2.html
See our TV film made for French television and read more from our historian Pamela Grant who also gives fabulous historical tours of le Marais:
http://www.parismarais.com/marie-antoinette-story.htm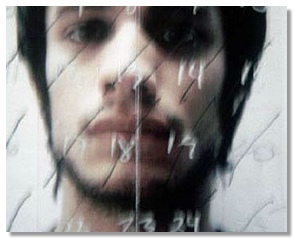 Vincent Gagliostro
After his well-received show last year at NEC Galerie in the Marais, artist Vincent Gagliostro, a former New Yorker living in Paris, has a provocative new installation. St. Gael is about his obsession with Mexican actor Gael Garcia Bernal and reveals his predatory nature as an artist exploiting this subject through his particular brand of gay politics and activism. Artist Susan Shup curates the installation of videos, paintings, and photomontage.

Saint Gael
Miss China Beauty
3 rue Française, near Etienne Marcel, 75001 Paris
Tel: 01.42.46.28.22
Metro: Etienne Marcel
Open Tuesday to Saturday, 1:30 pm to 6:30 pm
http://www.gagliostro.com
---
DISCOVER EUROPE WITH PARISMARAIS.COM
London: not as expensive as you think.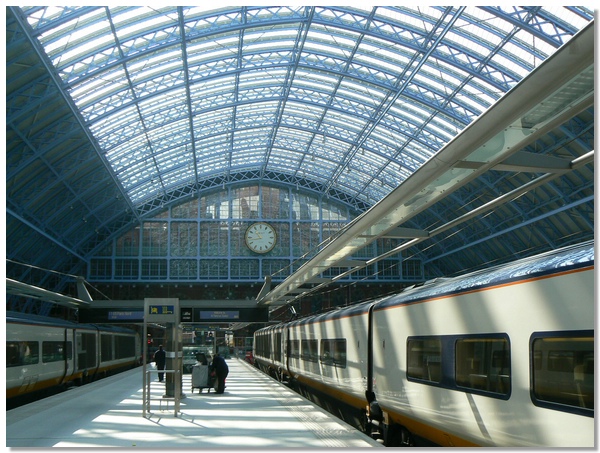 London has never been so cheap since the launch of the euro curency 6 years ago. It's still the most expensive city in the world for real estate, but for amusement and shopping it's surprisingly affordable.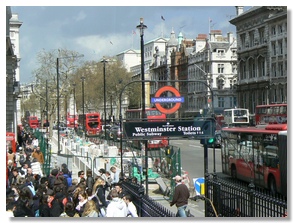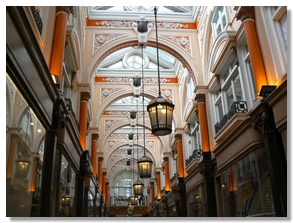 Here are prices on every day items we noticed in London, worth comparing when traveling to the city:
Delicious fresh raspberries from Sainsbury's: 2 £ per pound
Single fare metro ticket: 4 £ ... about the same price as a cab in Paris for a short hop!
Newly released film on DVD at HMV: 6 £ (James Bond Casino Royale)
Bottle of Standard Champagne Tesco: 13 £
Soft drink in a pub or bar: 2 £
Best ticket price for a musical in the west end: 55£ (The Sound of Music)
Three meals at lunch in an Indian restaurant in Soho during the week: 8,50£
Fabulous 4-star hotel: from 150£ when booking online via Parismarais.com
One bedroom apartment in Camden Town, next to Primrose Hill: from 350,000 £
Now let's see what you would pay in Paris for the equivalent... apart from real estate, prices are almost equivalent, except that most British salaries are a lot higher than French ones, especially for higher level positions.

Eurostar tickets that will take you to St. Pancras in only 2 hours and 15 minutes start at around 80£ return if you book far in advance. Hotel deals can be found at any time in our great selection of boutique hotels in central London: Click here
---
Advertising
Living and Investing in France Real Estate Conference
London, June 22, 2008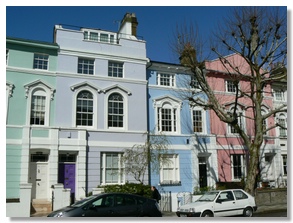 If you've always dreamed of spending more time in France, enjoying a "pied-à-terre" of your own in Paris that you can profitably rent, or just making a smart investment in the strong Euro by owning property in France...then this power-packed conference is a MUST. There is no doubt, from the hundreds of people who have attended our conferences and fulfilled their dreams...this one day in London will point you in the right direction to really make it happen!

Hosted by Adrian Leeds of Parler Paris and French Property Insider, and John Howell of The International Law Partnership, the conference features expert speakers from France, Europe and the U.S. There is nothing else you can do in less time and as inexpensively to learn all you need to learn to make your dream to live in France come true!

For more information and to register, visit http://frenchpropertyconference.com/LIF_London_June_2008/index.html

Other Upcoming Conferences:
San Francisco, July 26-27, 2008
Paris, October 11-12, 2008
For further details, visit http://www.frenchpropertyconference.com or email mailto:info@adrianleeds.com
---
Cannes Films Festival, Monaco Grand Prix and the French Riviera:
Latest Availabilities Online Now


A trip to France would not be complete without spending at least a couple of nights on Nice's mythical Promenade des Anglais. For a couple of nights you can afford to stay in the very best hotels. There are at least five luxury hotels ready to offer you their services. When booking any Riviera hotel through Parismarais.com, you can benefit from great prices and often get upgrades upon availability. Book at great rates with Parismarais.com: http://www.parismarais.com/hotels-europe.php?zone=Nice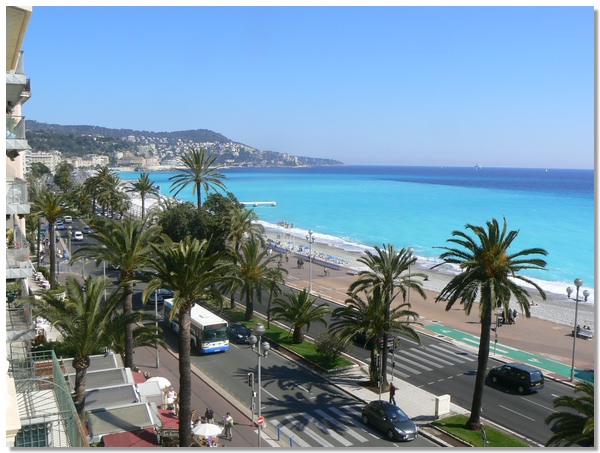 ---
WHAT'S UP NEXT IN LE MARAIS?
Our newsletter is available in English, only once a month, but we have so much to tell you it just keeps getting longer and longer! Don't wait for the next one to check out what's new in le Marais.
Almost every day we'll add a new report or article about le Marais, Paris and also many tips about real estate, travel and entertainment in Paris. These articles will be available in English, French, Italian, Dutch, German, Swedish, Danish, Spanish and Russian. We are building strong relationships with many international media agencies to promote le Marais and we'll publish some of their articles in our blog. If you want to write about le Marais, send us your comments about hotels, restaurants, shops and more in Paris. If we publish it, we'll be happy to add you to the list of our contributors and writers.
http://www.parismarais.fr/blog/
---
Don't Miss PARISMARAIS NEWSLETTER AND SPECIAL OFFERS
AOL blocks many major European ISPs, so we cannot guarantee that our mail to AOL addresses will arrive. Please use another email provider or "White List" our email address or add "info@parismarais.com" and to your contact list.
Parismarais Newsletter, May 2008 issue
http://www.parismarais.com
mailto:info@parismarais.com
To Subscribe:
http://www.parismarais.com/parismarais-newsletter.htm
To Cancel Your Subscription:
http://www.parismarais.com/unsubscribe.htm
PARISMARAIS NEWSLETTER MAY 2008
Special thanks to all our contributors and media partners all over the world.
http://www.parismarais.com/worldwide-links.htm
http://www.parismarais.com/gay-links.htm
In the past three years, 1,960,500 visitors have enjoyed Parismarais.com!
Should you wish to promote us and create profitable reciprocal links with us to your web site, please write to advertising@parismarais.com.

---

Copyright 2008, parismarais.com