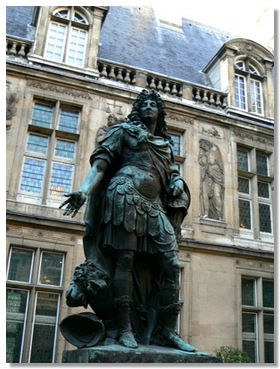 .....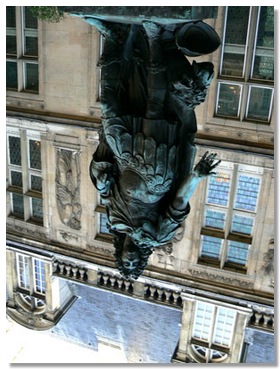 Louis XIV the Sun King at Carnavalet Museum in le Marais.
Parismarais Newsletter
Issue 24, April 2007
http://www.parismarais.com
Royal or not Royal?
Bonjour Parismarais Readers,
Will France soon have to cope with a bourgeois lefty female president for the first time in its history, or will France be led by a right wing version of Tony Blair in the person of Mr. Sarkozy, liberal conservative? Or will it be neither, as a new challenger is rising between them named François Bayrou, leader of the UDF, the equivalent to the social-democrats in Germany? French citizens will vote on April 22 and no-one can predict if there will be another unpleasant surprise, such as Mr. Le Pen, the ultra right wing leader, still being in the competition for the second round on May 6. Polls are always underestimating their votes and they now predict 15% for him… which can mean that he will reach 20% again and qualify for the second round. Scary for sure.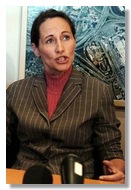 Mrs. Ségolène Royal, candidate for the Socialist Party (Social Democrat actually, equivalent to the left wing of the U.S. democrats) will probably have a high score in le Marais district, as the socialists, ecologists and what we would consider here as labor or democrat often receive close to 60% of the votes. The national polls predict that the right wing has more chance to win. Surprisingly, the French have never been so uncertain about whom they're going to vote for, probably because they are always disappointed, and it is a French tradition to complain about political leadership. In the past 20 years, no government in power was ever re-elected, and often a president had to join the parliament of the opposite camp, leading generally to much inaction. The French should really take a look at the governments in the U.S., UK and in 99% of the countries in the world – if they did, they would see that they are very lucky indeed.
I was reading recently in Le Point, a very serious weekly paper, that the French were in fact paying fewer taxes than the Americans and the British (at least for those making 40,000 euros per year or less. Actually only the Swiss pay less income tax!) The big cost in France is the compulsory social security system calculated on each person's salary and costing about 23% of it. But at least it brings back a lot in return…such as a 22 month long unemployment benefit of 70% of your gross ex-salary, a decent pension after you reach 60 years of age, the legal age of retirement, and almost no cost for hospitalization.
Do you know any other country where it is common to have 6 weeks paid holiday per year, hardly ever work more than 7 hours per day, where a visit to a doctor costs only 22 euros (with 21 euros paid back by social security), a 3 course luxury dinner in a fabulous restaurant is only 30 euros, a luxury 3 star hotel around 100 euros a night, a métro ticket costs one euro and the city museums are absolutely free? Well the French and especially Parisians don't know how lucky they are…they live in a royal paradise without realizing it.
Now the question is, Royal or not Royal? Certainly, even 200 years after the revolution, France is a kingdom for the art of living and quality of life, which is why one million British have chosen to live in the French countryside, why 40% of the real estate in le Marais is purchased by Italians, English, Irish and Americans. Areas like Ile Saint Louis are filled with almost 70% foreign residents. We are happy about it, as it creates a real cosmopolitan life in le Marais, and all the foreigners who choose to live here with us remind us every day how spoiled we are to live in this spectacular part of Paris.
So no matter who wins the election, we will still enjoy a royal life here. After all, until Louis XIV decided to move to Versailles, all French aristocracy lived in le Marais. We welcome you to join us here now!
Let's see what is majestic for you in the le Marais this month…so you can enjoy the royal treatment, at truly revolutionary prices.
A bientôt!

Pascal Fonquernie
Editor Parismarais.com
---
ROYAL FOOD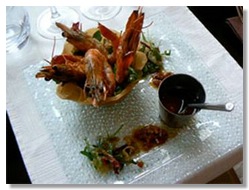 ......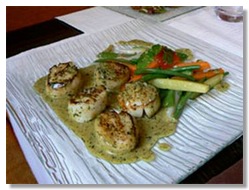 Tulipe de gambas 8 €, poellée de Saint Jacques aux épices et petits légumes croquants at 21 €, 3 course menu at 30 euros… Food & Beverage, F&B at number 14 rue Charlot is the new chic and delicious gastronomic restaurant in the north Marais. At lunchtime a 3 course menu is only 18€ – a bargain you won't want to miss!
Check : http://www.parismarais.com/selected-restaurants.htm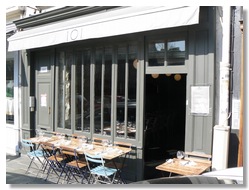 ......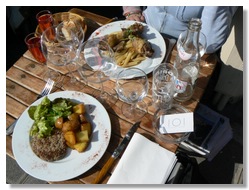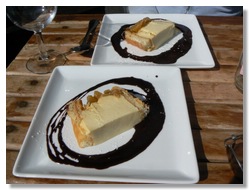 Just in time for Spring, there is a new terrace in the sun ready to welcome you at number 101 rue Vieille du Temple, facing the Picasso Museum. Formerly called "A 2 pas du 3," it is now even better and more affordable. At lunchtime the 2 course menu features a royal piece of meat with royal fries (we renamed them considering "freedom fries" and expressions from other countries, all of which are totally out of fashion) and a savory pear and chocolate bavarois for only 15€.
Le 101 - 101 rue Vieille du Temple, 75003 Paris
Kofi du Marais
At last, a gay restaurant where the food is good, the crowd is friendly and the prices are decent. This place is worth checking out, if only for the names on the menu and the two sexy managers. Each dish has a special name with a double meaning…your French has to be good to catch it, but if you can, it's hilarious! A double hamburger, for example, is called a "gros caliber." No need to say that the portions are BIG, the service quick and efficient, and you can easily eat and drink for less than 20 euros…unbeatable and oh-so friendly!
Kofi du Marais
Rue Sainte croix de Bretonnerie 75003 Paris
---
ROYAL AMBIANCE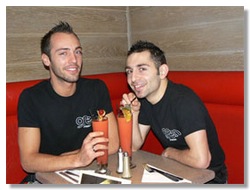 ......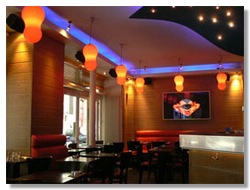 Where do you go to remember the good old seventies? Why, Open Café of course! Every Tuesday night is royal disco and glitter night. Never heard of Amanda Lear, Patrick Juvet or Boney M? You soon will! When going out during the week, head to Open Café for lots of fun…and it's even straight friendly!
17 rue des archives 75004 Paris
http://www.parismarais.com/leather-bars-cruising-dating-le-marais-paris.htm
L' Imprévu
Two friendly American guys just bought this coffee and cake shop – a place from back in time – located on one of Paris oldest streets, rue Quincampoix. On the ground floor you can enjoy a friendly atmosphere all day long while tasting delicious cakes. Downstairs you'll discover fantastic 15th century vaulted cellars that welcome you into glorious gothic ambience, the perfect place for gathering with friends, and where they occasionally feature a show or band to entertain you.
L'Imprévu will soon be transforming its décor to become a chic lounge bar, and will change its name to 4BAR. Stay tuned….
7 rue Quincampoix 75004 Paris
---
ROYAL CLUBBING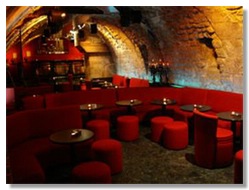 ......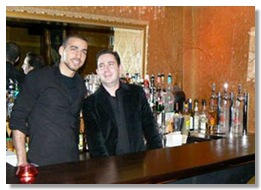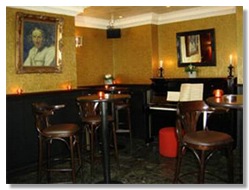 ......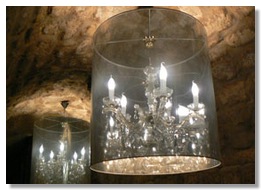 At last, there is something new on the club scene in le Marais. Jean Louis Garnier, former manager of Regine (yes, THE Regine, queen of the Parisian nights and an icon for Serge Gainsbourg in the sixties – and still today for many French) created a fabulous new place called le Scarron. Scaron was a poet in the 17th century, an irreverent, daring and brilliant man, just like the new le Scarron, definitely the most upscale destination for a night out in le Marais. Regine just celebrated her birthday at le Scarron with tons of VIPs too famous to even mention… There is no entry fee, drinks start at only 7 euros, plus, there is a great décor, piano bar, cool music, and sophisticated but not pretentious people – at le Scaron they love to welcome everyone.
Check www.lescarron.com
CUD
A new, friendly place for a night out in le Marais. Located on rue des Haudriettes, everyone is welcome at this "no attitude" place – gay, straight or whatever you like…. With affordable drinks, two bars, superb vaulted cellars, and a very sociable staff, plan to meet your friends at CUD.
Le CUD rue des Haudriettes, 75003 Paris
---
ROYAL WINE TESTING
Each month, Ander's Hus, of the Scandinavian gallery, and Julien Caviste, one of the few wine dealers in le Marais who speaks perfect English and is able to answer all your questions about wine, are holding a "Vin'Art Party."
On Thursday, April 5, Anders will introduce you to Scandinavian art starting with the Gustavian style (18Th century from Sweden). Julien will offer you a tasting from his selection of wines, with just a hint of a fresh northern forest.
On May 24 there will be another themed party: landscape in Danish painting and fruity wines… A very interesting and charming cultural mix.
Ander's Hus, 27 rue Charlot 75003 Paris
Julien Caviste, 50 rue Charlot 75003 Paris
O château
To sample even more wine and do a serious French wine tour, we have discovered a wonderful expert named O château. It is located just a few steps away from le Marais, making it easy to get home afterwards… even if you enjoyed the delicious Burgundy Bordeaux or Loire Valley wines just a little too much… Taste 5 fabulous wines for only 20 euros.
---
DECO FOR YOUR KINGDOM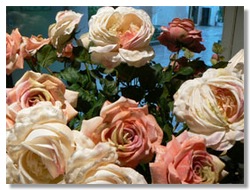 Il Giardino Segredo
Village Saint Paul is continuing its little revolution, moving from antiques to design. For many years, the charming pedestrian courtyards were very quiet despite the efforts made by the city of Paris to keep them thriving. It is slowly transforming, with newcomers like Pamela, a former resident of Berlin. She recently launched her baroque boutique of artificial flowers and a décor collection to create a winter garden in your home, even if you don't have a balcony or open air space. You'll find the best imitation roses here, as well as lovely silk pillows and original baroque drawings… absolutely enchanting and affordable. The spirit of sans-soucis is now in le Marais…visit her must-see boutique.
16 rue des lions Saint-Paul – village saint-paul – le marais
---
REAL ESTATE FOR KINGS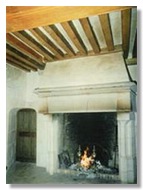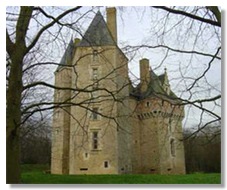 Now your home can truly be your castle! We have found a 15th century medieval king's castle for you, only two hours from Paris, and it can be yours for only 2 million euros. It includes four medieval towers, 5000 square feet of living space, plus gardens, a swimming pool and two other houses on the property (2000 and 3000 square feet).
The château is actually a guesthouse, but you can also turn it into your own private residence. Or perhaps you'd prefer to split it with some good friends to make it even more affordable. The sale is direct with the owner, not through an agency. If interested, write to info@parismarais.com and we'll pass your contact details on to the owner. (The seller only wants to deal with private inquiries and is keeping his address a secret for security reasons.)
If this medieval castle is a bit beyond your budget, perhaps you'd prefer a fantastic 17th century apartment in the heart of Montpellier on the Mediterranean coast. It features 2 bedrooms and 2 bathrooms, and is in move-in condition. It is also perfect as an investment for short-term holiday rentals.

This apartment is being offered for sale direct by the owner with no agency.

Asked price: 360 000 euros.

Please write to muriellerobin@yahoo.fr
for further details.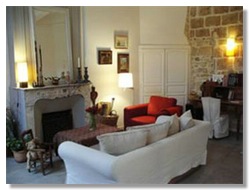 ......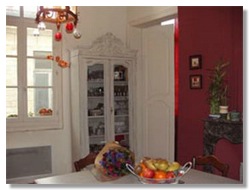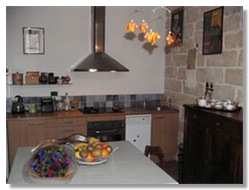 ......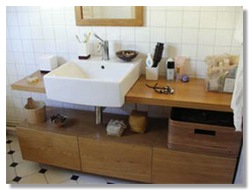 Where can you find a Marais pied-à-terre for sale with a high income return every month? Here's one on rue Charlot, one of the most sought after streets in the north Marais. The asking price is only 336,000 euros, including agency fees.
This flat can cost you around 900 euros per month if you borrow 136,000 euros, have 200,000 euros to put down, and can give you a return of as much as 2400 euros per month as it is rented out short-term for at least 800 euros per week. This flat already has bookings for the next few months…there are not many apartments in such good condition that are ready to live in, and conveniently located in le Marais. This is the perfect investment property!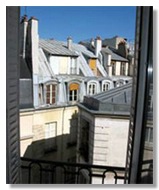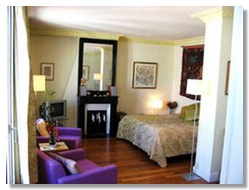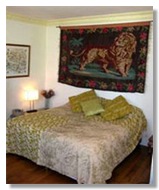 If interested, please write to info@parismarais.com, and we will forward your contact details to the agency representing this apartment.

For information about obtaining a French mortgage at the best rates, please visit our recommendation page – we list a number of banks including BPI, the leader in lending money to foreign buyers.
http://www.parismarais.com/banks-and-mortages.htm
---
LUXURY HOTELS
The intimate and exclusive Hotel Duo, managed Veronique Turmel, has recently undergone a facelift and now offers a fabulous spa and fitness area for its clients.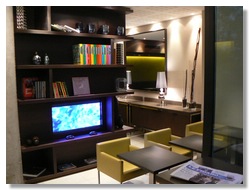 ......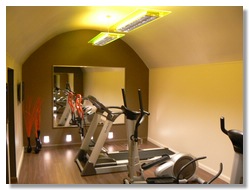 Hotel Duo***, rooms from 115€, book online direct with the hotel:
They are very few nice hotels in le Marais that offer spa and fitness services. The most luxurious hotels like The Pavillon de la Reine are just now building spa facilities – we will definitely report on them when they open.
The charming Hotel Molay, managed by Fatia Langlois, offers guests a great little fitness area with hamman sauna and all the basics to keep fit.
Hotel Molay ***, rooms from 130 €, book online direct with the hotel:
Check : http://www.parismarais.com/3-star-hotels-in-le-marais-paris.htm
2-star Hotels with 3-star Amenities at 1-star Prices…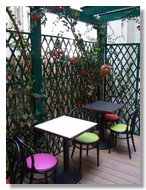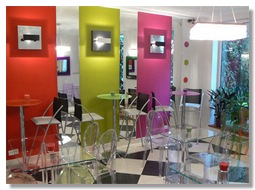 Mr. Any Pirbay, manager of Hotel Le Relais du Marais, has always thought that quality hotels should not be so expensive.
That's why he remodeled his hotel with 3-star standards and good taste, and a very nice welcoming service, while keeping his prices very affordable, starting at 78 euros for a single room.The new breakfast room and its little terrace are wonderful – the cheerful, bright colors energize you for the day!
Hotel Le Relais du Marais**, rooms from 78 €, book online direct with the hotel:
http://www.parismarais.com/charming-budget-cheap-hotels-paris.htm
---
ROYAL HOLIDAY APARTMENTS
Imagine your ideal holiday apartment…
Perhaps a duplex with a glass stairwell? Or a loft for 6 with a private swimming pool hidden in a 16th century vaulted cellar? Maybe a suite dating back to 1612, upgraded with today's most modern comforts?
Parismarais has selected only the very top apartments just for you. When you rent a flat with us you know you'll always be treated like a king and benefit from friendly service and exceptional spaces.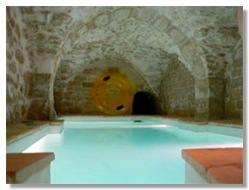 ......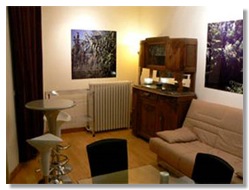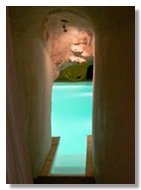 Here's our newest gem that can sleep 6 guests (3 couples in luxuriously comfortable sofa beds). This former art gallery has been converted into a fabulous loft. The real plus is that the vaulted cellar now houses a private swimming pool, 6 meters long and 3 meters wide. The owners have spent not less than 100,000 euros to make it absolutely safe and comfortable. You won't be able to dive as it is only 1.5 meters deep, but the temperature is kept at a delicious 30 degrees, just like a tropical sea! Even the Mediterranean in August does not reach this temperature. You'll enjoy the ultimate in luxury – invite your guests for a truly exclusive holiday experience. From 220 euros per night, minimum 4 nights stay.
Please visit: http://www.parismarais.com/visit-our-flats.htm
There are still weeks available in May, June and July… but book quickly!
---
KINGDOM FOR MEN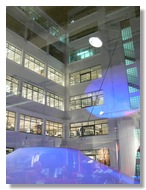 The Bazar de l'Hotel de Ville, the biggest department store in le Marais, has just launched a completely new store covering 4000 square meters, all dedicated to men's clothing and well-being. We were lucky enough to be invited for the unveiling ceremony, along with many VIPs.
In the covered courtyard we met numerous actors and even our mayor, not to mention the shockingly beautiful male models in minimalist underwear, there to please the already enthusiastic crowd.
Everyone enjoyed the décor, the buffet, and the thousands of champagne glasses poured for the occasion. See our complete report: http://www.parismarais.com/mens-wear.htm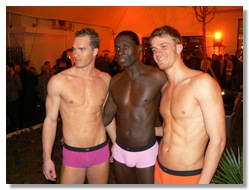 ......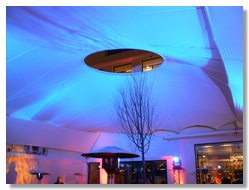 ---
ROYAL MUSEUM
The most royal of all Marais museums is definitely le Carnavalet, the former home of writer Madame de Sévigné, friend of King Louis XIV who had this fabulous palace built just for her in the 1650's.
Check: http://www.parismarais.com/le-marais-in-1600.htm
And discover more with Jean Marc Léri, curator of the museum and his interview on Paris Cap, the new Parisian channel. We have just reached an agreement with Paris Cap to collaborate on two new films each month about le Marais – its shops, restaurants, museums, streets and activities. This is great news, and will allow more people to see even more of Paris' favorite district on Paris' favorite TV channel. For more information, visit http://www.pariscap.com
---
NOT ROYAL
We thought we would compile a list of places that are not up to our "Royal" standards in terms of service, as some of our readers have written in to say that they were disappointed with the prices or service. These are just a few of the "Not Royal" comments we received. Remember that it may just have been one bad day, and we would encourage people to give these places another try….
Le Dôme du Marais – Restaurant
"We waited a long time between every dish, service was bad, dishes were nearly cold and we were charged for a dessert we did not even get… surprised you recommend this place that is indeed beautiful but does not deserve its reputation"
B4 - Restaurant
"Portions were ridiculously small, despite a nice deco. Waiters were rather arrogant and not very friendly, bread was from the day before, that's probably where the restaurant get it s name?"
Le Réconfort – Restaurant
"When I first went to le Réconfort it was delicious – the 3 course menu in 2001 was around 140 francs (equivalent to 22 euros). Now it's difficult to have a 3 course menu under 40 euros and portions have been cut in half, not to mention the waiters that were pretentious and sometimes rude…"
Chez Nenesse – Restaurant
"We know you don't go there for its deco, that is real crap, but for good food and good welcoming. It is indeed still very good but prices have nearly doubled since the francs changed to euros. When I mentioned I was writing a restaurant guide, the owner just said he was not interested saying he was in Gault & Millault which was enough for him… For sure I'll never mention him… a typical French attitude that you'll often have to cope with."
Le Chant des Voyelles – Restaurant
"It's cheap for sure, but what you don't pay for your meal you pay later with a stomach ache and food poisoning. It is indeed a good location but may be too touristy and too busy for them to really care about their clients. Avoid the fish soup at least…"
Hotel Caron de Beaumarchais
"When I arrived with my boyfriend, I assumed any hotel in le Marais would be gay friendly and welcoming to all kinds. When I said I wanted a double bed I was looked at with a kind of ironic disapproval. Then the politeness level was really kept to a minimum. The bedroom was OK but very small and I'm sure that as a gay couple we probably received the smallest of them all, probably to make sure we would not stay too long…."
Have you experienced some bad service or an unfriendly welcome in some of our le Marais addresses? Please send us your comments – we may include them in our newsletter. The quality of service in Paris needs to be improved, and at Parismarais, we support this. Our readers are the people who are out enjoying the city, and are the best people to help us encourage good attitudes and discourage bad ones.
---
ROYAL BIRTHDAY
Celebrating our Second Anniversary
We launched the new Parismarais web site just two years ago. We thank all of our contributors who have helped us make this web guide the number one travel guide to Paris' historical center – over one million readers around the globe have connected to our web site and newsletters.
This year we are participating in many new media partnerships to help our beloved le Marais area become even more popular worldwide. Many thanks for their help to: Paris Tourism and Convention Bureau, Parlerparis.com, Parisupdate.com, Eyepreferparis.com, Parisgayvillage.com, Tetu.com, paris-gay.com, Forbes Magazine, The Paris Times, Spartacus Guide, Lonely Planet, IGLTA, SNEG, France Today, Gay.com, FG Radio Station, Paris Cap TV and the hundreds of travel guides who have mentioned us in their listings.
On april 1st 2007, 1 122 150 readers have already enjoyed parismarais.com
---
Parismarais Newsletter
Parismarais Newsletter, April 2007 issue
Thanks to the following people for their contributions: Pascal Fonquernie, Thirza Vallois, Cara Scouten, Adrian Leeds, Maxence Aulas, Lynda Sydney and the ParisMarais Team.
http://www.parismarais.com
mailto:info@parismarais.com
To Subscribe:
http://www.parismarais.com/parismarais-newsletter.htm
To Cancel Your Subscription:
http://www.parismarais.com/unsubscribe.htm
To receive more news about Paris, subscribe to Parler Paris Newsletter and twice a week you will receive the latest information, events, tips, and details about what's new in the French capital, written by Adrian Leeds, long time resident of Le Marais, Visit www.parlerparis.com
Copyright 2007, parismarais.com