PARISMARAIS NEWSLETTER, ISSUE N°212, 22 DECEMBER 2019
" Small is Beautifull "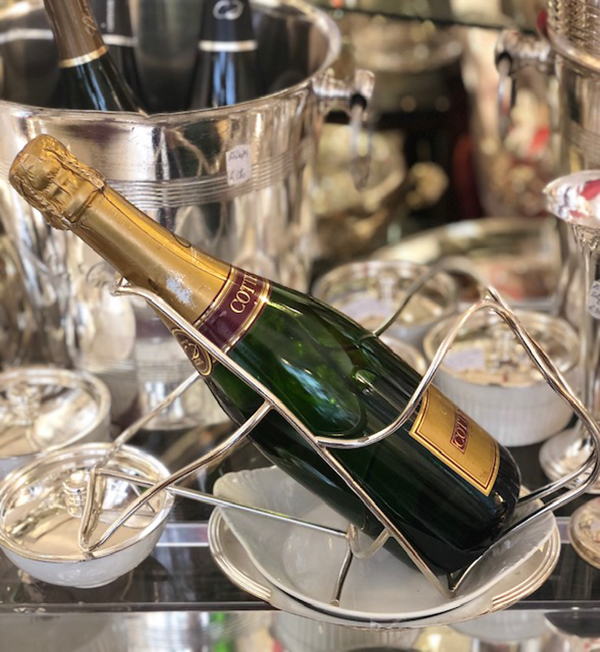 Champagne Compulsory !
Small is Beatifull
Bonjour from Le Marais,
Similar in size to Monaco, and spanning just 2 square kilometres, Le Marais has long been the most sought-after district of Paris. Straddling the 3rd and 4th arrondissements, this is where you will find imagination and non-conformism, where all communities coexist in harmony and in creativity, giving a luxurious and fascinating blend of life within a real, authentic village.
For Christmas and the winter season, we have decided to share with you a few of our little treasures… Little, secret addresses such as the brand new Cour des Vosges boutique hotel with only 12 rooms and suites, as well as tiny bistros with homemade cuisine, unique pastry shops and places to de-stress from day to day activities.
We will always give priority to those who appreciate the value of service and have a sense of etiquette both of which are the authentic characters of life in our neighbourhood. Here follows our list of wonders that you can discover right now.
Pascal Fonquernie,
Editor in Chief PARISMARAIS ®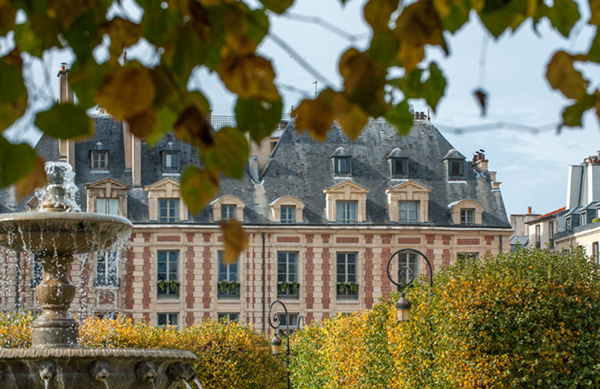 COUR DES VOSGES
The only 5-star hotel overlooking Place des Vosges. Best offer with parismarais.com: -5 % off the lowest price direct with the hotel, luxury breakfast for 2 is included. All rooms overlooking the Louis XIII gardens and the pink brick houses with slate roofs. The 12 rooms and suites of this 17th-century residence now offer private spaces, a tearoom, and Roman baths, refurbished over four floors by architects Lecoadic & Scotto.
BOOK WITH PARISMARAIS.COM
Best offers guaranteed with Breakfast included.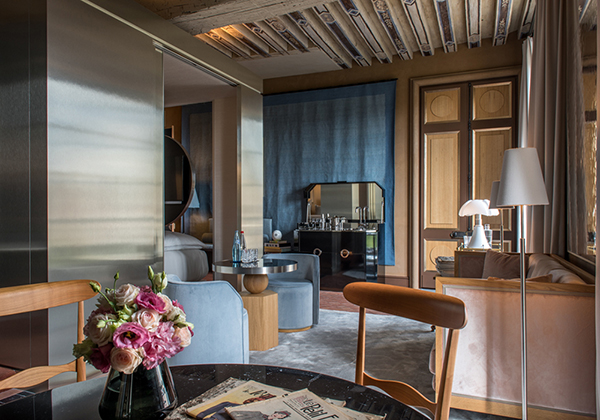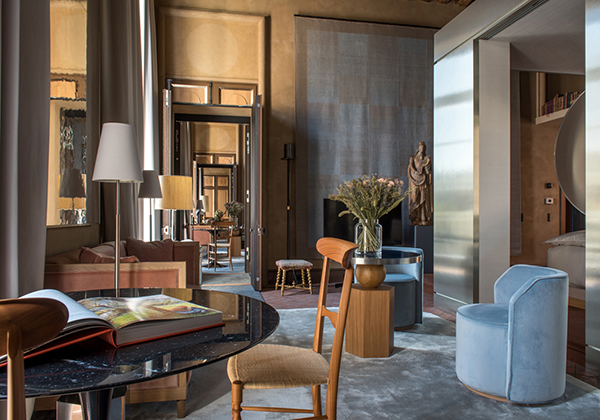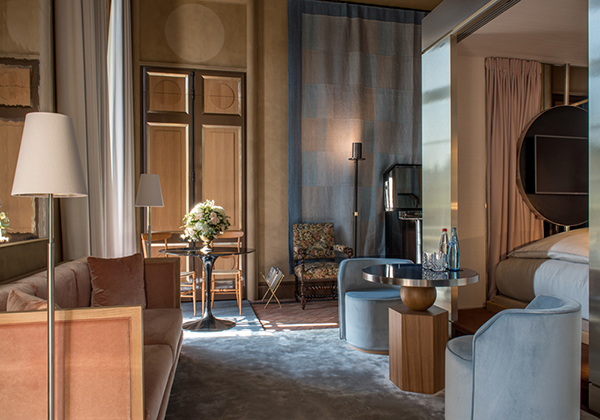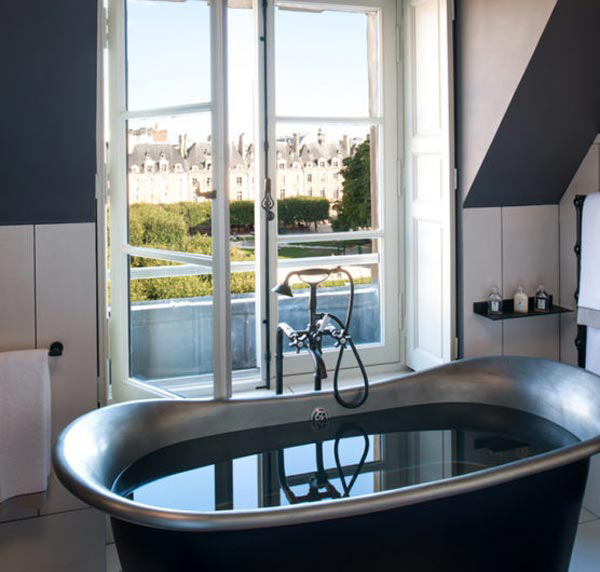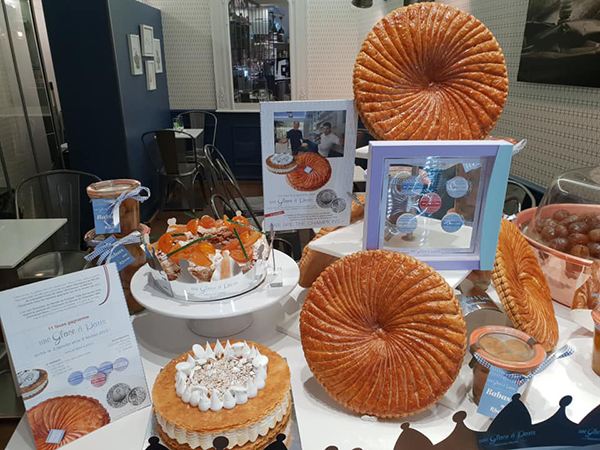 UNE GLACE A PARIS
Whilst you may be familiar with the exquisite pleasure of an ice cream on a hot summer's day, you may not be aware that ice pastries can be eaten all year round and the gateaux glacés and « Buches de Noël » created by this unique dessert boutique are just divine. Parfaits, nougatines, vacherins, Norwegian omelettes all keep company with ice creams and sorbets, offering you a thousand flavours.
The gourmet past meets the bravado of modern creation and know-how.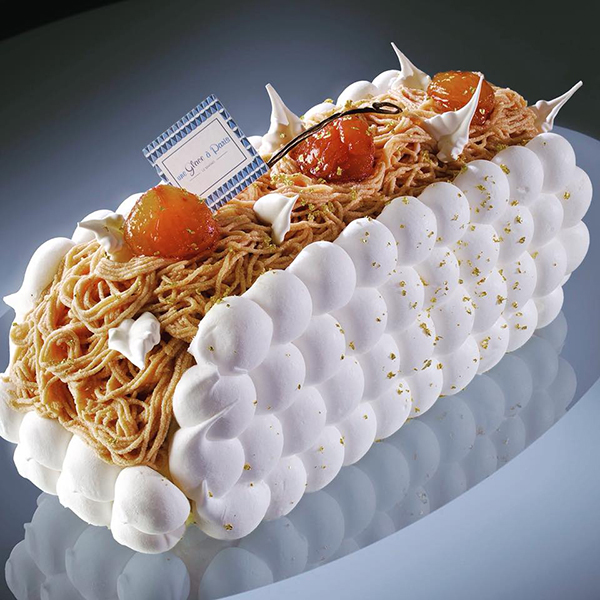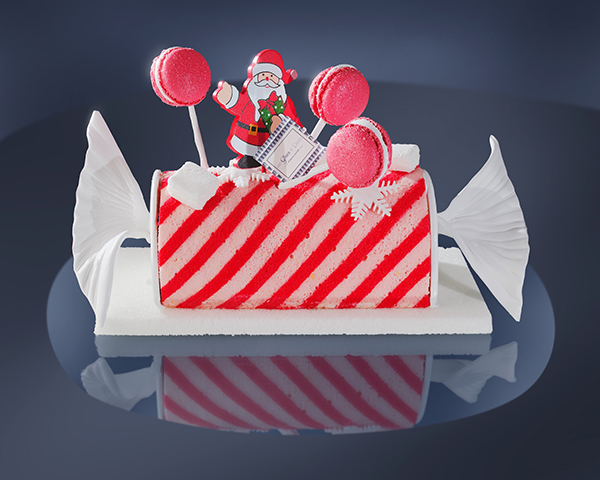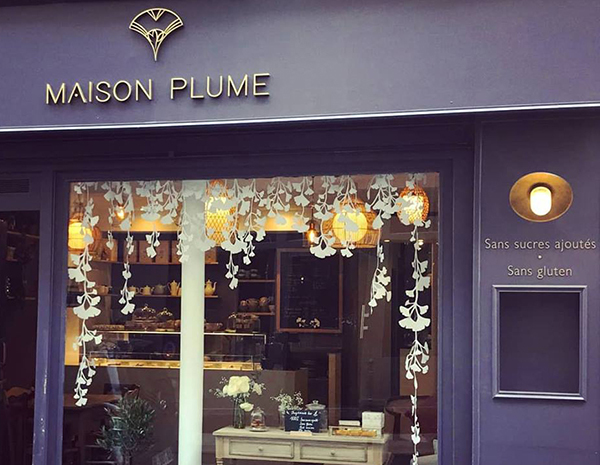 MAISON PLUME
Maison Plume is a 100% sugar free & gluten free pastry shop. It is the perfect place to enjoy a healthy dessert in a cosy atmosphere, along with a cup of tea or coffee.
Home-made lemon meringue, choux buns, chocolate ganache, biscuits...
Maison Plume reinvented French pastry classics, ensuring their treats have a low glycemic index.
Essential to know is all their ingredients are organic or fair trade.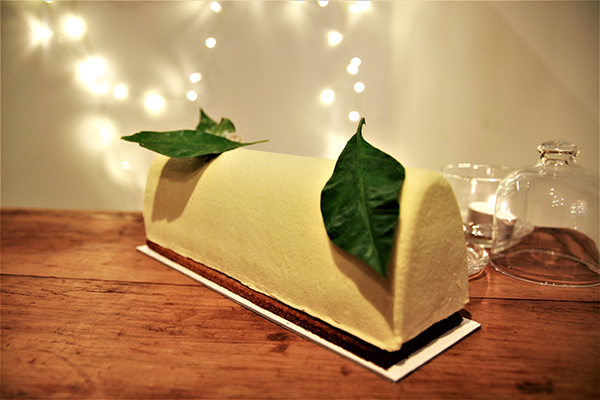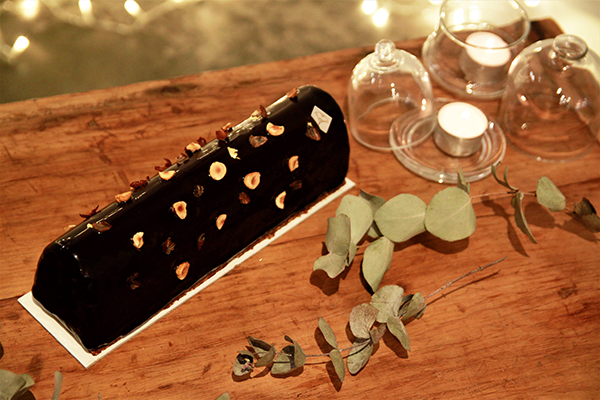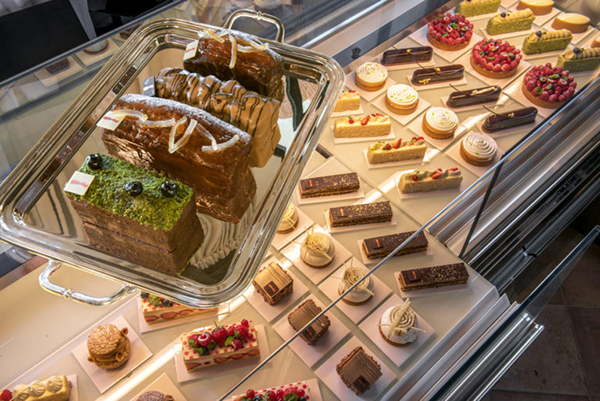 PATISSERIE BRACH
This is another one of Le Marais' stores. An ideal setting to unleash the imagination of pastry chef Yann Brys for traditional desserts and signature creations. Pastry chef Yann Brys won the Best Craftsman of France award in 2011. Best known for his emblematic swirl cakes, he leaves his signature on the sweet creations of the hotel Cour des Vosges, just above the Pastry Shop. Gourmet and daring, his work is both healthy and unconventional as well as original, detailed and colourful.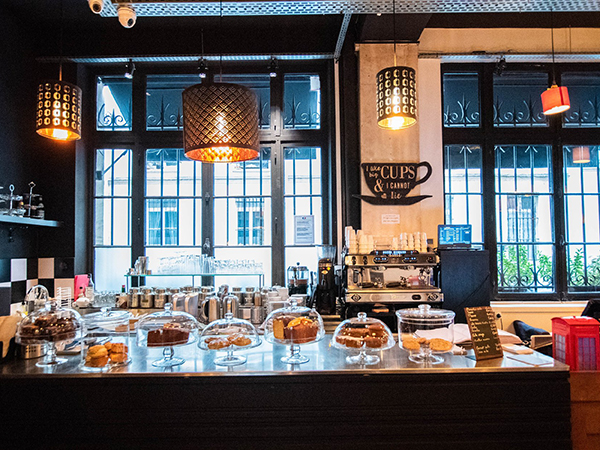 T- CUP
Don't be late, tea time won't wait for you! However, there is no need to catch the Eurostar to indulge…. It's right here in Paris.
Right in the heart of Paris, Nassila and her mother have created a unique, friendly and comforting tea room-cum-restaurant on the rue des Minimes. Sink into a fabulous chesterfield sofa and allow yourself to indulge in the wide selection of authentic and fragranced teas accompanied by scones, jams, finger sandwiches and home-made cakes.
Cosily ensconced in a vintage atmosphere, a cross between Harry Potter and Alice in Wonderland, you will discover traditional family recipes that skilfully blend the best of both French and English cuisine.
Tea time daily, with brunch available at weekends.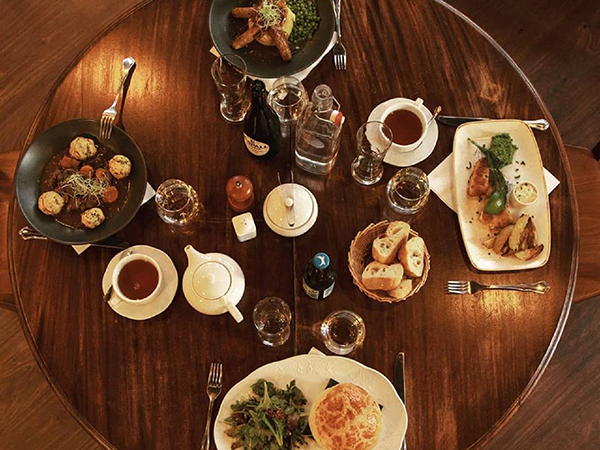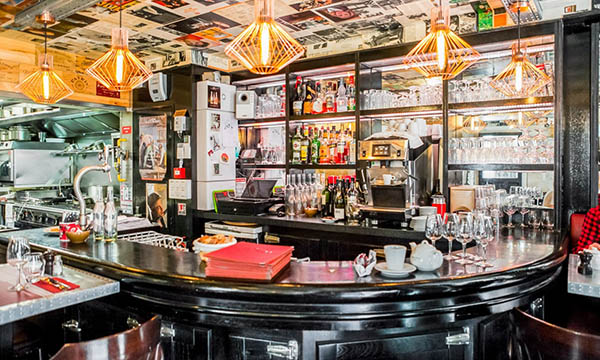 L'ANGEVIN
L'ange 20 (20 spelt VIN in French ) was created by Chef Thierry Pauli 15 years ago and was previously located at 20 rue Geoffroy L'Angevin from where the restaurant takes its name. Everything is fresh, made in-house... Humble rue des Tournelles, next to the Place des Vosges where Christopher, the manager who speaks perfect English will welcome you. The service is quick and efficient. Booking is essential. One of the best value gourmet bistros in Le Marais.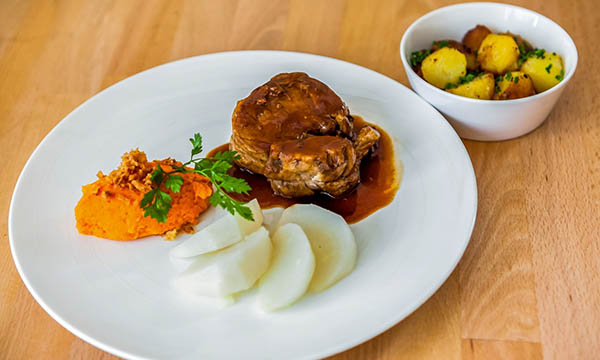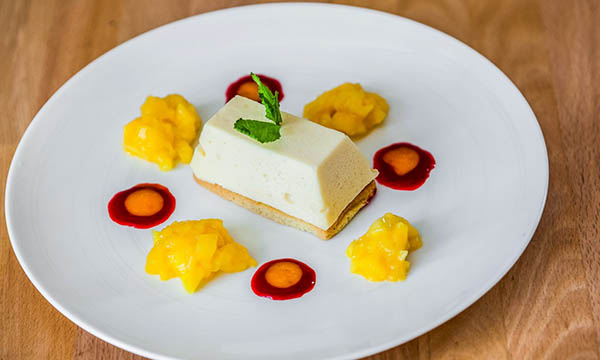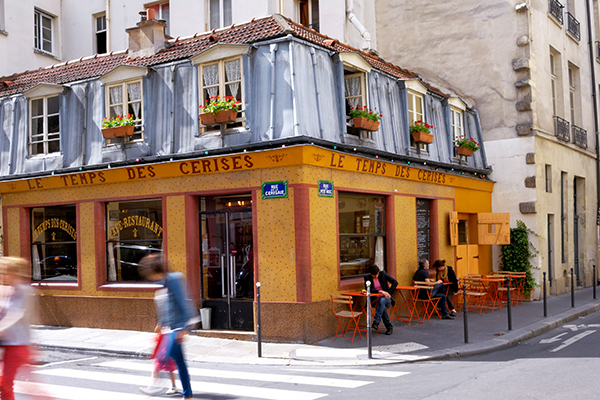 LE TEMPS DES CERISES
Nestled in a little storey house, Le Temps des Cerises - whose origins date back to the 1830's - offers traditional French cuisine served in a friendly and authentic atmosphere. Gregory Detouy, master of the house, is passionate about the history of le Marais, just like us. Le Temps des Cerises takes you back to the best of French music and songwriters by immediately immersing you in the signature sound of the carefree "Glorious Thirties" whilst you enjoy lunch or dinner. For the afternoon tea, it is the perfect place for a mouth-watering tarte Tatin.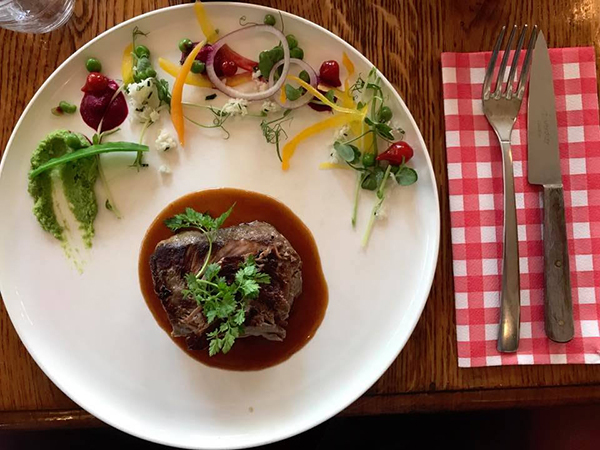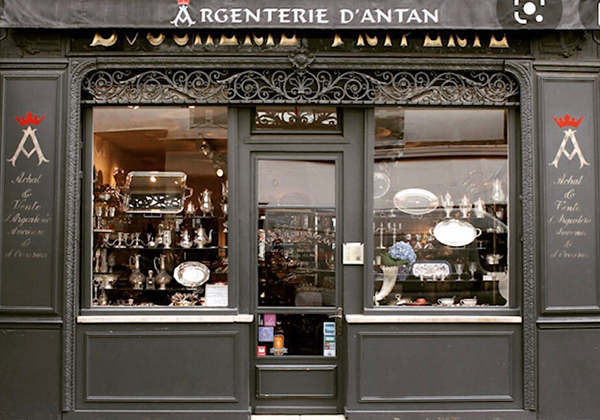 ARGENTERIE D'ANTAN
Take something unique back home - a piece of French history. Corinne Javayoles, ambassador of chic and style created the Argenterie d' Antan Gallery 10 years ago where you can find thousands of treasures made in silver or silver-plated tableware under one roof. Egg cups, napkin rings with animal motifs, table spoons from 6 euros, Napoleon III-style coffee makers, and cutlery from renowned Parisian hotels from 15 euros.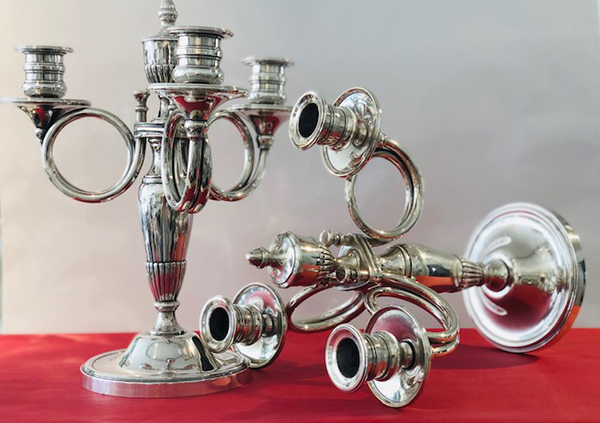 ENJOY THIS "PETIT CADEAU" FROM LE BHV / MARAIS
with this 15% off Voucher :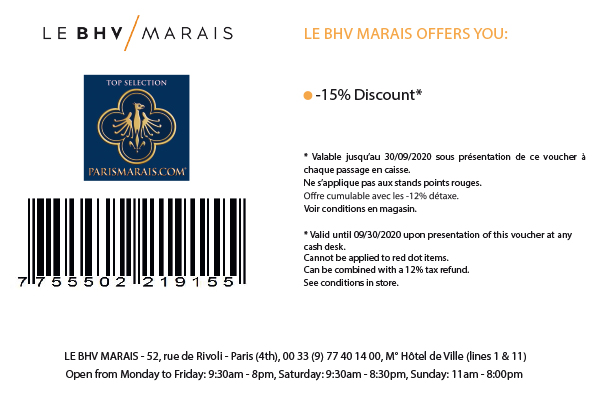 LE MARAIS MAP, DOWNLOAD FOR FREE !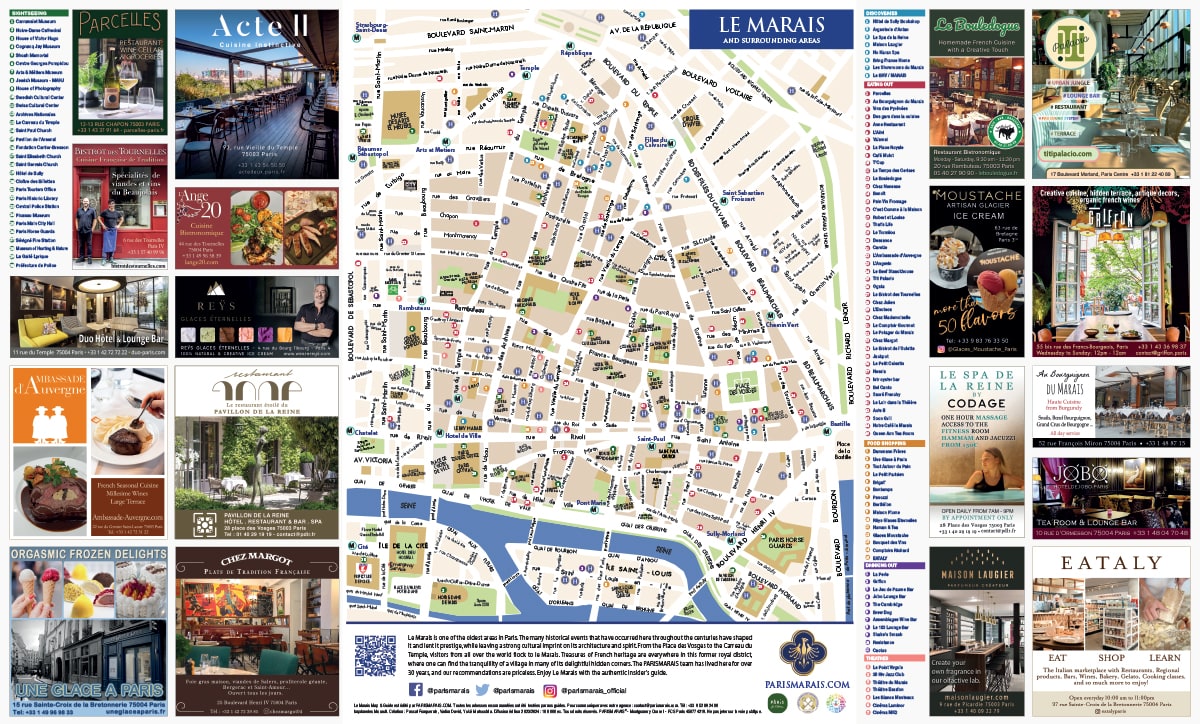 To prepare your trip to Paris, download the exclusive PARISMARAIS MAP for free !
FOLLOW US ON THE MAIN SOCIAL NETWORKS
DON'T MISS OUR NEWSLETTER,
KEEP CONTACT WITH PARISMARAIS.COM
Parismarais Newsletter, issue N°212, 22 DECEMBER 2019.
PARISMARAIS.COM
info@parismarais.com
Special thanks to our contributors and media partners all over the world.
Should you wish to advertise with us recommend us as well as create profitable reciprocal links with us to your web site, please contact us.
PARISMARAIS.COM ® is a Media Partner of the Paris Tourism Office, as well as correspondent of over 100 medias in the world.
If you want to answer this email, please email us.
Copyright © 2019 PARISMARAIS.COM, All rights reserved.