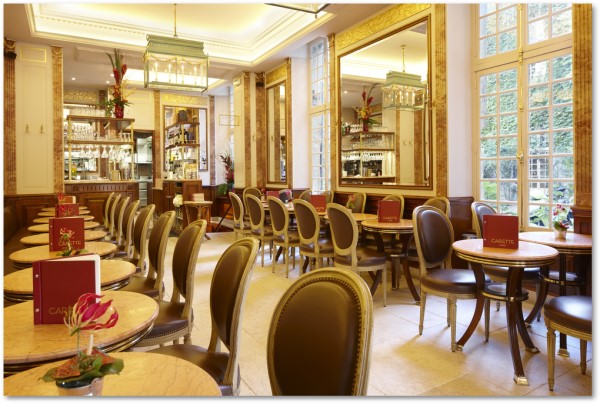 Parismarais Newsletter
Issue 62 december 2010
http://www.parismarais.com
---
"BONNES FÊTES" AND "MEILLEURS VŒUX"
Bonjour Parismarais readers,


Paris might just be one of the most magical places to celebrate Christmas, provided that you plan ahead. In France, Christmas is for families and just about everyone stays in on Christmas Eve to feast on oysters, foie gras, turkey and trimmings, followed by the traditional dessert: a bûche de Noël (log-shaped Christmas cake). The commercial world shuts down. Christmas Day is a quiet day of relaxation with the family. ( Check the ones made by La Fougasse : http://www.parismarais.com/gastronomic-treasures.htm



So what can a tourist do in Paris on this stay-at-home day? That's where the planning comes in. To get you in the mood, Handel's Messiah will be performed at the Eglise de la Madeleine on December 22. Christmas Eve is a great time to window shop on the Champs-Elysées, with its spectacular Christmas illuminations, or check out the animated window displays at the grands magasins – Galeries Lafayette, Le Printemps, Le Bon Marché and BHV – without the crowds. Another free activity on Christmas Eve is the awe-inspiring spectacle of midnight mass at Notre Dame Cathedral (arrive an hour or two ahead of time to be sure you get a seat).



In the run-up to the holidays, Christmas markets, based on the model of the famous markets in Nuremberg and Munich, Germany, and Strasbourg, France, are held in the Jardins du Trocadéro (across from the Eiffel Tower), the Place Saint Germain des Prés, Place Saint-Sulpice, the Gare Saint-Lazare, and the Champs-Elysées between Concorde and the Rond-Point des Champs-Elysées.

Families with kids might want to visit the magical Doll Museum or the even more magical Museum of Magic, both located in the Marais. On Christmas Day, take the family ice skating on the Eiffel Tower or on the rink in front of the Hôtel de Ville.



For Grinches who hate Christmas, it's a great time to catch up on films you haven't gotten around to seeing or hang out at a trendy café like the Café Charlot in the Marais. Or treat yourself to dinner on a Bateau Mouche… (See also the restaurants open on Christmas Day : http://www.parismarais.com/selected-restaurants.htm) or a sexy show at the Crazy Horse. Or just have tea at Carette, the chic new tearoom on the Place des Vosges (pictured above).

Whatever you do, have a wonderful holiday.

See below for information on hotels – including new additions to the Parismarais stable – apartment rentals and exciting events in Paris.

Bonne fêtes!
Pascal Fonquernie
Editor, Parismarais.com


Restaurant les Gars dans la Cuisine & L'Open Café open on Christmas week
---
HOLIDAY RENTALS
Last minute opportunities for X-mas and New Year's week with Parismarais

Starting at 100 euros per night, with a a minimum stay of one week, you can afford to live in a private apartment and enjoy 4-star standards.... in 2011 ParisMarais.com will also offer the possibility of long-term rentals, from 3 months to one year. These are fabulous, full-serviced apartments in historical Marais buildings.

Check the Medieval Suite page: some apartments are still free at the last minute as well as for medium-term rental from mid-January.

http://www.parismarais.com/medieval-suite.htm


The Marais House
And The Marais Guesthouse, the most luxurious place you can find in Le Marais, is also on the same page. Don't forget to check the elegant hotel Le Pavillon de la Reine **** . They still have a few rooms left for X-mas week.
http://www.parismarais.com/4-star-hotels-paris-marais.htm
Le Pavillon de la Reine, after it's renovation
---
SHORT-TERM RENTALS: know the truth and book with French licenced agencies.
What should you know about short-term rentals? The rules are strict and will be become even more strict in the next year. Many American websites suggest you invest in Paris apartments that can be rented weekly to tourists, and they promise you the moon. It was certainly a great idea 10 years ago, but not any more. The market is totally saturated and Parisians cannot even find places to live for themselves. This is not a good money-making proposition since there are far too many offers on the market. In fact, the Paris Mayor has decided to fight against illegal agencies, mostly based in USA, Russia and fiscal paradises such as Delaware or some tropical islands… read our warning on this page and trust the residents. Unless you plan to live here over 6 months per year, you will find yourself in an illegal situation and put yourself at enormous risk as a foreigner. Paris real estate has never been so expensive, nearly 12 000 euros per square meter in le Marais, + around 8% administration and tax fees to the "notaire". So you'll never get a return on your investment. Moreover, when you resell your property, as a foreign owner, you will be taxed at 33% on your potential profits. So unless you live here over 6 months per year, our advice is not to buy, but to rent and only with French-based agencies or private owners who respect strict the rules and are members of Paris Tourist Office.
Read more on: http://www.parismarais.com/rent-a-flat.htm
---
BRAND NEW HOTELS ON THE EDGE OF THE MARAIS ARE JOINING OUR NETWORK
THE 4-STAR CROWNE PLAZA HOTEL AT PLACE REPUBLIQUE AND 3-STAR MARAIS-BASTILLE HOTEL

soon online at the best prices online with parismarais.com…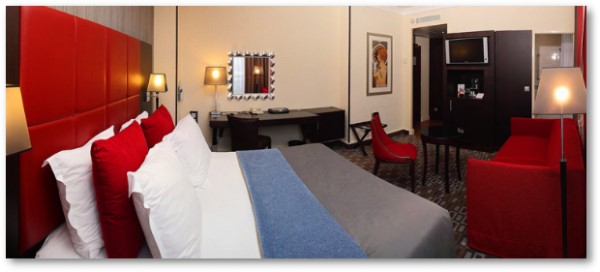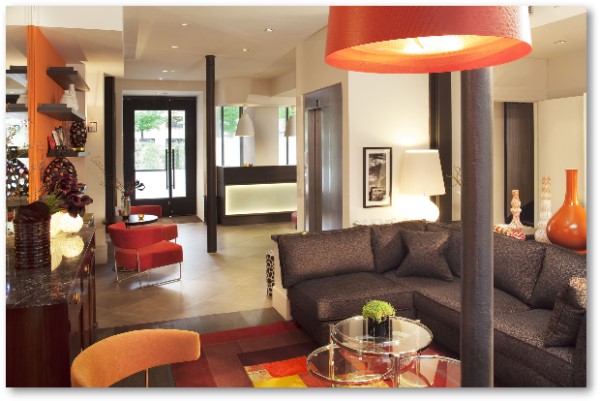 ---
ARTS & CULTURE : MONDRIAN AT THE GEORGES POMPIDOU CENTER
The mystery surrounding the work of Piet Mondrian (1872-1944) is only deepened by "Mondrian/De Stijl," the excellent exhibition that opens today at the Centre Pompidou: how did Mondrian's name become an international synonym for abstract, geometric arrangements of black strips and blocks of primary color and how could paintings that are so emotionless touch so many people so deeply and lastingly?
The main lesson of the exhibition is that Mondrian did not spring fully formed into life as the artist known as Mondrian. He spent years experimenting with styles originated by other artists – Symbolism, Impressionism, Fauvism, Cubism, etc. – before finally settling on his orderly formula of black grids with blocks of primary color, which he called Neo-Plasticism, meant to "link pictorial order with a social, spiritual and poetic utopia," and sticking with it for pretty much the rest of his life.
The exhibition firmly places Mondrian's work in perspective (notably lacking in his paintings). It starts by focusing on the philosophical basis for the De Stijl (The Style) movement: theosophy, a belief popular in the early 20th century, which held that the universe is underpinned by geometrical principles applicable to all cultures. Members of the De Stijl movement sought a "universal and rational pictorial language" to illustrate it.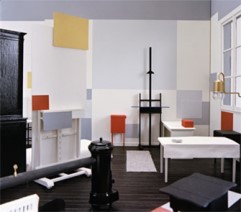 Works by a number of the artists involved in the movement, notably Theo Van Doesburg, who invited Mondrian to help him launch the De Stijl journal in 1917, show them trying to represent the inner mind visually. Some of Mondrian's attempts at the exercise seem gauche, such as "Dune Landscape" (1911), while others, like the Fauvist, nearly abstract "Red Cloud" (1907-09), are more successful.
Already well into his 30s, Mondrian moved on, trying other styles as they came along. The exhibition presents a very clear progression of his work through all the various styles, surrounded by works by other, now-lesser-
known artists who were experimenting with the same themes. We see Mondrian's work respond to each movement, reacting especially strongly to the introduction of Cubism by Picasso and Braque, first with a rather lame attempt, then with more interesting and original works.
Cubism was a liberating force for Mondrian, offering him a way of seeing painting as no longer a means of individual expression or of depicting an object, but as a way of organizing space. Already, in conformity with theosophical theory, lines were ordering and giving rhythm to his paintings even when they were still figurative, as in his many experiments with images of trees, which became increasingly abstract until he finally started getting to the essence: geometry and pure color.
It took some time, however, before he reduced his works to grids and his palette to black, white and the three primary colors – a few rooms in the show are filled with abstract, geometric pieces from the late 1920s that still incorporate grays, pastel colors and fuzzy lines.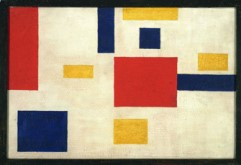 This mega-show, which concentrates on Mondrian's Paris years, from 1912 to '38, offers only a handful of works from his mature period, and it must not be forgotten that he came to his "Mondrian" style rather late in life, when he was in his 50s. It is interesting to note that the artist really struggled with and worked at these paintings, which can seem so reductive and formulaic: an unfinished canvas dating from 1934 shows how he kept changing his mind and moving the lines and blocks of color as he worked.
The music-loving Mondrian later introduced double and interlaced lines to his work, giving them a new rhythm and dynamism. The jazz-influenced "Boogie-Woogie" paintings (unfortunately, not in the show) done in New York near the end of his life, took a new direction, using rectangles of color rather than lines, and seem livelier and more human than his strict earlier works. Throughout his career, however, he never lost sight of the spiritual intention of his art: the colors were meant to absorb the environment of the room and guide the viewer toward a spiritual quest.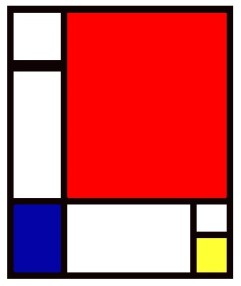 Van Doesburg is as strong a presence in this show as Mondrian, and one can't help but wonder why Mondrian won the eternity sweepstakes while Van Doesburg, who quarreled with Mondrian over whether diagonal lines should be allowed in painting, fell into relative obscurity. A talented artist himself, Van Doesburg often led the way for Mondrian and his other followers and seemed willing to take more risks.
The show offers glimpses into the lives of Mondrian and his De Stijl colleagues through photographs, letters, publications and a reconstruction of Mondrian's Paris studio (pictured above). Probably the neatest artist's atelier in history, it was laid out and painted like a Mondrian painting itself. In a series of interesting filmed interviews of people who knew Mondrian, one notes that he was a bachelor for a reason – "It would be impossible to live with him" – and that the often penniless artist would sometimes compromise his strict geometric principles to do a flower painting that he knew he could easily sell to one of his lady collectors.

The exhibition ends with a look at the application of De Stijl principles to other aspects of life, including architecture and design. The goal was to turn life itself into a harmonious work of art. The most spectacular piece is a reconstruction of the interior of the Schröder House designed by Gerrit Rietveld. Here we see modernity in the making, but we mustn't forget that De Stijl was only one of several contemporary movements – among them Russian Constructivism and the Bauhaus – moving in similar directions.

For all his theories, was Mondrian's art purely decorative? Can that explain its great appeal to the masses and why it looks so attractive when allowed to open up into architectural space, as in his studio or his never-realized plans (included in the show) for the decoration of a house in Dresden? Or should we simply thank Yves Saint Laurent for appropriating Mondrian's designs for his 1965 collection?

Heidi Ellison
http://www.paris-update.com/

Centre Pompidou: 19, rue Beaubourg, 75004 Paris. Tel.: 01 44 78 12 33.
Open 11am-9pm. Closed Tuesday.
Métro: Rambuteau. Admission: €10-€12. Through March 21, 2011.
www.centrepompidou.fr
---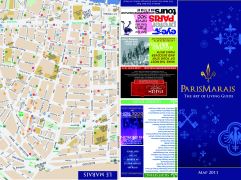 LE MARAIS MAP, DOWNLOAD FOR FREE!
To prepare for your trip to Paris, you can download the exclusive Parismarais map of le Marais for free! Be sure to print out both sides A and B of the map by clicking on the following links:
http://www.parismarais.com/map/A.pdf
http://www.parismarais.com/map/B.pdf
You can also visit the following page where you will find more maps of Paris and le Marais as well as selected places to visit—photos and addresses will "pop up" as soon as you click on the colored dots. Fabulous, n'est-ce pas?
http://www.parismarais.com/map-of-le-marais.htm
---
Don't miss our SPECIAL OFFERS
AOL blocks many major European ISPs, so we cannot guarantee that our mail to AOL addresses will arrive. Please use another email provider or "White List" our email address or add "info@parismarais.com" and to your contact list.
Parismarais Newsletter, december 2010
http://www.parismarais.com
mailto:info@parismarais.com
To Subscribe or unsubscribe :
http://www.parismarais.com/parismarais-newsletter.htm
To find out more about cultural events in Paris, discover Paris Update, the weekly English-language Web review of Paris cultural events edited by Heidi Ellison, an American journalist who has lived in Paris for over 20 years.
http://www.paris-update.com/fr/index.php
Follow Parismarais on Twitter:
http://www.Twitter.com/parismarais
Follow us on facebook:
https://www.facebook.com/pages/Parismarais/338587426166976
Special thanks to all our contributors and media partners all over the world.
http://www.parismarais.com/worldwide-links.htm
Should you wish to promote us and create profitable reciprocal links with us to your web site, please write to advertising@parismarais.com
PARISMARAIS.Com is a Media Partner of Paris Tourism Office, France Guide / Atout France, IGLTA and correspondant of over 100 medias in the world.
---


Copyright 2010, parismarais.comm