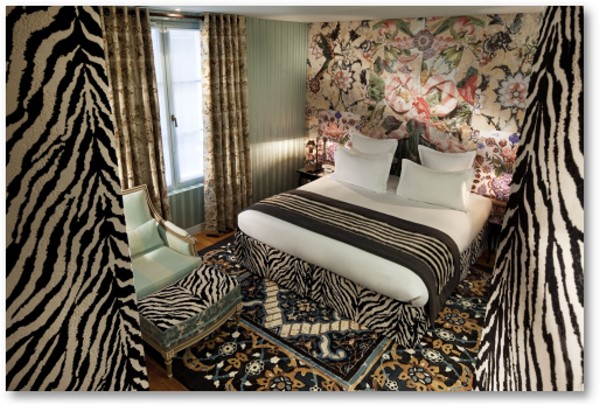 One of the new rooms recently redecorated by Christian Lacroix at the Hôtel du Petit Moulin, one of the best-value 4 star hotels in Le Marais.
Parismarais Newsletter
Issue 60 October 2010
http://www.parismarais.com
---
Monet, Money, Monnaie…
Bonjour Parismarais readers,
We are back with our monthly newsletter after a long hiatus, during which we were busy improving Parismarais.com to make it even more useful and appealing to all our readers. We are very proud to announce that we are now the world's number-one travel guide dedicated to the Marais district, with over 100,000 unique visitors every month.

We not only have a new database system that will streamline our mailings, but we also have a new team dedicated, as always, to bringing you the very best of the Marais, Paris and beyond, with the latest information on holiday rentals, hotels, restaurants, boutiques and much more.

And, we are traveling around Europe to find destinations that will please everyone who appreciates the charms of the Marais. We will be sending you occasional newsletters with great ideas and great deals for excursions to places that are only a day or two away from Paris, such as the Loire Valley, Burgundy, the French Riviera, Berlin, Austria and more.
http://www.parismarais.com/hotels-europe.htm

A word of advice for those planning a trip to Paris: the city's hotels will be packed in October with fashionistas in town for the Ready-to-Wear shows (through Oct. 6) and visitors to the Paris Motor Show (Oct. 2-17 http://www.mondialautomobile.com ) For better deals and room availability, we recommend that you come to Paris in late October, November or December (before the 20th, when the Christmas shoppers arrive).

On a practical note, if you will be flying in or out of Charles de Gaulle Airport in the near future, be advised that the RER line B to the airport will be shut down for renovation work on Saturdays and Sundays through Nov. 7. Travelers should take the RER B to Mitry-Claye, where free shuttle buses will take them to the airport's Terminal 1. Those going to Terminal 2 or 3 will then have to take the RoissyVal light railway. Allow an extra half-hour to get to Terminal 1 and an extra hour to get to Terminal 2.

To avoid the RER completely, take a taxi, the Roissybus (from Opéra, corner of Rue Scribe and Rue Auber) or the Air France bus (from Porte Maillot, Etoile, Orly, Montparnasse or Gare de Lyon). We recommend you to book with one of our preferred companies: JLST
http://www.parismarais.com/visit-paris-travel-in-paris-le-marais.htm.

See below for information on hotels and exciting events in Paris, including the just-opened blockbuster Monet exhibition at the Grand Palais.
Until the next time!

---
HOTEL REVIEW
HOTEL DU PETIT MOULIN - NORTH MARAIS
Hotel du Petit Moulin: Parismarais's coup de cœur. Each room is a veritable designer's creation conceived by none other than Christian Lacroix. You'll receive a regal welcome, with no stuffy formality. Nadia Murano and her staff deserve a gold medal for their courtesy and kindness. When you choose this haute couture boutique hotel, you choose luxury, savoir-vivre and warmth. Your stay will be a memorable one. For the best prices, reserve well in advance via parismarais.com. You'll rub shoulders with lots of fashion and decoration mavens who have fallen under the spell of this magical spot. Many rooms have been newly redecorated by Mr. Lacroix. And each night is a trip to a wondrous dreamland. We also congratulate the hotel for offering the same rates, even in high season.
Rooms from 190 euros, best rate guaranteed with parismarais.com
http://www.parismarais.com/4-star-hotels-paris-marais.htm

HOTEL VILLA MAZARIN – SOUTH MARAIS
Set in a prestigious Haussmannian building dating from the 1850s, the Villa Mazarin is unique in many ways: its style, ambiance and warm welcome. The owners, who also created the magnificent Villa Mazarin in Aigues-Mortes, have taken advantage of the architectural features of this building to create a neo-imperial style that perfectly matches the house. Villa Mazarin is the first hotel in Le Marais to boast this very elegant Parisian style. It is decorated in warm colors, with superb black and white stone bathrooms, and fine art and air conditioning in every room – and even the smallest room is almost twice the size of most other hotel rooms in the area. This was also the first 4-star hotel to be completely non-smoking. When you step out of the hotel, you will find yourself looking at the glorious Renaissance Hôtel de Ville, in an area full of cafés, terraces, chic boutiques and gay bars, perfect for fun and seduction. This is definitely one of the best money-saving choices for your stay in the very heart of Le Marais.

Rooms from 154 euros, best rate guaranteed with parismarais.com
http://www.parismarais.com/4-star-hotels-paris-marais.htm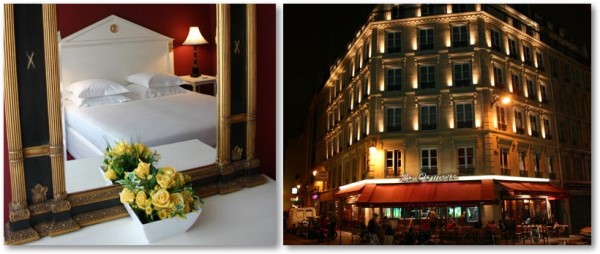 ---
BEST VALUE RESTAURANTS
LA PLACE ROYALE
Best value for money on the Place des Vosges
The Place des Vosges was formerly known as the Royal Square. And La Place Royale is a fitting name for this wonderful restaurant on the south side of the square, near the Victor Hugo museum: you'll have a royal experience indeed. While maintaining the French tradition of grand cuisine, its southern French cooking is constantly inventive. And the fine quality is matched by low prices. The lunch menu is 18 euros and the generous dinner menu includes an aperitif, starter, main dish, dessert and ½ bottle of red or white wine per person, followed by a cup of coffee. All this for under forty euros. With its impeccable service and a warm welcome, La Place Royale is our top choice for 2010. Try the vegetable tatin, the prawn brochettes and the gourmet coffee with homemade ice cream. The terrace on the loveliest square in Paris is extra added plus. Come quick, but don't forget to reserve! Arnaud Lessatini and Frédéric Paquet, the two founders, will welcome you as friends.
2 bis Place des Vosges, 75004 Paris - Tel 01 42 78 58 16 - E-mail
Monday-Friday: 11am to 1am. Week-end 9am-1am. Reservations required in the evening!

DES GARS DANS LA CUISINE
The trendy address in the North Marais
Bistronomique: Not enough superlatives exist to express the creativity of this stylish restaurant with an inventive, surprising menu. The dishes are sophisticated and original, reflecting the fine quality: the home-style hamburger with pleurottes (wild mushrooms) and mimolette (Dutch cheddar) is amazing. Or enjoy the chicken accompanied by tiny gray shrimp and coriander. The desserts, especially the homemade sorbet, enchant the palate. All this for around 40 euros: more than reasonable considering the freshness of the products: "Des Gars" literally means two guys and is a play on words meaning "damage". "The guys" would be the chefs, Jean-Jacques Delaval and Gil Rosinha. But there's no damage here – they will win over your taste buds, and the waiters' warm smiles will make you feel welcome. Go for the fixed-price lunch: two dishes for 12.50 euros. Unbeatable! Sunday brunch runs from 18.50 to 24 euros, with a healthy, guilt-free selection of dishes. Top wines at reasonable prices are also on the menu, all between 18 and 37 euros. Do not forget to book or you will not get a table! After only two years, it's a must in le Marais.
72 rue Vieille du Temple, 75003 Paris - Tel 01 42 74 88 26
Metro: Rambuteau, Temple or Hotel de Ville - Car park: rue du Temple.
Lunch 12 to 2,30 pm - Dinner week 8 to 11 pm
Friday & Sunday 8 to midnight - Brunch 11 am to 4:30 pm. Closed Monday.
Web site

BEL CANTO
For those with an appreciation of Southern French cooking with a touch of Italian and a love of opera music, Bel Canto brings you the unusal dining concept of enjoying your meal while listening to the music of such classical composers as Verdi, Rossini, Mozart, and Puccini, perfomed by the talented young opera singers from the conservatory of the Paris Opera. Marinated salmon with fresh dill, homemade canelloni with pancetta and fresh spinach, strips of duck with foie gras, or filet of sea bream with raspberry butter, all served to you by the same performers who will delight you with operatic interludes every 15 minutes, accompanied by a pianist who plays througout the course of your meal. Located along the Seine near the Hotel de Ville, with two-level dining areas with ochre walls and diffused lighting, as well as a beautiful terrace overlooking Notre Dame and the Ile Saint-Louis, Bel Canto is a perfect place for a special evening. 3 course dinner menu with performance for 76 €.
72 quai de l'Hôtel de Ville, 75004 Paris - Tel 01 42 78 30 18 - Fax 01 48 78 30 28
Metro: Hotel de Ville, Pont Marie - Car Park Hotel de Ville or Pont Marie.
Monday to Sunday from 8 pm. Reservation is highly recommended to be sure to get a table.
Web site

LES ARTS ET METIERS
A hip address for culture vultures. The very central Café des Arts et Métiers is located next to the must-see museum of the same name. The brasserie has a warm, contemporary feel as well as a wonderful sprawling terrace. The regular clientele include those studying at the Conservatory, faithful museum-goers and a chic, creative intellectual crowd. The Arts et Métiers is an efficiently run typical Parisian brasserie. The service is rapid and impeccable. The interior feels like the lounge of a luxury hotel. For lunch you can choose from daily specials: one starter and two main dishes. Fresh market produce is prepared on the spot. One outstanding dish on the menu is creamy chicken risotto. Sunday brunch is fantastic for a mere €19, and you can stop by for happy hour every day from 6:00 to 8:00 pm to order pints of beer or cocktails.
51, rue de Turbigo, 75003 Paris - Tel 01 48 87 83 25 - Fax: 01 48 87 86 35
Metro: Arts et Métiers, exit 'rue de Beaubourg' - Car park: Saint-Martin
Monday to Saturday from 6.30am to 2am - Sunday from 7am to 2am - Free WIFI available.

Don't forget to visit the Arts & Metiers Museum after your lunch
parismarais.com/le-marais-museum-guide.htm

60 rue Réaumur, 75003 Paris
Métro : Arts et Métiers, Réaumur-Sébastopol
Bus : 20, 38, 39, 47
Closed on Mondays.


---
CULTURE and EVENTS
Monet, Monet, Monet…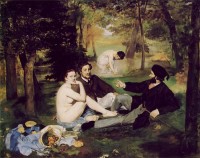 Monet mania is back. Just when you thought you had seen as many water lilies, red poppies and sunrises over the Thames as you ever wanted to see, it is time for a revival. The retrospective "Claude Monet," the blockbuster of Paris's fall art season, opens today at the Grand Palais, and while it holds few surprises, it provides a pleasant reminder of Monet's often-forgotten versatility and of how his work helped change our way of seeing the world. When you leave the exhibition, for example, you won't see the mass of brown chestnut leaves on the trees in front of the Grand Palais exit as just a bunch of dried-up vegetation but as many points of light that could have been painted by Monet.
And when I took a train through Picardy yesterday right after seeing the show, the landscapes framed by the window seemed to glow with Monetian light.
So for those who scoff at the decorative prettiness of Monet's work – like Renoir, he was not ashamed to say that he wanted to create decorative paintings – be aware that there is much more to the Monet story than that. The show begins with paintings made in the forest of Fontainebleau, a favorite subject of the 19th-century French school. Here the young Monet showed that light was already his subject and landscape his forte.
Hungering for success and acceptance by the official Salon, he also painted a monumental "Dejeuner sur l'Herbe," but wasn't pleased with it and never showed it. Two surviving fragments of this piece, along with a smaller complete version owned by a Russian Museum, give a glimpse of what it was all about. There are also a couple of Renoir-sweet paintings of the working-class resort La Grenouillère; it turns out that they were actually painted in the company of Renoir.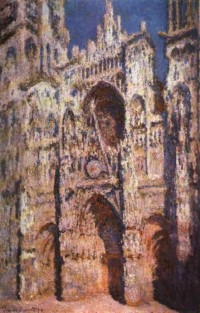 One lovely painting follows another – many beautiful landscapes, of course, but also intimate scenes in the home and even a few classical still lifes (notice the beautifully rendered hunting dog in the lower left-hand corner of "Trophée de Chasse" [1862], and the two marvelous paintings of bouquets of chrysanthemums), as well as Monet's wonderful studies of the interiors of train stations with clouds of billowing smoke. There are also a number of paintings made when Monet was living on the Côte d'Azur, not a place he is usually associated with, where he was rather overwhelmed by the light. "We swim in the blue air. It's alarming," he wrote in a letter from the Riviera, adding that he would "need a palette of diamonds and gems" to paint it.
All this is very pleasing and enjoyable, but the most stunning moment occurs when you descend the steps to the lower level of the show and see the dazzling haystack series. Out of these humble piles of hay, which Monet painted over and over again in different light and seasons, he created some of his most brilliant works. They are accompanied by another beautiful series, of a line of poplar trees, and followed by the famous studies of Rouen Cathedral.
While the show presents 169 paintings, that must be just a small sampling of what this prolific, hard-working artist produced in his long life (1840-1926). There are many moments when you want to see more, notably of the paintings of Venice. Monet didn't visit the city until he was 68, even though it seems a natural match for him: a place with spectacular light where stone meets water, although in less natural conditions than the cliffs of Normandy he painted so often earlier in his career. He painted his views of Venice from water level, sitting in a gondola.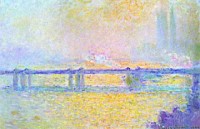 Another missing factor is the famous "Impression, Sunrise," which the Musée Marmottan, located not far from the Grand Palais, refused to lend to this show. That is a shame, since it would have been a treat to see it alongside the similar views of a red sun over water painted in London (another place whose lighting effects fascinated Monet): "Charing Cross Bridge, Brouillard sur la Tamise" and "Waterloo Bridge, Soleil dans le Brouillard," both painted in 1903.
The show ends, as Monet's life did, with paintings of the water lilies in his Giverny garden. For the ultimate water lily experience, however, Monet lovers must go to the Musée de l'Orangerie, where eight monumental water-lily paintings are installed in special oval rooms designed for them by Monet and beautifully lit by skylights. A trip to the Musée Marmottan is also in order to see its fine collection of Monet and other Impressionists.

By Heidi Ellison, editor of ParisUpdate.com http://www.paris-update.com
Galeries Nationales du Grand Palais: 3, avenue du Général Eisenhower, 75008 Paris. Métro: Champs-Elysées Clemenceau. Tel.: 01 44 13 17 17. Open Wednesday, 10am-10pm; Thursday-Monday, 10am-8pm. Admission: €12. Through January 24, 2010. www.rmn.fr
Money, Money, Money…
… Must be funny, in the rich man's world… Aha Ahaaaa, what a wonderful news…Mama Mia is on stage in Paris !
Stage Entertainment France will be producing at Théâtre Mogador, starting on October, 28th 2010, its fourth musical MAMMA MIA! entirely translated into French, as were its previous productions CABARET, LE ROI LION and ZORRO, acclaimed by 1.5 million spectators in Paris.
Launched in London on April, 6th 1999, MAMMA MIA! has been seen by over 42 million people in 35 countries. 17 000 people are watching the show every night all over the world. Already played in 225 cities, MAMMA MIA! is a real worldwide phenomenon with its songs and its script translated into 10 languages. There is actually more productions of MAMMA MIA! playing in the world than any other musical. It is now time for France to have the chance to discover MAMMA MIA! in its own language.
http://www.mamma-mia.fr/fr/the-show
---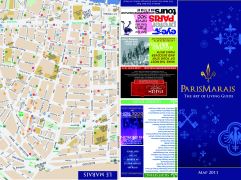 LE MARAIS MAP, DOWNLOAD FOR FREE!
To prepare for your trip to Paris, you can download the exclusive Parismarais map of le Marais for free! Be sure to print out both sides A and B of the map by clicking on the following links:
http://www.parismarais.com/map/A.pdf
http://www.parismarais.com/map/B.pdf
You can also visit the following page where you will find more maps of Paris and le Marais as well as selected places to visit—photos and addresses will "pop up" as soon as you click on the colored dots. Fabulous, n'est-ce pas?
http://www.parismarais.com/map-of-le-marais.htm
---
Don't miss our SPECIAL OFFERS
AOL blocks many major European ISPs, so we cannot guarantee that our mail to AOL addresses will arrive. Please use another email provider or "White List" our email address or add "info@parismarais.com" and to your contact list.
Parismarais Newsletter, Fall Edition 2010
http://www.parismarais.com
mailto:info@parismarais.com
To Subscribe or unsubscribe :
http://www.parismarais.com/parismarais-newsletter.htm
To find out more about cultural events in Paris, discover Paris Update, the weekly English-language Web review of Paris cultural events edited by Heidi Ellison, an American journalist who has lived in Paris for over 20 years.
http://www.paris-update.com/fr/index.php
Follow Parismarais on Twitter:
http://www.Twitter.com/parismarais
Follow us on facebook:
https://www.facebook.com/pages/Parismarais/338587426166976
Special thanks to all our contributors and media partners all over the world.
http://www.parismarais.com/worldwide-links.htm
Should you wish to promote us and create profitable reciprocal links with us to your web site, please write to advertising@parismarais.com

PARISMARAIS.Com is a Media Partner of Paris Tourism Office, France Guide / Atout France, IGLTA and correspondant of over 100 medias in the world.
---


Copyright 2010, parismarais.com