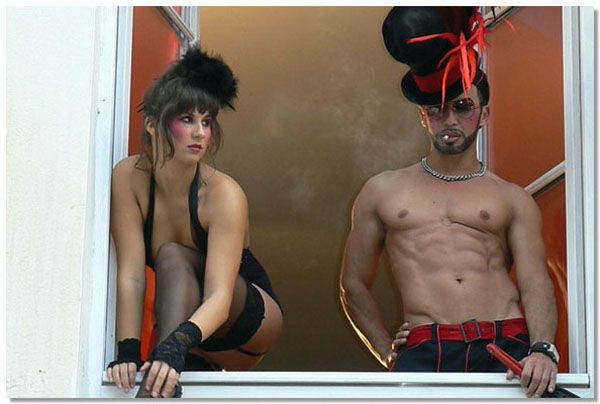 Scandalous people undressing at ETAT LIBRE D'ORANGE windows
to introduce a new fragance called Delicious Closet Queen.
Parismarais Newsletter
Issue 27, July 2007
http://www.parismarais.com
THE SEXIEST CITY IN THE WORLD!
Bonjour Parismarais Readers,
June was an incredible month for events in and around Paris and le Marais, and in this issue, we bring you the highlights! Plus, there are many upcoming events to enjoy, full of fun and sex appeal. The popular TV show "Sex and the City" may have been filmed in New York, but Paris would have been an even better choice for this provocative program. Parisians are well-known for being masters of seduction, and everywhere we go in le Marais, we meet the most beautiful, charming and romantic women and the sexiest men on earth.
The Eiffel Tower is the most famous tourist sight in Paris, welcoming a staggering 6,719,200 visitors in 2006. But when you really think about it, even better attractions are the great restaurants, fabulous boutique hotels and luxury shops… and at Parismarais.com we bring all of these to you.
The best reason of all to visit the City of Light, in my opinion, is the people you'll meet here. As a travel journalist, I have visited many of the world's capital cities -- Rome, Berlin, London, Prague, Athens, Madrid and Lisbon. All capitals have their own identity and charm, but none of them have the Parisians. Often criticized for being grumpy, rude and impolite, they are in fact a very welcoming people. That is, if you approach them in their favorite way -- with seduction.
Tell them they are beautiful, smile, say bonjour and they will be the most adorable people you ever meet. Parisians have changed, and in le Marais, the international, creative and gay district of Paris, you will meet the "crème de la crème des parisiens." Check out the following photos -- when you get bored with the architecture, fashion, style, good food, elegance and creativity in Paris, you can always see the captivating people! And the people are truly what make any city a great place to live and enjoy life. I can honestly say that when I leave Paris for even a week, I am always happy to come back to the Parisians.
Scroll down to see photos of some of the sexiest Parisians … And get more details about all the past and upcoming events. Then plan your Paris stay in July or August when you can take advantage of special summer discounts on our selected apartments and hotels.

Welcome to sexy Paris!

Pascal Fonquernie (and Sister of Perpetual Indulgence)
Editor Parismarais.com
---
JUNE EVENTS WE ENJOYED THE MOST
OUTRAGEOUS street party on June 14:
Launching a new perfume made in le Marais: DELICIOUS CLOSET QUEEN
http://www.etatlibredorange.com/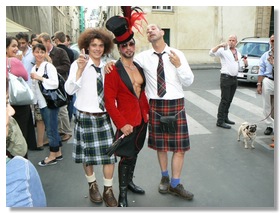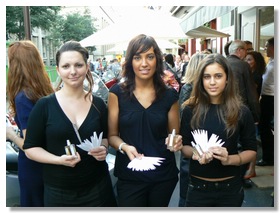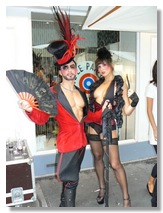 ........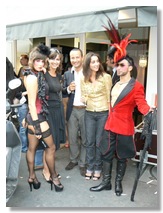 ........
June 24: Paris Fire Brigade Sport Show... YES SIR!
Two hundred sexy guys in shorts climbing ladders…10,000 clapping spectators in an outdoor arena. Parismarais filmed the Paris Fire Brigade Sport Show with Paris Cap Television -- soon to be seen on TV and on Parismarais.com… This is just a "warmup" before the Bal des Pompiers on July 13 and 14 in the fire station on rue de Sévigné in le Marais!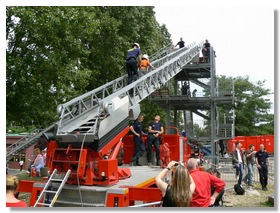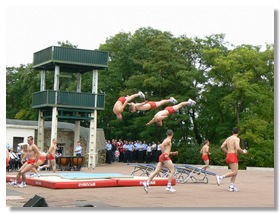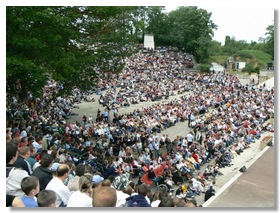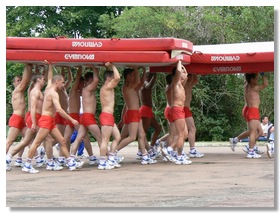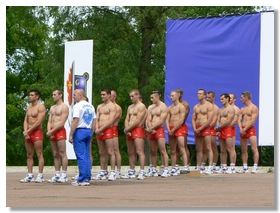 June 30: Paris Gay Pride Parade
Up to 1 million people took to the streets of Paris for the Gay Pride Parade. Our new President Nicolas Sarkozy has promised equal rights for gay people in France in terms of taxes, inheritance and many other social rights, although gay marriage has no chance of being adopted in this country, at least for now.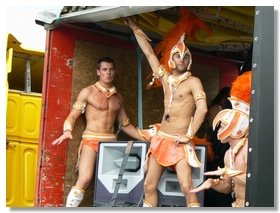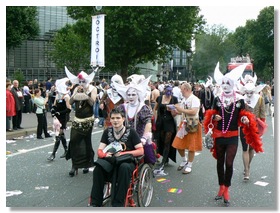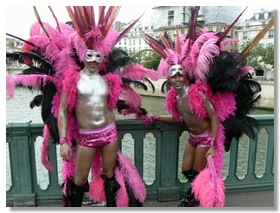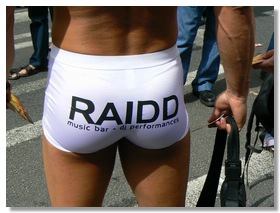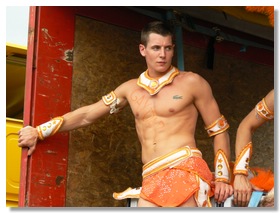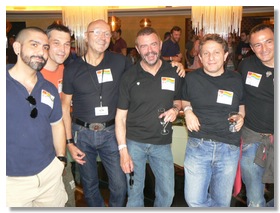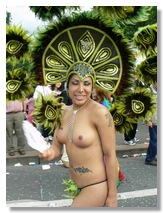 ........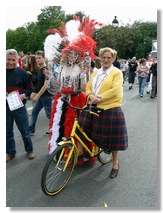 ........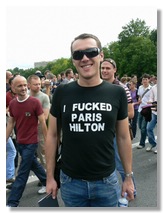 Check out our past Gay Pride Reports: http://www.parismarais.com/paris-gay-pride-2005.htm
---
TOP TEN PLACES FOR FUN IN LE MARAIS
1. VISEART – GLOSS
PUT ON A NEW FACE!

Viseart built its reputation among make-up artists with good value, high quality cosmetics. In addition to designing cosmetics, they offer make-up classes by appointment, using fabulous, professional products.

58 Rue Charlot 75003 Paris
http://www.parismarais.com/beauty-and-spas.htm
and http://www.viseart.com/
2. IL FAIT BEAU – BEAUTY AND SKINCARE FOR MEN
Discover a new space entirely dedicated to well-being which offers skincare specially tailored to men's needs…various types of facials, body treatments such as exfoliation, seaweed or mud wraps and hot stone massage, pulsed light hair removal, and the newest generation of body sculpting: Power Plate. Il Fait Beau uses top of the line professional products by Comfort Zone and even offers a terrace in the summertime for afternoon tea. Il Fait Beau means « it's a nice day » and also « it's beautiful »… treat yourself to a pleasant grooming experience and leave looking and feeling your best.
Facials and skincare from 50€, Body Treatments from 55€, Aromatherapy Massage from 85€. Shoulder and back waxing from 17€ - 35€ and pulsed light hair removal sessions from 35€.
Power Plate: Free Trial Session. 30€ per session or 240€ for 10 sessions.
51 rue des Archives 75003 Paris
Tel: 01 48 87 00 00
www.ilfaitbeau.fr
3. HOTEL DUO LOUNGE BAR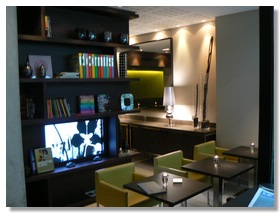 The Hotel DUO lounge bar is the ultimate place to meet and have a drink in le Marais. Very few luxury hotels allow you to enter the serenity of their private world...
Hotel Duo welcomes you every evening from 6 p.m. to midnight to enjoy champagne and fabulous cocktails. The architectural décor combined with modern colors, space and materials work together in elegance and coziness, giving the hotel a warm and contemporary atmosphere.
Air conditioning, great lounge music and comfortable armchairs make this place the perfect spot to take a break after a day of shopping and before a night of dining and clubbing.11, rue du Temple 75004 Paris
Tel: 01 42 72 72 22
http://www.parismarais.com/selected-bars.htm
4. BAR FLEUR: Flowers, Vodka and Champagne until 2 a.m.!

Bar Fleur is a most unusual and unexpected kind of bar where you can treat yourself or someone special to the many top shelf vodkas and champagnes, plus a stunning selection of fresh-cut flowers and potted plants!
When you walk through the doors, you are instantly intoxicated by the fragrance of orchids, lilies, and other exotic species of flowers and by the subtle aromas of the infused vodkas (Stolitchnaya Elit, Tovaritch, Wyborowa, Grey Goose, Absolut, Smirnoff) and the Grand Cru Champagnes (Nicolas Feuillate, Perrier Jouet Belle Epoque, Dom Perrignon, Bruno Paillard Rosé première cuvée). Alexandre will welcome you «Moscow-style» at this unique establishment. Visit soon to see a unique exhibition all about metro tickets in art.
3, rue des Tournelles 75004 Paris
Tel: 01 42 71 04 51
http://www.parismarais.com/selected-bars.htm
5. BHV HOMME
A new temple dedicated to gentlemen has just opened its doors in central Paris. Located in the romantic area of le Marais, BHV HOMME is a concept male store with over 150 brands, including many famous designers as well as talented newcomers. BHV HOMME features four levels and 43,000 square feet of everything the male shopper needs – having such a huge selection under one roof will surely save you some precious shopping time, but you may be tempted to spend more money. After a successful day of shopping, have a drink on the patio. That is, if you are not intimidated by all the underwear models…!
Le BHV HOMME
36 rue de la Verrerie 75004 Paris
http://www.parismarais.com/mens-wear.htm
6. REX FETISH
Since 1996, Rex is still THE alternative shop for all your fantasy, leather and rubber outfits, vintage military clothing and boots…even harnesses (from 140€) and sex toys. The shop works closely with many fine craftsmen, such as Gaborit, who specializes in leather design for custom made cavalier boots (from 450€). For smaller budgets, in the fetish range, rubber shorts and t-shirts start at 110€, leather chaps for 330€, Fred Perry original UK shirts from 65€, beautiful lambskin shirts from 300€, and leather cuffs from 85€. Nicolas and his team will also advise you on the diversity of Paris' leather scene, where you can show off your new outfits!
42 rue de Poitou 75003 Paris
Tel: 01 42 77 58 57
Metro: Filles du Calvaire
www.rexfetish.com
7. LE SCARRON
A new club salon has opened its doors in le Marais – Le Scarron. Enjoy a cozy atmosphere featuring neobaroque chic with vaulted ceilings, stone walls and contemporary glass enclosed chandeliers – it's a 21st century salon. Jean Louis Garnier and his team are ready to welcome you to one of the most elegant spots to see and be seen in the heart of le Marais. The clientele is a fun mix – gay crowd, artists, writers and other creative people, all drawn together by their love of life. Sink into the soft and comfortable sofas and enjoy cocktails, wine, champagne and good conversation. You'll meet people here you may not meet in other clubs in le Marais – come to seduce and be seduced. Check it out alone or with friends… entry is free and drinks start at only 8,50€.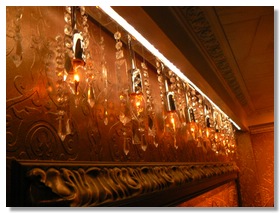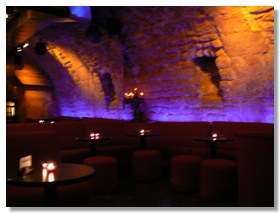 3, rue Geoffroy l'Angevin 75004 Paris
Tel: 01 42 77 44 05
Wednesday to Sunday 10 p.m. to 6 a.m.
www.lescarron.com
8. RAIDD BAR
Raidd Bar is unique for its style, ambiance and crowd. Each day, from 5 p.m. on, it is the most friendly open air terrace you'll find in le Marais, with all drinks at happy hour prices. How about treating yourself to a glass of champagne...and getting a second glass for free! The bartenders are probably the sexiest in Paris -- they have dream bodies and great attitudes...a winning combination! Starting at 11 p.m. there is lots of action, including shows under the shower -- everyone is welcome to watch and dream. You can even bring your girlfriends if they dare to pass through the doors. Downstairs in the lounge bar the atmosphere is more cozy with its red velvet décor and comfy sofas, the perfect place to chat with your special man. In all of Paris, there is truly nothing quite like Raidd. Once you've been here, you'll love it!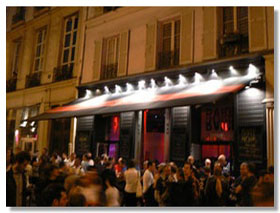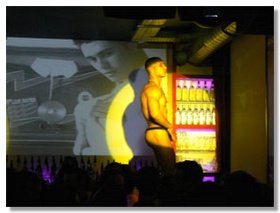 For daily details about who the live DJ is and who is under the shower, check out the online agenda: http://www.raiddbar.com/mois/index.html
23 rue du Temple
75004 Paris
www.raiddbar.com
9. LE COLIMACON: TRADITIONAL FRENCH CUISINE AND SNAILS!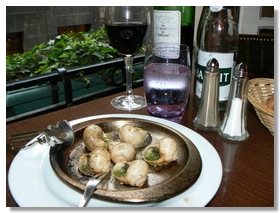 At Le Colimaçon, you can discover the French classics of regional gastronomy as well as the different French wines -- from a single glass to a 1.5L magnum.
If you've never tried escargot (snails), then this is the place to start -- you'll love them! For your main dish, you can then try the veal kidneys with wine sauce, classic steaks with Roquefort sauce, veal with cider sauce, or Médaillons de Lotte (fine fish). And for dessert, delicious profiterolles with madeleines. A menu with main dish, starter and dessert is only 27,50€.
Main dish and starter, 22,50€. Main dish and dessert, 20,50€. Sandrine and her team will enchant you with their warm hospitality. So forget "nouvelle cuisine" and enjoy the pleasure of French traditions...Le Colimaçon is definitely one address not to miss in le Marais!
Le Colimaçon
Restaurant & Wine Bar
44, Rue Vieille du Temple 75004 Paris
Tel: 01 48 87 12 01
Every night from 7 pm to midnight (last order)
http://www.parismarais.com/gay-restaurants-in-le-marais-paris.htm
10. BEL CANTO
Bel Canto brings you the delightful dining concept of enjoying your meal while listening to the music of such classical composers as Verdi, Rossini, Mozart, and Puccini, perfomed by talented young opera singers from the conservatory of the Paris Opera. Flora Fernadez, mezzo soprano, Asa Junesjö mezzo soprano, Siegfried Bernard and Olivier Montmory, tenors, with pianist Jean Paul Pruna will certainly enchant you!
Marinated salmon with fresh dill, homemade canelloni with pancetta and fresh spinach, strips of duck with foie gras, or filet of sea bream with raspberry butter. All meals are served by the same performers who will charm you with operatic interludes every 15 minutes, accompanied by a pianist who plays throughout your meal. Located along the Seine near the Hotel de Ville, Bel Canto is a perfect place for a special event. Dinner with performance for 68€.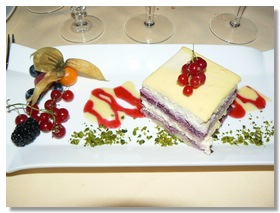 72, quai de l'Hôtel de Ville
75004 Paris
Tel: 01 42 78 30 18
Fax: 01 48 78 30 28
Metro: Hotel de Ville, Pont Marie - Car Park Hotel de Ville or Pont Marie nearby
www.lebelcanto.com / infos@lebelcanto.com
Monday to Sunday from 8 p.m. Non smoking restaurant. Reservations are recommended.
---
JULY EVENTS NOT TO MISS
MUSIC SUMMER FESTIVAL
From June 20: Festival des Soirs d'Été at Paris City Hall of the Third Arrondissement

For the tenth year, the Paris City Hall of the third arrondissement is organizing a great festival of events including shows, gatherings, concerts, and open air cinema in the local city hall courtyard. Check out the programs here – there is a different event every day to enjoy the night in le Marais !

For more details (in French) visit: http://www.mairie3.paris.fr/mairie3/jsp/site/Portal.jsp
TOURISM DAY – July 9
Paris celebrates its visitors : outdoors events, walks, visit and encounters...
More information on www.parisinfo.com
FESTIVAL MUSIQUE EN L'ILE
Classical concerts in ile Saint Louis church with St Petersburg new Chorus
www.latoisondart.com
OUTDOOR CINEMA
Free Outdoor screenings of major films in different areas of Paris
www.forum des images.fr
BASTILLE DAY and BAL DES POMPIERS – July 13 & 14
Paris heats up July 13 and 14 for the annual Bal des Pompiers. Hosted by the fire stations throughout Paris, the young firemen are totally dreamy with their short hair, muscular tattooed bodies and adorable smiles.
Join us this year for the party at the fire station on rue de Sévigné, starting at 9:30 p.m. on July 13th, Metro Saint Paul. If you're staying at Hotel Saint Paul, you'll be in a great position to be first in line!
http://www.parismarais.com/bastille-day-firefighters-paris.htm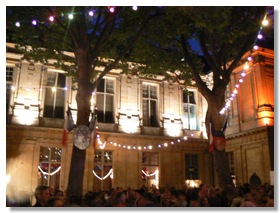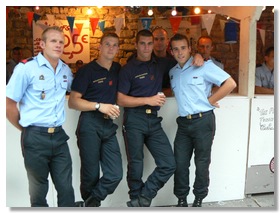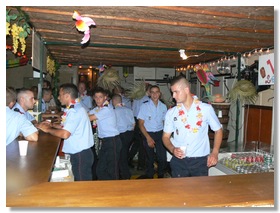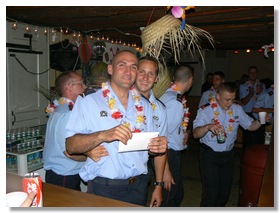 ---
WHERE TO STAY and have Air Conditioning?
Many people don't realize that August is low season in Paris…and this means that it is also bargain season when you can visit the French capital for less. First, you'll enjoy the summer sales and shopping, with prices up to 50% off. You'll also have the chance to relax and unwind at Paris Plage, with a real sand beach, palm trees, shows, open air restaurants and tons of fun things to do, all on the banks of the Seine. Plan your Paris visit in August when you can treat yourself to a 4 star hotel at 2 star prices!
SUMMER SPECIALS FOR HOLIDAY APARTMENTS
Parismarais has selected only the very top apartments just for you. When you rent a flat with us, you know you'll always be treated like royalty and benefit from friendly service and exceptional spaces.
Please visit: http://www.parismarais.com/visit-our-flats.htm We still have a few apartments available in July and August… at up to 30% off!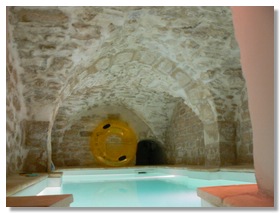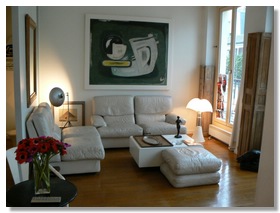 FABULOUS HOTELS!
5 stars for the price of 3… and 3 stars for the price of 2
Check out PARISMARAIS special deals!
Le Petit Moulin **** designed by Christian Lacroix, offers you rooms from 180€,
with 20% off in August.
http://www.parismarais.com/4-star-hotels-in-le-marais-paris.htm
Hotel Molay*** Luxury with fitness and spa. Single with breakfast for 100€,
double with breakfast for 120€
Hotel Saint Paul*** from 115€.
This is the best location if you want to attend the famous « Bal des Pompiers » on July 13 and 14.
Hotel des Archives***
from 90€, a contemporary touch, just next to the Paris District 3 City Hall and Temple Square
Hotel Ecole Centrale***


Single for 90€, double for 100€


In the heart of le Marais…

With its charming, centuries old interior crowned by splendid wood beams, this friendly hotel offers rooms with a contemporary ambiance.

Features include free WiFi access, air conditioning, satellite TV, minibar and breakfast buffet. Although the hotel is centrally located, facing the great Arts et Métiers Museum and conveniently next to the Arts et Métiers metro station, one of the main advantages is that it is on a quiet street with very little traffic. Should you stay on one of the upper floors, you'll enjoy a lovely view of Paris rooftops.
---
« I love August in Paris »
By Richard Nahem, Editor of Eyepreferparis.com

August in Paris is blissful and much better than April in Paris. The streets are empty of people and traffic. The weather is flawless – warm and in the 70's to low 80's with no humidity. We roamed the streets and went to our favorite places – Café Flore, St. Germain, Jardin de Luxembourg, the Marais, Ile St. Louis, The Trocadero, and The Pompidou Museum. Even the busiest traffic streets like rue de Rivoli and the Champs Elysées were practically empty and you could almost play soccer without cars interrupting. We lunched at an outdoor café on Saint Sulpice square trying to figure out which apartment Catherine Deneuve lived in (a friend of ours had spotted her late one evening smoking on her terrace). We were certainly not naïve enough to believe that we would spot her, because she wouldn't be caught dead in Paris in August. Our first language breakthrough was learning how to order milk on the side with the coffee instead of café crème. You would say" le lait a côté." I know this sounds trivial, but if you had suffered through as many cups of weak coffee with too much milk at $5 a pop as we did, this was important. I couldn't understand why the coffee was so weak considering that I always loved the strong coffee Paris cafes were known for. I found out that all the old coffee machines had been replaced with modern ones that dispensed the coffee and the milk at the same time, which meant they no longer steamed and serve the milk separately. Yet another example of how technology made things worse instead of better.

We roamed around empty Paris with abandonment walking down the boulevards, the rues, the avenues, the Places (squares) we never heard of or had never been on, gasping at the beauty of even the most mundane streets. I think the best-kept secret is that Paris is wonderful in August. However unfashionable and unheard of it is to stay here in August, I am not budging and I will not be going on VACANCES with the masses.
---
FREE BIKES FOR THE PARISIANS
VELIB is the new Paris free bike sytem that will be starting mid-July to provide a new transportation service with 15,000 bikes that you can pick up and drop off everywhere throughout the city for a mere 1€ per hour… ideal to ride, faster than cabs and a perfect way to enjoy the wonders of le Marais architecture without being underground in the metro.
There is a bike stop every 30 meters… and you can easily find them by their great flashing lights …
Find out more on Velib: http://www.velib.paris.fr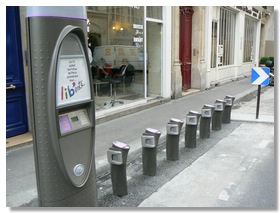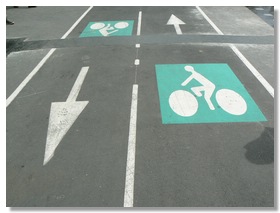 ---
VIP's
Thanks to the Paris Tourist Office, we co-organized with the Paris gai village association a welcoming weekend for 12 journalists who came from all over the world to discover le Marais. We took them to the Gay Pride Parade and showed them the most unexpected venues and places that are not always accessible to the public including the Carnavalet museum roof terrace and the Pierre Jean Chalençon private museum of Napolenic arts. We also tried some of the best restaurants in le Marais, Les Chineurs and F & B, and clubs like Raidd and Les Bains Douches.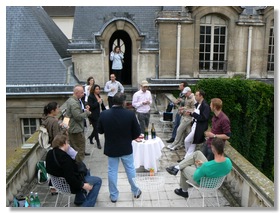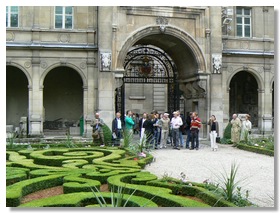 We hope they enjoyed Paris and had a new vision of our favorite district… of course we'll mention all their comments about Paris and the Parisians to continue to improve our services. Finally, if it was not popular enough before, le Marais will be famous in Lisbon, Vienna, Berlin, Copenhagen, Tokyo, Dublin and London… It was a great pleasure to extend our hospitality to all of them. And we hope to visit their cities very soon.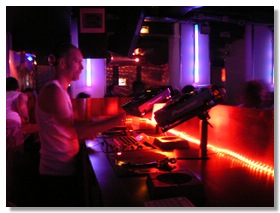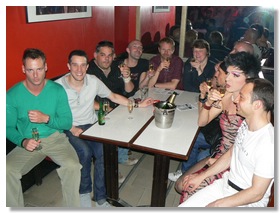 ---
Parismarais Newsletter
Parismarais Newsletter, July 2007 issue
Thank you to the following people for their contributions: Pamela Grant from Parisperspective.com, Bruno Quantin and Jean Marc Léri from Carnavalet Museum, Gilles Bry from Parisgayvillage.com, Véronique Potelet from Paris Tourist Office, Laurent Queige from Paris City Hall, Madame Hervé from Le Tango, Jean Claude From Raidd Bar, Manu from Les Bains Douche, Richard Nahem from Eyepreferparis, Pierre-Jean Chalençon, Lili Quint, Lynda Sydney and the Parismarais Team.
http://www.parismarais.com
mailto:info@parismarais.com
To Subscribe:
http://www.parismarais.com/parismarais-newsletter.htm
To Cancel Your Subscription:
http://www.parismarais.com/unsubscribe.htm
To receive more news about Paris, subscribe to Parler Paris Newsletter and twice a week you will receive the latest information, events, tips, and details about what's new in the French capital, written by Adrian Leeds, long time resident of Le Marais, Visit www.parlerparis.com
Copyright 2007, parismarais.com