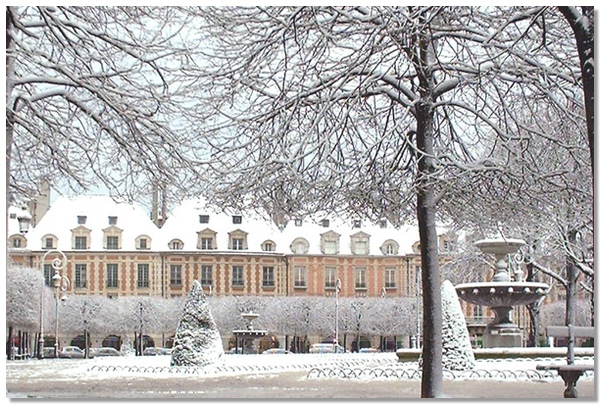 A January day on Place des Vosges… the most prestigious location in Le Marais
© Photo Pascal Fonquernie

Parismarais Newsletter
Issue 50, January 2009
http://www.parismarais.com
---
NO ONE CAN RESIST MINUS 50 !
Bonjour Parismarais readers,
It's January in Paris and that means it's time to celebrate the winter sales!
On the official start date, January 7th, thousands of shoppers were waiting in line at their favorite shops to take advantage of savings of 50% off and sometimes even 70% off! This year will be especially great because of the "crisis." Many shops have to get sell their remaining winter stock which is rather high this year—one more great reason to come to Paris right now. Plus, you can get discounts at most hotels and on apartment rentals, too.
What perfect timing for the Paris Tourist Office to launch its new motto, "Soldes by Paris," to encourage foreign visitors to shop throughout Paris, and especially in le Marais where all the most creative shops are located—you'll find lots of great tips at http://www.shoppingbyparis.com/
This site offers helpful information about how to navigate the sales and includes a shopping book with itineraries in five categories: La Classique (formal), La Trendy (young and smart), La Bobochic (bohemian bourgeois), La Creative and La Fusion Fashion World (new trends).
But the best idea for shopping the sales is to check out each street in le Marais with the help of the newly published PARIS MARAIS MAPS. You'll find this useful map at the Paris Tourist Office, at 200 luxury hotels in central Paris, and at hundreds of selected boutiques and restaurants. If you own a restaurant or a hotel in Paris and want to receive PARIS MARAIS MAPS for your clients, just write us and we'll have them delivered to you.
We also encourage you to visit our men's shopping selection and watch the fashion show we filmed for Pierre Talamon's new collection. The shopping tips at the Paris Tourist Office are mostly for women, so this one is only for you guys…visit http://www.parismarais.com/mens-wear.htm.
To make your Paris shopping walk even more enjoyable, read on for a list of bars and restaurants you must discover all along the way. Make a stop for lunch or teatime and do not miss trying a galette des rois. A popular French tradition enjoyed at this time of year is the galette des rois (royal cake) which has been an institution in France since the Middle Ages. Read more and discover where to get the very best of these special treats http://www.parismarais.com/gastronomic-treasures.htm

A bientôt, bonne année, bonne santé, the only crisis we wish you is a "crise de rire" -- lots of laughter!

Pascal Fonquernie
Editor, Parismarais.com
---
RESTAURANTS AND BARS TO TAKE A BREAK FROM SHOPPING
F & B Restaurant
French design cuisine.
3 course lunch menu for 19€.
14 rue Charlot, 75003 Paris
Tel: 01 42 78 02 31
Des Gars Dans la Cuisine
Haute cuisine mixed with contemporary bistro style.
Bargain lunch menu – 2 courses for only 14€
Fabulous brunch on Sundays from noon to 4 p.m.
72 rue Vieille du Temple, 75003 Paris
Tel: 01 42 74 88 26
Le Colimaçon Wine Bar
Cuisine from different French regions. At any time of the day you can get a glass of wine and choose just one dish "à la carte."
44 rue Vieille du Temple, 75004 Paris
Tel: 01 48 87 12 01
L'Ambassade d'Auvergne
For over 40 years, L'Ambassade d'Auvergne has been the Paris institution for delicious food from Central France. They offer a great value lunch menu at only 22€.
22 rue du Grenier Saint-Lazare, 75003 Paris
Tel: 01 42 72 31 22
Ma Bourgogne
Traditional French cuisine from Burgundy, with a menu for 35€
19 Place des Vosges, 75004 Paris
Tel: 01 42 78 44 64
Le Gayridon
Best value for lunch with a 3 course menu for 15,90€
19 rue de Picardie, 75003 Paris
Tel: 01 42 71 31 71
Pain Vin Fromage
Cuisine from the French Alps and a selection of French cheese plates, evenings only.
Specialties like Fondue Savoyarde from 14€.
3 rue Geoffroy L'Angevin, 75004 Paris
Tel: 01 42 74 07 52
Equinox
Traditional French and Quebecoise specialties.
33 rue des Rosiers, 75004 Paris (at the corner of rue Vieille de Temple)
Tel: 01 42 71 92 41
Curieux Spaghetti Bar
Pasta with a creative and design touch. Fabulous dishes from 12€.
14 rue Saint-Merri, 75004 Paris
Tel: 01 42 72 75 97
Open Café
Popular gay bar and lunch restaurant.
17 rue des Archives, 75004 Paris
Tel: 01 42 72 26 18
Okawa
Bar & Restaurant
40 rue Vieille du Temple, 75004 Paris
L'Imprévu
Friendly mixed daily lounge bar to take a break for a crumble or a pot of tea.
9 rue Quincampoix, 75004 Paris
Tel: 01 42 78 23 50
Mariages Frères
This very exclusive tea house boasts a super chic clientele and offers a choice of more than 400 different teas. They do a great breakfast and brunch on Sunday mornings for about 30€. Make sure you book in advance!
Rue du Bourg Tibourg, 75004 Paris
L'Apparement Café
Stylish and cozy, the place to have tea or cocktails, located in front of the Picasso Museum.
18 rue des Coutures St Gervais, 75003 Paris
Le Loir Dans la Théière
A cozy and charming tea room in the Jewish district.
3 rue des Rosiers, 75004 Paris
Kate's cuisine

A delicious Tunisian look place serving world cuisine by a british lady

Lunch menu at only 12 euros, tea house in the afternoon, closed in the evening, tuesday to Saturday
27 rue de Picardie - 75003 Paris - Tel 08 72 29 37 36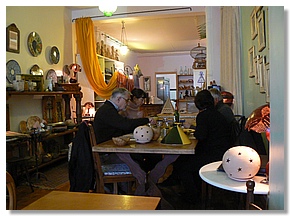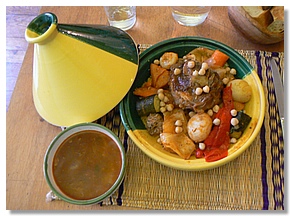 Legay Choc (Pastries and Breads)
Do not miss their galette des rois…and only on Saturday afternoons, their baguette magique!
45 rue Ste Croix de la Bretonnerie, 75004, open from 8 a.m. to 8 p.m. except Wednesday
17 rue des Archives, 75004 (next to Open Café), open from Monday to Saturday 9 a.m. to 7 p.m.
33 rue Rambuteau, 75004, open from 7 a.m. to 8 p.m., except Wednesday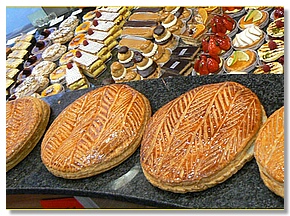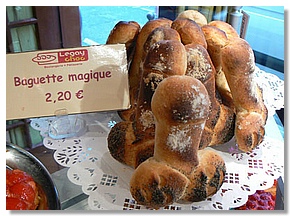 ---
DISCOVER LE MARAIS STREETS
In the past year we have had the pleasure to present a series of short films on French television about the best addresses in le Marais. If you have not had a chance to see these films, they are now online! Discover rue Charlot, rue de Poitou, rue des Archives, rue du Temple…. And if you have anything great to recommend in le Marais, let us know—we may come to film it very soon!
Visit http://www.parismarais.com/videos.htm
---
WINTER PROMOTIONS FOR YOUR HOLIDAY RENTAL
Looking for somewhere unique to stay for your next Paris holiday? Parismarais selects only the best of the best in each apartment category, just for you. You know that when you rent a flat with the owners and companies we select, you'll be welcomed like a friend, benefit from great service and enjoy exceptional accommodations.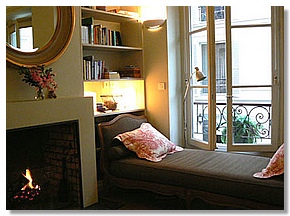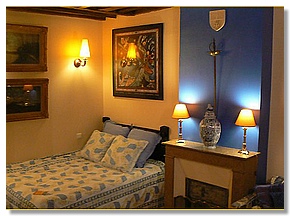 BOOK ONLINE NOW WITH SPECIAL PROMOTION CODE "SOLDES"
FOR A ONE WEEK RENTAL AT 30% OFF!
http://www.parismarais.com/book-a-flat-le-marais-paris-france.htm
For most of January (except for fashion week late in the month) most hotels offer discounts like you've never seen before in Paris…and renting a flat has never been so cheap! This is definitely one of the best times to discover Paris!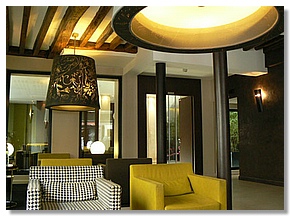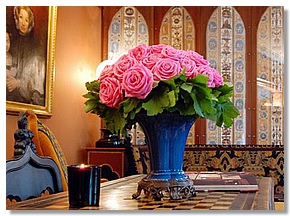 Enjoy this selection of luxurious, stylish and very affordable hotels and rentals:
4 star category: http://www.parismarais.com/4-star-hotels-paris-marais.htm
3 star category: http://www.parismarais.com/3-star-hotels-in-le-marais-paris.htm
3 star budget: http://www.parismarais.com/hotels-paris-le-marais.htm
More fabulous Paris hotels around le Marais district: http://www.parismarais.com/hotels.php?zone=Paris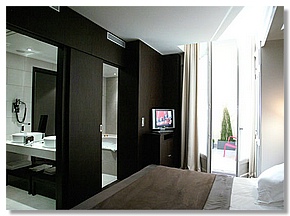 ---
EVENTS NOT TO MISS IN JANUARY
Christmas ice skating
in front of Paris city hall
Untill 28 feb free admission, you can rent your skates or bring your own
Metro Hotel de Ville
Madama Buterfly , by Giacomo Puccini
Décor by Robert Wilson, conductor Vello Pahn
From 29 jan to 4 march, tickets from 5 to 135 euros
Wise to book of course : opera-de-paris.fr
Paris, Capitale de la Création
Several big trade markets associated and promoted together by the city of Paris
18 jan to 2 feb – porte de versailles and Villepinte trade show
www.pariscapitaledelacreation.com
---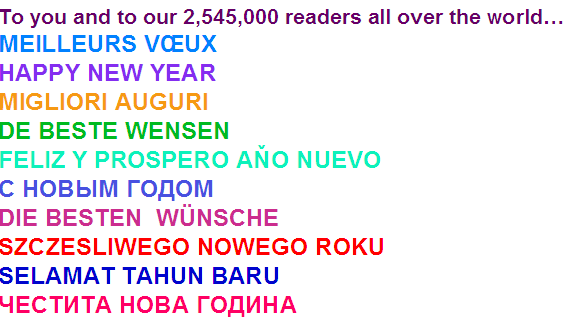 ---
Don't Miss PARISMARAIS NEWSLETTER AND SPECIAL OFFERS
AOL blocks many major European ISPs, so we cannot guarantee that our mail to AOL addresses will arrive. Please use another email provider or "White List" our email address or add "info@parismarais.com" and to your contact list.
Parismarais Newsletter, January 2009
http://www.parismarais.com
mailto:info@parismarais.com
To Subscribe:
http://www.parismarais.com/parismarais-newsletter.htm
To Cancel Your Subscription:
http://www.parismarais.com/unsubscribe.htm
Special thanks to all our contributors and media partners all over the world.
http://www.parismarais.com/worldwide-links.htm
http://www.parismarais.com/gay-links.htm
Should you wish to promote us and create profitable reciprocal links with us to your web site, please write to advertising@parismarais.com.
PARISMARAIS.Com is a Media Partner of Paris Tourist Office and France Guide / Maison de la France.
---

Copyright 2009, parismarais.com