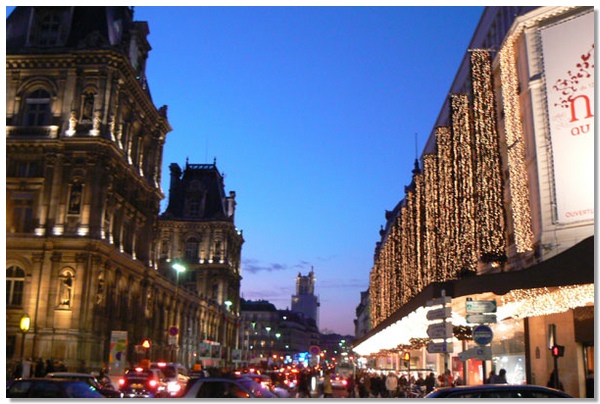 Last-minute shopping at BHV on Rue de Rivoli.

Parismarais Newsletter
Special New Year Edition
http://www.parismarais.com
Last-minute tips and ideas for New Year's Eve
Bonjour Parismarais Readers,
No plans for tomorrow evening?
Here's our last-minute selection to enjoy a fantastic New Year's Eve in Paris' favorite district.
---
FOOD AS A WORK OF ART
FABULOUS ! « I've never tasted anything like this in my life » This is what you'll say when they'll bring you the first dish – Every detail of every meal looks like a work of art. Foie gras mousse served on a black tile, bœuf Bourguignon that looks like chocolate cake, salmon and beef together, chocolate and pistachio delirium… Every single meal is an experiment. The food is delicious, the staff is wonderful, the decor is great… and it's only 29€ for 3 courses. Monjul has opened in may 2007 and it's already one of the Marais Top 10 restaurants.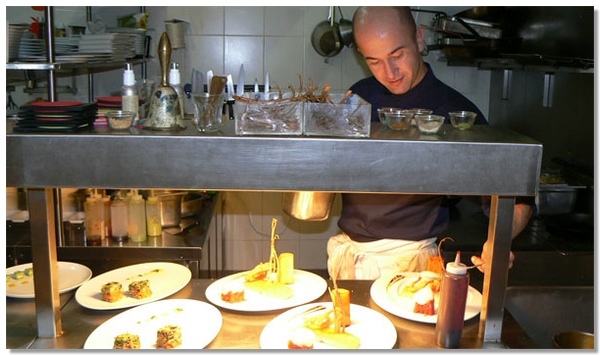 Talented Chef Julien Agobert and his team will surprise you like no one else ever did before.
Be sure you book to get a table !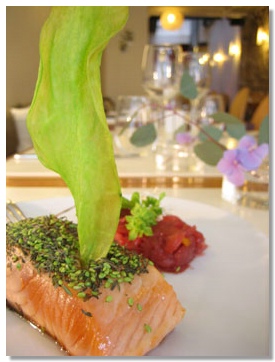 ..........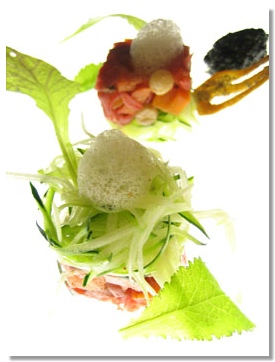 New Year's Eve special menu : 100 € including all the following dishes:
Amuse bouche : petit œuf exotique au plat
To start: bouillant de verveine aux lamelles de saint jacques croquantes
and also Velouté de Chataigne et raviole de foie gras poêlé au genièvre
Fish: Confit de cabillaud translucide, purée de panais au jus de viande
Meat: Biche à la royale et nem croustillant de truffe
Surprise: Sorbet 27 au basilic
Cheese selection: Brie de Meaux à la pistache, confiture de vieux garçons
Desert: Flamby chocolat wasabi et marron
+ mignardises
+ special bonus between each dish
+ ½ bottle of Champagne per person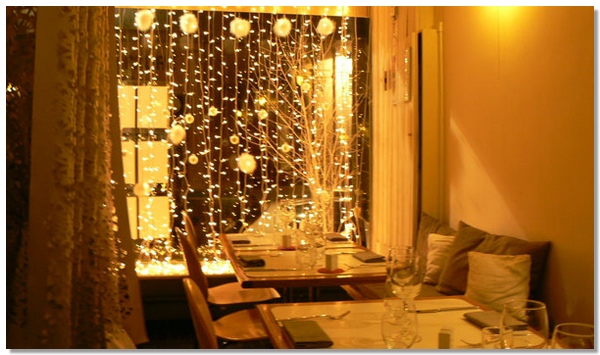 Monjul : 28 rue des blancs manteaux 75004 Paris
Book now! +33 1 42744015 from abroad and 01 42 74 40 15 from France
---
DINING AND CLUBBING ALL AT ONCE
LES BAINS-DOUCHES CLUB – RESTAURANT – LOUNGE
Enjoy a memorable New Year's Eve dinner followed by a fantastic party night!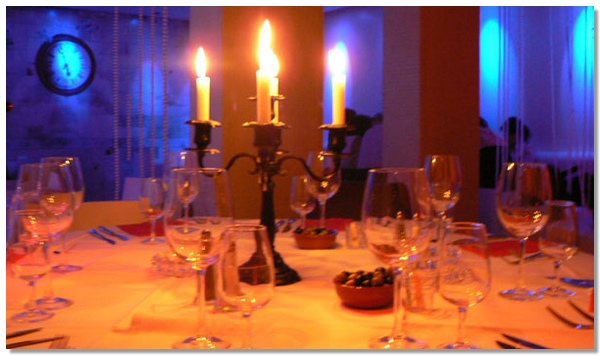 MENU REVEILLON SHOWER

Cocktail aperitif
1 glass of Monbazillac
½ Champagne bottle
¼ Mineral water
1 coffee + 1 glass of Cognac

First starter :
Charlotte de homard aux fruits thaïlandais, salade d'herbes gourmandes
Second starter :
Variation de foie gras «cuit, cru et chaud», poires du curé

Trou : cactus-ginger and genepi liquor

Main course :
Tronçon de turbot piqué à la truffe, rôti à l'arrête, et ses pommes fondantes en croûte de sel or Pigeon fermier des landes, coffre rôti et cuisses confites, cèpes à la bordelaise et mousseline de topinambours.

Selected Cheeses

Dessert :
Macarré de pistache crémeuse aux framboises, pipette de jus rosé et sa verrine de compotée tiède or Lingot d'or en fines feuilles chocolatées et son cœur aux fruits exotiques

150 € per person (Dinner + Club)

7 rue du Bourg l'Abbé 75003 Paris Tel: 01 48 87 01 80
www.lesbainsdouches.net Metro: Etienne Marcel

To book your table: resa@lesbains.info
---
LAST-MINUTE RENTALS & HOTELS DEALS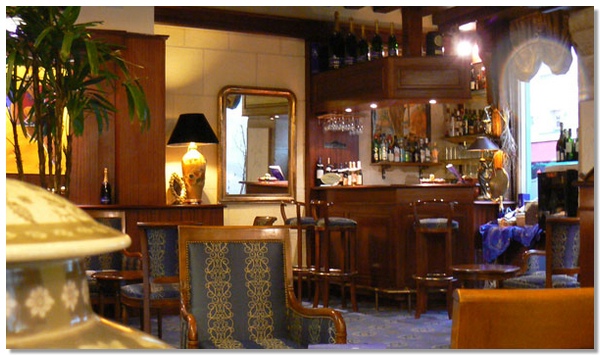 LAST-MINUTE TRIP? Most hotels are sold out, but feel free to e-mail us; we know all of them and we may be able to help you find a room: info@parismarais.com

You can save 20 % to 30 % off the regular price in most hotels & apartment rentals in January so don't hesitate to contact our selected partners.

Check: http://www.parismarais.com/visit-our-flats.htm
---
Luxury Guesthouse in le Marais : enjoy 4 nights for the price of 3
in January
The Marais Guesthouse is not a hotel, more of a cross between a hotel particulier and a prestige bed & breakfast. But it qualifies amply our 4 lys category because Yann-Gabriel Hentschke's meticulously restored interior breaks the mold—and positively exudes attitude. He lovingly tracked down the raw materials to transform a derelict shell into a chateau-in-miniature. There are stone floors, furnitures brought back from Poitiers and Loire Valley. The fireplaces date mostly from the same era. Carefully selected antiques complete the effect, and go some way towards explaining the owner policy of disclosing the exact location when guests reserve.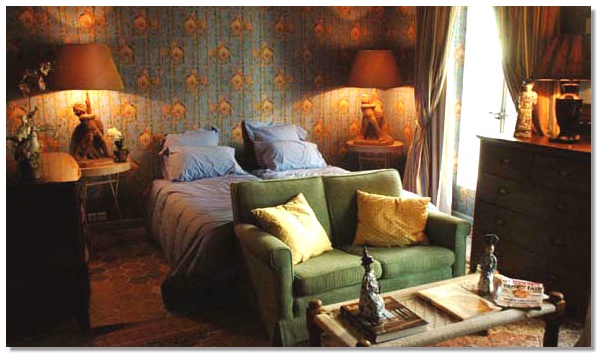 http://www.parismarais.com/4-star-hotels-paris-marais.htm
or http://www.maraishouse.com
Tel. : +33 (0)6 16 13 39 90
or +33 (0)1 42 74 61 36
From the US dial:
011.336.16.13.3990
or 011.33.1.42.74.6136
---
HOW TO GET TO LE MARAIS DISTRICT !
The Cheapest solution: metro + RER train
Metro map: click here (PDF format)
From Gare du Nord Eurostar train terminal:
- Métro line 5 direction Place d' Italie, stop at République for North Marais or Filles du Calvaire. Line 11 and get off at Hôtel de Ville or Saint Paul for south Marais.
- Taxi from Gare du Nord or Gare de Lyon will cost you around 10 € and take a maximum of 15 minutes.
From Roissy Charles de Gaulle airport:
- RER express train takes you to Gare du Nord train station in 30 to 45 minutes for around 10 €, it's the fastest way to travel to central Paris, but not the best if you have lots of luggage.
- Taxi, if you have a lot of luggage will cost you around 50 € and will take a minimum of 45 minutes to go to the city center.
It will be almost impossible to find a cab on New Year's Eve but the metro will be running all night…
If you wish to hire a chauffeured limo, check out Parismarais' selected Limousine Companies:
http://www.parismarais.com/visit-paris-travel-in-paris-le-marais.htm
---
GOODBYE SMOKY PARIS

On January 1st smoking will be forbidden in all public places in France including bars, pubs, clubs, restaurants hotel lobbies, etc... just like in England Italy and probably soon in all European countries.

It's a good new for 75% of the population, such a great idea to live longer and enjoy longer the wonders of Paris … so why not joining us at last-minute for the most wonderful New Year you've ever had!

Happy New Year to our 1.600.000 readers in the past 3 years … Bonne Année et Bonne Santé en 2008!
---
Parismarais Newsletter
Parismarais Newsletter, Special New Year Edition, December 2007.
http://www.parismarais.com
mailto:info@parismarais.com
To Subscribe:
http://www.parismarais.com/parismarais-newsletter.htm
To Cancel Your Subscription:
http://www.parismarais.com/unsubscribe.htm
Copyright 2007, parismarais.com