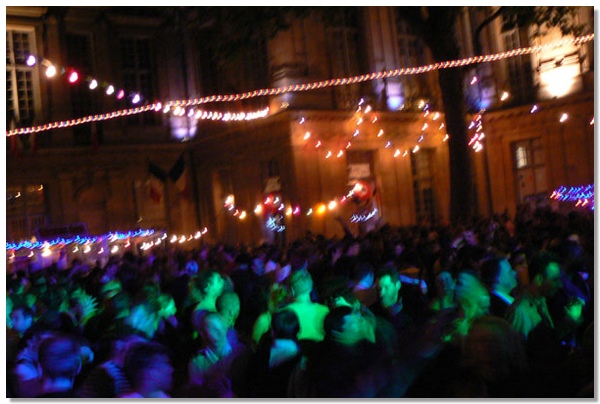 What's Paris first touristic attraction The Eiffel Tower, or Paris Fire Brigade?
---
Fabulous PARIS hotels up to 60 % off ! BOOK NOW
Luxury Paris Hotels : http://www.parismarais.com/hotels.php?zone=Paris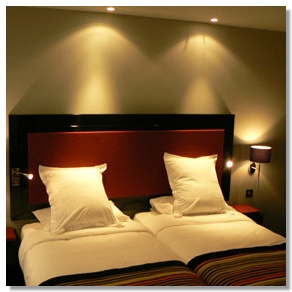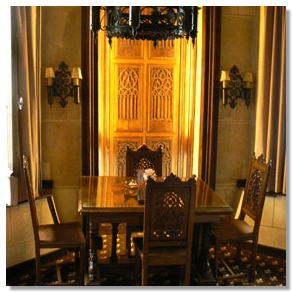 ---
BASTILLE DAY SPECIAL
Parismarais Newsletter
Issue 44, July 2008 Bastille Day Special Edition
http://www.parismarais.com
Bonjour Parismarais readers,
Did you know that one of Paris' most popular tourist attractions wears boots and navy blue uniforms? There is no question that « Le bal des pompiers » held on July 13 and 14 is one the most popular parties on the Paris calendar.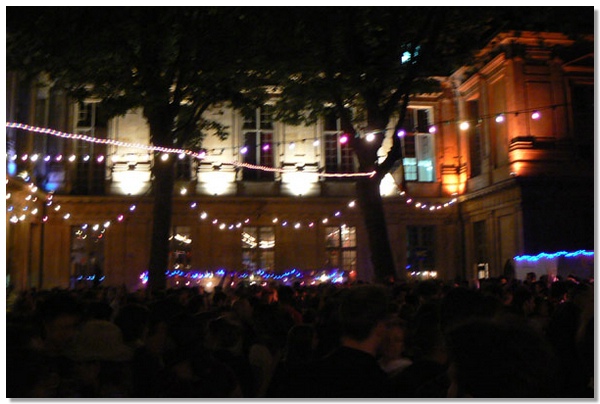 Every July, fire stations across Paris turn up the heat as they turn into the hottest dance halls. The Paris firemen are cute, sexy, smiling, open-minded and welcoming. The fact that they are also life savers contributes as much to their popularity with Parisians and tourists as does their friendly attitude. Like every year, our team was first in line, to enter through the VIP back entrance at number 9 rue de Sévigné.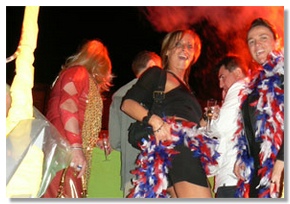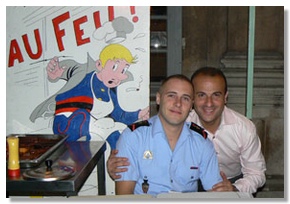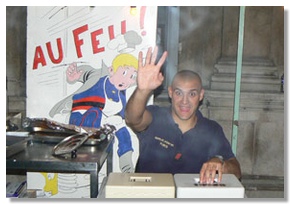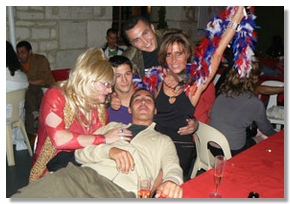 The fire trucks were out in the street so the two beautiful courtyards of Hotel de Chavigny, a 17th century mansion built by Louis XIV architect François Mansart, could welcome hundreds of people and a musical band.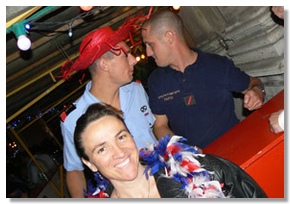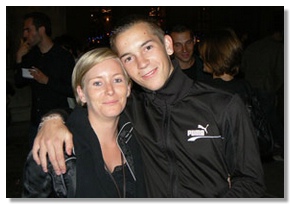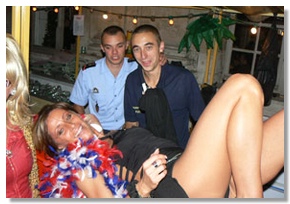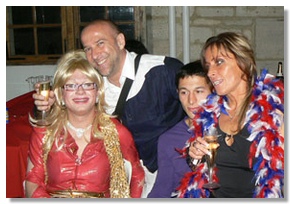 This house has been home to the Marais fire station for nearly two centuries. The Paris Fire Brigade was established by Napoleon Bonaparte in the early 19th century to improve safety in the city of Paris after the revolution. Unlike firemen in most cities and countries, Paris fire fighters are part of the French army, and that may be why they inspire so much respect and admiration.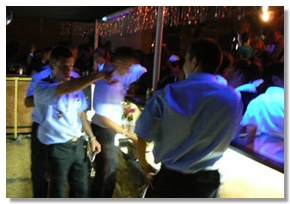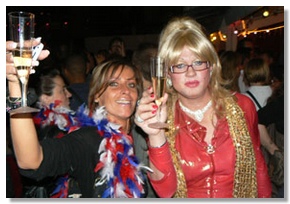 Joining the Paris Fire Brigade is not a simple job. You have to be in top physical condition and practice no less than four hours of sport activities each day. It is no wonder that the fire fighters have gorgeous bodies and are the dream of all Parisians – men and women alike.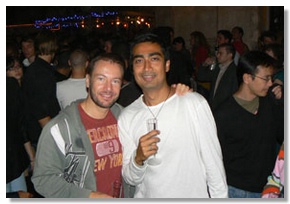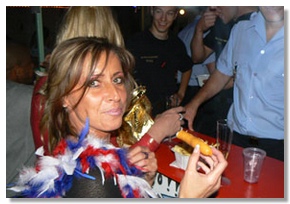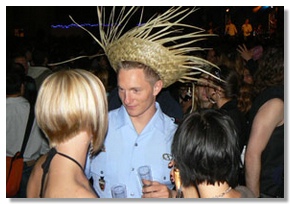 We were offered a bottle of champagne and became just drunk enough to make more new friends in blue shirts. Unfortunately, we missed the traditional « full monty » show they love to do just to make the crowd hysterical. But we had the chance to visit 2 other fire stations in central Paris, just to find out if the atmosphere was as nice as in le Marais.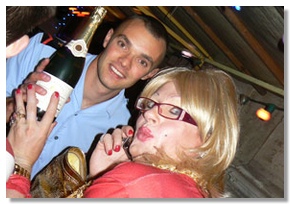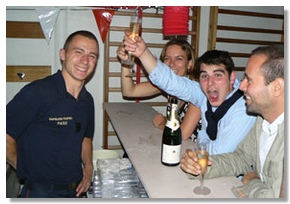 The station Grenelle in district 15 was packed, and the crowd enjoyed a band playing music that was more 80's and traditional. The busiest fire station was the one in Saint-Germain-des-Prés on rue du Vieux Colombier, where the techno music was hot and the ambiance felt more like a chic open air vip club.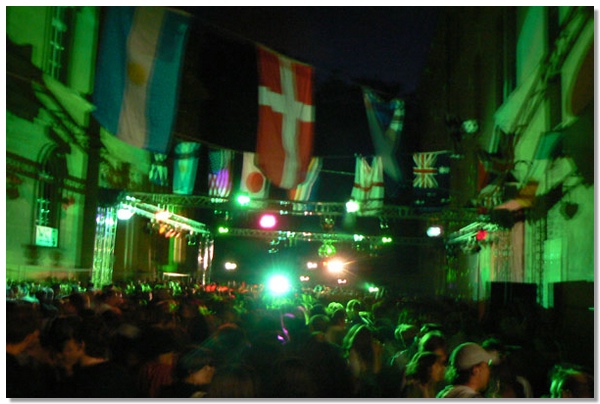 Every good story ends with a wedding or fireworks, and this year Madame Eiffel was dressed in Blue to celebrate the french presidency in Europe… the fireworks hosted by the city of Paris, were great and the music was a subtle medley of all famous operas. More than one million people gathered on the Champs de Mars, bringing their picnics and their high spirits to enjoy an endless night of excitation and fun.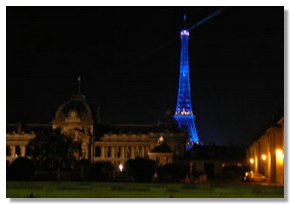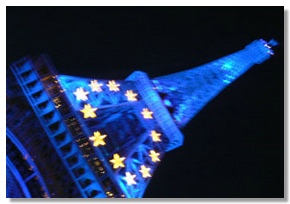 Do not wait for next year to join us… As now Paris Beach is opening !

A bientôt

Pascal Fonquernie
Editor (overdrunk with vip's at the fire station)
---
ENJOY PARIS PLAGES FROM JULY 21
Each summer, the banks of the Seine turn into an urban beach bash.

Floating nightclubs, outdoor music festivals, sand castle building and activities such as roller skating, a climbing wall and trampoline attract sun worshipers, sports enthusiasts, picnickers and partyers alike.

Just sit back in your beach chair, close your eyes and you can almost hear the gentle surf, rather than the din of busy Parisian streets.

You can grab your sunscreen and catch some rays between July 21 and August 21, daily from 7 a.m. to midnight.
---
HOTEL DEALS IN SUMMERTIME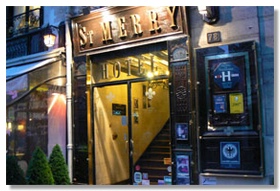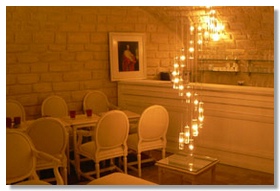 The high value of the Euro is not really helping the tourist industry in the Eurozone. That's why all PARISMARAIS selected hotels are offering fabulous deals you won't believe!
For each hotel, check out the special summer rate on the right side of their presentation page.
3 star category:
http://www.parismarais.com/3-star-hotels-in-le-marais-paris.htm
4 star category:
http://www.parismarais.com/4-star-hotels-paris-marais.htm
Budget category :
http://www.parismarais.com/hotels-paris-le-marais.htm
---
WHAT'S UP NEXT IN LE MARAIS?
This monthly newsletter is available in English, but we have so much to tell you it just keeps getting longer and longer! Don't wait for the next issue to discover what's new in le Marais. Almost every day we'll add a new report or article about le Marais and Paris, plus many tips about travel and entertainment in Paris. These articles will be available in English, French, Italian, Dutch, German, Swedish, Danish, Spanish and Russian. We are building strong relationships with many international medias to promote le Marais around the world, and we'll publish some of their articles in our blog. If you want to write about le Marais, we'll be happy to add you to our list of our contributors and writers.
http://www.parismarais.fr/blog/
---
DISCOVER THE FRENCH REGIONS WITH PARISMARAIS.COM
A trip to France would not be complete without spending at least a couple of nights in the french regions. With Parismarais.com, you can benefit from great prices and often get upgrades upon availability… A charming 4 star hotel in low season can be less than 100€ per night… Definitely worth extending your stay after Paris!
Please visit: http://www.parismarais.com/hotels-europe.htm
---
ADVERTISE AND SELL ANYTHING YOU WANT
AT PARISMARAIS.COM
Did you know that Parismarais.com is a great market place where you can make new contacts and buy and sell practically anything you can imagine?

Furniture, holidays, clothing, vintage design, kitchen tools and more… you may even find the love of your life. Post a small ad online for only a couple of euros and have it promoted on Parismarais.com and 20 other Anglophone web sites reaching thousands of readers every day. As good as Craig's List, but more Europe oriented, which is important when you want to see what you are going to buy. Great isn't it? Start advertising now – it's fast and easy!
---
Don't Miss PARISMARAIS NEWSLETTER AND SPECIAL OFFERS
AOL blocks many major European ISPs, so we cannot guarantee that our mail to AOL addresses will arrive. Please use another email provider or "White List" our email address or add "info@parismarais.com" and to your contact list.
PARISMARAIS NEWSLETTER JULY special edition Bastille Day 2008
http://www.parismarais.com
mailto:info@parismarais.com
To Subscribe:
http://www.parismarais.com/parismarais-newsletter.htm
To Cancel Your Subscription:
http://www.parismarais.com/unsubscribe.htm
PARISMARAIS NEWSLETTER JULY 2008
SPECIAL EDITION BASTILLE DAY
Special thanks to all our contributors and media partners all over the world.
http://www.parismarais.com/worldwide-links.htm
http://www.parismarais.com/gay-links.htm
Should you wish to promote us and create profitable reciprocal links with us to your web site, please write to advertising@parismarais.com.

---

Copyright 2008, parismarais.com