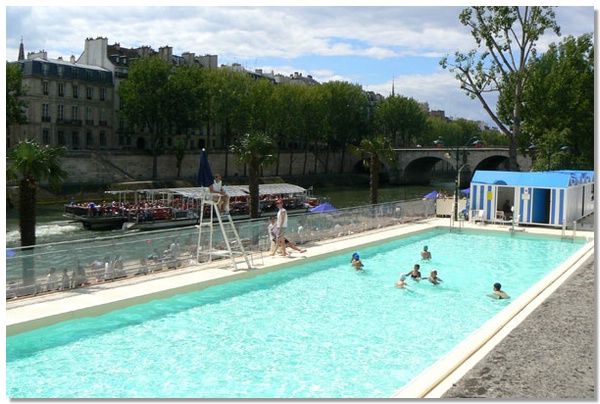 Parismarais Newsletter
Issue 29, August 2007
http://www.parismarais.com
REFRESH YOUR VISION OF PARIS IN AUGUST
Bonjour Parismarais Readers,
This month, many Parisians are deserting the city for places in the country or at the beach, and are being replaced by a new, friendly and cool international crowd in the heart of Paris. It is still Paris, but it feels like London, Vienna, Amsterdam and Saint Tropez, all mixed together. Paris Plages is now open for its sixth year with tons of fun things to do -- swimming pools, sandy beaches, bars and restaurants, all for your pleasure on the banks of the Seine.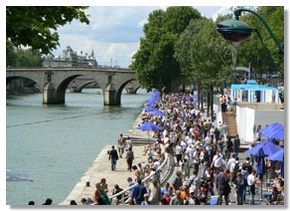 ..
You still can't swim in the river despite the promises made by some famous politicians. Years ago, when Jacques Chirac was mayor of Paris – before he was president – he said that soon Parisians would be able to once again swim in the Seine. He received hundreds of swimming trunks, inviting him to be the first to try – of course, he never did. Today, 20 years later, you still can't swim in the Seine, at least not in Paris, though it may be possible in Burgundy close to the source where the river is still pure.
Bertrand Delanoë, our new mayor who is very popular with Parisians, has kept many of his promises which include giving more space to pedestrians and bikes in the city and limiting the number of cars…well done! It's a success and all of our foreign visitors are experiencing with great fun the Velib system that allows you to pick up a bike almost anywhere in the city and return it to any of the bike stations located every 300 meters.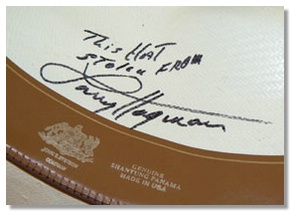 Life in Paris this month is definitely slowing down as people take more time to relax and enjoy life, and rediscover a different view of the city. Walking and cycling down the small Marais streets is probably the most enjoyable thing to do before you visit the many wonderful exhibitions such as the Pierre & Gilles retrospective at the Jeu de Paume Museum, shop at half price on rue des Francs-Bourgeois or spend time at the public auctions at Drouot.
A good friend of mine recently bought Larry Hagman's hat, the REAL J.R. hat from the popular TV show « Dallas. » It was for charity and the 1300€ he paid will go to a children's hospital in Toulouse. I borrowed the hat from him for a couple of hours one day to go to Paris Plages thinking I would be the only French person sporting a cowboy hat… and I was right! Thank God nobody noticed it was J.R.'s hat!
Enjoy Paris under the sun… à bientôt!

Pascal Fonquernie (and J.R.'s hat!)
Editor Parismarais.com
---
WHERE TO SLEEP?
Air conditioned hotels at 30% to 40% off in August
Most people don't realize that August is considered low season in Paris. That's one of the reasons why (if not officially) the City of Paris created Paris Plages, to promote Paris in the low season as well as to offer Parisians summer entertainment. August is a fabulous time to come to Paris – you can get great hotel deals and shop the summer sales at 70% off! When choosing a hotel for your stay in Paris, air conditioning is not the only consideration that should guide your choice. Although it is still an exception in France, most hotels now have air conditioning. The French don't really believe in AC, but they do understand that most visitors expect it, so it is becoming more common.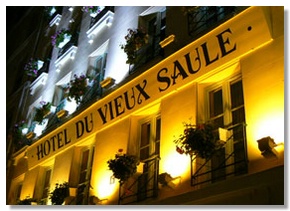 In the Marais district alone there are about one hundred hotels. But be aware that there are hotels that have the word «Marais» in their name, but are located outside the area. Before you book, check to see that the address of the hotel you have selected is in the 75003 or 75004 postal codes – anything else is not le Marais! Some hotels we recommend are very close to le Marais, those in the 11th or 12th arrondissements (75011 or 75012), such as the wonderful Marceau Bastille, 4-star hotel, close to the Bastille area.
You want to be aware of the «star» ratings for hotels you find in guide books and on web sites. The French classification for hotels is very strict – maybe the most strict in the world – but it does not include categories for charm and style. You can easily have a 3-star hotel that receives this rating because it offers a certain amount of space, a separate, private bathroom and specific services, but it can be lacking in the classic Parisian atmosphere that will make your trip extra-special. These types of hotels are numerous and you'll usually find them on the big travel networks or reservation services.
We visit almost every room before we include any hotel on our web guide, and only a limited number of hotels receive the Parismarais stamp of approval. We recently stopped promoting certain hotels – including some famous ones – because they don't have the friendly, welcoming attitude that is so important for our readers. We do encourage you to book online with those hotels we recommend, about 20 in le Marais with ratings from 3- to 5-stars.
PARISMARAIS selected hotels are the best you can find in the district.
Check out our summer specials: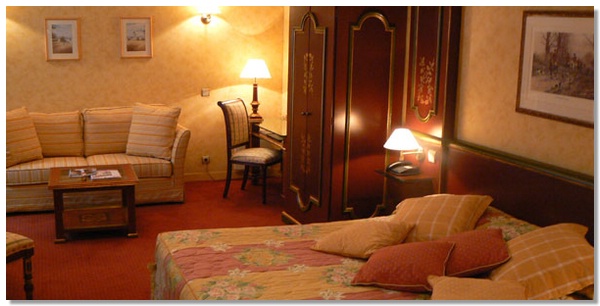 Villa Beaumarchais***** Managed by Julien Douieb who used to work at the famous Plaza Athenée. He and his team are giving a new life to this hotel, creating a dynamic spirit to give this classic luxury hotel a new image. They even offer special deals for weddings and gay civil unions, a special bonus for our gay readers.
Check: http://www.parismarais.com/5-star-hotels-in-le-marais-paris.htm to book online with Parismarais and you'll be sure to get THE BEST RATE. Rates change every day so mention the Parismarais special deals to get the best rooms at the best rates.
Le Petit Moulin**** Designed by Christian Lacroix, this hotel offers unique rooms from 180€, with 20% off in August. Many other boutique hotels like Villa Mazarin**** or Le Bourg Tibourg**** managed by Mrs. Karen Costes and designed by Jacques Garcia also offer you great deals in August – just ask! Book online directly with these hotel now:
http://www.parismarais.com/4-star-hotels-in-le-marais-paris.htm
Hotel Molay*** Luxury with fitness and spa facilities. Single room with breakfast for 100€, double with breakfast for 120€.
Hotel Saint Paul***
This is the best location if you want to be close to Carnavalet Museum. From 115€.
Hotel des Archives***
A contemporary touch, just next to the Paris District 3 City Hall and Temple Square, from 90€.
Hotel Ecole Centrale***
With its charming, centuries old interior crowned by splendid wood beams, this friendly hotel offers rooms with a contemporary ambiance. Features include free WiFi access, air conditioning, satellite TV, minibar and breakfast buffet. The hotel is centrally located, facing the great Arts et Métiers Museum and conveniently next to the Arts et Métiers metro station. Single for 90€, double for 100€. Visit: http://www.parismarais.com/3-star-hotels-in-le-marais-paris.htm
A cheaper and great alternative if you are staying in Paris for more than one week is to rent an apartment and enjoy life like a real Parisian. Check out our selection of charming apartments http://www.parismarais.com/visit-our-flats.htm
---
WHERE TO SHOP AT 50% OFF
The best places to beat the heat while enjoying the hot summer sales at up to 50% off is in the major department stores. In le Marais, we are lucky to be close to the most incredible store for decoration, design, arts and crafts, and DIY… BHV Rivoli (Bazar de l'Hôtel de Ville), an institution in Paris. The huge basement hardware store is a Paris must-see! Not to mention the new men's bazar… http://www.parismarais.com/mens-wear.htm
Also check out some of the chicest boutiques along the rue des Francs- Bourgeois: http://www.parismarais.com/rue-des-francs-bourgeois.htm
---
HOT SUMMER NIGHTS IN LE MARAIS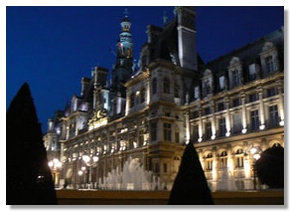 ..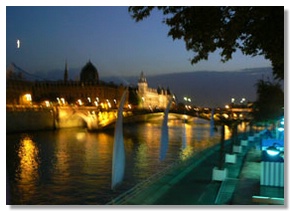 The Paris nightclub and dancing scene is not really centered in le Marais. An exception is one of the most notorious hot spots in Europe's dance club history, Les Bains Douches.
Les Bains Douches
Now more than ever, Les Bains Douches caters to the gay circuit and the neighborhood it calls home. It continues to be the coolest place to go in Paris with an exceptional sound system and an exciting nightlife experience. Owner Hubert Boukobza is giving the club a new look with the collaboration of Queen's mastermind Thibaut Jardon. Les Bains Douches is open all year long, including August. The restaurant upstairs is re-opening on August 24.
CUD means « Classic Up and Down, » but you can imagine many other meanings such as
«C U Downstairs.» It can also be short for CUDdle… Whatever it means to you, the atmosphere is great – unpretentious, friendly and with no attitude guaranteed. Super ambiance, cool dance music from the 80's, as well as the latest dance classics. Affordable drinks and an adorable team of bartenders who will help you discover a real Parisian atmosphere where friendship really means something! Drinks start at 4€ and entry is free. Bienvenue at «C U Darling»!
Le Scaron Chic and stylish as ever, especially on Sundays when the gorgeous Sebastien Triumph is DJ and host of the party. The clientele is a fun mix – gay crowd, artists, writers and other creative people, all drawn together by their love of life. Sink into the soft and comfortable sofas and enjoy champagne and good conversation. You'll meet people here you would not meet in other clubs in le Marais. Check it out alone or with friends… entry is free and drinks start at only 6€.
Discover more Paris hot spots at:
http://www.parismarais.com/gay-clubbing-cruising-nightlife-le-marais-paris.htm
and http://www.parismarais.com/nightlife-in-le-marais.htm
---
REFRESHING ICE CREAM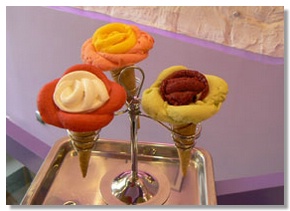 ..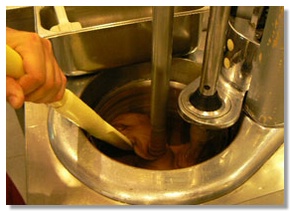 Berthillon is still an institution in Paris. But if you don't want to line up for 30 minutes just for a scoop, why not try something new and tasty…discover Gelati d'Alberto! Homemade in le Marais, this is the perfect high-quality treat on a hot day. Try the exquisite rose petal flavor, green tea and lime, pain d'epice, tarte au citron or cranberry…you'll think you're in heaven!

Gelati d'Alberto
12 rue des Lombards, 75004 Paris
Tel: 01.77.11.44.55
---
CREATIVE CUISINE
Ivory
Just next to Hotel des Archives and Hotel Molay, a new neo-baroque restaurant has opened and is offering one of the most sophisticated cuisines in the north Marais for very decent prices. The lunch menu at only 20€ is incredible. Every evening you can eat a 3 course meal for less than 35€
Ivory
74 rue des Archives, 75003 Paris
Tel: 01.42.41.21.96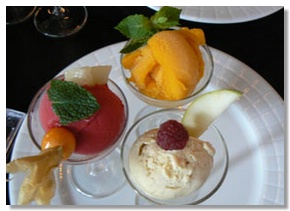 ..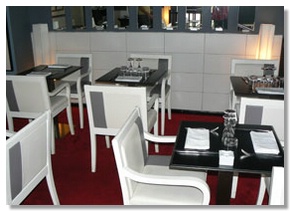 Monjul
WOUAHHH! This is what you'll say when they bring you the first dish – it looks like a work of art. Foie gras mousse served on a black tile, bœuf Bourguignon thats looks like chocolate cake, salmon and meat together, chocolate and pistachio delirium…every single meal is an scrumptious experiment. The food is delicious, the staff is wonderful, the decor is great…and it's only 29€ for 3 courses. Monjul has just opened and we're certain that they'll soon be so busy you'll need a reservation.
Monjul
28 rue des Blancs Manteaux, 75004 Paris
Tel: 01.42.74.40.15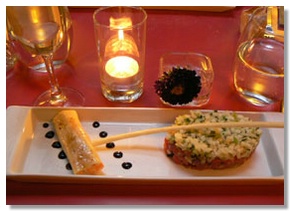 ..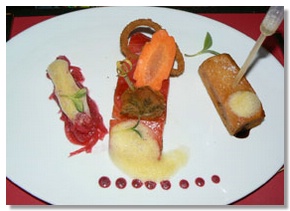 Les Bains Douches Restaurant
Evenings only from August 24, Wednesday to Sunday
The decoration by Géraldine Blé brings a sensual and feminine touch to Les Bain Bouches: the white stone floor and white lace curtains transport you to a tranquil and soothing atmosphere. Gourmets will be delighted as much by the decoration as by the dishes. To start, try millefeuille tomate et aubergine sur chèvre chaud, salade de roquette et parmesan. For your main dish try tartare de saumon Balik, filet de bœuf normand au poivre, brochette de St. Jacques, filet de bar poêlé sauce gingembre. Desserts include tarte au citron, crumble aux framboises, duplex abricot et crème brûlée, moelleux au chocolat avec se fiole de pinacolata. Enjoy 3 courses for 37€ including entrance to the club downstairs!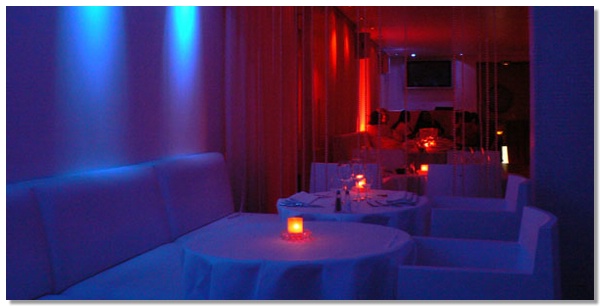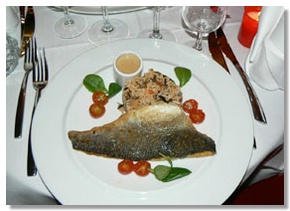 ....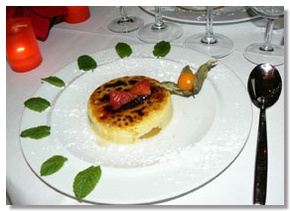 Discover more gourmet goodies and great restaurants in central Paris: http://www.parismarais.com/selected-restaurants.htm
---
KEEP FIT AND ENJOY MASSAGES
Il fait beau
On rue des Archives, discover a space entirely dedicated to well-being which offers skincare specially tailored to men's needs…various types of facials, body treatments such as exfoliation, seaweed or mud wraps and hot stone massage, pulsed light hair removal, and the newest generation of body sculpting : Power Plate. Il Fait Beau uses top of the line professional products by Comfort Zone. Il Fait Beau means « it's a nice day » and also « it's beautiful »…treat yourself to a pleasant grooming and leave looking and feeling your best. Before you show up at Paris Plages, make a stop at il fait beau ! Visit: http://www.ilfaitbeau.fr/
---
SPECIAL PREVIEW OF SIGL IN PARIS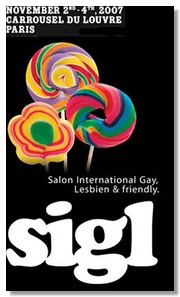 SIGL is a new International Gay, Lesbian & Friends Exhibition open to everyone. The first edition of this annual event will be held from
November 2 to 4, 2007.

The goal of sigl is to unite a community with exhibitors offering services and goods as well as advice and information, combined with cultural, sporting and leisure offers. The public will have the opportunity to discover numerous associations whose various activities are geared to their specific interests. Visitors and exhibitors will have the chance to share a very special 3 days, with the emphasis on meetings, discovery, and open exchanges about cultures and trends. This unique exhibition aims to enable gays and lesbians to meet exhibitors catering to their needs and expectations on a regular yearly basis.

The event is being held at the Carrousel du Louvre, situated in the very heart of Paris and only a few steps away from the gay and historical district of le Marais. The Carrousel du Louvre offers very easy access to visitors be they Parisian, from the provinces or from abroad.

The Carrousel du Louvre also boasts various exhibition rooms, stores, restaurants and a theatre, and is directly adjacent to two of Paris' most famous museums, The Louvre and the Museum of Decorative Art. The complex also includes almost 80 stores open 7 days a week with brand names such as Virgin, Swarovski, Esprit, Sephora, Resonances and Nature & Découvertes.
Sigl: International Gay, Lesbian & Friends Exhibition
Date: Friday – Sunday, November 2-4, 2007
Place: Carrousel du Louvre 99, Rue de Rivoli, 75001 Paris
Entrance Price: 8€ in advance, 12€ at the door

Opening Times:
Friday November 2nd from 11 a.m. – 8 p.m.
Saturday November 3rd from 11 a.m. – 8 p.m.
Sunday November 4th from 11 a.m. – 6 p.m.

Access :
Metro station: Palais Royale (Musée du Louvre)
Lines 1 & 7, direct access on metro platform
Bus lines 21-27-39-81-96

Parking :
Underground car park access Ave Lemonnier, 7 days a week, 7 a.m. – 11 p.m.
Other car parks: Parking Pyramides, Parking Louvre des Antiquaires, Parking St. Germain l'Auxerrois

Organisation :
sigl 13 Rue des Arquebusiers, 75003 Paris
Tel: +33(0)1.42.72.40.43
E-mail: info@sigl.fr

Commercial and Sponsoring contacts:
Pierre Gendrot
Exhibition Director
Tel: +33(0)1.42.72.40.43
E-mail: pgendrot@sigl.fr
Marjolaine Garnier
Direct line: +33(0)1.75.43.86.74
E-mail: mgarnier@sigl.fr
---
Parismarais Newsletter
Parismarais Newsletter, August 2007 issue
Thank you to the following people for their contributions: Larry Hagman and his Hat & Pierre-Jean Chalençon, Lili Quint, Lynda Sydney and the Parismarais Team.
http://www.parismarais.com
mailto:info@parismarais.com
To Subscribe:
http://www.parismarais.com/parismarais-newsletter.htm
To Cancel Your Subscription:
http://www.parismarais.com/unsubscribe.htm
To receive more news about Paris, subscribe to Parler Paris Newsletter and twice a week you will receive the latest information, events, tips, and details about what's new in the French capital, written by Adrian Leeds, long time resident of Le Marais, visit www.parlerparis.com
Copyright 2007, parismarais.com